Breastfeeding
Breastfeeding is one of the most natural things that a mother can do with their baby and however long a mum chooses to breastfeed or is able to breastfeed their baby for it is important to always eat a diet rich in nutrients to help support milk supply as well as avoiding certain foods with added chemicals or ingredients in.
And as there are more mums breastfeeding their babies for longer these days many mums are wanting to lose their baby weight when breastfeeding – but are confused about what is and isn't safe in breastfeeding and if mums can lose weight safely when breastfeeding.
At The Healthy Mummy, we are extremely passionate about making sure that if a mum wants to shape up post baby that they do it in a healthy way – we don't advocate dramatic weight loss when breastfeeding, and as such we sell the Lose Baby Weight  28 Day Breastfeeding Diet & Exercise Plan which has helped thousands of mums lose their pregnancy weight and our Healthy Mummy products can be used on this plan
Although ensuring mums lose weight in a healthy way is very important to a mum who is not breastfeeding, it becomes even more important when a mum is still breastfeeding and wanting to lose weight. The reason behind this, is because whatever a mum puts into her body can be passed through to the baby through the breast milk supply and it is essential for new mothers to consume a varied and balanced diet, rich in nutritious foods for the health of the mother and her baby.
It is also for this reason that we do not recommend starting any of our breastfeeding and weight loss plans or any other weight loss plan if your baby suffers from colic or digestive issues without prior consultation with your doctor as certain foods can make the situation worse.
It is also very important to note that focusing on living a healthy life is extremely important at this time and we believe health and nutrition should come first when breastfeeding and weight loss will often be a by product of this healthy life.
A further point to be aware of is that for mums eating a normal diet, the most common nutrients of deficiency are iodine, iron and calcium as the amounts recommended for pregnant and breastfeeding mothers are hard to obtain from a normal diet.
What is a safe weight loss when breastfeeding?
Firstly, weight loss when breastfeeding is safe – provided you do it in a sensible way. The issue of losing weight in breastfeeding is if you are following a weight loss plan which is a drastic diet plan and which bans certain food groups, or advocates too much protein or severely restricts calorie intake.
There are many diets that claim a weight loss of 4,5 or 6kg in a week and although that may seem appealing at first – it is absolutely not recommended in breastfeeding. If we lose weight too quickly our bodies can go into shock and toxins can also leach out of the fat into the breastmilk which can make mum and baby feel sick.
Instead a healthy eating and balanced approach should be taken with a weight loss of around the 500g to 1kg a week mark aimed for. But please note that every woman is different and we all lose weight differently.  Breastfeeding mums need extra calories and nutrients when breastfeeding (approx 300-500 calories a day) and restricted diets should be avoided and instead regular meals and snacks should be enjoyed and hunger pangs avoided.
If you need some help to eat healthy and follow a healthy diet plan when breastfeeding then take a look at our Healthy Mummy Range that has been specifically designed to helps mums eat healthily and also lose weight – without drastic measures.
Some top foods to include in your diet when breastfeeding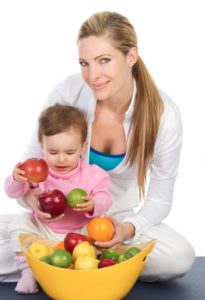 Protein – Having protein in your diet is important to ensure an adequate amount of protein in breast milk. Protein is found in a wide range of foods such as meat, fish, poultry, eggs, legumes, dairy and nuts.
Calcium – When breastfeeding it is important to have at least 3 serves of dairy or fortified soy products everyday. Dairy foods such as milk, cheese and yoghurt, or calcium fortified soy products are the best sources of calcium. Other foods such as salmon (bones included), sardines, tofu (soy bean curd), tahini (sesame seed paste) and almonds also contain calcium.
Iron – Pregnancy and childbirth can reduce the body's iron stores which can then cause fatigue. To ensure you are getting adequate iron include 2 serves of red meat, poultry and fish or meat alternatives (e.g. legumes, nuts or eggs) daily and eat wholegrain breads and cereals regularly. If you are concerned, ask your doctor to check your iron stores and if necessary take an iron supplement.
Iodine – Good sources of iodine include seafood, eggs, dairy foods and iodised salt. Aim to eat 2–3 seafood meals per week and 3 serves of dairy foods each day. If using salt, use iodised salt. It is currently difficult to meet the recommended daily intake of iodine by diet alone. It is therefore recommended that breastfeeding women take a daily iodine supplement of 100–200ug.
Fluid – Finally, due to the loss of fluid from breastfeeding, it is also important that breastfeeding mothers ensure they are getting enough fluids each day.
If you are ready to lose weight then The Healthy Mummy plans offer a healthy and safe exercise and diet routine that are safe if you are breastfeeding.
And don't forget to check out our current promotions and discounts page to see what specials we have on this week on our Healthy Mummy product range
---