Exercises For The Tummy, Core and Muscle Separation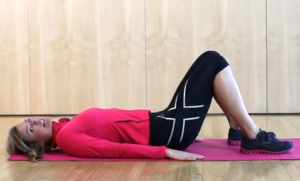 When we are aiming to lose our pregnancy weight we are often concerned about the stomach area.
Many mums complain or ask about this area and one of the key areas to achieving a strong tummy is focusing on your core. This will assist in losing your pregnancy weight an also toning this area – you can read more about everything you need to know about stomach fat here.
People often think their core is strong if they have a rippling six pack. In fact, this is the superficial and least important part of your core strength. It is your functional core which is more important in decreasing your waist measurements, toning up and healing any separation of you abs.
If you do have a muscle separation post pregnancy, sit-ups could in fact be doing more damage then benefit and could even make you rectus abdominus bulge and separate even more (it's also the muscle that separates – which is why doing sit-ups until the cows come home to help you lose your baby weight would be a terrible idea and make your rectus abdominus bulge and it could separate even more and is why you should avoid crunches and standard Pilates 100?s).
This is why building your core from the inside out and starting with your muscles closet to the bones is the best way. This is what Pilates will help you focus on.
You should also examine yourself to find out what degree of muscle separation you have experienced before undertaking any post partum-exercise (needs to be under 2cm) or receive clearance from your Doctor.
How to examine yourself
Step 1 – In a lying position with knees bent, place your right hand behind your head.
Step 2 – With your left hand position your index finger and middle finger together and place them horizontally in the centreline of your stomach between your abdominals.
Step 3 – From this position slowly raise your head slightly off the floor using your right hand (positioned behind your head) for support. Make sure not to simply lift your head with your hand as this is a comman error – you must perform one basic crunch to fully contract your abdominal muscles to get the best assessment of your separation.
Step 4 – Your abdominals will now be slightly contracting allowing you to see exactly how far your abdominals have separated.
Step 5 – If your index finger and middle finger (on your left hand) can still fit between your abdominals you will have Diastasis Recti of between 2 – 2.5cms. For every additional finger you can place inbetween your abdominals you should add 1cm extra to your total abdominal separation number. If you can only fit one finger between your abdominals you effectively have 1cm of separation and will be nearly healed.
If you discover you have more than a 1 – 2cm separation you should refrain from doing exercises such as crunches, sit-ups or pilates 100?s all of which can put too much pressure on the abdominal muscles which have become separated during pregnancy.