Andrea Is Losing Her Baby Weight
Here is my post baby weight loss story so far after following the Healthy Mummy plans.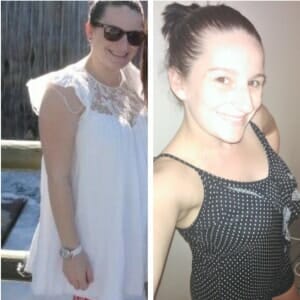 After my second baby girl I had gained on a lot more weight then I had the first and felt very low in confidence
For the first time in my life I weighed over 75kgs and I cried everyday when it was time to get dressed because none of my clothes fitted me.
Your team was so helpful and informative with all my questions and it was great that the weight loss recipes were easy to make and family friendly and so ordered and started the Healthy Mummy smoothies
I really enjoying making so many different smoothie flavours and textures with my smoothies so I do not get bored and love that they are quick and easy to make and fill me up and I love all the smoothie recipes that are posted up on Facebook and the website.
I am about to reach my first goal of 65 kgs and have 4 more to lose until I reach the weight I was when I fell pregnant. I have seen such a huge change in my body by taking photos and measurements and feel so much more energetic.
Since starting the Healthy Mummy Smoothies and plan I have loss a huge 11cm off my waist and just over 5kgs in only 5 weeks!!
My confidence is back and I once again feel comfortable around my partner physically rather than hating everytime he tried to touch me or walk in while I was showering or getting changed.
So I started Tantrums and Treadmills- http://tantrumsandtreadmillsaus.blogspot.com.au/ – and each week I post about my eating, exercise, crazy family antics and if I can inspire just even one woman to reach her goals then I will feel like I have achieved exactly what I wanted from this blog.
Thanks so much
Kind Regards,
Andrea Woods