WATCH: Baby's Adorable Reaction To Hearing Mum's Voice For The First Time
Is there anything sweeter than the sound of a giggling infant? How about the sound of a giggling infant who has just heard his mum's voice for the first time?
This 15 second video is melting hearts around the world as baby Hunter first discovers the wonderful world of sound.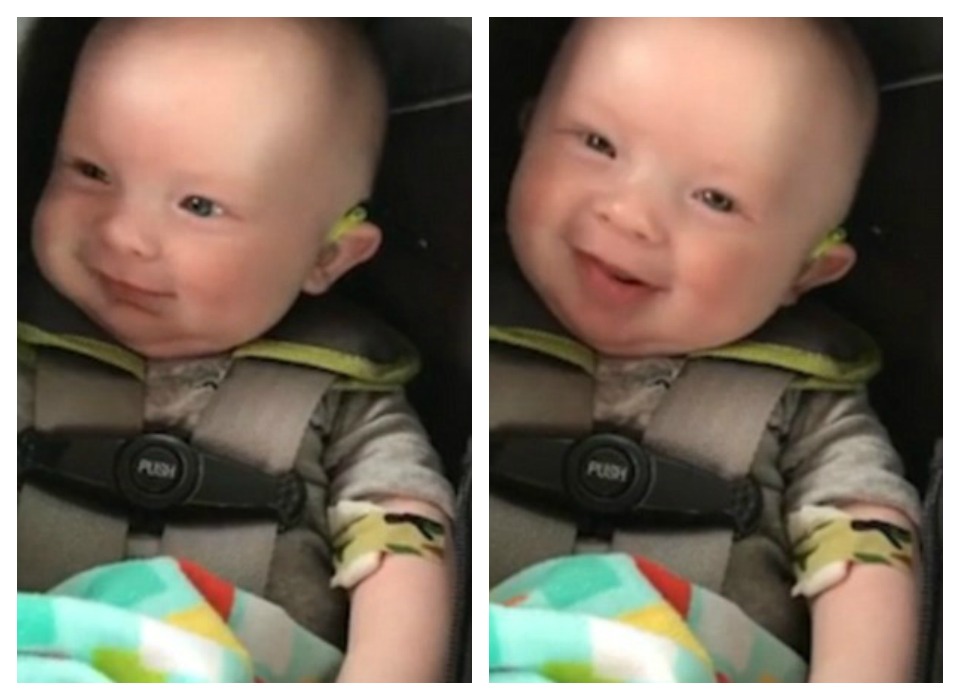 Hearing loss is something that impacts an estimated two to three out of every 1,000 children (in the United States). Hunter is one of them.
Hunter's Adorable Reaction To Hearing Mum's Voice
However, the good news for many infants with hearing loss is that the problem can be corrected with hearing aids. This was the case with little Hunter, a tot from Ohio, USA, who has been deaf since birth.
Last week Hunter received his first set of hearing aids and the moment he hears his mum's voice for the first time is captured on film.
A Grinning And Giggling Hunter Goes Viral
The 15 second video features the smiling Hunter in his car seat. As his mum talks to him, Hunter giggles with every sentence, clearly loving this new ability to hear. And, to an infant, nothing beats the sound of mummy's voice, except perhaps the sound of his own laugh!
The film has been shared by multiple media outlets and the little guy with the infectious giggle is making quite the impact. Keep giggling little man! You are too cute for words.
Another Memorable Moment Caught On Camera – Xander's Hearing Aid Video
Like Hunter's mum, many parents who have babies with hearing loss choose to record this poignant moment. It is a pretty momentous and joyous occasion! Have a look at the reaction of eight-month-old Xander, who was also born with hearing loss, after he is fitted with his first hearing aid.
Have a look at some of our other adorable tots who are lighting up YouTube including Ruby, the food-loving baby. And, for even more sweetness, check out the winners of last year's Bonds Baby Competition as well as these festively dressed newborns who rocked their Christmas photo shoots!