Hi Healthy Mummy, My second baby is now 6 months old and I have lost a total of 14.8kgs using the healthy mummy plans and products.
My first baby is only 22 months old – so I had a pretty busy time this last few years and I sadly hit 100kgs on my final week of pregnancy with my 2nd bub. When I got home from hospital, I was 94.3kgs. I also had a C-section, so wasn't really able to undertake any real exercise until about 2.5 – 3 months after.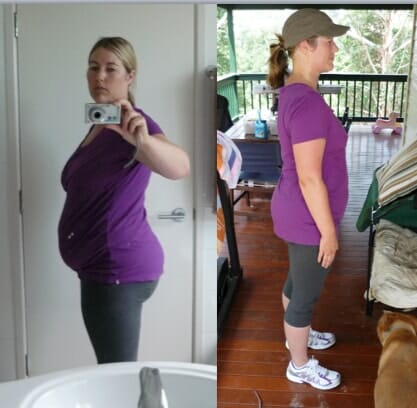 I have also been using the cookbooks, calorie counter and also have the healthy mummy smoothies a few times a week (Unfortunately we can't really afford for me to have them every day). I've been using the different recipes and have found some I really like. Banana and oatmeal for example, yum!
I've overhauled my eating completely and honestly don't even crave the 'bad' stuff anymore. I can run for 30 minutes straight on the treadmill (I was struggling to do 2 minutes in the beginning!) And I just feel so much stronger and healthier in general. I still have another 7.5kgs to go until I reach my target weight – which will also mean I am back in a healthy BMI range. I do have to work harder at the weight loss as I get closer to my goal, but watching the numbers on the scale go down is a huge motivation.
I do about an hour of exercise a day and it varies depending on whether the kids are asleep or awake, but usually consists of running, walking, stairs, free weights and the Healthy Mummy DVD.
I sadly didn't take any measurements at the beginning of my weight loss, as sadly I really didn't think I could do it.. So I don't have any of those to provide…
I really do want to thank all of you for the help I've received from you over these last few months! And here's to hopefully shedding the last 7.5kgs!
Candice Plant 🙂