Claim your FREE 30 Days Access NOW! First 1000 mums only!
You can get access to the 28 Day Weight Loss Challenge and Healthy Mummy app for 30 days FOR FREE then after that you can stay on with a super low exclusive rate
Please note NO payment will be made for 30 days and you can also cancel at any time if you didn't like it – but we think you will LOVE IT
Join 100,000s of mums losing 4kg – 6kgs with 24/7 support, FAMILY-FRIENDLY recipes and CALORIE BURNING easy to do exercises – all at home!.
To take advantage of this AMAZING offer simply enter your details below.
(Please note that this only applies to NEW members and not existing members)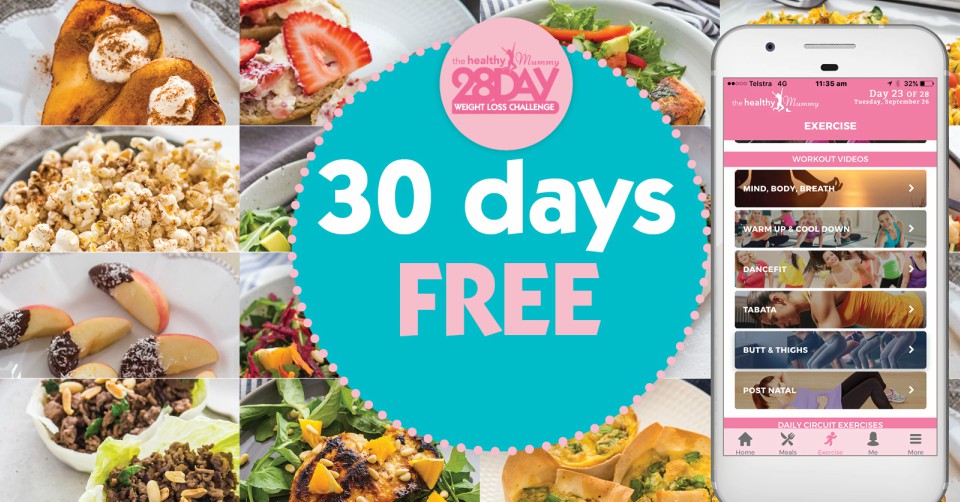 About the 28 Day Weight Loss Challenge
When you sign up today you get INSTANT ACCESS to:
over 4,000 family friendly recipes – with 100 new recipes added each month.
daily exercise videos – including HIIT training and pilates (suitable for beginners to advanced), plus NEW long play CALORIE BURNING video workouts.
amazing 24/7 support – from over 200,000 mums.
customisable meal plans – swap to suit your dietary requirements.
personalised shopping lists – easy to download.
access our awesome app  – have the challenge in the palm of your hand.