'I didn't want to look like this anymore' says Tertia who's lost almost 20 kilos with the Healthy Mummy
Tertia Buswell is feeling more energetic than ever having lost 19.5 kilos on the 28 Day Weight Loss Challenge!
Fearing if she didn't do something about her weight, she'd have more difficulty losing it as she got older, she took the plunge 8 months ago. By using the recipes and workouts in the Healthy Mummy App was able to shift nearly 20 kilos!
Tertia says, ''Consistency really is the key. This is a change in lifestyle, not a fad diet.'
Tertia is 34 from Melbourne and prior to her weight loss admits to not being happy with the way she looked.
She says 'I didn't want to look this way anymore. Something in my head just clicked and said do it now or you'll have more trouble losing the weight when you get older.'
Weight Loss Success
In 8 months of following the 28 Day Weight Loss Challenge, Tertia dropped 19.5 kilos and is loving the health benefits.
'I'm not needing as much sleep, I have more energy, and want to live life more!
I'm feeling better about myself because of the way I look, my depression and anxiety is not as bad as it used to be, and I feel more energetic.'
What's more, Tertia has noticed some other benefits including having the perfect excuse to buy smaller clothes.
She says, 'I never used to be able to do a quad stretch because I couldn't reach my foot behind myself. Also fitting into a lot of clothes that never used to fit me and having to buy smaller clothes.'
Tertia's Typical Day on a Plate
Breakfast – quick oats and milk.
Lunch – chicken wrap
Dinner – changes week to week but the Easy Fried Rice is my favourite.

Snacks – usually fruit and a protein bar
Desert – halo top ice cream or wicked sister high protein chocolate mousse.
Tertia also enjoys the Dance workouts in the Healthy Mummy App.
Tertia's Three tips for success
Consistency
Patience
Preparation.
Tertia also has some great advice for other women wanting to take control of their weight and health.
'Start small. Little achievable goals are much better than trying to overhaul everything at once. Focus on one thing then slowly add other things into your routine as you feel comfortable.
Weight loss takes time. Don't focus on what everyone one else is doing, focus on you because everyone's body is different. Stick to it and it'll happen.'
Great advice Tertia, thank you for sharing.
Join Tertia on the 28 Day Weight Loss Challenge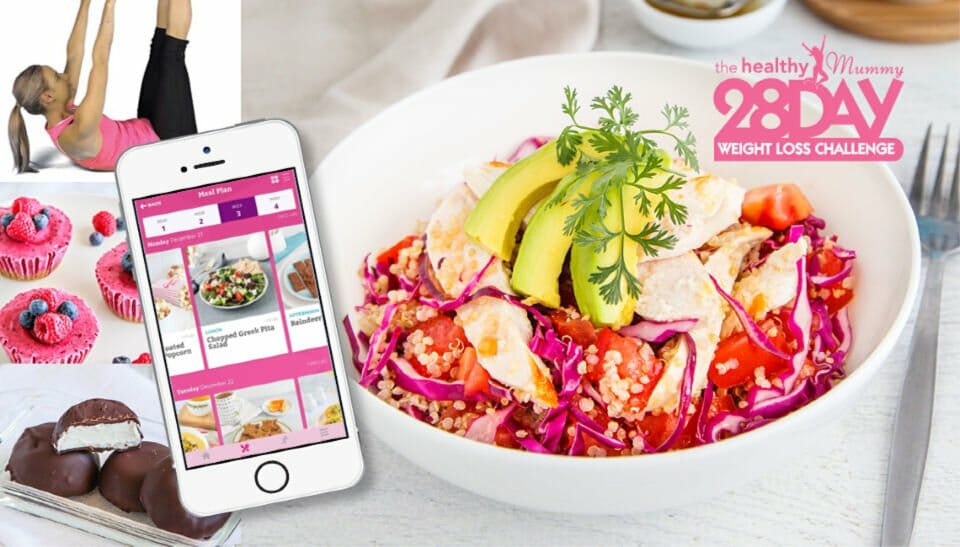 The 28 Day Weight Loss Challenge is the mums only 5 star rated app with over 1.6k reviews in 8 weeks!!
You get unrestricted access to :
● Nutritionist & chef designed weekly meal plans
● Over 500 different Personal Trainer crafted at-home workouts
● Daily Motivation from My Coach
● Personalised Shopping lists to make life easy
● Over 6000 healthy and delicious recipes at your fingertips
● REAL TIME support from The Healthy Mummy Team and OVER 300,000 other mums