FAQ's: What you need to know about the Healthy Mummy Priceline Partnership
Find answers to your questions about the Healthy Mummy and Priceline Partnership here!
The Healthy Mummy has partnered with Pharmacy Superstore Priceline to sell its range of leading health and nutritional products. Here's what you need to know.
FAQ's
Q. When will The Healthy Mummy products be available in Priceline?
A. We will be instore and online from the 13th Sept 2021!
Q. Will The Healthy Mummy be in all Priceline stores?
A. We will be stocked in all Priceline stores, however the range will vary from store to store.
Q. Will the entire range be available in Priceline?
A. Not the entire range at launch, but the below will be available:
Premium Smoothie (Double Chocolate and Vanilla)
Tummy Smoothie (Vanilla)
Pregnancy Smoothie
Kids Smoothie (Chocolate and Vanilla)
The Healthy Man Meal Replacement (Chocolate and Vanilla)
Sugar X
Carb X (Vanilla)
Control X  (Orange and Berry),
Energy Boosting Super Greens,
Protein Powder (Chocolate and Vanilla)
Metabolism Support Tablets.
Q. Is the Original Dairy Free Plant Based Smoothie Stocked in Priceline?
Dairy Free version is currently only stocked online through The Healthy Mummy but this may change in 2022.
Q. Will the products look the same as on the website?
A. No. We have redesigned the range and packaging and we will be using new tubs which are now eco-friendly composite cans.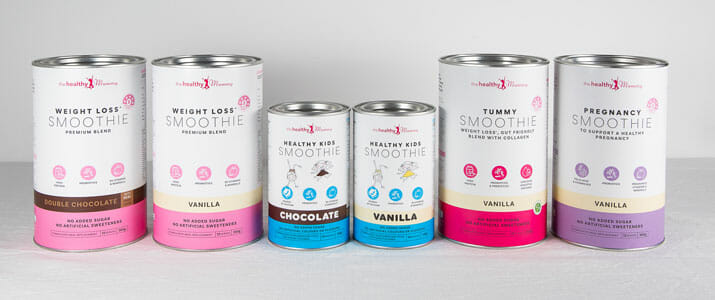 Q. Will the website packaging change too?
A. Yes but not until mid 2022.
Q. The packaging has changed but is the formula inside the same?
A. Yes the formula inside is still exactly the same.
Q. Will the offers and sales be the same online as in store?
A. Sometimes they will but also Priceline will be running their own instore offers as will we online too. But no matter where you buy from – you can be assured of great value and quality products.
Q. Will the prices be the same in store as on the website?
A. The products instore will be slightly different from the website and be a smaller size (but the product and formula inside will be exactly the same). The smoothies in store will have a smaller number of serve sizes than the ones on the website and because of the smaller number of serves the price per tub will be cheaper in Priceline (for example the smoothies in store will be 12 serves versus the website 18 serves).
Q. If I am a Platinum member – will my extra 10% discount that works online work in Priceline too?
A. No – the Platinum member additional discount only works on the website.