Health
The September Budget Booty Busting 28 Day Weight Loss Challenge is all about boosting your booty, with workouts that focus on the butt and thighs.
Now that we are already in WEEK TWO, you may have noticed your booty is a little sore! That's because, if you have been following the Challenge exercises and NEW booty busting workout videos (on the Challenge App) to a tee, you have been working those glutes – HARD!
But apart from looking FABULOUS in jeans, skirts and swimsuits – why is working on your booty and thighs so important? Well, it is important that these areas of our bodies are strong as they are the foundations that help us with all our movements every day.
What's more, building strength in this area will help you reach your healthy lifestyle goals.
And, when you combine these booty and thigh workouts with the budget friendly, easy to prepare, healthy meals from the Challenge, and you reach your weight loss goals in no time, without breaking the bank.
Booty menu – we can't wait to try…
The week 2 meal plan is ready to go. This week, we are particularly excited to tuck into:
Blueberry Mousse with Pistachios – A delicious and healthy mousse that makes for a great sweet treat in the afternoon and in between main meals. Loaded with antioxidants (thank you blueberries), this recipe will help you fight fat, satisfy your cravings and help you curb hanger pangs all while complimenting your booty-gain fitness regime.
White Bean Pancakes with Strawberries and Passionfruit – A high protein AND high fibre pancake that uses inexpensive ingredients to ENSURE you have a great start to your day. What's more, you can be tucking into these pancakes in 20 minutes or less (including prep time).
Chargrilled Pumpkin, Red Onion and Spinach Salad – This salad is not only delicious, it is incredibly easy to prepare. Loaded with healthy fats, spices and greens – this recipe will help you detox your body, load up on essential vitamins and minerals all while ensuring that booty stays nice and toned.
8 ways you can feed your family on a budget and STILL lose weight
Sticking to a budget, ensuring MAXIMUM booty gains and shifting kilograms all while sticking to healthy eating plan isn't impossible.
Eating healthily doesn't need to be expensive, just as we are trying to prove this month on the Challenge.
While our weekly meal plans are loaded with delicious recipes using typical freezer and pantry staples to help you save big dollars on groceries – you can use your 28 Day Weight Loss Challenge App and the timesaver/budget customisation option – to stretch your money even further.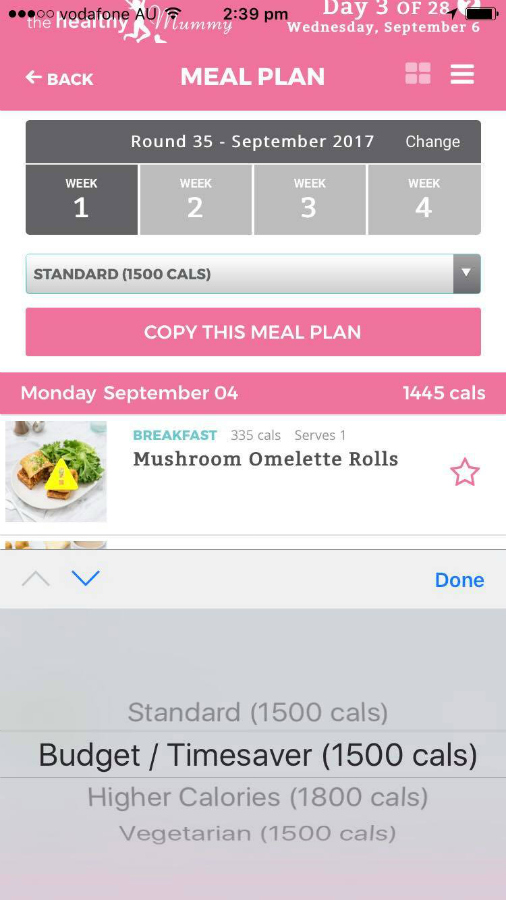 To help inspire you, Healthy Mummy Annette Palma, is sharing 8 ways she lost 20kg ALL WHILE feeding her family on a tight budget and sticking to The Healthy Mummy meal plan.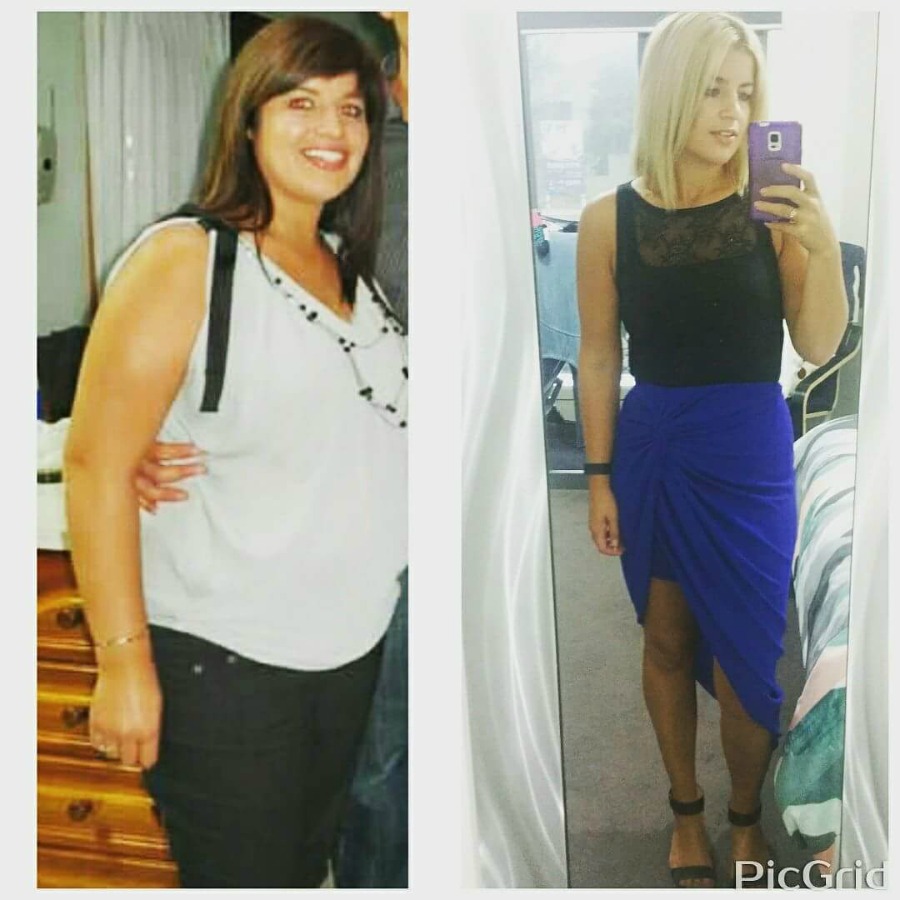 6 SIMPLE booty-busting exercises you can do in front of the telly
Toning your bottom couldn't be EASIER thanks to these 6 simple booty-busting exercises, which Healthy Mummy Libby says you can EASILY perform in front of your telly.
We suggest aiming for 3 sets of 8 – 12.
1. Duck squat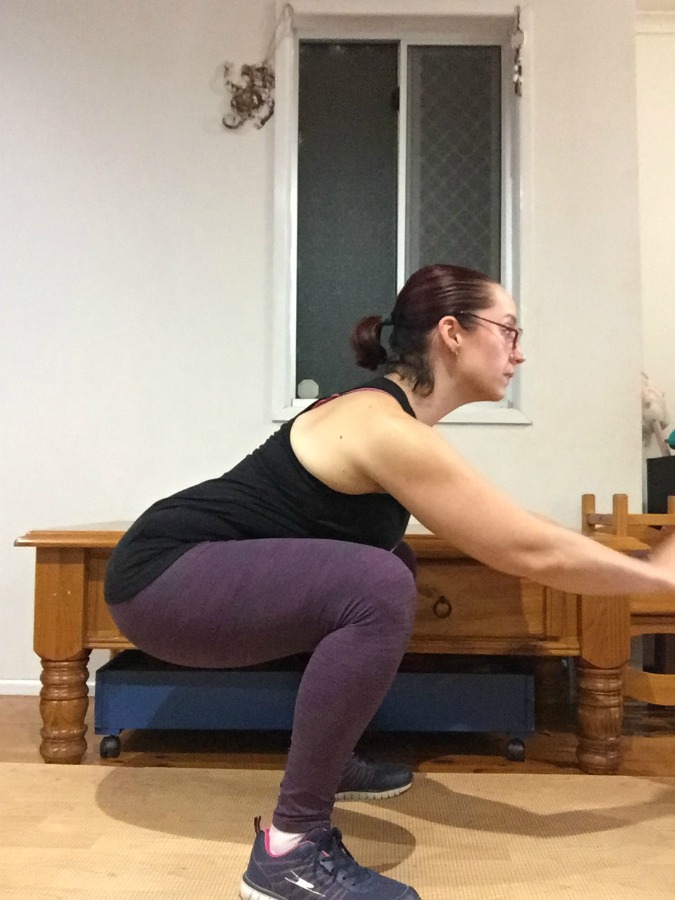 To perform a duck squat you need to stand with your feet shoulder-width apart with your toes pointing out at 45 degrees.
Activate your core and place your hands together out in front of you. Next you need to squat down until you butt is parallel with the ground and this is your starting position. Rise only 3/4 of the way up, then lower back down to the starting position. Try to keep your back straight.
Take it up a level: If you want to increase the resistance, you can hold weights in your hand.
2. Donkey kicks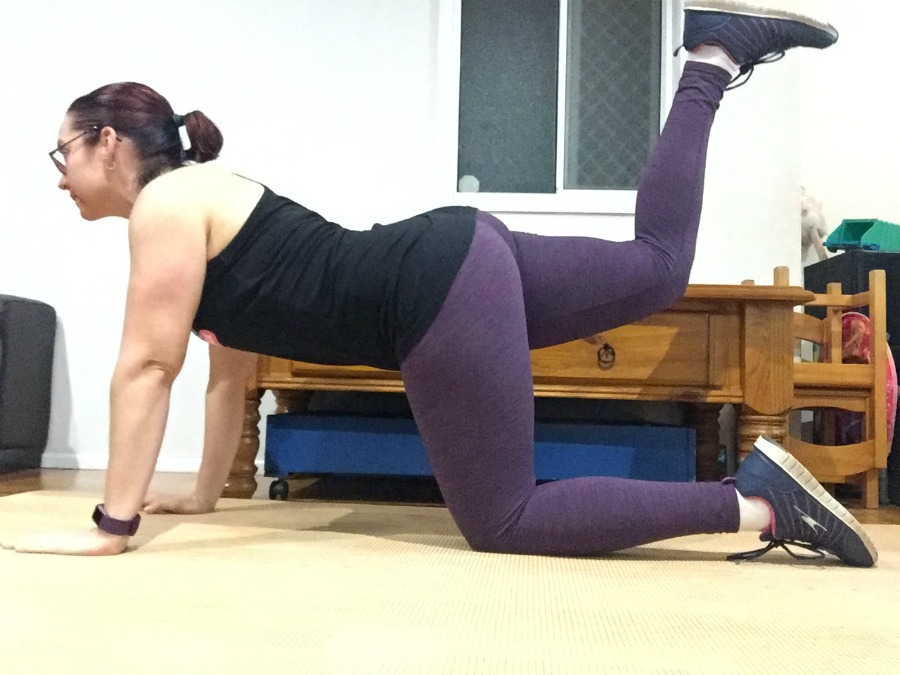 Get on all fours so that your hands are shoulder width apart and your knees are straight below your hips.
Activate your core while keeping your knee bent, lift one leg up behind you until it is in line with your body and your foot is parallel to the ceiling.
Then lower your foot back down to the starting position and repeat on the other leg.
Take it up a level: If you would like to increase the resistance, add ankle weights.
3. Sumo squat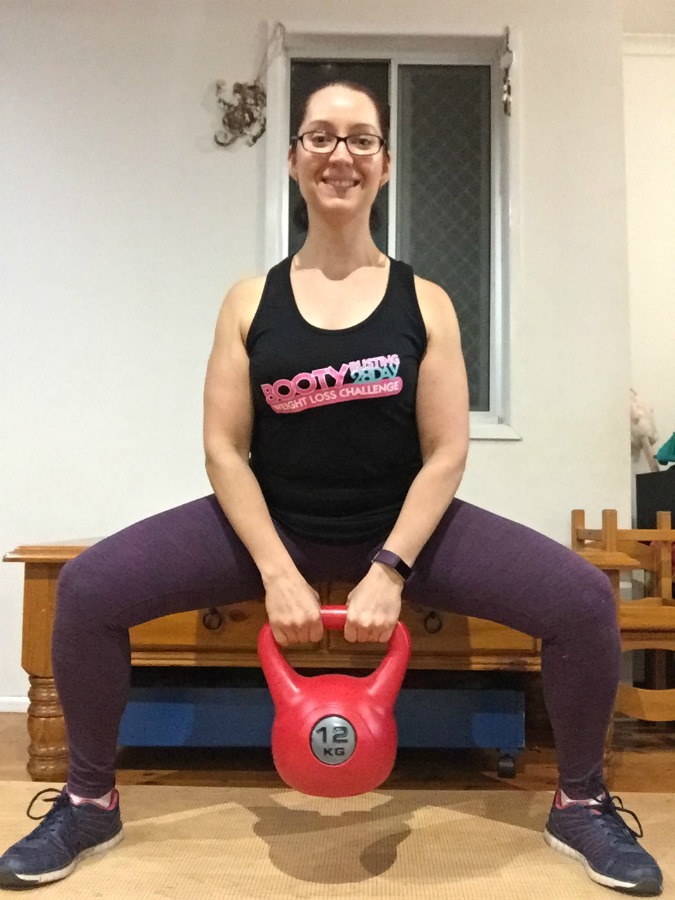 Stand with your feet out wide, toes pointing out slightly. Activate your core and keep your balance by holding your arms in front of you.
Lower your body until your butt is in line with your knees (or as close as you can get) while still protruding it out behind you, keeping your back straight.
Take it up a level: You can increase the intensity by holding a weight such as a kettle bell.
4. Glute bridge
Lie back, knees bent, feet on the floor hip-width apart, arms extended at the sides with palms facing down.
Lift your hips toward the ceiling, pressing into your heels (but don't squeeze your glutes UNTIL you reach the top). Hold for 10 deep breaths, then slowly lower your hips to the floor.
Take it up a level: To up the ante, you can pulse these at the top, instead of holding.
5. Lunge pulse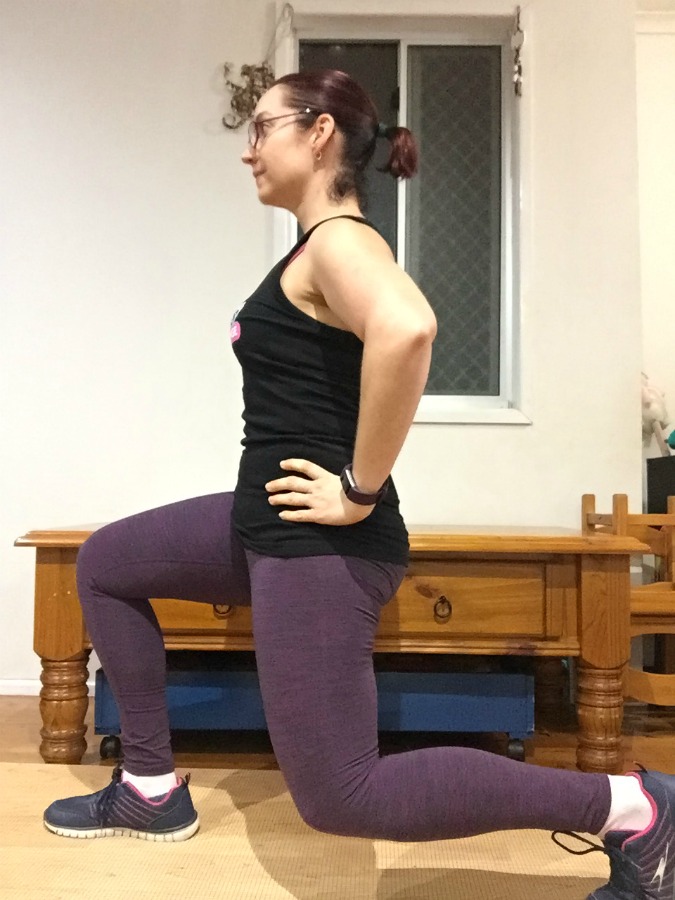 From a standing start, step forward like a regular lunge. Lunge down partially, about a quarter of the way down as you would for a normal lunge.
This is the starting position. Begin exercise by pulsing up and down, performing the lunge by going up and down about 3 inches or so.
6. Chair kick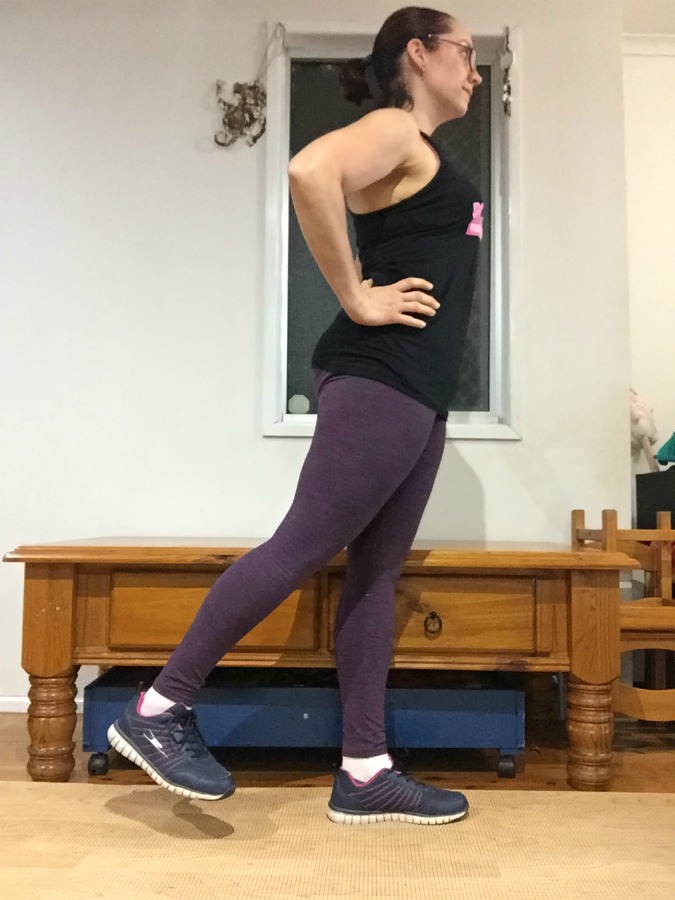 In a standing position, activate your core and place your hands on your hips (or hold onto a table or chair, if you need for stability).
Transfer your weight to your left leg and lift your right leg back so you feel a squeeze in the right glute.
Ensure you remain standing upright, and you will only need to kick the back leg a short distance before you feel the squeeze.
Live Q&A with your SQUAD MUMS
To help keep you motivated and booty-building be sure to join our Private Support Group and connect with our HEALTHY MUMMY BOOTY SQUAD MUMS!
This month, our squad mums will be uploading videos, recipes and tips to our Private Support Group to empower, inspired and motivate other mums while following the 28 Day Weight Loss Challenge.
So, join the group, ask questions, get great tips, and receive the support you deserve from real mums who have been in your shoes!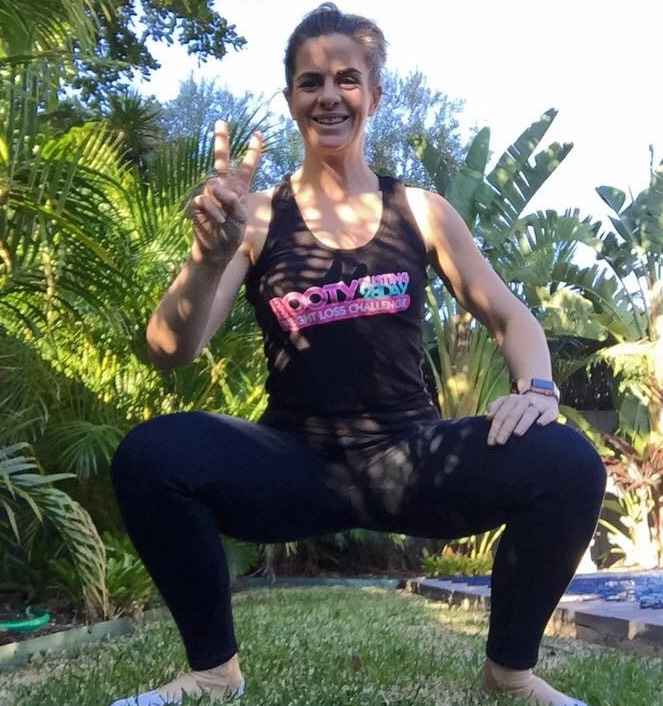 You can learn MORE about our Facebook communities HERE.
Three more weeks of BOOTY-LICIOUSNESS
Well, ladies – with incredible NEW booty-busting workout videos on the Challenge App, a delicious meal plan and booty-focused exercise programs – there is no reason you CAN'T smash your week and edge closer to your overall fitness goals!
We are feeling ready to slim down our thighs and focus on booty-building and shaping movements. Be sure to post your INCREDIBLE booty transformation pics in our Private Support Group!
If you haven't signed up to this month's Challenge yet – you can do so HERE.
More on the 28 Day Weight Loss Challenge for those NON MEMBERS
The 28 Day Weight Loss Challenge is a healthy weight loss program, made especially for busy mums.
Complete with meal plans, recipes, support and daily exercises, it is YOUR personal trainer, dietitian, meal planner and motivational coach in YOUR pocket! Manage your workouts, recipes and meal plans and get your shopping list from one convenient App, daily.
EACH MONTH IS A NEW CHALLENGE THEME.
You can learn MORE about the Challenge HERE.