Kangaroo meat (raw) has 30% less calories then beef which makes it a perfect addition to your healthy eating plan and weight loss diet.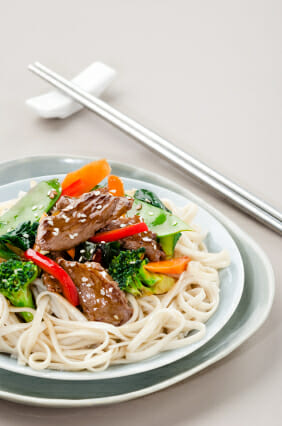 As kangaroo meat is very lean, it is best cooked as medium rare to medium (not well done).
When cooking a fillet, think about 3 minutes per side.
Here is today's kangaroo garlic and chilli stir fry.
Prep time: 10 minutes
Cook time: 15 minutes
Serves 4
Ingredients
400 grams of kangaroo meat sliced in long strips
4 cloves of garlic
2 spring onions
1 carrot sliced
1 head of broccoli florets
1 cup of snow peas top and tailed
½ red capsicum sliced
½ chilli (deseeded)
1 tbs of sesame oil
400 grams egg noodles (or noodles of choice)
1 tbs of fish sauce
2 tbs of oyster sauce
¼ cup of hot water
Directions
Cook your noodles to the directions on the packet and set aside.
On a hot fry pan add your sesame oil, garlic, chilli and spring onions and cook until fragrant.
Add in your kangaroo beef and pan fry for about 3 minutes (as it is already chopped up it will be quicker).
Remove the meat from the pan and add in the chopped vegetables, fish sauce and oyster sauce. Add the hot water as well. Cook for about 5 minutes.
Add the noodles and kangaroo meat back in and stir together.
Serve
420 calories per serve