Kimberley's Advice On Changing Expectations
Hi mummies and mummies to be!
Pregnancy is filled with many changes big and small that can kind of be described as a roller coaster ride over the 9 odd months, but I'm sure I don't need to tell anyone this!
I'd like to share my journey of how my habits have had to adjust to compensate for the changes I have experienced through my pregnancy this far.
I am nearing the end of my 38th week of pregnancy. During this time I've done some reflecting on how I've travelled down the road of pregnancy this time and the bumps and pot holes I have come across along the way and in what ways I have dealt with them.
We all know our bodies are going to grow and change during pregnancy but some of the changes can be unexpected.
As for myself, during the very early days of pregnancy I had set myself the challenge to have a healthy pregnancy and stay as fit and active as I could which included the illusion I wouldn't have to change much at all.
I had put some big expectations on my body and a specific image in my head as to how my pregnancy would be. How very unrealistic of me!
Coming down to earth, my pregnancy has been a very different picture. My exercise in particular has been the most altered, things that I love had to be decreased or stopped.
Running became a thing of the past relatively early from somewhere between 7-12 weeks.
During that time, morning sickness (heck who am I kidding, ALL DAY SICKNESS) had started and hung around until about 22 weeks.
During this time as many of us know, it's hard to eat really decent food and exercise in general.
From 22 weeks to about 26 weeks I had been feeling much better, discovered Healthy Mummy and the then newly released Healthy Mummy Pregnancy Range which has been a wonderful addition to my lifestyle.
At around 27 weeks I started to experience some debilitating pelvic girdle pain which started to affect my routine. Even after physio appointments and receiving a support belt my main forms of exercise including the gym had to cease.
As the weeks have passed the pelvic pain also increased and my exercise has now dwindled down to gentle walks and yoga/stretching.  Not at all what I had visualised nor what I had expected or experienced before in my previous pregnancy but my body was telling me enough is enough and I had to respect that.
It's very easy to get carried away and dwell on the changes, particularly when they aren't desirable changes! Having to reduce and change my exercise quite significantly was something I found challenging, especially when seeing others moving more then myself.
It was not how I wanted my pregnancy to go, but I know I can pick back up where I left off after this journey has come to an end.
I know that I have done the best I can to achieve what I set out to for my pregnancy. I am still healthy, fit and strong.
My diet has been the best I could achieve, and I have loved incorporating the pregnancy smoothies and recipes into my journey.
My weight gain has been slower and is less than my first pregnancy which was one of the driving forces for my initial desire to have a "healthy pregnancy".
It all comes down to embracing the changes that fall upon us, the good and bad.
Don't let them define you, let them inspire and drive you. It's still possible to achieve a version of that image you may have had.
Try not to compare yourself to others, we are all so very different and there are so many different versions of healthy. Let others be your inspiration but with out judgement and guilt on yourself.
But most of all listen to your body. Pregnancy is such a beautiful individual experience, and really is only a short time in the grand scheme of life.
Make it YOUR BEST in your own way.
– Kimberley
Click here to visit our pregnancy products shop.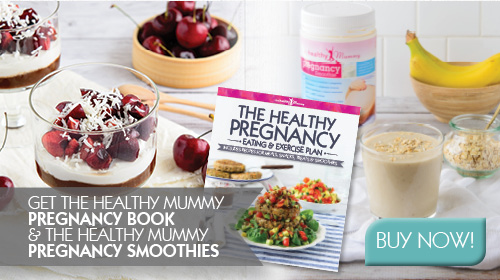 Disclaimer: Always speak to your doctor before changing your diet,taking any supplements or undertaking any exercise program in pregnancy. The information on this site is for reference only and is not medical advice and should not be treated as such, and is not intended in any way as a substitute for professional medical advice..
Our plans promote a health weight gain in pregnancy to benefit the mother & baby and you can read more on this here 
The owners of The Healthy Mummy do not make any representations or warranties, express or implied and shall have no liability or responsibility to any person or entity with respect to any loss or damage caused or alleged to be caused directly or indirectly by the information contained herein and nothing in this disclaimer will limit or exclude any liability for death or personal injury resulting from negligence, limit or exclude any liability for fraud or fraudulent misrepresentation, limit any liabilities in any way that is not permitted under applicable law or exclude any liabilities that may not be excluded under applicable law.