Milk Booster Caramel Slice
After a healthy pregnancy, it's great to continue with your healthy eating and exercise when your baby is born. Breastfeeding uses a lot of your energy supplies and it's good to have some healthy recipes to help with milk supply and overall energy.
Caramel slice is known for being indulgent, full of fat and loaded with calories and sugar. This version is not only good for you – but it also contains ingredients known to support healthy lactation!
With healthy fats, unrefined sugars, protein and milk boosting ingredients – this is a dessert which can be enjoyed without the guilt!
Thanks to Janet Cook for this delicious caramel slice recipe!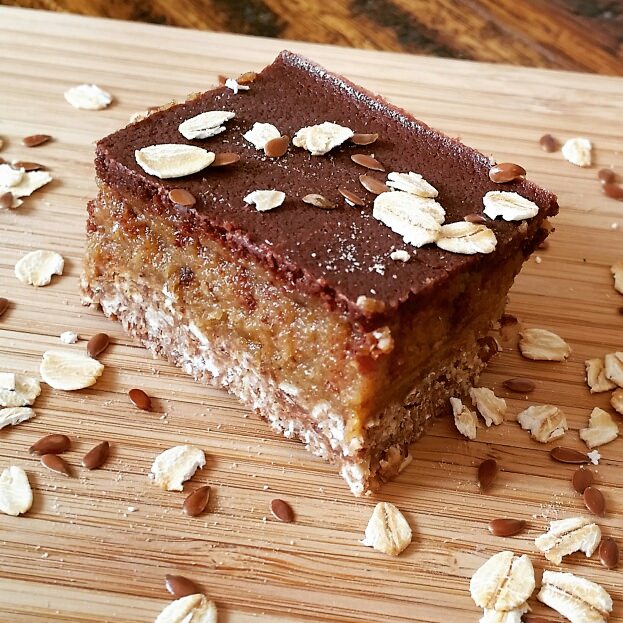 Milk Boosting Caramel Slice
Ingredients
Base
½ cup oatmeal
1 tbsp. brewers yeast
1 tbsp. ground flaxseed
1 tsp cacao powder
2 tbsp. coconut oil
2 tbsp. maple syrup
½ tsp pure vanilla extract
Caramel
1 cup dates, soaked in boiling water 15 minutes
½ cup cashews, soaked in boiling water 15 minutes
Top Layer
1 tbsp. virgin coconut oil
1 tbsp. cacao powder
2 tsp pure maple syrup
Method
Line a small, square or rectangular container (approx. 10 x 15cm) with baking paper.
Mix first 7 ingredients together and evenly press into the base of the container.
Drain and rinse cashews and dates then process until smooth. Add 1 tbsp. pure maple syrup if additional sweetness is required.
Spread caramel mixture on top of base and place in the refrigerator.
Melt coconut oil over low heat. Mix in cacao and maple syrup.
Pour over the top of the caramel and refrigerate again until set.
Lift out of the container using baking paper. Slice and store in the refrigerator.
Serves 16, 95 cal / 400 kj per serve. Fat: 4.5g. Carbs: 12.6g. Protein: 1.65g