Mum Nadia Jameson has not only lost 55kg and gone from a size 26 to a 12 (without surgery) she has quite possibly saved her own life in the process.
She shares her EPIC weight loss transformation and the life-threatening reason she knew she had to make a permanent change to her lifestyle.
Mums have many different reasons for wanting to lose weight and get stronger but for mum Nadia, a serious health scare prompted her to make a permanent change.
She said "I knew I was big – just no idea how huge! It gets that way when you've been overweight for so long!
A health scare forced a big change
"I wish I could say one day it just clicked, but a serious health scare is what it took.
I remember the day in February clearly where I was having a panic attack in emergency and cried to my sister that my irresponsible food consumption would be the reason I died and left my kids behind".
Due to an aneurysm, Nadia was forced to cut salt out in an effort to bring her BP down and thankfully it worked.
In addition, she is allergic to dairy and soy and can no longer have gluten so making some hefty changes to her diet were not optional.
The first photo was Christmas 2017 and the second Christmas 2018.
Weight loss results
Nadia has lost 55kg in the past year (without surgery) and had gone from a size 26 to a size 14 (although she says the red jumpsuit in the picture was a 12!). She says "I haven't been a 12…. since I was probably 12!".
Learning to take the necessary credit for her weight loss
Adjusting to her new lighter frame has taken some getting used too Nadia says "It's been a hard and weird transition.
For the first 6 months, people would compliment me and it felt strange.
They would say 'good work on not eating foods that might kill you and the subsequent weight loss'.
I always downplayed it with 'oh I'd love to take credit but it's my allergies'.
My main allergy (anaphylaxis) is to dairy and soy but I cannot have gluten either. Doesn't leave much to be tempted by, let me tell you!
So damn it, I'm taking the credit!"
And so you should Nadia. You have worked very hard to get where you are today.
While Nadia's health issues may have been the instigator for her change in diet and lifestyle it has been Nadia who has persevered and made all the changes necessary.
Nadia says "My diet isn't very exciting these days – proteins, veggies and fruits… but I feel better than I have physically in a long, long time and I've also stopped settling for less in other areas of my life.
I am beyond excited to see where 2019 takes me!".
The Healthy Mummy team are beyond excited to see where 2019 takes you too, Nadia.  Thank you so much for sharing your incredible weight loss journey with us.
Are you ready to make a change? Join our 28 Day Weight Loss Challenge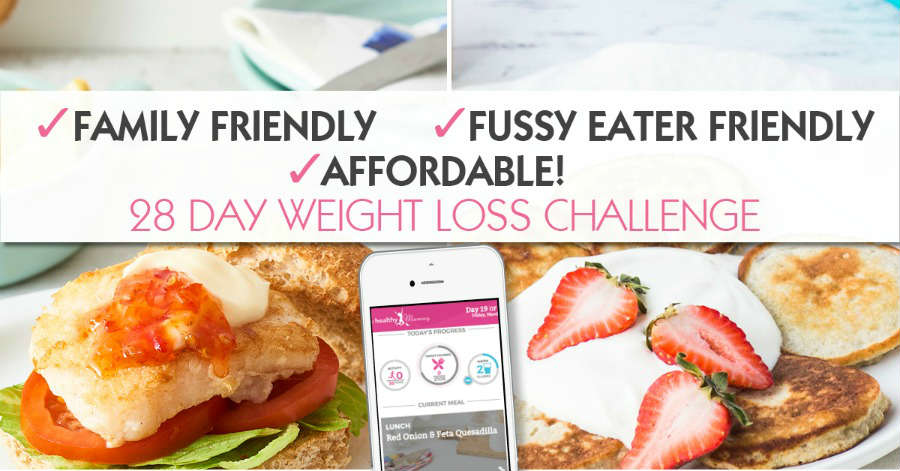 Want to shift your baby weight but feel like you have NO TIME in your day to exercise and eat healthily? That's where the Healthy Mummy's 28 Day Weight Loss Challenge can help.

Our Challenge entails: 
28 days of at home exercise routines (no gym needed) – with video instruction
Customisable and breastfeeding friendly meal plans
Time-efficient exercises for busy mums – under 30 mins
Challenge combines Pilates exercises with interval and circuit training (HIIT)
Suitable for basic to advanced fitness levels.
Home to thousands of EASY-TO-MAKE recipes.