Mushroom & Beef Stroganoff Recipe
By using lots of mushrooms in a healthy eating recipe like this beef stroganoff recipe, you can use less meat than you normally would.
And while it may look like a lot of ingredients, many of them will already be in your kitchen.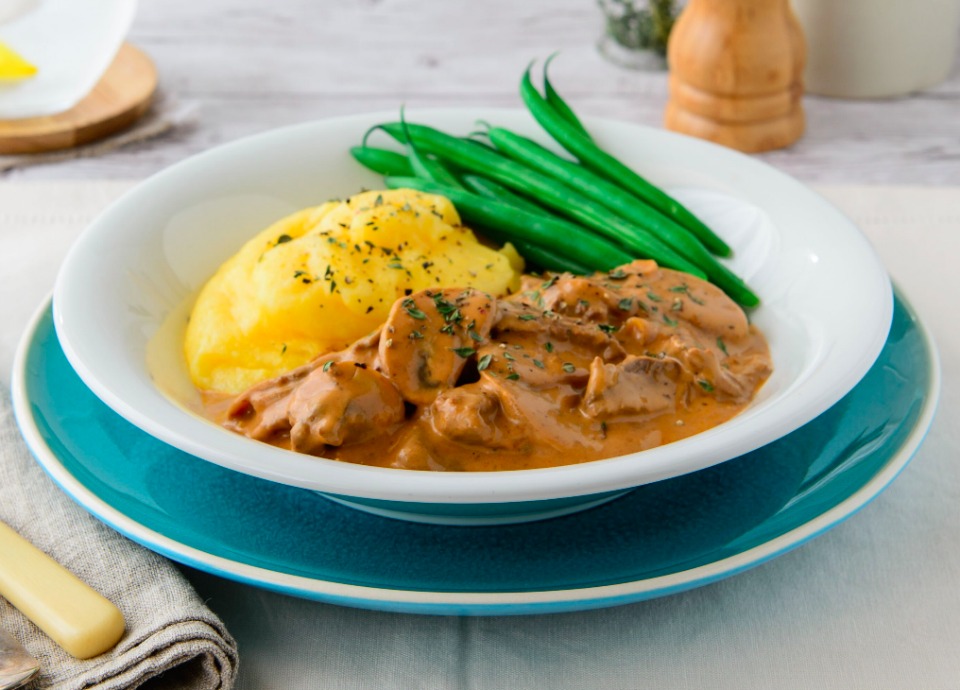 To cook in the slow cooker, reduce the stock to ½ cup and the wine to ¼ cup. Once the beef is browned, place everything in the slow cooker (add the sour cream, Worcestershire sauce, tomato paste and parsley at the end of the cooking time) and cook on high for 3-4 hours. Enjoy another delicious mushroom recipe!
Try serving this healthy eating dish with some brown rice, wholemeal pasta or a crisp green salad.
Ingredients:
½ cup plain wholemeal flour
½ tsp paprika
Salt and pepper to taste
700g lean sirloin steak, cut into strips
2 tsp minced garlic
1 medium onion, peeled and diced
1 tbsp olive oil
1 cup beef stock
½ cup white wine (or use more stock)
2 cups mushrooms, sliced
200ml light sour cream
3 tbsp tomato paste
1 tsp Worcestershire sauce
Small bunch fresh parsley leaves
Method:
Combine the flour, salt and pepper, and paprika in a zip lock bag.
Add the beef and toss to coat in the flour.
Heat the oil in a large frying pan over med/high heat.
Add the onion and garlic, and stir fry for 2 minutes.
Add the beef and flour mix to the pan and cook until beef is browned.
Pour in the stock, wine and mushrooms.
Cover with a lid and cook for 5 minutes.
Reduce heat to low and add the sour cream, tomato paste and Worcestershire sauce. Do not boil.
Add the parsley leaves just before serving.
Serves: 6. Calories per serve: 385.