One Pot Meal Ideas For Busy Lifestyles
Some days it can be hard to get motivated to cook a healthy meal for the family.
Having some one pot wonders up your sleeve can be a big help.
These recipes are great to add to your meal plan.  Prepare them ahead of time and freeze in either single size or family sized portions so you can just grab from the freezer, defrost and reheat.
Lemon Chicken And Veggies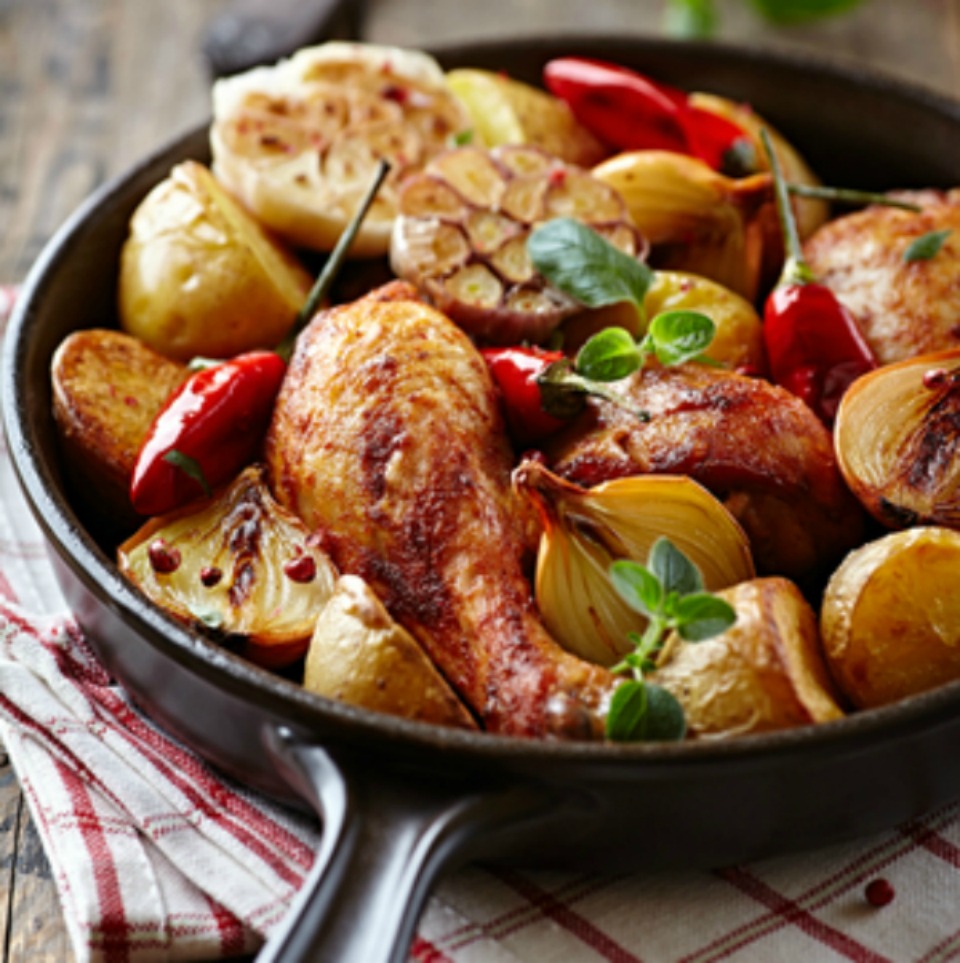 We love the idea of eating a rainbow of colourful vegetables each day – and this recipe is totally customisable to whatever veg you have on hand.
After browning the onions in the ovenproof pan you just throw everything in the oven and let it roast until tender.
Ingredients:
500g chicken thighs, drumsticks or breasts
1 tbsp olive oil
1 whole bulb garlic, cut in half
3 small onions, peeled and cut into quarters
3 potatoes or 1 medium sweet potato, cut into chunks
3 small chillis (optional), whole
1 cup of chicken or vegetable stock
2 tbsp chopped rosemary
Salt and pepper to taste
Juice and zest of one lemon
Method:
Preheat your oven to 200C.
Heat the oil (if you have one, use a dish that can go from stove to oven) on medium/high.
Add the garlic and onions, and stir fry for around 4 minutes to get a little colour.
Pour in the stock and bring to the boil for 2-3 minutes.
Add the potatoes, chilli and chicken.
Season to taste and add the rosemary.
Place in the oven for 30 minutes.
Turn everything over and then add the lemon juice and zest.
Stir well and then cook for a further 30 minutes or until the chicken is cooked well and the veggies are browned.
Serves: 4. Calories per serve: 265 (based on using chicken thighs and sweet potato).
Spaghetti Bolognese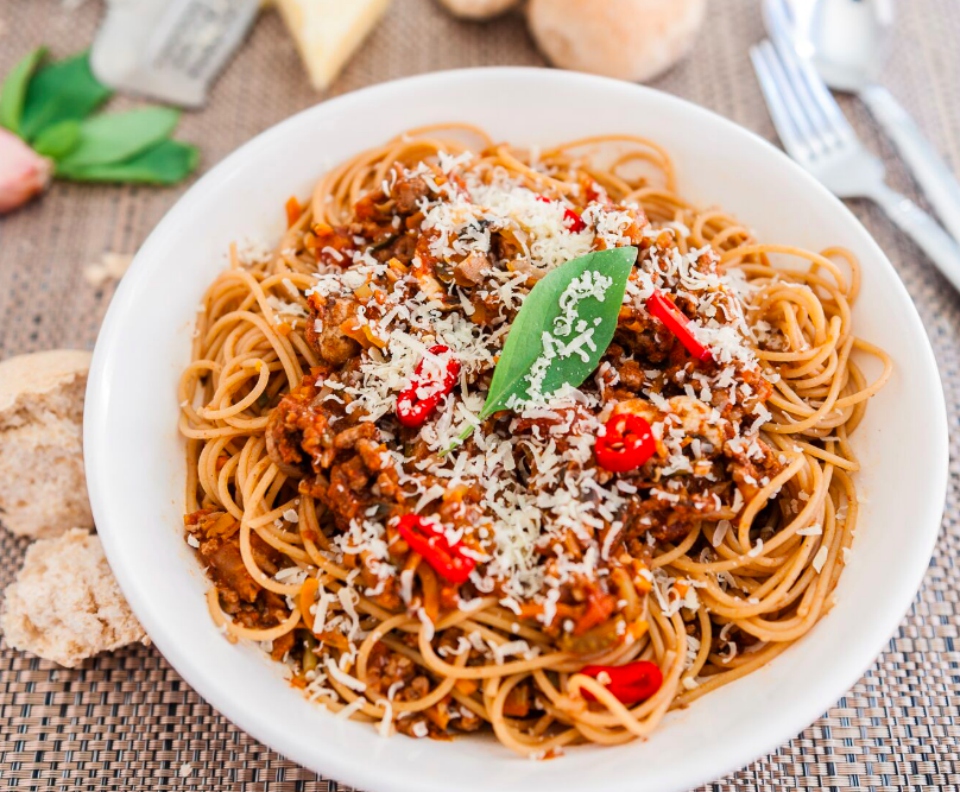 This veggie packed recipe will feed a big family or provide delicious leftovers for another meal. And yes – even the pasta is cooked in the one pot! Genius!
With six vegetables snuck in, this is a healthy recipe that you know is great for even the fussiest of eaters.
Ingredients:
1 tbsp olive oil
1 large red onion, peeled and finely diced
2 carrots, peeled and grated
2 stalks celery, finely chopped
2 tsp minced garlic
6 medium mushrooms, chopped
1 zucchini, grated
1 tsp minced chilli (optional)
500g lean beef mince
1 tbsp Worcestershire sauce
3 tbsp tomato sauce
800g tinned diced tomatoes
3 cups chicken or vegetable stock
250g wholemeal spaghetti
Salt and pepper, to taste
Handful of fresh basil leaves, to serve
½ cup grated Parmesan cheese, to serve
Method:
Heat the oil in a large pan over med/high heat – the pan needs to be big enough to hold all of the bolognese and the spaghetti too.
Cook the onion, carrot, celery and garlic for 3 minutes.
Add the chilli, if using, and then add the zucchini and mushrooms and cook for another 2 minutes.
Add the mince to the pan and brown the mince for around 5 minutes, stirring continuously.
Pour in the Worcestershire sauce, tomato sauce, tomatoes and stock.
Season to taste and stir to combine.
Place the lid on and bring to the boil.
Reduce the heat to medium and add your spaghetti to the pan (you may need to break the pasta in half if your pan isn't big enough).
Simmer, uncovered, for around 15 minutes or until the pasta is cooked, stirring several times during the cooking time.
Sprinkle over the fresh basil leaves, and then serve with the Parmesan cheese.
Serves: 6. Calories per serve: 493.
Beef San Choy Bow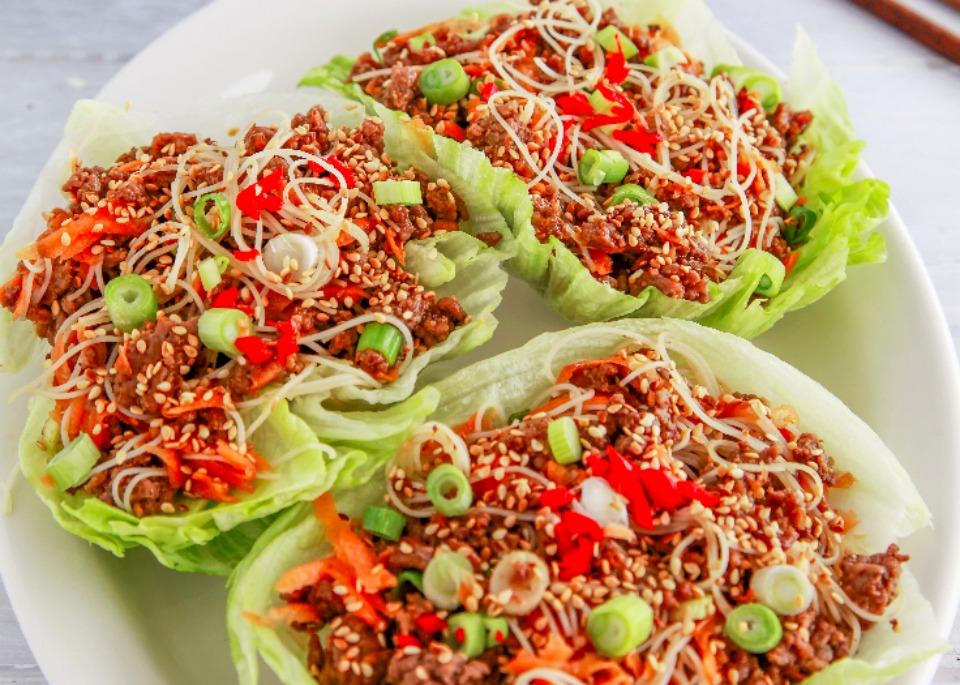 This fresh and light meal uses lettuce cups instead of wraps for a healthier dinner.
A great Asian inspired meal, this recipe uses lean beef mince but you could also try pork or chicken mince if you have that on hand.
This is one of our most popular recipes – try it and you'll soon see why.
Ingredients:
750g extra lean beef mince
1 tbsp of sesame seed oil
1 ½ cups grated carrot
3 spring onions, finely sliced
1 can water chestnuts, sliced
2 garlic cloves, diced
1 tsp freshly grated ginger
4 tbsp salt reduced soy sauce
3 tbsp oyster sauce
3 tbsp sweet soy sauce
2 tbsp toasted sesame seeds
1 iceberg lettuce to serve
1 cup vermicelli (prepared as per packet instructions), chopped
Method:
Heat sesame oil in wok over high heat, then add mince. Use whisk or wooden spoon to break apart chunks of mince.
Once mince is browned, add garlic, ginger, carrot, shallots, water chestnuts and stir fry for a few minutes.
Add soy sauce, oyster sauce and sweet soy sauce and stir fry around for another 2-3 minutes.
Remove from heat and add vermicelli.
Serve in lettuce cups and sprinkle with toasted sesame seeds.
Serves 4,  approximately 390 calories per serve.
For more healthy recipes like this (that are made for busy mums), why not join thousands of other women on our next 28 Day Weight Loss Challenge?