Yes, 300g weight loss in week 2 of the Eat Move Lose Challenge and 8.3kg since using the Healthy Mummy Plans! Must've been all the extra challenge squats?!
I started week 2 of the Eat, Move, Lose Challenge with a massive shop of fruits and vegetables. I don't feel that good when I eat meat, so my diet was mainly fruits and vegetables this week and I have been feeling great. This week's challenges were to cook, squat and increase fibre intake.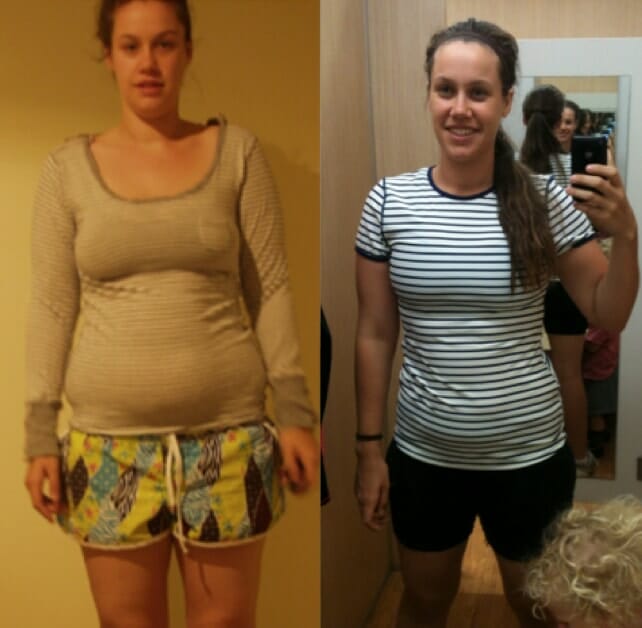 1 Cook
I tried a new recipe this week- Salmon and Corn burgers! DEEELICIOUS! I have not come across a Healthy Mummy recipe I don't like, whether it is in the books or online at this link.  Which efinitely makes losing weight and choosing the weeks menu a breeze. I don't even need to think about what I want to eat or spend hours searching online for a healthy recipe, the Healthy Mummy and Lose Baby Weight sites both have a list of recipes you can easily scroll through. I think I spent 10 minutes oooing and ahhing through the yummy options! And there is something for everyone. I have had numerous salads, stir-fries this week. Easy, and oh so colourful.
2 Squats
Not my ideal way to exercise so I kind of rolled my eyes when I read we were being challenges to squat 30 Monday to Wednesday, and Sunday to Friday it was 60! Easiest challenge I have ever done. Squats are easy to incorporate into your day. There are so many times (well for me anyway) that I am just standing, nothing else but standing. So I was able to squat while I was waiting for the kettle to boil, squat each time I bent down to pick up washing for the line, squat while shampooing in the shower. And the combination of squats and riding my exercise bike has meant my legs have been sore but I've noticed a difference in the last week!
The only issue I had was form. I noticed that my toddler seem to be doing more effective squats than me, and once I youtubed squats and watched/did the Exercise DVD, it actually felt way better on my legs!
3 Fibre
This week I increased my vegetable and bread intake! I am finding the Calorie Bible so helpful as it is not just a list of what foods contain how many calories, but there is so much health and food information hidden inside. I added in parsnips, sweedes, more kale, Brussels, broccoli and peas! So easy to fry these veggies in coconut oil and garlic! Makes a yummy snack! I also found some fibre filled Turkish bread and quinoa crackers. Used for sandwiches and the crackers were used them on a platter with tomato, cucumber, cheese and an avocado and mango dip (from Lose Bay Weight). I also made the beetroot dip Yummiest dips I have had and made in a while.
So, lots of fun this week! Trying new things and getting to cook from scratch! I've already had a jumpstart on week threes challenge by freezing in advance and trying new smoothies, so this week will be a success!
Week 3:
The end of week three and again we went on another mini weekend getaway! These have been a regular occurrence in the past few weeks! I do enjoy some me time.
1 Try a new smoothie & freeze ahead meals
I was open to the idea of trying a new smoothie, I love mixing and putting anything in them so this week I tried The Healthy Mummy's Avocado and Beetroot Smoothie. All I can say is that it sure was interesting. I know it was good for me, and gave my body an extra boost of nutrients. I also wanted to start adding fresh carrot juice in my smoothies. The majority of mine are made with water so I was aiming for ¾ water and ¼ carrot juice. So I juiced all my carrot and then forgot why I was doing it and enjoyed it by itself, so it never made it to my smoothies. But this week it will! There is a choc carrot smoothie in the cook book so I will definitely be trying that!
As for freezing ahead meals, this is as simple as making a double or triple batch of the recipe and then dividing and freezing. I did this with the salmon burger patties and the pilaf! I find when reheating frozen rice dishes I put a little extra water in the top to keep it wet and the rice doesn't dry out!!!
2 Pushups!
This is the most hardest exercise for me… And there is NO way I will ever be ready to do these on my feet! So I do them on my knees, and also on the wall or bench as suggested in the challenge. Initially I thought how am I going to be able to do 60 at the end of the week!! But every time I did them I did 10 at a time! It took a while but I got there. That way I wasn't overwhelmed with the number set for the day! So that's my tip. If it's too much to handle break it down, your body is working whether you do 10 pushups or the whole 60!!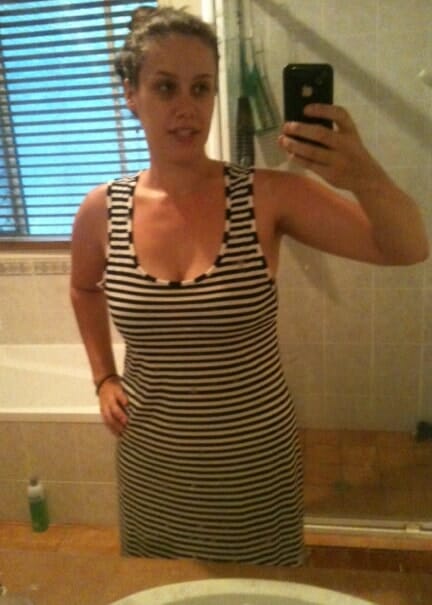 3 Weigh yourself only once this week!
Say what?? So I put my scales away. A bit sad, but after reading what the challenge was I do think I weigh myself to much. I lost 300g last week, and this week only 100g! My main form of exercise this week was pushups and low cardio on the DVD, plus am keeping going with 20 squats a day! It is a daily  habit now.
Very much looking forward to the remaining weeks of the challenge!!!
If you are ready to lose weight then The Healthy Mummy plans offer a healthy and safe exercise and diet routine that are safe if you are breastfeeding and you can use code LOYALTY for a 10% DISCOUNT at the checkout