With scorching temperatures around the country, a Queensland mum has posted a timely warning on the dangers of hot surfaces in playgrounds, after her 15-month-old son suffered second degree burns to his feet.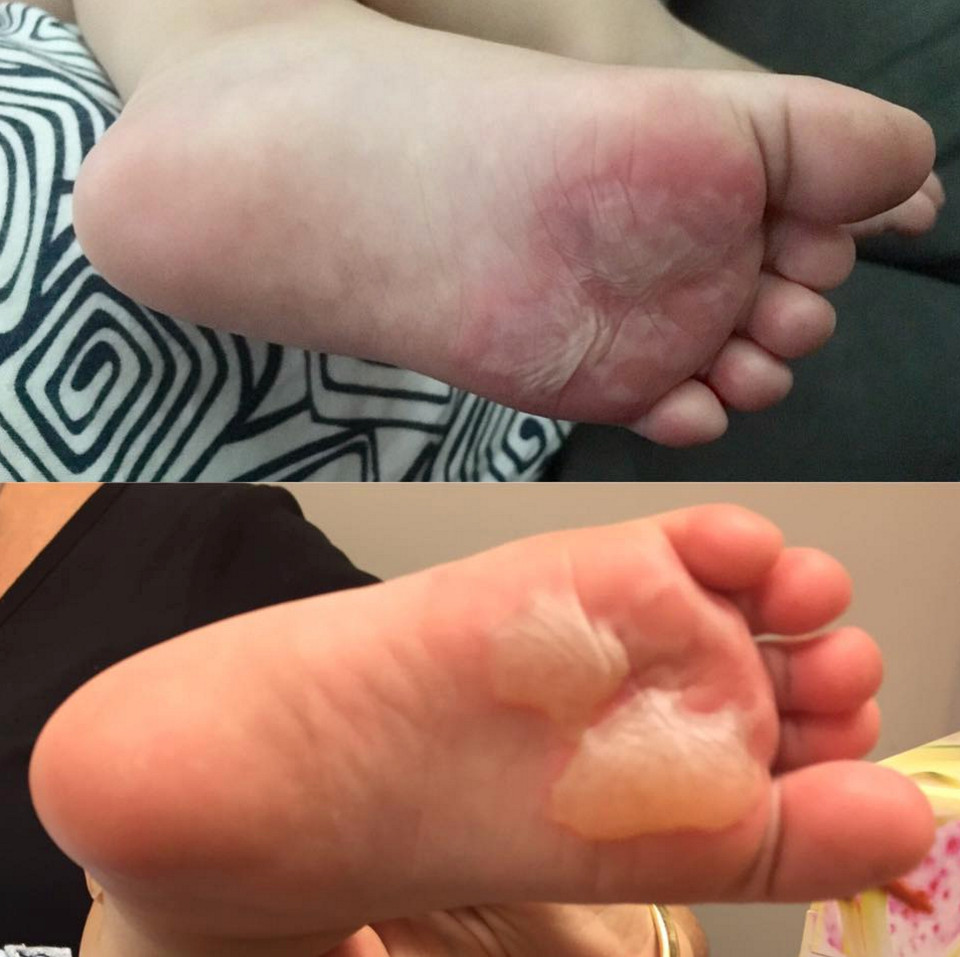 Jessica Mead explains how a fun afternoon at the beach was shattered by her toddler Jackson's piercing screams.
'The Surface Was Boiling!'
The Townsville mum says she and her sister were at the beach front with their kids, who were happily playing on the grass without their shoes.
"I had put Jackson down on the grass to play with a scooter and next minute he raced out to the playground and started screaming," Jessica explains on the Facebook page she shares with her sister, OMG I'm That Mum.
"That ear piercing scream where your 'mumtum' sinks. He had no shoes on and the surface was boiling!! Instead of moving, because after all he's still only a little toddler, he just stood there screaming, it was like his feet were glued to the surface."
Jessica says she sprinted to her son and took him into some shade before putting water on his feet and giving him a feed. After initially calming down, Jackson once again began screaming.
"I looked at his feet and one foot had blistered immediately, it explained why he was so hysterical. I ran to a nearby tap and let it run on his feet for a while but couldn't calm him down. So we raced back to Kell's (WORST car trip) and jumped in the pool and just kept him cool. After 40 minutes we hopped out and he finally fell asleep."
After consulting a doctor, Jessica was told her toddler has second degree superficial burns. She says while it didn't take Jackson long to recover, she wants to share what she's learnt with other parents.
She also says as mums we should be less hard on ourselves, because despite our best intentions, accidents happen.
"Mum guilt, it lingers even when people tell you it was an 'accident'. #lessjudgementmoresupport because we are already so hard on ourselves. And it's so easy to be a 'spectator' and judge these stories from the sideline but remember hindsight is a wonderful thing and we all make mistakes."
Jessica went public with her son's accident, in the hopes of educating other parents but some of the comments following her warning have been less than supportive. It's prompted her sister Kellie to remind everyone reading their story that accidents with kids happen in seconds, and no parent is perfect. We couldn't agree more.
First Aid For Burns In Children
According to Better Health, this is what you should do if your child suffers a burn:
Apply cool running water (not ice or iced water) to the burn for at least 20 to 30 minutes (useful for up to three hours after the burn).
Carefully remove wet clothing only if the skin is not blistered or stuck to the clothing.
Remove all jewellery and watches. Burns cause swelling and it may hinder circulation.
Cover the burn using a clean dressing, a clean sheet, non-fluffy towel/tea towel or Gladwrap.
If the burn is severe or spread over a large area, keep the child warm and calm, and dial triple zero (000) to call an ambulance.
Burns that involve the face, hands, feet, genitals or bottom, or if the burnt area is larger than a twenty-cent piece, should be seen by a doctor as soon as possible.
Make sure you read why you must take a first aid course.