The Healthy Mummy Q and A Summary with Nutritionist Cheree Sheldon
In The Healthy Mummy Pregnancy Support Group we held a Q&A session with our nutrition expert to answer any questions about nutrition during a healthy pregnancy.
On July 15, 2015, Cheree Sheldon, Nutritionist held a Q&A session and below is the summary of questions and answers:
Q. Do you have any ideas for good snacks to eat during labour??
A. Homemade muesli bars with lots of nuts/seeds and dried fruit
Frozen coconut water
You can make a really easy electrolyte drink with coconut water, Himalayan salt, lemon juice, and maple syrup; or use a good brand of electrolytes.
Bowl of wholemeal pasta, quinoa, or risotto.
Q. Do you have any recommendations of foods or vitamins to include in a pregnancy diet to help with restless legs?
A. Restless legs can be managed using tissue salts – calc phos and mag phos, 2 tablets each three times a day. Include electrolytes every day (get a good brand like endura).
Foods that help include: nuts, legumes, buckwheat, millet, rye, whole-grains, dark green vegetables, seafood, dark chocolate, artichokes, oranges, plums, apples.
Restless legs may also be linked to anaemia, low blood sugar levels, and/or low vitamin D, so getting a blood test to assess those would be a good idea.
You can also massage in magnesium oil or peppermint oil in a carrier oil to help.
Include Himalayan salt on meals to restore essential salts.
Q. How much does your diet affect the size of the baby?
A. I am not sure of a correlation between bigger babies and diet during pregnancy, aside from when gestational diabetes is involved.
Q. Any ideas to help with milk supply?
A. The original formula Healthy Mummy Smoothie is a great option as it contains fenugreek which can help boost your milk supply.
You can also try some of these tasty lactation cookie recipes which contain brewer's yeast which can help with milk production.
Lactation Bliss Balls
Chocolate and Peanut Lactation Bliss Balls
Food wise, try to include oats, molasses, quinoa, and herbs like fennel.
Another idea is to go and see a herbalist or naturopath and get a liquid tonic of galactagogues to help increase supply. Depending on what herbs they use it will help with milk production.
If you are not getting a let down, then work on getting oxytocin happening- think lovey thoughts, have a few minutes of deep breathing/mindfullness before attaching baby.
Seek help from a lactation consultant (multiple times if needed- I think I saw about 6 with my first as we couldn't get it right, but ended up working it out and fed her til she was 2yrs+!!)
Q. Are there limitations on the intake of brewer's yeast during pregnancy?
A. Not aware of any limitations, but it is really only used as a galactagogue so you would only include it once breastfeeding. You could try it in the last few weeks of pregnancy as part of your preparation, but any more I would say would be a bit pointless.
Q. Is it useful to try almond oil to prevent stretch marks?
A. Any topical application of oil (including almond, jojoba, rosehip, olive, hemp, coconut and vitamin E etc) will help keep skin hydrated and may help skin fibres stay intact.
There is a link between stretch marks and deficiencies in zinc, vitamin E, and essential fatty acids. So be sure to include nuts, seeds, eggs, liver, oysters, and fish.
Q. What do you recommend as a natural treatment for recurrent thrush in pregnancy?
A. For recurrent thrush, no sugar at all! That includes honey, jam, fruit juice, dried fruit, and white carbs.
Include fermented foods – real yoghurt, milk kefir.
Have a good probiotic. You can insert the probiotic vaginally every night as well, or smear yoghurt/milk kefir over and leave overnight. I went to a seminar recently where healthy vaginal bacteria was discussed, and another recommendation for all women is to smear natural yoghurt or milk kefir vaginally every day to ensure good bacteria. That will help seed babies gut when it comes out. I must say, if you have morning sickness and smells affect you, it is NOT a good idea, just insert a probiotic capsule instead.
Wear cotton undies (organic if possible), use oats in a sock to wash and not soap.
Q. Is there anything you can recommend to help with allergies/hay fever?
A. Probiotics with LGG strain in it (this will also reduce bubs risk of developing allergies!), vitamin C, zinc. Fusion has a good zinc that has vitamin C in it.
Also try saline spray.
You can have astralagus and echinacea in pregnancy.
Q. Can almond oil help me prepare for labour if I use it for perineum massage?
A. Yes you can massage and stretch the perineum with it. I have a doula friend who visited me at work last week and thought it was a crack up that I sold perineum oil, because she just recommends olive oil.
Any oil you use though will keep that area supple, and may help avoid tears during labour. Start massage and stretching in trimester three!
Oil up the area, and then gently "part yourself" so to be a tiny bit uncomfortable. Each night, do this, and it will stretch a bit more in preparation. Obviously you won't be able to prep for the size of a baby's head, but you can make a difference!
There is also a device you can get to help, called Epi-No. It expands like a balloon. It's not cheap, but I have known people that used it that had real fears around labour, and it helped them feel in control a bit more.
Click here to view our pregnancy products page.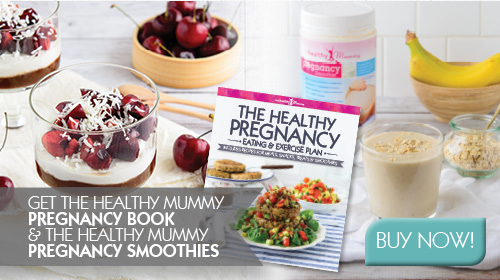 Disclaimer: Always speak to your doctor before changing your diet,taking any supplements or undertaking any exercise program in pregnancy. The information on this site is for reference only and is not medical advice and should not be treated as such, and is not intended in any way as a substitute for professional medical advice..
Our plans promote a health weight gain in pregnancy to benefit the mother & baby and you can read more on this here 
The owners of The Healthy Mummy do not make any representations or warranties, express or implied and shall have no liability or responsibility to any person or entity with respect to any loss or damage caused or alleged to be caused directly or indirectly by the information contained herein and nothing in this disclaimer will limit or exclude any liability for death or personal injury resulting from negligence, limit or exclude any liability for fraud or fraudulent misrepresentation, limit any liabilities in any way that is not permitted under applicable law or exclude any liabilities that may not be excluded under applicable law.