Rachelle Loses 28kg of Pregnancy Weight
We adore sharing success stories from real mums about how they have lost their pregnancy weight using a sensible and steady approach using our Healthy Mummy Range.
None of the mothers have had rapid weight loss. It has been at a steady pace with bumps and nooks a long the way. They have lost weight over weeks and months. And because they have done it slowly and sensibly with a combination of using our Healthy Mummy range and healthy eating, they are able to sustain the weight loss.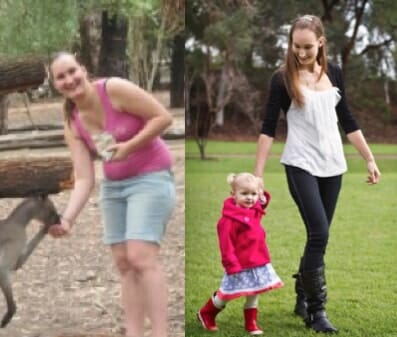 Recently we received this fabulous photos of Rachelle Price who has done an incredible job of losing over 28kg and she looks amazing! Well done Rachelle for reaching your goals and getting your healthy back on track. Amazing results!!! You look fabulous and healthy.
Rachelle's 28kg weight loss
Before I started using the Healthy Mummy plans and smoothies I was 84kilos. Now I am down to 55.5 kilos which is a total of 38.5 kilos and I feel fantastic and healthy.
I was kept motivated by the emails, facebook reminders, healthy eating recipes and motivation from other mothers. It kept me motivated and on track.
The healthy eating plans and diet has changed my diet dramatically. I have stopped sugar in my tea and coffee, stopped eating junk food and no longer eat white carbs.
I didn't even go to the gym before I started on the Healthy Mummy Plans. Now I go 4 days I week. I do Zumba and also take my daughter on walks. I do this to ensure the weight stays off for good. I have kept it all off so far and am even 4 kilos lighter than before I had my daughter.
My energy levels are way higher and I feel so positive when I look into the mirror and see my new reflection starting back at me.
I have recommended the plans to a lot of people who are having trouble losing weight. If it worked for me,  why not give it a try what do you have to lose. It's hard work losing baby weight I never thought that I could do it and all of us mums are living proof that it can be done if you have motivation and support from family.
Make sure you never give up as you will get there if you are persistent and believe in yourself.
Thank you so much Rachelle for your story and congratulations again.
Have a look at our 28 diet and exercise plan here and also our Healthy Mummy Range too.