LIVE ON KINDERLING KIDS RADIO: Rhian's top kids lunch box tips
The Healthy Mummy founder, Rhian Allen was recently on Kinderling Kids Radio with the lovely Shevonne Hunt.
Kinderling is Australia's most popular kids radio station. The adorable station plays family-friendly music and shows for children seven and under. Plus, in 2016 the growing station won an award for the Best Digital Radio Format at the Australian Commercial Radio.
Rhian sat down with presenter Shevonne to talk all things school lunch boxes, how to prepare healthy snacks that kids will actually want to eat and the NEW The Healthy Mummy's Kids Lunch Boxes Cookbook!
LIVE ON KIDS RADIO: Rhian's top kids lunch box tips
Staying up-to-date with the ever-evolving school lunch box regulations all while trying to feed fussy eaters NUTRITIOUS and HEALTHY options can certainly be tricky.
"Packing lunch boxes, is a labour of love", says Shevonne before jokingly adding, "Packing lunch boxes are the bane of my existence."
Many mums struggle with lunch box snacks, which is one of the many reasons why we created The Healthy Mummy's Kids Lunch Boxes Cookbook. And Shevonne says it "is fabulous for making healthier lunch boxes" and can "inspire us to do better" when it comes to nailing healthy lunches!
When asked how to get away from the 'lunch box pain', in a nutshell, here's what Rhian had to say:
1. Think nutrition!
Ask yourself, what's going to help them perform, help their bodies grow and select snacks and meals based on that.
2. Is your child fussy?
It's important to work with fussy eaters. If they only want to eat bread for example, let them! Just choose healthier bread! Stay clear of white and opt for brown bread.
3. Find their favourite protein
Protein keeps kids feeling full. Find a source of protein they like, such as ham, cheese, turkey mince, and pop some protein in a separate container in their lunch box.
4. Ask your child what WILL you eat? 
Get them involved in making lunches and pack items (or healthier versions of snacks) they have personally request.
5. Make healthy snacks
Think sugar-free oat biscuits, raspberry swirl muffins (all of which can be found in our Kids Lunch Boxes Cookbook)
6. Pack lunch boxes the night before
Save time and fuss!
Listen to the FULL podcast
You can listen to Rhian and Shevonne's FULL lunch box chat below!
Healthy Kids Lunch Boxes Cookbook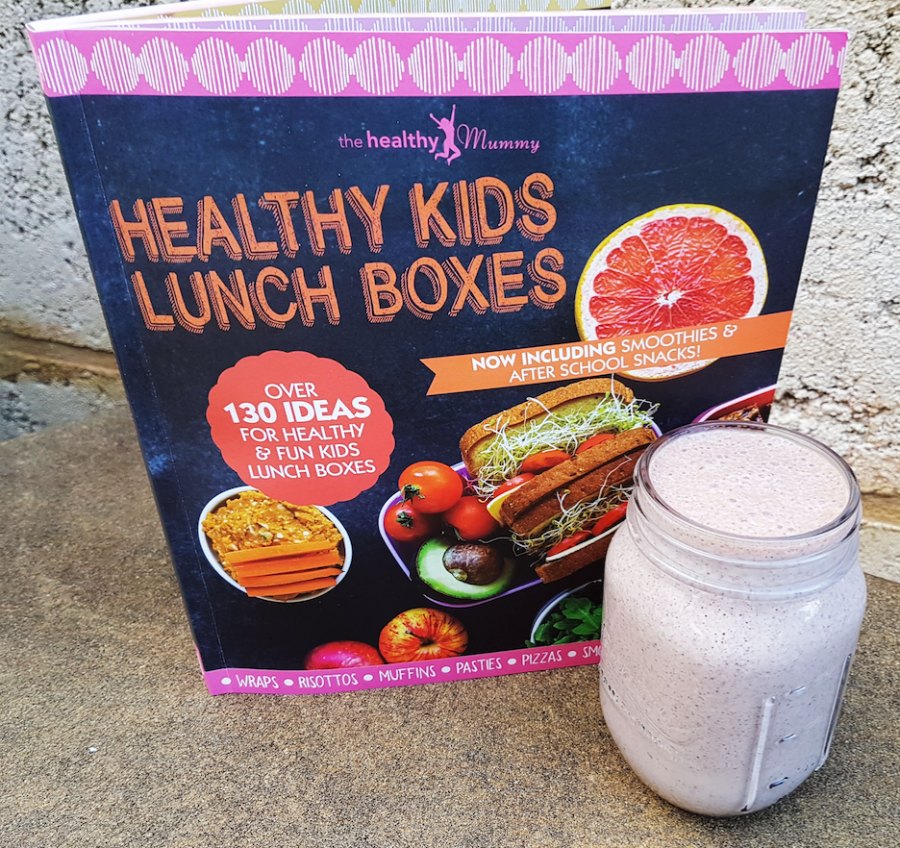 We are super excited that the Healthy Mummy Healthy Kids Lunch Boxes cookbook is HERE! It has over 130 recipes and ideas, to keep your kid's lunch boxes full of healthy surprises every day.
Ensuring our children's lunch boxes are filled with healthy, easy to prepare foods that the kids will actually eat is really important.
A school lunch box can potentially make up to 30-50% of our child's daily food intake so, we want to make them count.
This book makes preparing lunch boxes a breeze. The recipes are quick and easy to make, offering maximum nourishment and delicious flavours that the kids will actually enjoy. Plus, many of the recipes use leftovers, to save time and money.
The cookbook contains over 130 ideas/recipes from snacks, meals, smoothies and afternoon treats! You will never be stuck for ideas again!