Hi Healthy Mummy! I have now lost over 32kg on your weight loss plans and It is such a great honor to inspire and motivate other mums when I know myself how hard it is in the beginning to want to lose weight and the healthy mummy plan has been the only plan that has kept my ball rolling in losing weight!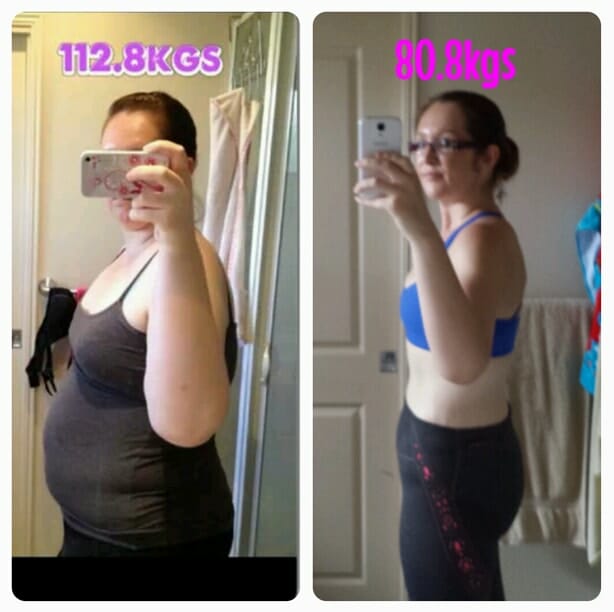 I've been following the Eat Move Lose challenges and keep carrying them on to the following week.
I also do the healthy mummy DVD everyday if possible even if it's just a short workout as anything is better then nothing! Anyone can fit 10-15mins into their day.
That is how I started off with just small steps and when my energy increased I pushed myself a little bit more! The 28 Day Plan has a great routine that I incorporated into my hectic day and chose what suited me and worked on it and thats what I love about the plan is that it's so versatile even the recipes!
Finally there has been change on the scales and I'm now 80.8kgs and 32kgs down!!! So close to the 70's, I will do a happy dance when I see the 79kg mark lol.
Also my Mum and Nanna bought me some size 12 kmart shorts and skirts and I thought no way will they fit as I have found kmart to always be a size smaller and guess what THEY FITTED!!! Happy dance!!!
My partner agrees he felt more sluggish and off from eating unhealthy and not right, I however avoided the unhealthy food as much as possible. But with the unhealthy food in the house I found it a bit of a set back and a struggle to avoid some of them. So that's why I really don't have anything unhealthy in the house, unless my partner has sweets I get him to put them into a container and hides them.
I still have my one or two healthy mummy smoothies a day as I really enjoy them and they keep me going and satisfied until snack time and lunch time!
In the following weeks I want to work on my upper body strength and really tone my arms and legs, especially my thighs.
I'm thinking of having a Leg Day, Arm Day and Core Day etc and I will be using the healthy mummy dvd as it has great segments for working on certain areas of the body, plus doing extra workouts at home.
Keep going ladies as you are all doing a fabulous job and I enjoy seeing all your posts and progress!!!
The secret is to believe in yourself and never give up!
Tasheena x
If you are ready to lose weight then The Healthy Mummy plans offer a healthy and safe exercise and diet routine that are safe if you are breastfeeding and you can use code LOYALTY for a 10% DISCOUNT at the checkout