Teresa Has Lost 13kg Using The Healthy Mummy Smoothie
What an AMAZING transformation! Teresa Dickinson is sharing her story to help inspire and motivate other mums to do the same.
Teresa will receive a $100 Coles/Myer voucher for sharing her story – to  share your story please email us at [email protected] and if we publish your story you will be sent a voucher.
Teresa's Weight Loss Journey
I started my weight loss journey four months ago after seeing reading about The Healthy Mummy
My starting weight was 75kgs after the birth of my second child (Left pic). But I'm very pleased to report that I am now currently 62kgs (2nd pic) all thanks to discovering the Healthy Mummy Smoothies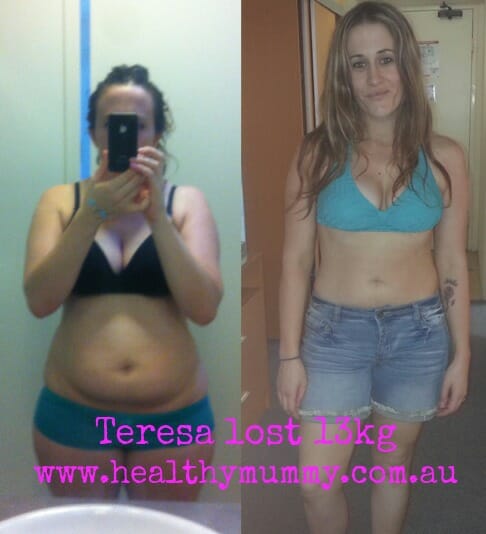 My current goal weight is 60kgs and I have also purchased the new Summer cookbook and I love it!  I am working out quite hard at the moment and still breast feeding my hungry 6mnth old boy who is currently teething and the Healthy Mummy Smoothies are perfect for an extra boost too!.
I find the Healthy Mummy Smoothies perfect for when I am feeling low on energy and they are so tasty and quick and easy to make 🙂 I'm determined to feel fit and healthy and look good in my summer clothes which is already starting to happen.
thanx heaps for the constant inspiration and your products really have helped me change my life 😉 I look forward to sending you my results at the end of this week!
Being a Healthy Mummy is not about dieting but a lifestyle change to make healthier choices ox thanks x Teresa
Special Offer
If you are ready to lose weight then The Healthy Mummy plans offer a healthy and safe exercise and diet plans that are safe if you are breastfeeding and you can use code LOYALTY for a 10% DISCOUNT at the checkout.
Plus we have Cookbooks, Calorie Bibles, Exercise DVD's, Meal Replacement Smoothies and Our 28 Day Plan in our shop.