The Great Hot Cross Bun taste debate!
Easter is right around the corner…! And to get us into the Easter spirit we asked one of our mums Bec Shaw to do a hot cross buns taste test. So she headed to the shops and grabbed some of these Easter treats for her kids to taste test and give their verdict.
Read the kid's verdict below.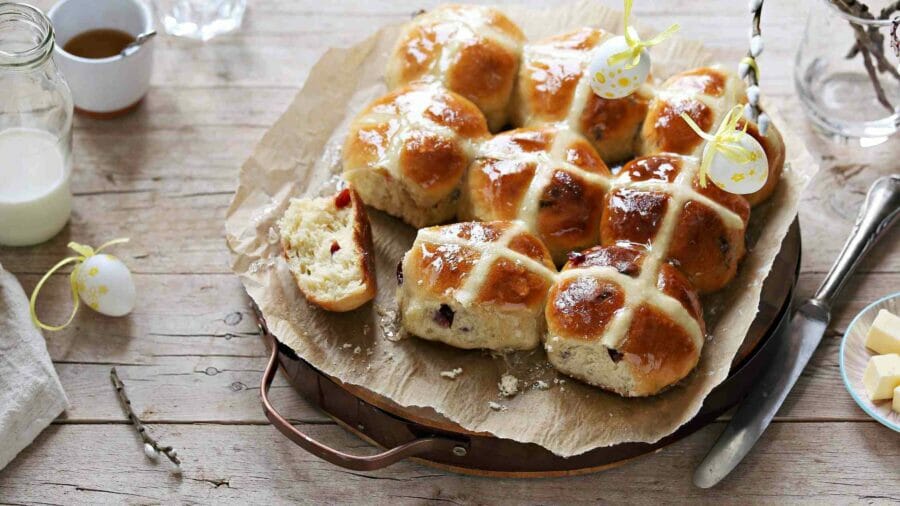 Healthy Mummy hot cross buns taste test!
Christmas mince pies had barely left the supermarkets when hot cross buns make their appearance, so clearly Australians have quite an appetite for these spicy, fruity baked goodies – and not just at Easter. I'm not sure what my kids will do when they disappear. Some motivation to get baking perhaps although never quite been able to master the cross!
The options when it comes to hot cross bun varieties are impressive – they extend from choc chip, apple cinnamon to Vegemite and cheese, and seemingly everything in between. Despite this, community polls consistently show that a traditional fruit hot cross bun is a firm favourite.
We have lots of hot cross bun recipes in the Healthy Mummy App – Check out our Healthy Healthy Hot Cross Buns recipe to make at home.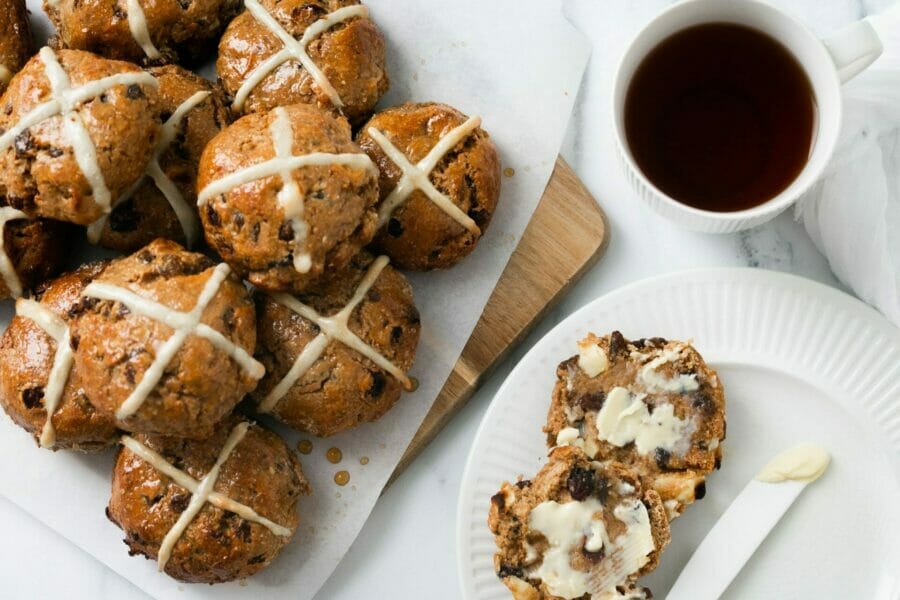 So for those who'd prefer not to mess with a classic, which traditional buns are best?
We taste test 'traditional' fruit buns from major supermarkets Coles, Woolworths, IGA and Aldi, major bakery chain Bakers Delight & Harris Farm to see how they stack up and how the prices differ. We tried to get our hands on some at Foodworks but they were unavailable. You could get a fruitless gluten-free variety, but really – what is the point?!
COLES
ALDI
IGA
HARRIS FARM
BAKERS DELIGHT
WOOLWORTHS
Cost breakdown
| | | |
| --- | --- | --- |
| Store | Cost for 6 | Cost per unit |
| Coles | $3.50 | $0.58 |
| Woolies | $1.40 (on sale) $3.50 (not on sale) | $0.58 |
| ALDI | $2.99 | $0.50 |
| IGA | $6.99 | $1.17 |
| Harris Farm | $4.50 | $0.75 |
| Bakers Delight | $8.00 | $1.70 |
What was the verdict?
Despite my kids being totally fruity (sorry) they like the plain variety when it comes to hot cross buns. Which gave the Woolies buns an unfair advantage as the only ones we could get our hands on there were fruitless – and also on sale! So to be fair we've added in the actual price if stock permits and we can see that this would make Woolies buns in line with Coles – as per usual.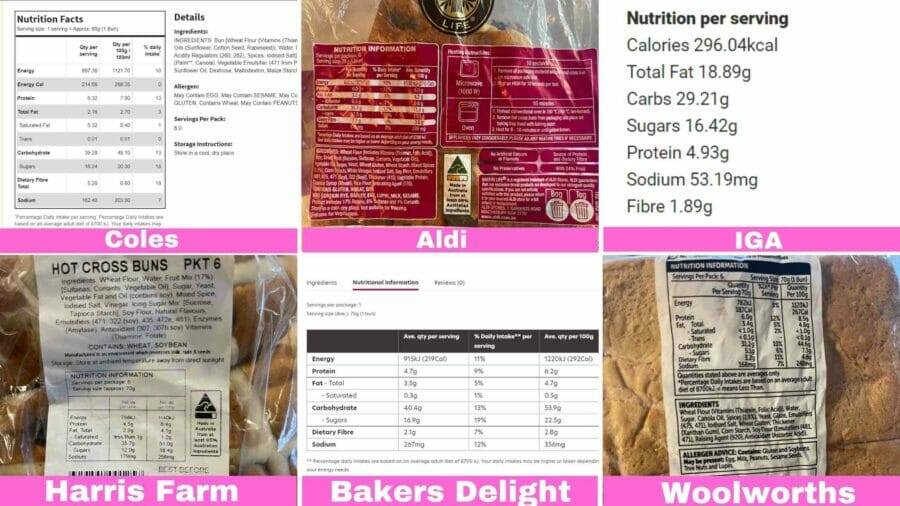 I'm not sure what it is about the supermarket buns – and in particular the fruitless ones. They are suspiciously soft and seem to stay that way for a very long time! I'm no nutritional expert but a glance at the nutritional panel tells me there is nothing too nasty, and in fact both the Coles and Woolies buns get a 4 health star rating. It's hard to differentiate too much between the Coles, Woolies and Aldi buns their recipes must be awfully similar. Aldi pips Coles and Woolies to the post price-wise by 50 cents a 6 pack or 8 cents per bun, but Aldi only gets a 3-star rating – which is interesting.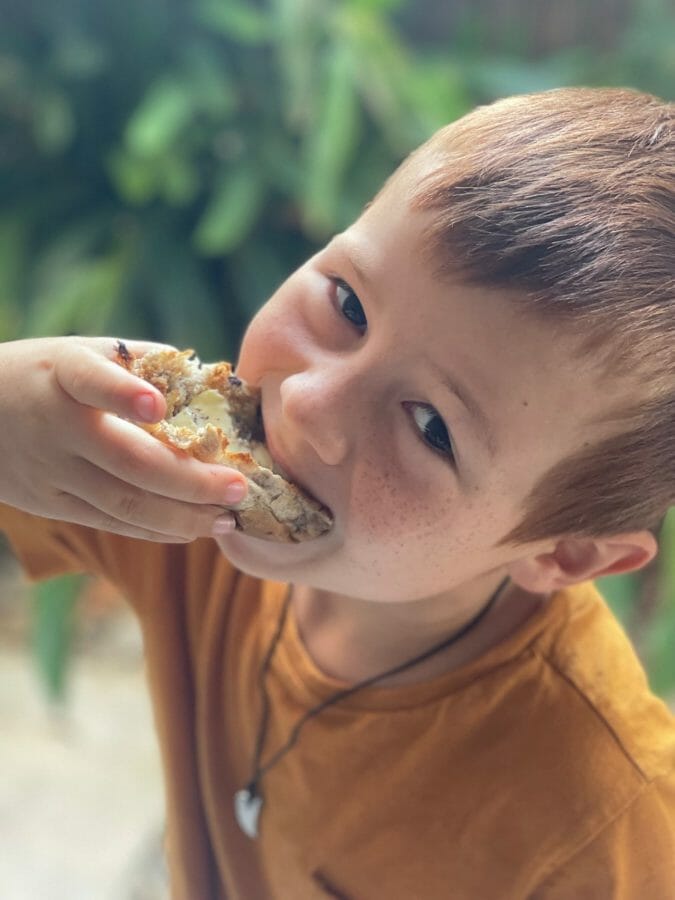 My son likes his buns toasted and smothered in real butter (as do I) but this does mean you somewhat drown out the other flavours, which isn't entirely accurate for a hot cross buns taste test. But he leans towards the Woolies fruitless or the Bakers Delight bun which is gorgeous both fresh and toasted.
The remaining 3 should almost be compared as a group as they are all baked fresh with fewer ingredients. The IGA I went to got their buns from VAN Bakery, Harris Farm bake their buns fresh and of course Bakers Delight is often as fresh as it gets. There is something lovely about getting one right from the bakery and the crusty outside and soft inside perfect ratio was only achieved at Bakers Delight. The cinnamon and fruit ratio is always just right and they just melt in your mouth which is delightful in a hot cross buns taste test. Buying off the shelf helps, and not buying a 6 pack that's been sweating in plastic for a day or two.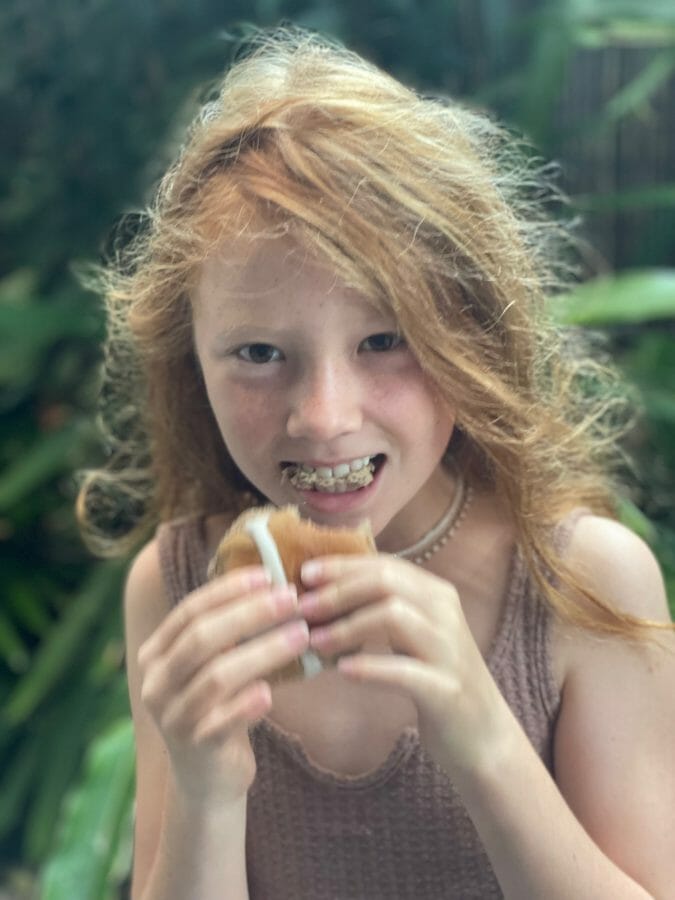 There is a significant price difference, however. To buy a single bun at Bakers Delight will set you back $1.70 vs the Aldi bun which works out the cheapest at 50 cents. More than 3 times the price. And can the kids really tell the difference?
But don't just take it from me. Coles was rated best in Canstar Blue's 2021 hot cross buns review, marking its second win in a row. It achieved five stars for freshness, taste, variety and overall satisfaction! So there you go!
I'd be scanning the shelves for packs on sale – especially the Coles and Woolies varieties that stay soft the longest and freeze well.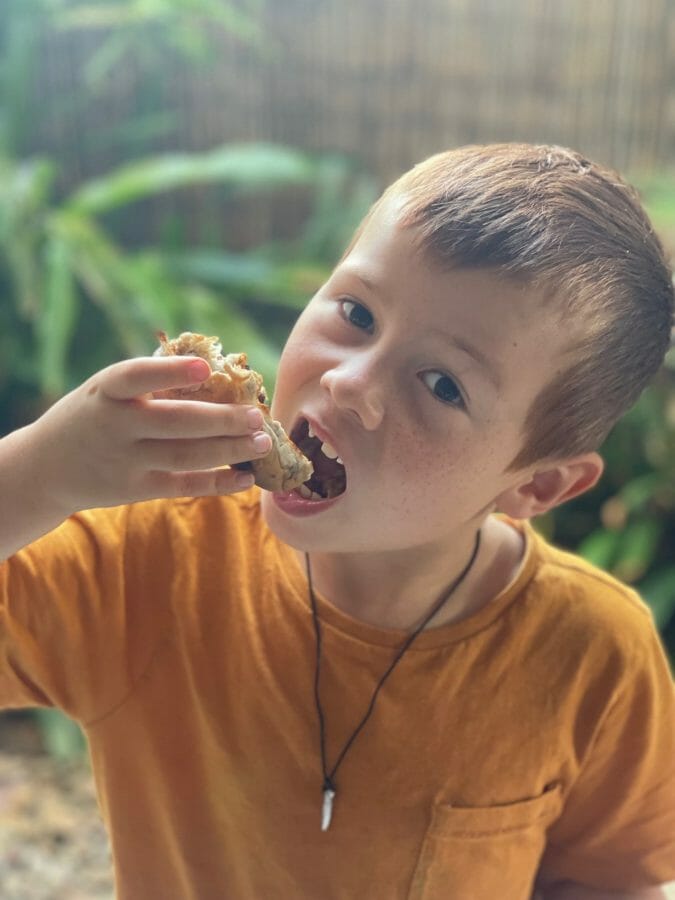 If you start freezing now you might be able to keep up the supply till Christmas. Or perhaps you can try and make some at home. There's almost nothing that compares to the sweetly spiced aroma of hot cross buns toasting away in the morning. And no doubt the healthiest option!
Try these recipes we recommend:
Are you ready to be a Healthy Mummy? Join the 28 Day Weight Loss Challenge today.

If you are wanting to lose weight and improve your energy – not to mention – help improve your overall health and wellbeing – our 28 Day Weight Loss Challenge is an awesome program to check out.
Our 28 Day Weight Loss Challenge includes:
28 days of at home exercise routines (no gym needed) – with video instruction
Customisable and breastfeeding friendly meal plans (including 7 Day Cleanse)
Challenge combines Pilates exercises with interval and circuit training (HIIT)
Suitable for basic to advanced fitness levels
Home to thousands of EASY-TO-MAKE recipes!
To learn more about our 28 DAY WEIGHT LOSS CHALLENGE CLICK HERE or purchase our Smoothies.