The Importance of Taking Care Of Your Pelvic Floor
Taking care of your pelvic floor should be a number one priority for all women especially mums and it is very easy to do once you understand how to do it.
Taking care of your pelvic floor should be a number one priority for all women – especially mums and it is very easy to do once you understand how to do it. And at The Healthy Mummy, we are passionate about raising awareness about Pelvic Floor health with all women.
You will also find that the postnatal exercises in The Healthy Mummy app ensure that you are not putting undue pressure on your pelvic floor and after working out to these exercises – as well as having a very effective workout, you will also come away with a new appreciation of taking care of your pelvic floor when exercising.
It is no surprise that the pelvic floor is compromised after pregnancy but the good news is that there is plenty you can do to improve its function and avoid incontinence and vaginal prolapse.
It is also vital that you optimise your pelvic floor recovery and strength before overloading it with other exercises. It can take 3 months or more for these important muscles to redevelop their strength post-baby so remember to take it easy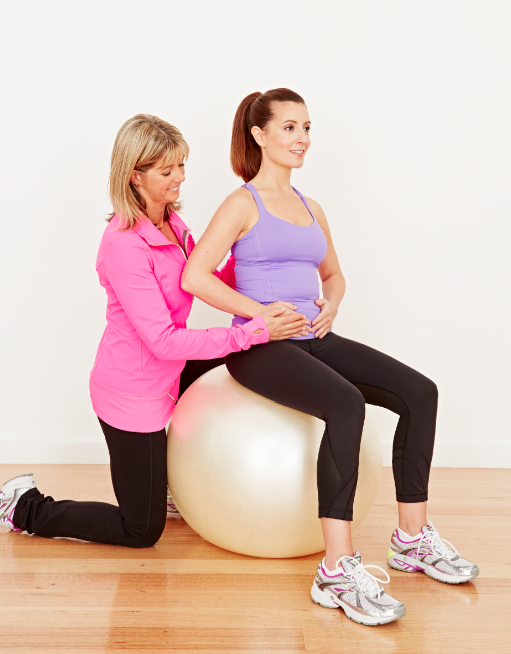 Tips for taking care of your pelvic floor
Perform quality Pelvic Floor strengthening exercises 3 times per day
Include Pelvic Floor in your general fitness routine
Avoid any exercise or activity in the home that strains your pelvic floor, in particular, high impact, heavy lifting and anything that makes you strain or push down on your pelvic floor.
And always recruit your pelvic floor before you lift, perform an exercise or an activity that challenges your bladder control such as when you cough, laugh or sneeze
How to tell if the exercise you are doing is too much for your pelvic floor
You will know the exercise is too much for your pelvic floor and thus you should decrease the intensity if, whilst performing the exercise, you notice:
you are bearing down rather than lifting your pelvic floor,
loss of bladder control or bladder leakage,
heaviness or pressure
You are unable to feel or engage your pelvic floor.
If you have any concerns about your Pelvic Floor strength or function then the best advice is to visit to a women's health and continence physiotherapist who can offer specific advice.
The Postnatal Workout Summary
15 Minute Low Impact cardio workout – The Low Impact Cardio routine will improve your fitness and energy levels, as well as burning calories while avoiding stress on your body – in particular, your vulnerable pelvic floor. This workout will put you on the path to being a fitter, leaner and more energetic version of you.
15 Minute toning cardio workout – By combining a low impact cardio conditioning routine with light resistance training, this energetic workout will make your heart and lungs stronger while burning calories and toning your arms, legs and butt. This is a great addition to the low impact routine, or as a stand-alone cardio option with the added bonus of arm and leg toning.
10 Minute Upper Body workout – Conditioning your upper body will not only have you feeling and looking stronger, but it will also provide postural strengthening to combat stress on your upper back. You will also benefit from increased muscle stamina and definition, allowing you to keep up with your little ones.
10 Minute Lower Body workout – Hone in on your butt and legs with this lower body strengthening workout. It will have you looking and feeling strong, toned and energised.
10 Minute Abs, Back & core workout – The abdominal, back and core muscles are at the centre of a healthy body. With these safe and effective exercises, you will improve your posture, help alleviate back pain and strengthen your pelvic floor while you regain your waist and condition your abs and back.
10 Minute Stretch & Relax- Lengthen your muscles and relax your mind and body as you calmly and quietly stretch your body, top to toe.
PLUS…See our special section covering all you need to know on special considerations post-birth, such as caesarean sections, back strains, muscle separation, incontinence and pelvic floor issues.
Get access to our range of postnatal workouts as part of the 28 Day Weight Loss Challenge
Join thousands of mums today who have lost over 3 million kg with The Healthy Mummy 28 Day Weight Loss Challenge.