The Healthy Mummy has just launched an AMAZING new revolutionary product that mums are calling a 'Total Game Changer!!"
Introducing the NEW Choc Peanut Tummy Snack Bar! This is no ordinary Snack Bar! Not only is this delicious bar packed with protein to really fill you up, but it's also full of gut-friendly probiotics that reduce bloating. Plus its just 186 calories! Win Win Win!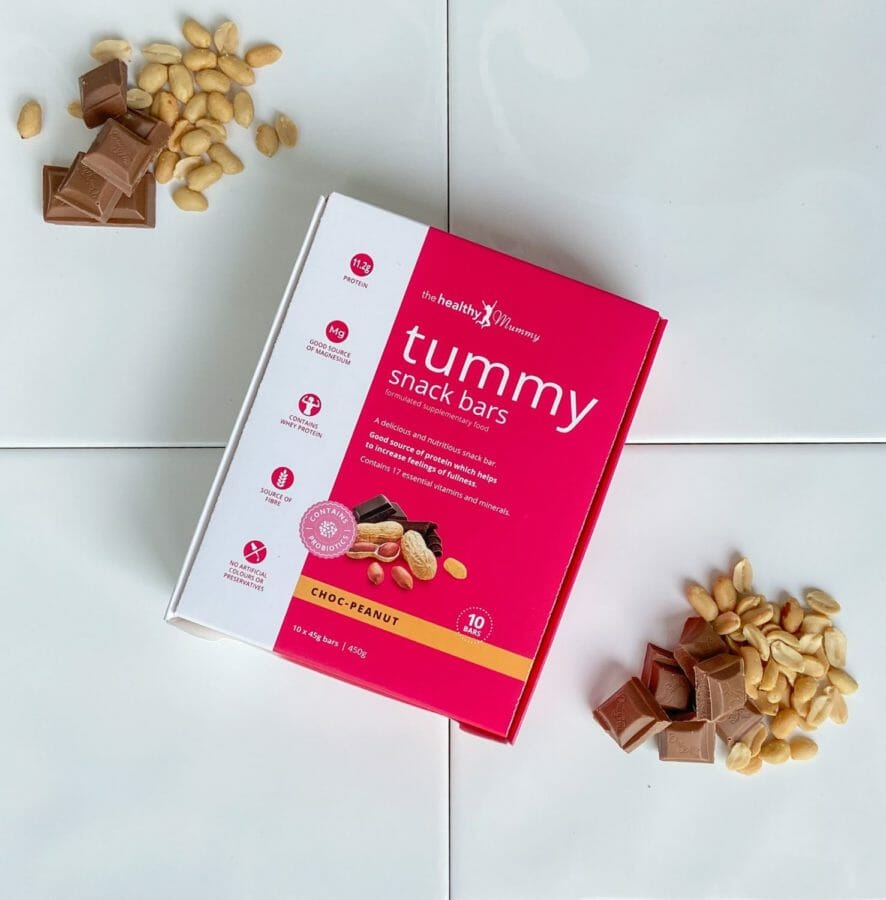 Stephanie Payne says… "The Healthy Mummy Choc Peanut Tummy bars are so good! I feel like I'm eating something really naughty but I know it's not. They are my new favourite snack!"
Chelsea Dixon says "Peanut Butter & Chocolate! You can't go past this. My favourite combo absolutely delicious and a great snack that keeps me full!"
Melissa Timmer says "No need to grab anything else the new Tummy Snack Bars will satisfy all your cravings."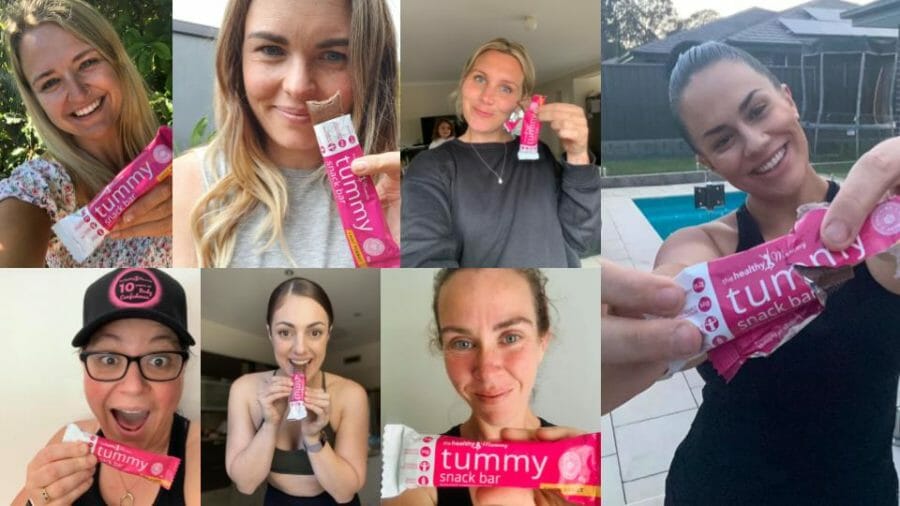 Find out more why mums are going nuts for it below!
Snacking on the run
We all know the feeling of that mid-morning or mid-afternoon tummy grumble, the telltale sign we need a snack to fuel us through the day. We also all know that sometimes, an apple just isn't going to cut it!
Eating the wrong snacks throughout the day can be the undoing of our weight loss goals. As busy mums, it's really important to have go-to guilt free snacks we can eat on the run which means that we can get on with our day feeling full and satisfied in between meals.
The New Choc Peanut Tummy Snack bars are just 184 cals and are the perfect go-to snack to keep in the desk drawer at work, in the car, or in your handbag when you're out and about.
Mum of 2, Samara Rochelle Khoury from Sydney says, "Eat chocolate, lose your tummy! Yes, you read that right!! These new Choc-Peanut Tummy bars are absolutely, deliciously good for you!! I have one in my bag for those easy to grab, quick snack moments on the go!! They are definitely my new staple snack."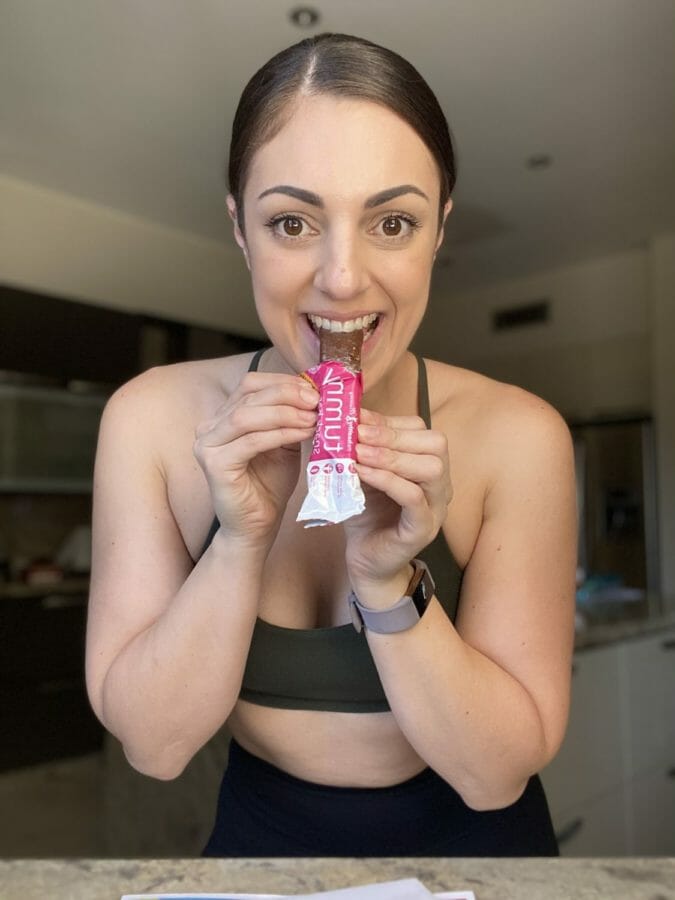 "So quick, so easy, so delicious, AND good for you!! The new Tummy Choc-Peanut bars are quickly becoming my new favourite snack on the go!!"
Cicily Goodwin, Mum of 2 from Nambucca Heads says,  "I am in LOVE with the new Choc-Peanut Tummy bars! They are soo delicious, the perfect combination of chocolate and peanuts, what's not to love?! These will be becoming part of my routine!"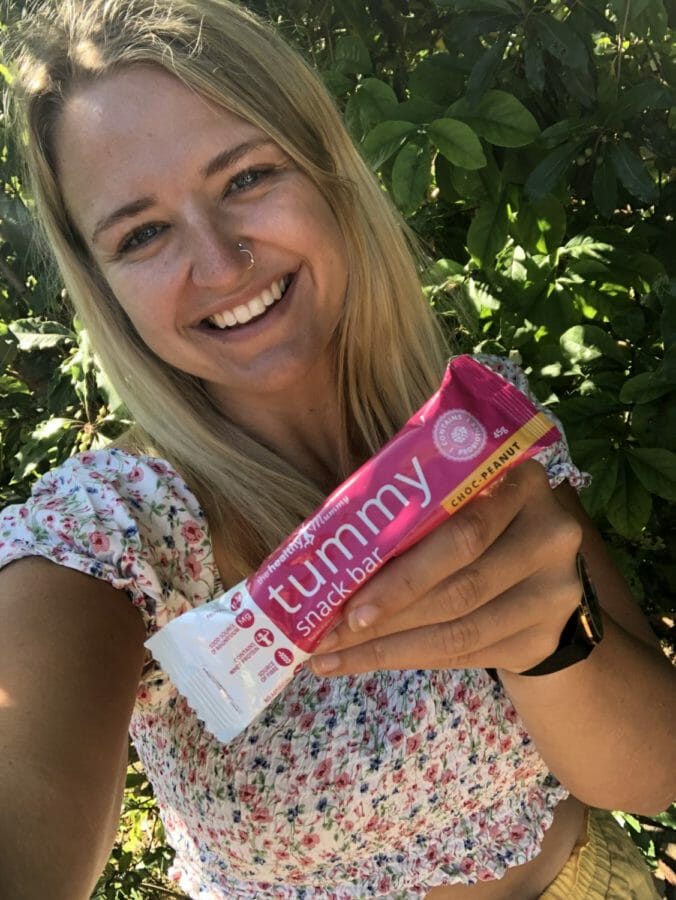 "Snack bar tip* ~ Always keep one in your handbag so if you get caught out somewhere you have a healthy snack to get you through!" 
Contains "Tummy Complex"
One of the great things about these new snack bars is that along with containing 17 minerals and vitamins, they are good for your gut! Just like the Tummy Smoothie, which has been a runaway success with mums, the new Choc Peanut Tummy Snack Bars contain the Healthy Mummy Tummy Complex which is full of probiotics and collagen, all of which support a healthy microbiome in your tummy and reduce bloating!
Sascha Farley, Mum of 3 from Sydney says "This is a Total Game Changer! I absolutely love the Tummy Smoothie, as it reduces bloating so I'm so excited there's a snack that has the Tummy Complex in it too!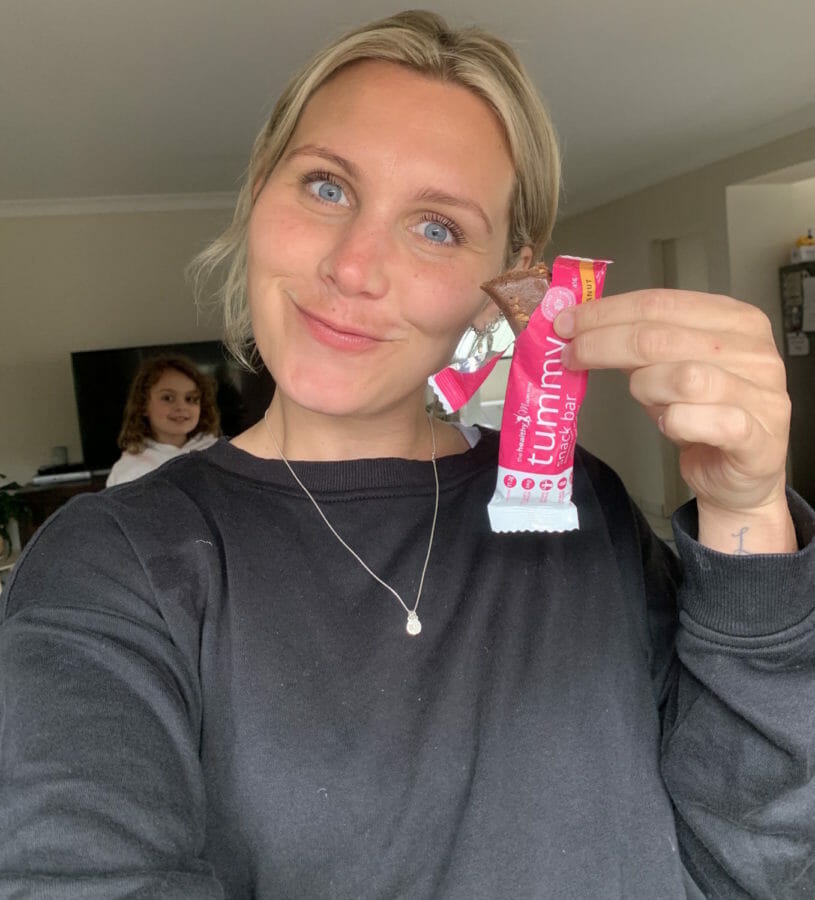 Plus, OH MY YUM!! Choc peanut butter is the best combo ever and the bars are so filling!!!"

Keeps you Fuller for Longer
These bars will banish those tummy grumbles as they contain a whopping 11.2grs of whey protein, which will make you feel really full and satisfied.
Cassie Mackay Mum of two from Victoria says " WOW!!! I'm giving this 10/10! Rich & chocolatey with peanut pieces throughout this is everything my snack dreams are made of!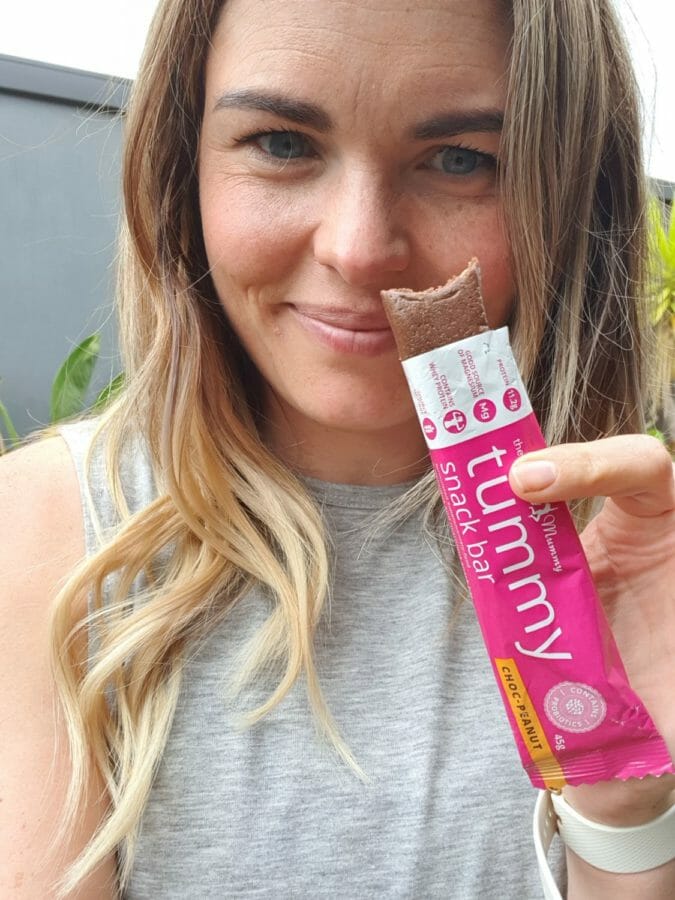 "With protein and fibre to help me feeling fuller for longer and probiotics for gut health, these are a great snack for busy mums on the run (…. and no, I'm not sharing!!)"
Lauren Kolstad Mum of 2 from NSW says, "Everything you want in a snack, in one convenient handbag-friendly bar! High protein – tick. Tastes great – tick. Probiotics for gut health – tick."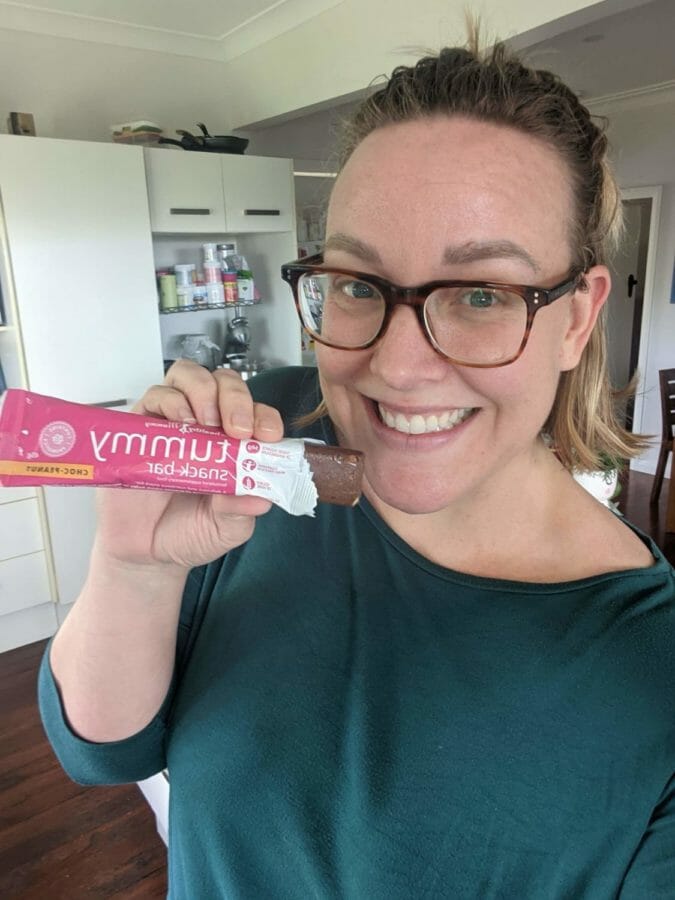 Lauren adds, "Peanut. Butter. Chocolate. Need I say more!"
Hear what Nutritionist Cheree Sheldon says!
"Who doesn't love a good bar to go? There are so many reasons I like the Choc-Peanut Tummy Snack Bar by The Healthy Mummy. Firstly, chocolate and peanut is such a classic combo of deliciousness, you really can't go wrong!
The bonus of the Healthy Mummy Tummy Complex is that the prebiotics, probiotics and enzymes make it so good for gut health. Plus it is nutrient dense, making it easier to meet your vitamin and mineral intake. One bar is almost a quarter of your daily protein needs. It is great for the busy mum!"
Ready to try for yourself??
Get the New Choc Peanut Tummy Snack Bars here!
For more information check out the FAQ's here