How To Lose Weight From Bums, Hips & Thighs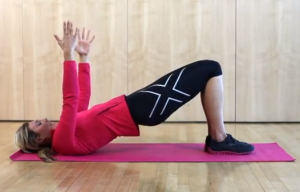 A common question we are asked at The Healthy Mummy is, "how do I lose weight from bums, hips and thighs when I am trying to lose pregnancy weight?'
Of course, as we have covered before, spot fat removal in weight loss is not possible but there are a number of approaches and exercises you can do to help target specific areas and help the toning of those areas.
It is also worth highlighting that you will be more successful in reaching your health and weight loss goals is you see your body as something beautiful to embrace and work with rather than battling bulges. Slow and steady is the way to go – especially if you've just given birth.
The Healthy Mummy plans are also really great here as they are the ideal way to ensure you have a healthy diet which helps you lose that pregnancy weight and when you combine this with sensible amounts of exercise then you have a recipe for success.
What exercise can help these areas?
If you add in regular cardiovascular exercise in conjunction with your healthy eating plan then you will be onto a winner. The exercise helps burn fat and without it, you can tone up all you want, you're efforts will be well hidden.
After having your baby, try just sticking to walking and when you are regularly walking you can then start to increase the intensity of your walks you can easily do that. You can add in swimming once you've been cleared by your doctor. Cycling and running are okay once your abs have healed.
A great, safe and more fun way to get some extra cardio in is with a mini trampoline. It's not just a whole lot of fun to bounce but it also triggers your lymphatic system – draining excess fluids and toxins -, activates your core without you having to think about it and will improve your fitness level, skin tone and legs at the same time.
If you don't have a trampoline, skipping is a great alternative option but be careful as your joints will have to absorb much more impact.
Specific exercises for the thighs and bum
Now onto your thighs, hips, butts. Check out the videos below. They show really effective and very safe exercises to do – just be careful getting in and out of position – and once you are more advanced, progress to kneeling instead.
Enjoy your workout and remember: positive attitude! Embrace your body and listen to it at all times. Less is so often more.
This article was written by Sol Walkling, The Healthy Mummy Pilates Expert and Trainer – to see Sol's credentials and read more about her click here
If you are ready to lose weight then The Healthy Mummy plans offer a healthy and safe exercise and diet routine that are safe if you are breastfeeding.
And don't forget to check out our current promotions and discounts page to see what specials we have on this week on our Healthy Mummy product range
---
---