Smoothies
---
Smoothie Recipes
All of these delicious smoothies are made by using our healthy mummy smoothie mix which comes in 3 flavours (Vanilla, Strawberry and Chocolate) – and all ingredients in our smoothies are safe in breastfeeding as well as can help you lose weight
The healthy eating smoothies are fun. They are not the watery and typical meal replacement weight loss shakes that are often used today. They are healthy, packed full of nutrition, are filling and are full off flavour, texture and colour.
We suggest adding foods such as fruit and ice to the healthy eatung smoothies to make them even more nutritiou and interesting.
You can use any kind of milk in your smoothies (dairy/oat/rice/soy/almond) – just make sure that they are low fat and of course if you or your baby is dairy intolerant steer clear of cows milk.
We suggest adding 2 x tbsp of the smoothie mixture in each smoothie. And you can see all our weekly specials and offers on here
---
Mocha Smoothie
2 tbsp of chocolate Healthy Mummy smoothie mix
250ml Soy-choc Flavored Soy Milk
1 x tbsp decaff coffee
1/2 banana
4-6 ice cubes
Whiz in blender until smooth
---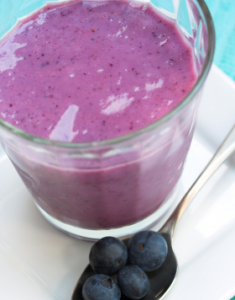 Banana Blueberry Smoothie
250 ml choc flavour so good soy milk
6 ice cubes
Half a banana
Handful of frozen blueberries
2 tbsp of Healthy Mummy chocolate smoothie mix
Give it a zip around in the blender, pour, slurp and enjoy!
---
Berry mania smoothie
2 x tbsp of Healthy Mummy Smoothie mix – vanilla, chocolate or strawberry work well
Cubed ice ( 5 or 6)
Handful of frozen raspberries
Handful of frozen blueberries
1 table spoons of oat bran
200ml of soy/rice/skimmed milk (add more water if you need to)
Whiz in blender until smooth
---
Chocolate and Raspberry Smoothie
250 ml soy milk/rice milk
4 tbsp low fat yoghurt
4 tbsp of frozen raspberries
2 tbsp of chocolate Healthy Mummy Smoothie mix
Whiz in blender until smooth
---
Strawberry & Grapefruit Delight
2 tbsp of vanilla or strawberry Healthy Mummy smoothie mix
200ml semi-skimmed milk /soy/rice milk
1/2 cup strawberries
1/2 red grapefruit
4-6 ice cubes
Whiz in blender until smooth
---
Banana fat buster
Half a banana
1/2 cup ice
2 tbsp of vanilla Healthy Mummy smoothie mix
1 tbsp oats
1 teaspoon honey
Few shakes of nutmeg
3/4 to 1 cup of skim milk
Put all ingredients in the blender, blend
---
Cherry Bomb
200ml of lite milk
3/4 cup of fresh pitted cherries
1 tablespoon of frozen cranberries
2 spoons of chocolate Healthy Mummy Smoothie mix
5 x ice cubes
Sprig of mint
Whizz in a blender
---
Gingerberry Delicious (thanks to Sarah Crisp)
6 inch piece celery
1-2cm piece ginger
1 small apple
1 handful blueberries
low-fat milk of your choice
2 x tbsp of The Healthy Mummy smoothie mix of your choice
Chop ginger and celery finely, roughly chop apple, add all ingredients to blender and whiz till smooth. Decorate with some fresh mint
---

Hazlenut Delight Smoothie
200ml of skim milk of choice , I use soy
1/2 cup frozen blueberries
1/2 banana
1-2 tbs hazelnut meal
2 x tbsp chocolate healthy mummy smoothie
---
Citrus bang
1 orange
1 lemon
1 x passion fruit pulp
1/2 x banana
2 tbsp of vanilla Healthy Mummy Smoothie mix
5 cubes of ice
100 ml of water
100ml of lite milk
Whiz in blender until smooth
---
Orange & Melon Smoothie

1/4 honeydew melon cut into chunks
1/4 banana (frozen)
1/2 orange
1/2 cup green tea (made with 2 tea bags and cooled)
2 tbspn of The Healthy Mummy Smoothie Mix in Vanilla
200ml skim milk
Whiz in blender until smooth
---
Chocolate Coconut Surprise

200-250 mls of your choice of milk (I use oat milk)
2 x tbsp of shredded coconut
2 x tbsp of healthy mummy chocolate smoothie mix
Half a banana
2 to 3 shakes of cinnamon
2 tbs of no fat yoghurt
5 ice cubes
Whiz it all up in the blender and serve.
---
Green Super Smoothie

1 x a big handful of baby spinach
2 x tbs vanilla Healthy Mummy Smoothie mix,
1 x half a banana
200ml of milk
5 ice cubes
Blend and drink up!
---
Chocolate Mint Smoothie

1 cup frozen spinach (or 2 cups fresh)
1 cup choc soy milk
2 scoops chocolate Healthy Mummy Smoothie powder
1/4 cup rolled oats
5 ice cubes
Few sprigs of fresh mint
Blend and enjoy
---
Smoothie videos
We would love for you to send your own recipes in too so please send any in and we will upload for others to use aswell.
To have your recipe and pic featured on our site and be within the chance to win the weekly smoothie of the week $100 voucher send in your pics and recipe to info@thehealthymummy.com
See Readers Smoothie Recipes below too
Back to Top
---
Coconut Cherry Smoothie
250ml milk – I use skim milk
Handful cherries – frozen, I'm sure fresh would be even better!
1 heaped tablespoon desiccated coconut
Half a banana
2 scoops vanilla yummy mummy mix
1 heaped tablespoon oat bran
Half tablespoon LSA
Blend for 2mins or until smooth.
Enjoy!
Thanks,
Lynsey Fox
Back to Top
---
Avocado Smoothie
I wanted to share the smoothie I made this morning.It is one of the best I've made so far!
2 x Tbsp Vanilla Healthy Mummy powder
1/2 an avocado
1/2 a small banana
100ml light coconut milk
100ml lite milk
A small squeeze of honey
Ice cubes
Blend together, enjoy and say hello to your new avocado addiction!"
Antje Millott
Back to Top
---
Raspberry & Zucchini Smoothie


Thanks to Mandy Dos Santos
200ml of milk
1 cup of raspberries
2 tbs of vanilla Healthy Mummy mix
1 zucchini (just pre chopped to help blender).
Blitz! Refresh and REBOOT
Back to Top
---
Christmas Smoothie
A Little Bit of Christmas Smoothie
1 apple, peeled and cored
1 cup apple juice
1 cup low fat milk
1/4 tsp mixed spice (cinnamon, nutmeg and allspice, alternatively can use cinnamon or nutmeg by itself)
2 tbs Vanilla Healthy Mummy mix
Blend together and pour into glass and garnish with some mixed spice on top.
Yummy!
Back to Top
---
Dairy Free Smoothie
Thanks to Belinda Howard for sending in this delicious and healthy eating smoothie
1/2 punnet blueberries
1/2 banana
4 strawberries
1/2 cup Mount Franklin light sparkling water (wildberry)
1/2 cup cranberry juice
2 scoops Healthy Mummy strawberry smoothie mix
Blend and enjoy
For more smoothie recipes click here
Back to Top
---
Chocolate and Coconut Smoothie
Thanks to Melinda Thomas for sending in this smoothie recipe
1 x banana
2 x tbsp of Healthy Smoothie Chocolate Mix
2 x tbsp shredded coconut
1 x tbsp of oats
250ml of milk – I used soy chocolate milk
Blend in a blender and enjoy!
Back to Top
---
Banana Nut Smoothie
I just wanted to say how much I love the Healthy Mummy range. I have
lost 3.2kgs and am 6.8kg from my goal weight.
I started 3 weeks ago and have lost a kg a week, I am well on my way to my goal weight.
I would like to enter my smoothie recipe into the competition.
Banana Nut Smoothie (Thanks to Rebecca Simpson)
2 tbsp The Healthy Mummy smoothie mix Vanilla
1 tsp Chia Seeds
1 tsp Oat Bran
1-2 tsp Peanut Butter
1 Large or 2 small bananas
200mls Almond milk
4 Ice cubes
Blend and enjoy
Back to Top
---