How to get dewy, hydrated looking skin
Thanks for completing the quiz, see your results below.
PLUS check your inbox for a FREE gift and see the special offer from us below!!
As a thank you for completing the quiz and to help your journey we have an awesome offer for you.
Take 15% Off Healthy Mummy Skin products today.  Simply use code SKIN15 at the checkout……SHOP HERE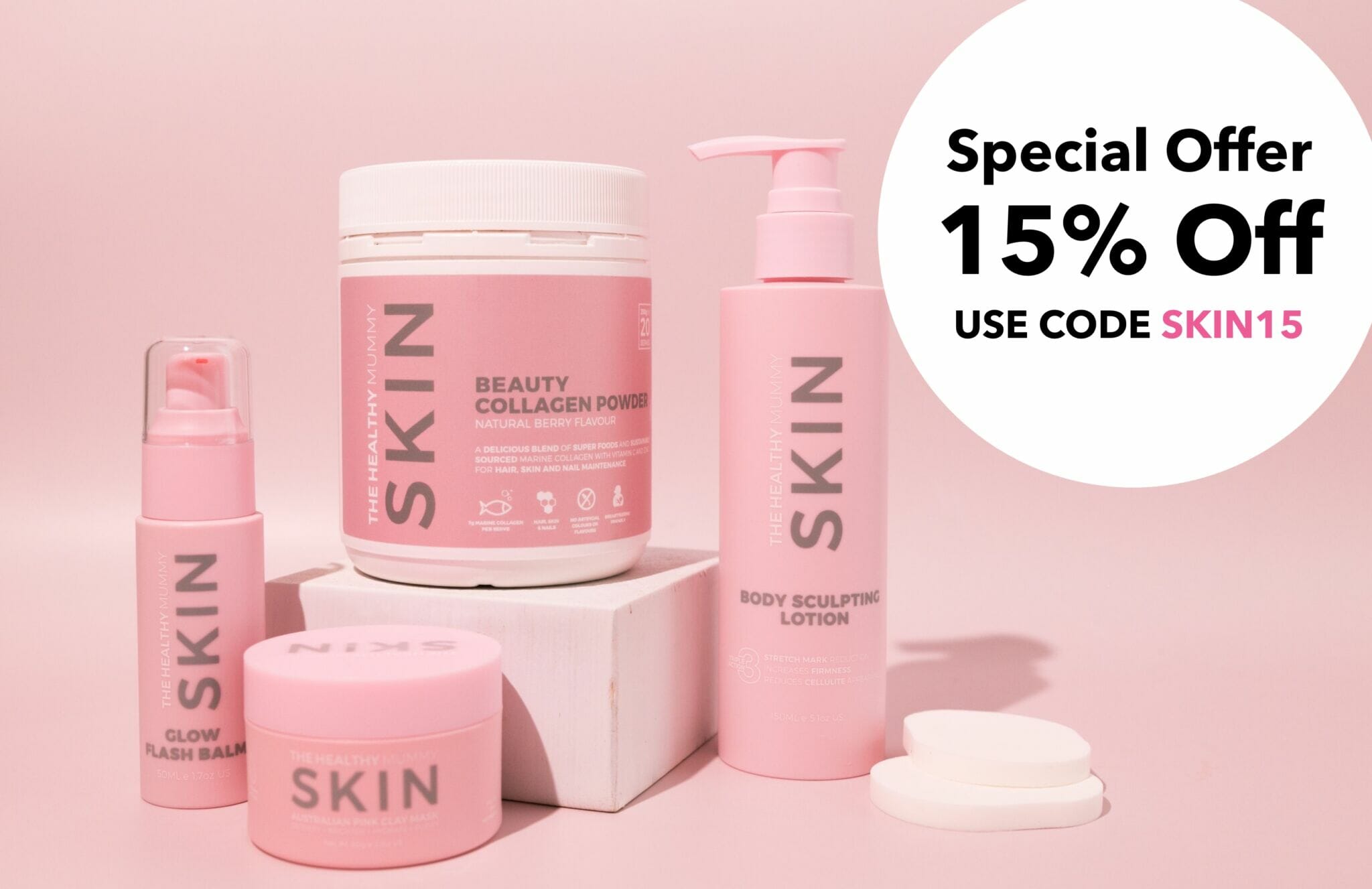 Most of us desire skin that looks soft, dewy and well hydrated. Check out these 7 tips to get a youthful dewiness to your complexion.
Start from the inside out

The first steps to getting silky smooth skin is to make sure you're drinking 6-8 glasses of water a day.

 

Your water intake is particularly key because all skin, no matter the skin type, needs water to give it a plump, well hydrated look.

Try a collagen supplement

Collagen provides the structural support of your skin needs to stay plump and firm. The best way to stay youthful-looking is not to lose collagen in the first place. By adding The Healthy Mummy's Collagen Powder to your daily beauty routine you will be supporting your skin from the inside out.

Exfoliate regularly

Exfoliation can help remove dirt, oil, and dead skin cells from your face, giving it an instant lift and glow.

 

By removing dead skin cells, it will allow the serums, oils and moisturises you apply afterwards to nourish the new, underlying cells giving you a freshness to your visage. 

Massage

Gentle massaging of your face will help relax your face muscles and promote circulation and stimulate collagen production, giving your skin a rosy, dewy look.

  

The Healthy Mummy's Rose Quartz Roller (made from real rose quartz), will help by gently massaging your face, soothing puffiness, improving blood circulation and skin elasticity.

Eye mask

The Healthy Mummy's Hydrogel Eye Mask is an intense under-eye treatment that works to revitalise the delicate eye area. With collagen and hyaluronic acid it will brighten dark circles, reduce puffiness, and restore hydration to illuminate weary eyes. Betaine deeply moisturises, softens skins texture and effectively fills in creases.

Moisturise

Use a shimmery lotion

Use The Healthy Mummy's Glow Flash Balm on top of your moisturiser to get an amazing light catching sheen that helps to show off your dewy look.

 

This product brightens and tightens facial contours to make your skin glow.
SHOP THE PRODUCTS AND TAKE 15% OFF TODAY!!!
Shop here – use code SKIN15  to get your SPECIAL discount.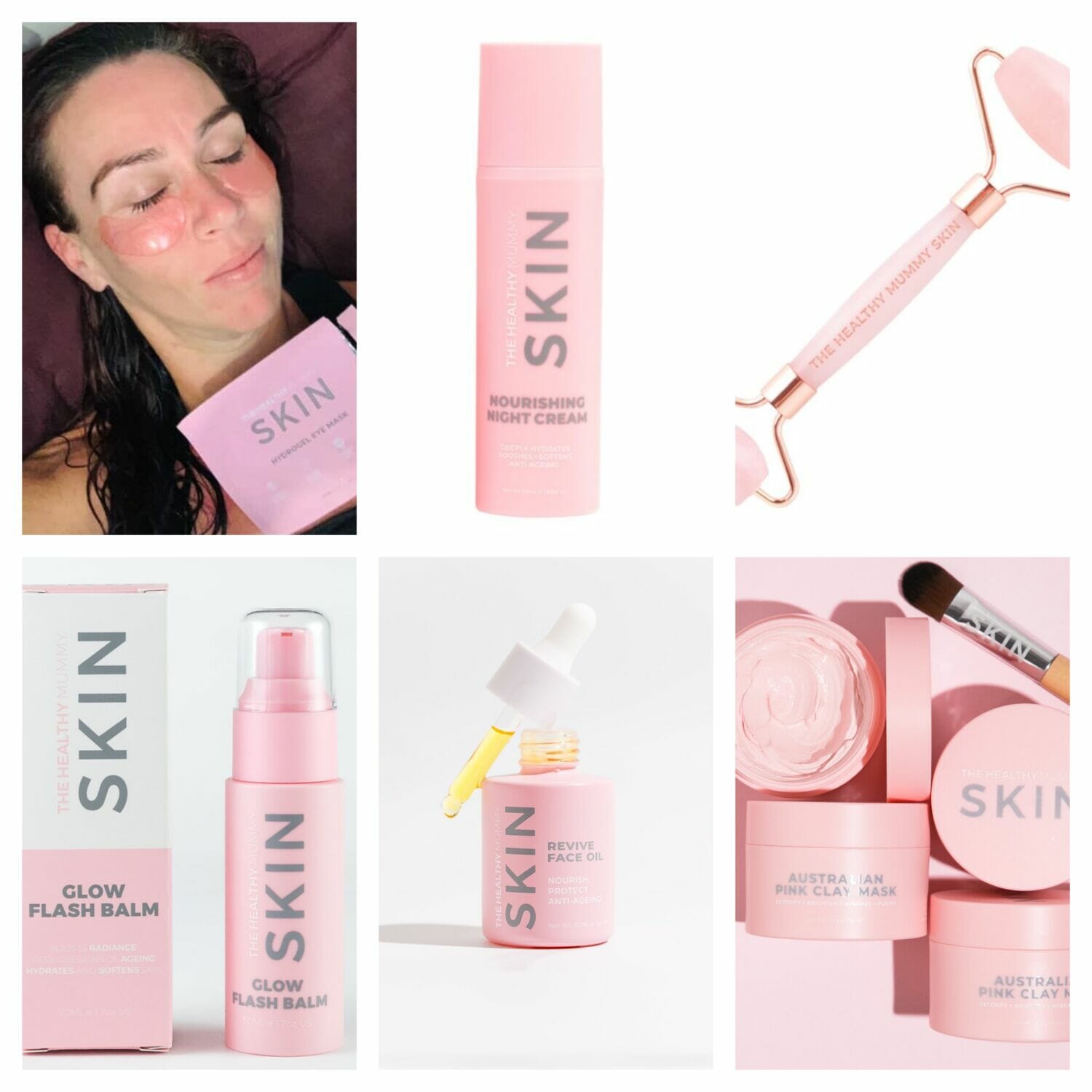 Real Mum SKIN Product Reviews
Pink Clay Mask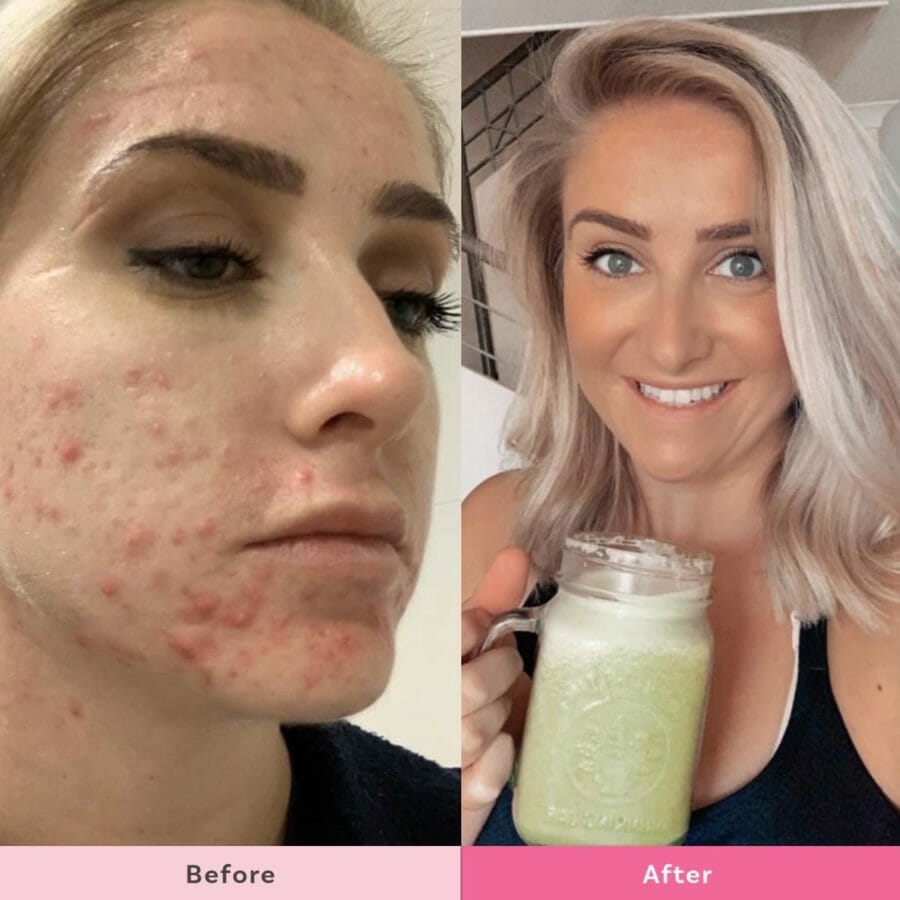 Wow! Mum Elle is showcasing just how quickly her skin has been transformed by her new Healthy Mummy lifestyle, smoothies and SKIN Products.
She says, "I am a dermal (skin) therapist and work alongside a cosmetic medical doctor performing skin treatments for over 10 years. I have tried EVERYTHING, even two rounds of Roaccutane."
Since she started using the SKIN Pink Clay Mask, The Healthy Mummy Smoothies and The 28 Day Weight Loss Challenges she has seen some great results saying, "I see a HUGE improvement in my skin."
Revive Oil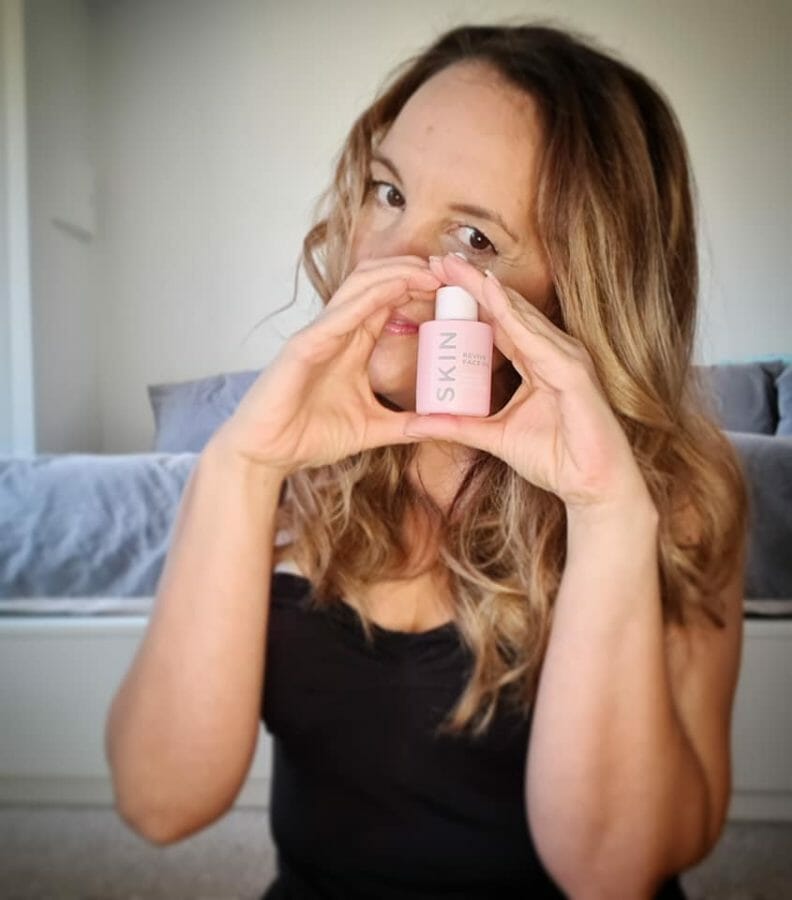 Bec loves how SUPER HYDRATING The Healthy Mummy Revive Oil.
Bec says "I'm so lucky have been using this beautiful new product from The Healthy Mummy. The packaging is lovely and feels really luxurious and smells divine. It feels amazing on my skin, light but super hydrating at the same time. So excited about the improvements I've seen with my skin, using this product. As a busy mum to five, it's important to look after me too."
Collagen Powder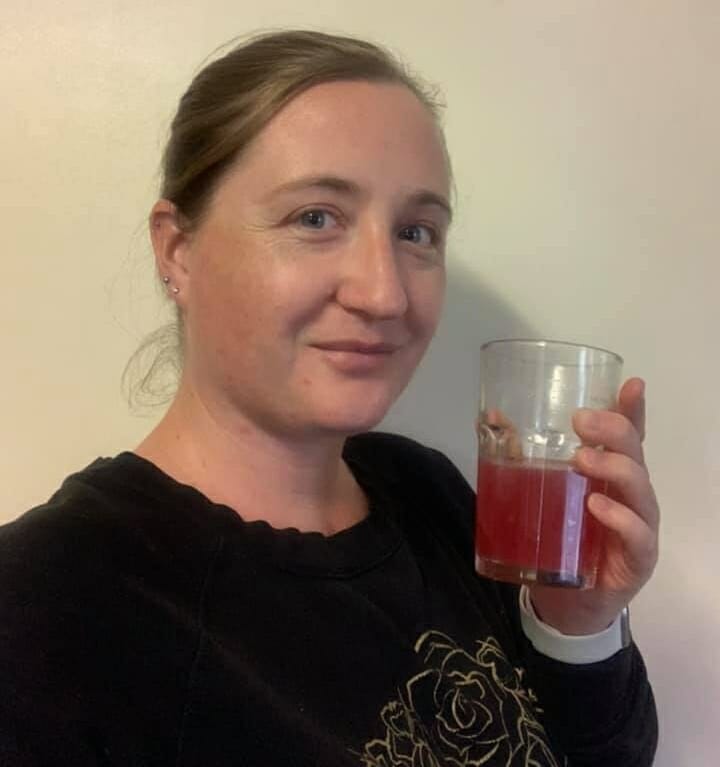 Daisy is a huge fan of all of our SKIN products, especially the Beauty Collagen Powder.
She says, "I'm now getting back into the swing of everything and staying consistent and it's starting to pay off.  My skin is starting to glow, and my hair is starting to shine again.
"I love The Healthy Mummy Beauty Collagen Powder. Before using this wonderful product, my hair was falling out in handfuls constantly."
Superfood Serum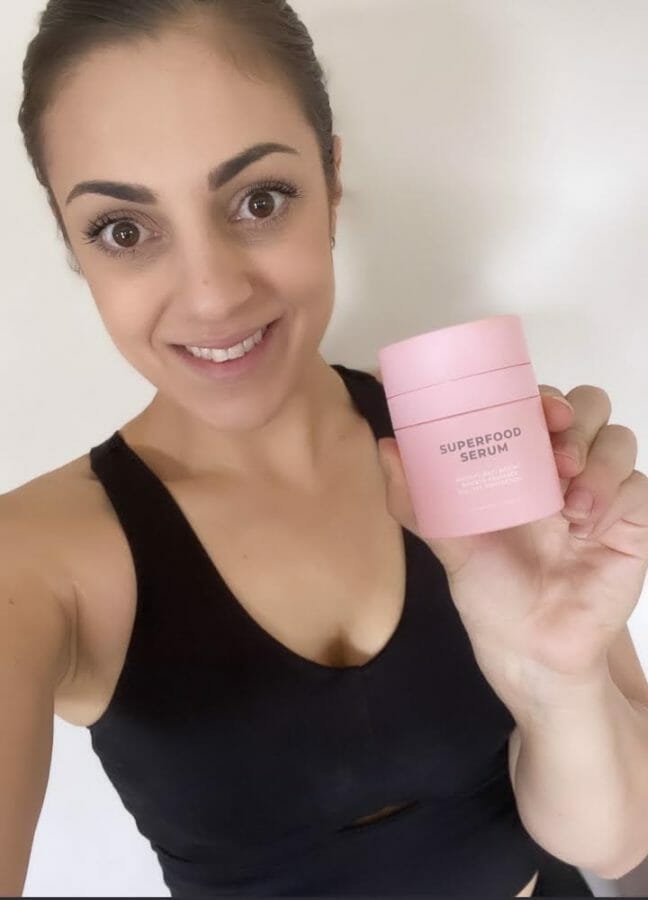 Samara has made this SKIN product part of her daily skin care routine.
She says, "This is my new favourite way to start my day. After washing my face, I simply apply the new SKIN Superfood Serum to my face and neck and I instantly feel refreshed and ready for the day.  Not only does it smell incredible, but it leaves my skin looking and feeling so smooth!! 10 out of 10!!"
Glow Flash Balm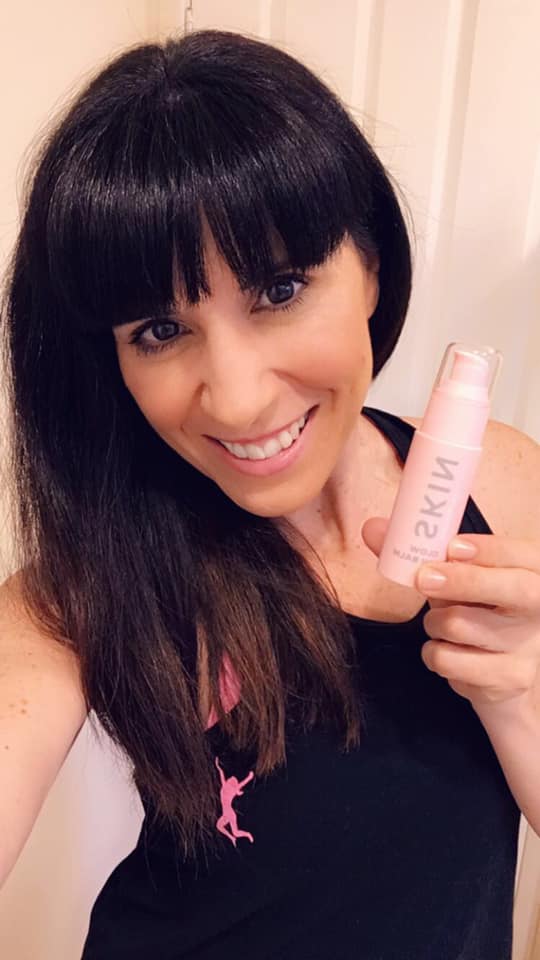 Leah Romiti loves face products and couldn't wait to try The Healthy Mummy Glow Flash Balm.  She was not disappointed.
Leah says, "The Healthy Mummy Skin Glow Flash Balm is beautiful. It smells incredible, feels divine and glides onto your skin like silk. My skin feels super soft and it has a subtle shimmer. Another amazing Healthy Mummy Skin product to add to my daily routine"
Clay Masks
Eirini uses our skin range products to help keep her breakouts at bay.
"Guess who has school photos this week and has a couple of pimples come up? Me!
"Thank goodness for The Healthy Mummy Green Clay Mask. My skin loves it, because it helps to detox and soften it. I'll follow it up later in the week before photo day with the pink mask as I find that helps brighten and even out my skin a bit more."
Hydro Gel Eye Mask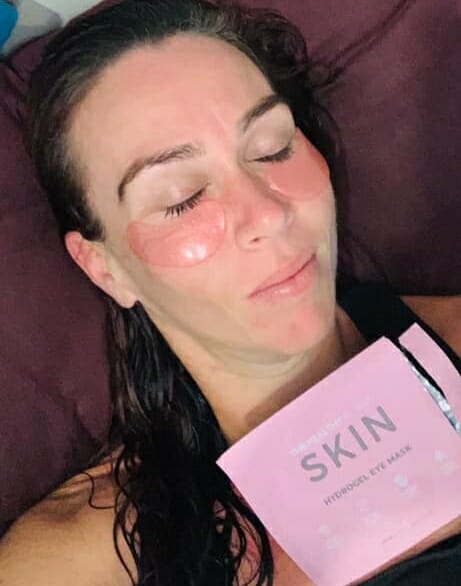 Chelsea loves The Healthy Mummy Hydrogel Eye Mask and The Healthy Mummy Green Clay mask.
She says, "Today I finally got to use my Hydrogel Eye Mask after I used my green clay mask & I feel absolutely refreshed." 
Rose Quartz Roller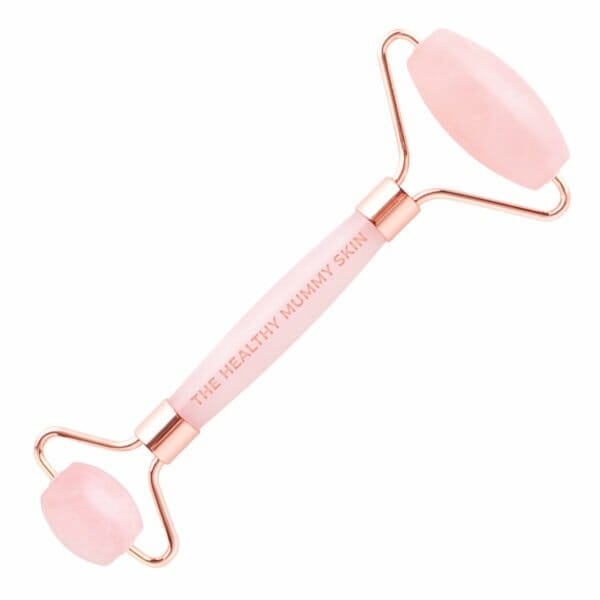 Lauren is a fan of our Rose Quartz Roller. She says, "I took advantage of the sale on The Healthy Mummy skin products and finally got myself one of these rose quartz rollers to go with my stock up of Revive Face Oil, the perfect match!!