9 Quick and Easy Warming Winter Soups you MUST TRY!
These deliciously satisfying soups from the 28 Day Weight Loss Challenge, are perfect to a feed a large family on a cold night, or as a quick grab and go lunch from the freezer when you've got no time.
There really is nothing better than a bowl of warming soup in the colder weather. These deliciously Satisfying Winter Soups Recipes from the 28 Day Weight Loss Challenge, are perfect to a feed a large family on a cold night, or as a quick grab and go lunch from the freezer when you've got no time.
Warm and Comforting Soups
The humble bowl of soup ticks so many boxes in wintertime.
Filled with immunity-boosting ingredients, soups can give you the best chance of staying healthy and fighting off colds and flu.
They are quick and easy to prepare, and great to make in bulk.
Using in-season winter ingredients, these soups are also budget-friendly and kind to your wallet.
Even though they are comforting and will leave you satisfied and full, they are NOT full of calories so perfect for weight loss.
Try these Yummy 9 Quick and Easy Warming Winter Soups Recipes!
1.Slow Cooked Lasagne Soup
This is one of our most popular soups from the 28 Day Weight Loss Challenge. With those distinctive lasagne flavours, this soup is packed with protein which will keep you fuller for longer. Not only that, onion and garlic are prebiotic foods that help to balance your gut health.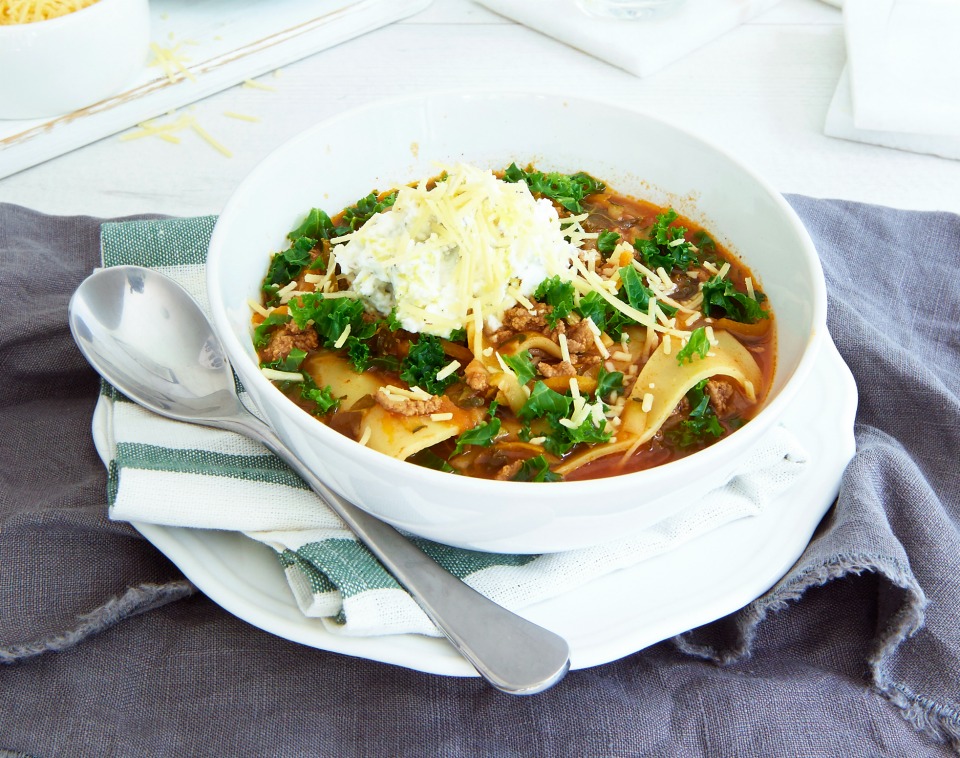 2.Immunity-Boosting Chicken Soup
A simple chicken soup like this one is ideal to boost your immunity in winter. It contains garlic and ginger which are both known to help the body fight infections plus loads of hydrating stock to keep you feeling your best. Another delicious Chinese noodle soup recipe!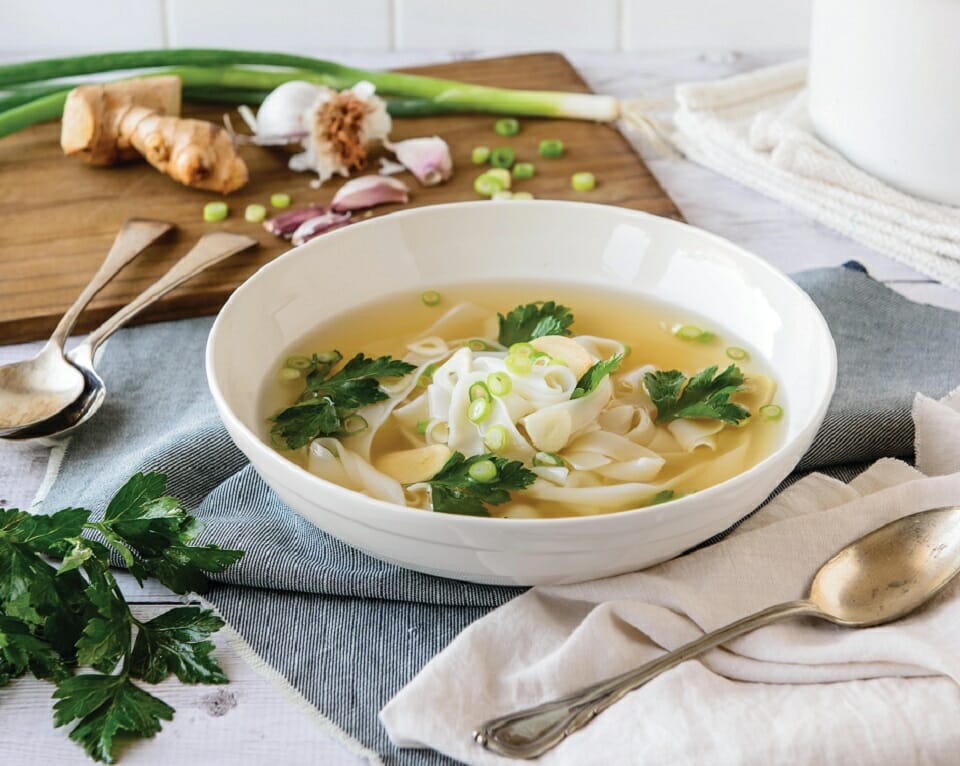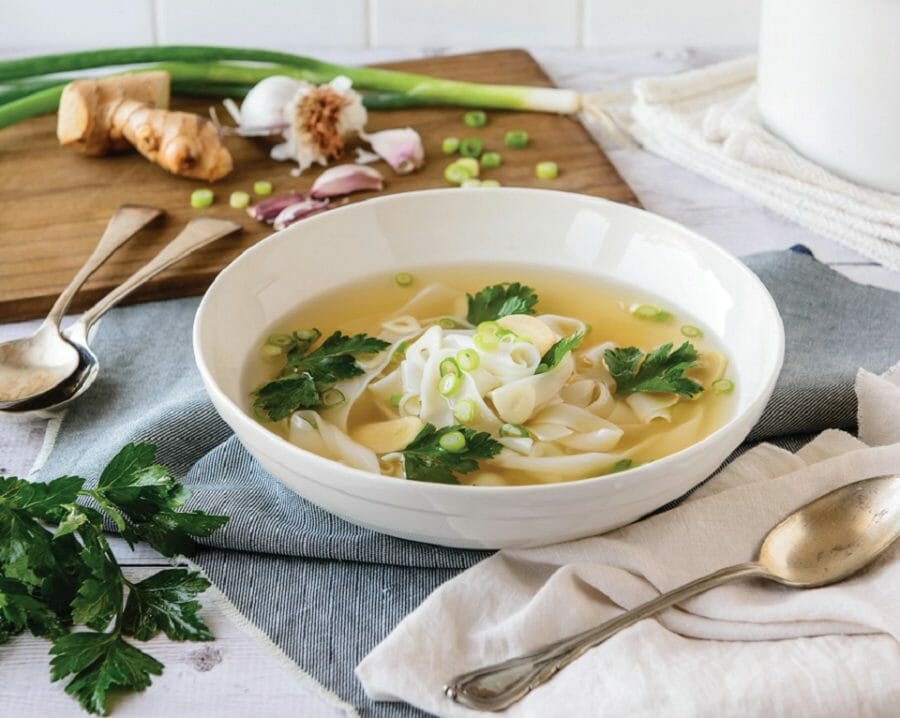 3.Roasted Cauliflower & Turmeric Soup
This soup is supercharged with the powerhouse spice turmeric and the nutrient-dense cauliflower. It's a great go-to soup for lunch and is sophisticated enough to enjoy as a dinner party entree. Sure to impress your guests!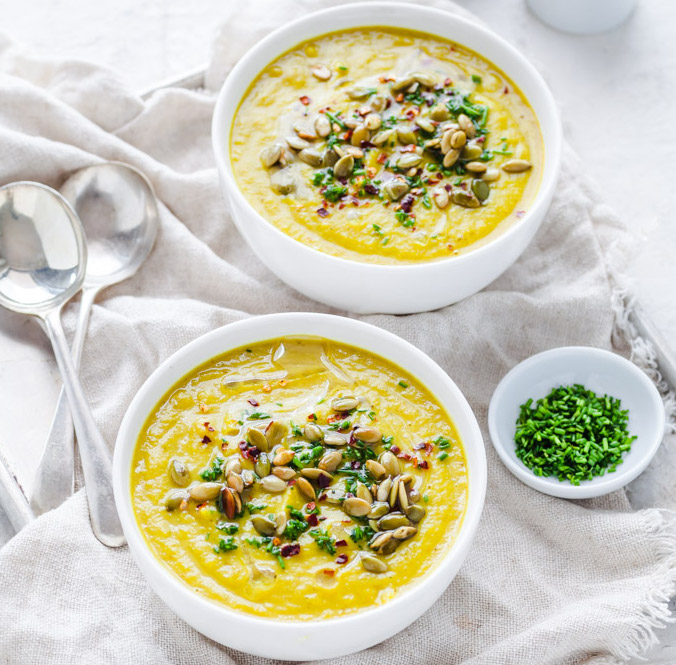 4.Cumin and Carrot Soup
Cumin and Carrot are a flavour match made in heaven. At only 307 cals per serve,  this soup is full of fibre and vitamins from the carrots and potatos. It's unbelievably healthy, with a creamy texture despite no cream in the recipe.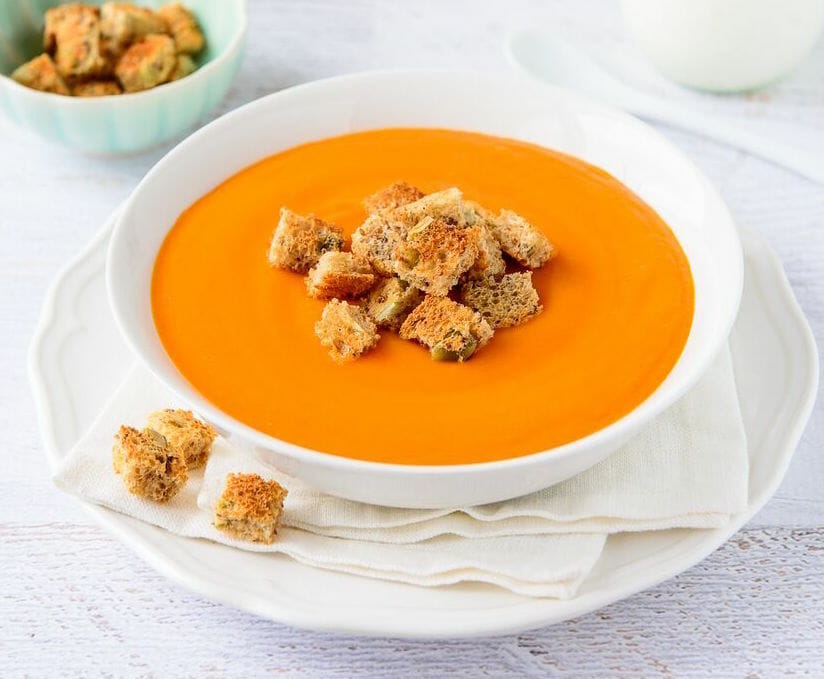 Get this recipe on the 28 Day Weight Loss Challenge.
5.Chicken Noodle Soup for the Soul
This soup will warm you up inside and out and feed your body and soul. Add some noodles to slurp, easy to chew veggies, and the belly-filling goodness of chicken and you've got yourself a winning prescription. another delicious soup recipe!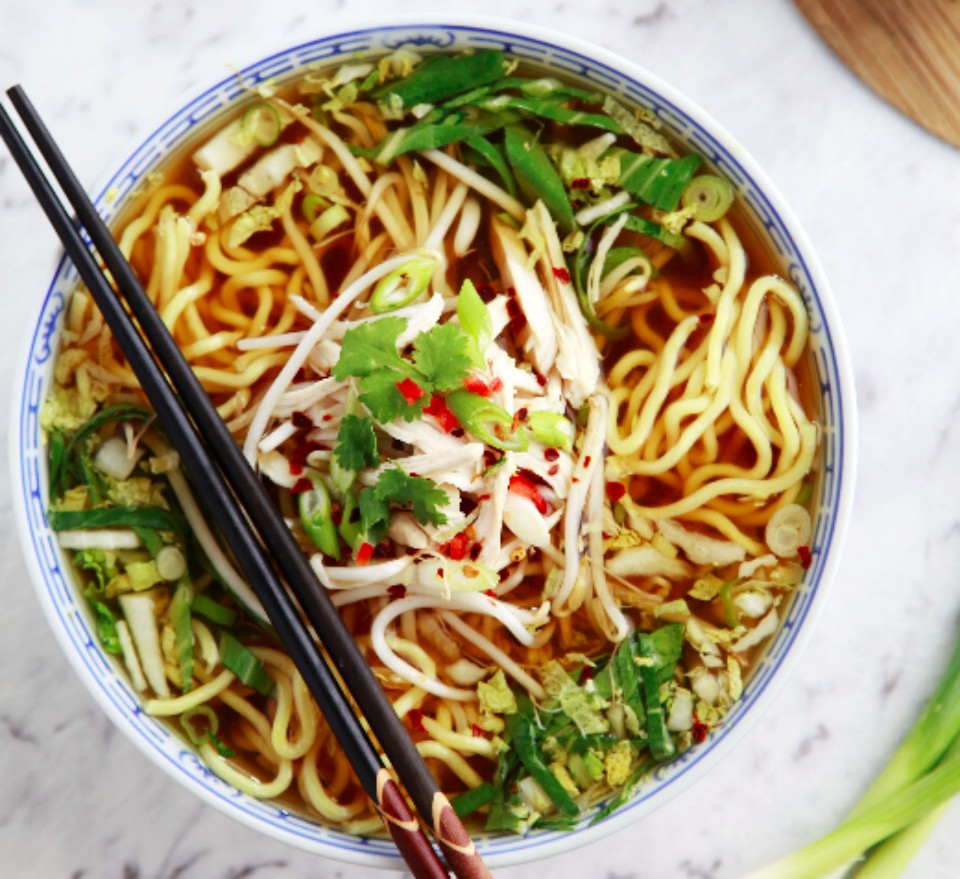 6.Brocolli and Lemon Soup with Quinoa
This bright green soup is bursting with colour, nutrition and most of all flavour. Containing superfoods quinoa and broccoli it packs a nutritional punch. Lemons are high in vitamin C, a natural antioxidant which enhances the immune system and has antiviral properties. This soup is perfect to make in a large batch to share with the family or to reheat for another meal. check out another delicious chicken noodle soup recipe!
Get this recipe on the 28 Day Weight Loss Challenge.
7.Vietnamese Beef Pho
Mmmmmmmm! Pho! This healthy home-made version of the Vietnamese classic soup is full of vitamins, minerals and antioxidants. With fresh and tasty ingredients, this soup is sure to get your taste buds travelling.  For more soup recipes try this delicious minestrone soup recipe!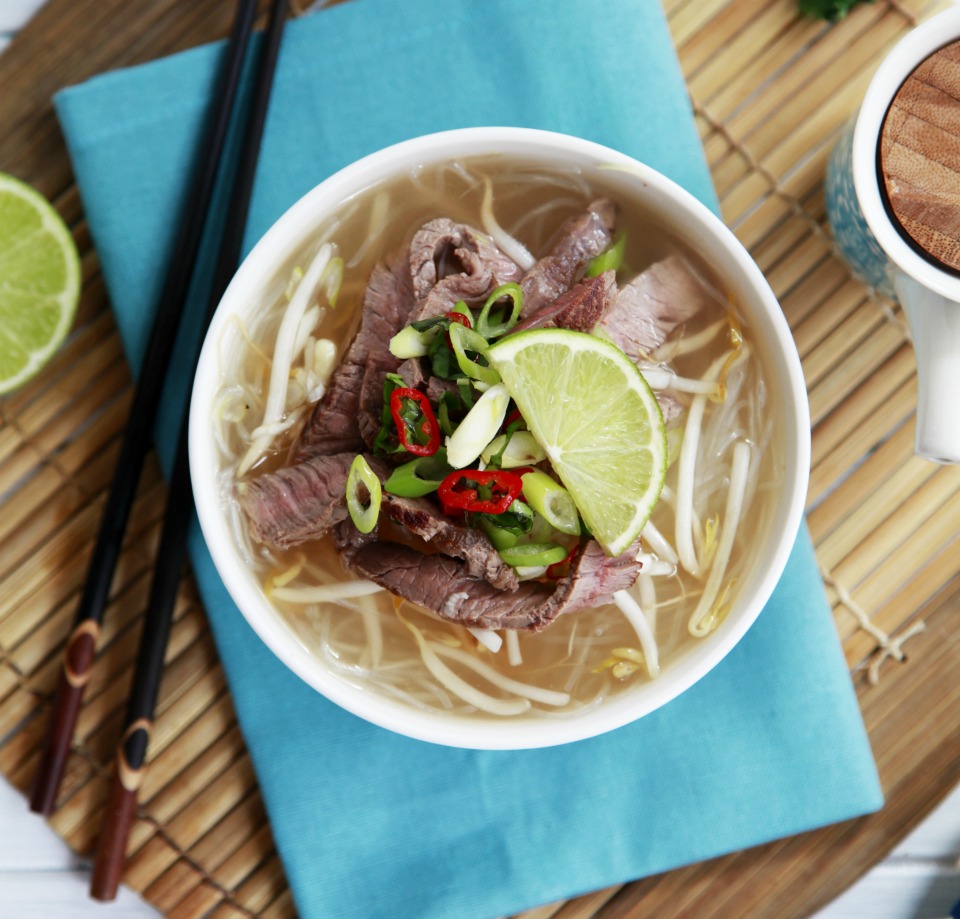 8.Creamy Super Green Soup
Leafy green vegetables like those found in this delicious soup have more nutrition per calorie than any other food. They are loaded with vitamins including A, C, E and B, are rich in fibre and minerals and are therefore vital in keeping your immunity at its best.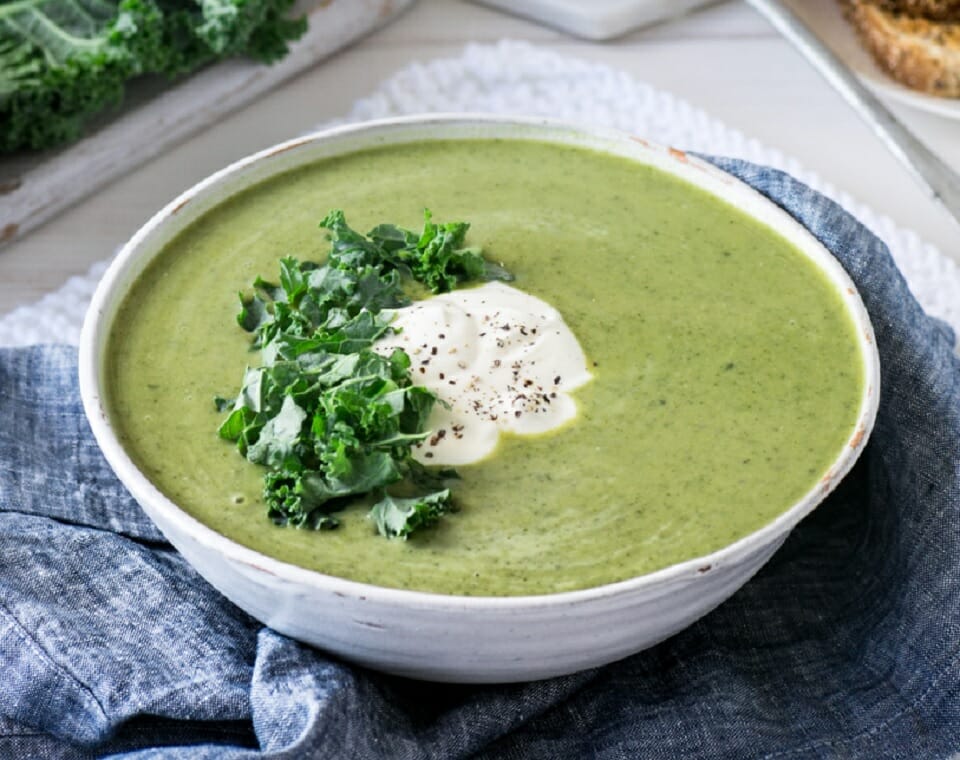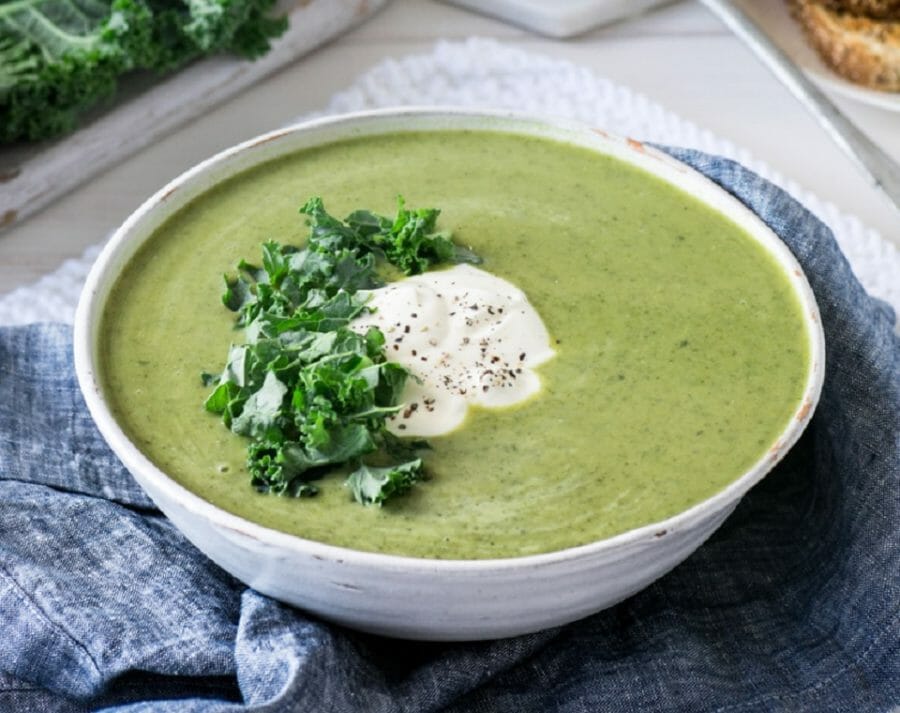 Prep Time: 10 mins
Cooking Time: 20 mins
Ingredients (Makes 1 serve)
 1/2 cup broccoli
20 grams of lean smoked ham
1  tsp extra virgin olive oil
1 clove diced garlic
1 cup chopped kale leaves
40 grams of Brussels sprouts
2 cups liquid vegetable stock, salt reduced
60 grams of tinned cannellini beans
1 tbsp reduced-fat Greek natural yoghurt
1 slice wholegrain or gluten-free bread of choice
Method
Cut broccoli into florets. Slice ham.
Heat a saucepan over medium-high heat and add olive oil. Add garlic and sauté for 30 seconds – 1 minute.Add sliced ham and brown. Then add broccoli, Brussels sprouts and kale.
Season with salt and pepper. Sauté vegetables for 2 minutes to colour and soften slightly.
Add the stock and bring to a boil. Then reduce to a simmer for 8-10 minutes until vegetables are tender. Add some more stock if liquid reduces a lot.
Add drained beans and using a stick blender or bench top blender, blitz until smooth.
Return soup to saucepan and heat through.
Toast bread.
Serve soup with a dollop of yoghurt and slice of toast.
This recipe contains 283 calories per serve.
9. Italian Bean Soup
This is a high fibre and protein-rich soup that is great to hydrate you and keep your metabolism working at its best. With the added bonus of bocconcini! YUM!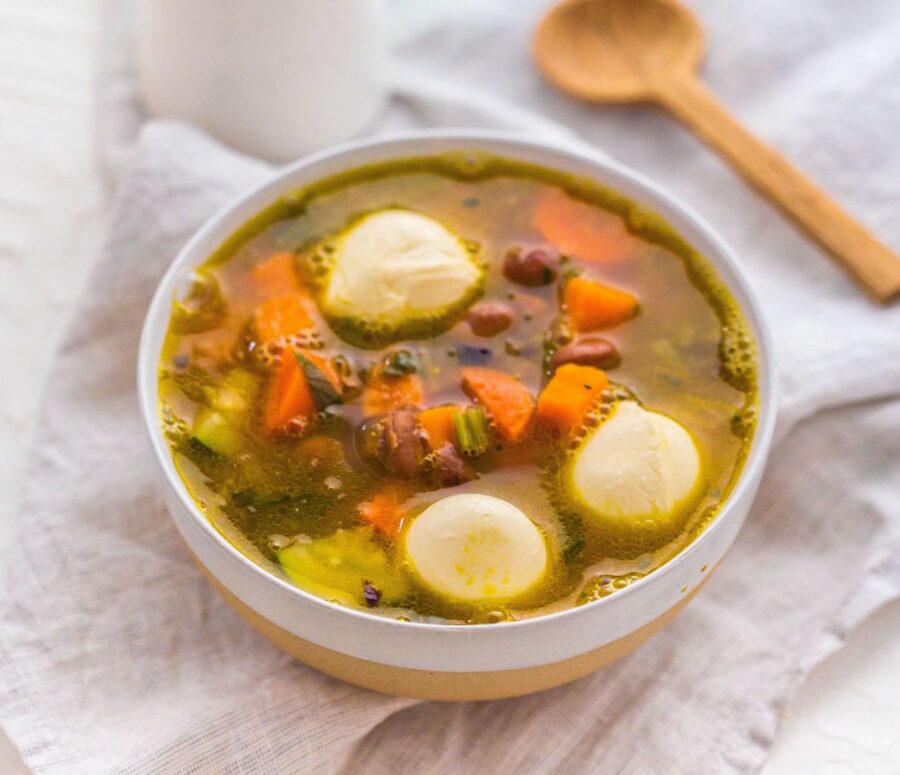 Get this recipe on the 28 Day Weight Loss Challenge.
Want more recipes like this to keep you warm this Winter?!!
Tired of wondering what to cook?
Now you can easily meal plan with our personalised plans & over 6,000 family & budget friendly recipes catering to a wide range of dietary requirements.

The Healthy Mummy is a holistic program to nourish your body with nutritious food and help you stay active in your busy, everyday life. Yours and your families well being should be a priority so let us take the hassle out of it.

Unlock the key to sustainable life changes that will leave you feeling your absolute best.