Thanks for requesting our Bumper Recipe Pack.
Download your BUMPER recipe pack here.
The Sugar Detox 28 Day Challenge Is Starting SOON! Join 10,000 mums and lose 4-6kg*
Join the Challenge for a SUPER DEAL!!!!
Check out the 28 Day Weight Loss Challenge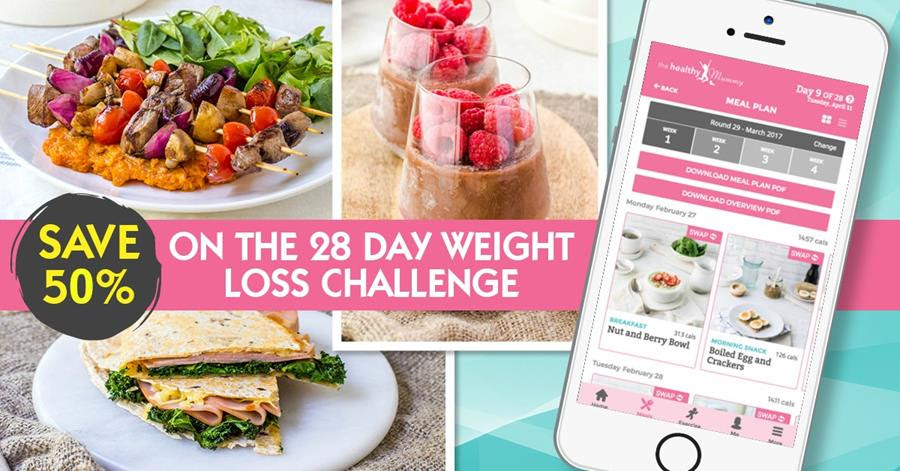 Join today and instantly get:
over 3,000 family friendly recipes – with 100 new recipes added each month.
daily exercise – including HITT training and pilates (suitable for beginners to advanced).
amazing 24/7 support – from over 100,000 mums.
customisable meal plans – swap to suit your dietary requirements.
personalised shopping lists – easy to download.
access our awesome app  – have the challenge in the palm of your hand.
Lose 4 – 6 kg every 28 days and make 2017 your best year yet!!
See all details of the 28 Day Weight Loss Challenge here.

POST EASTER SPECIAL – 30% off + Free Post
Get a HUGE 30% off our shop products + FREE Aussie POST!!
Stay on track to make April an AMAZING month for yourself & stock up on Healthy Mummy Smoothies, Super Greens or cookbooks and other merchandise.
NB: offer excludes sale, subscription and membership products. Free post on Aussie orders only.  AFTERPAY available.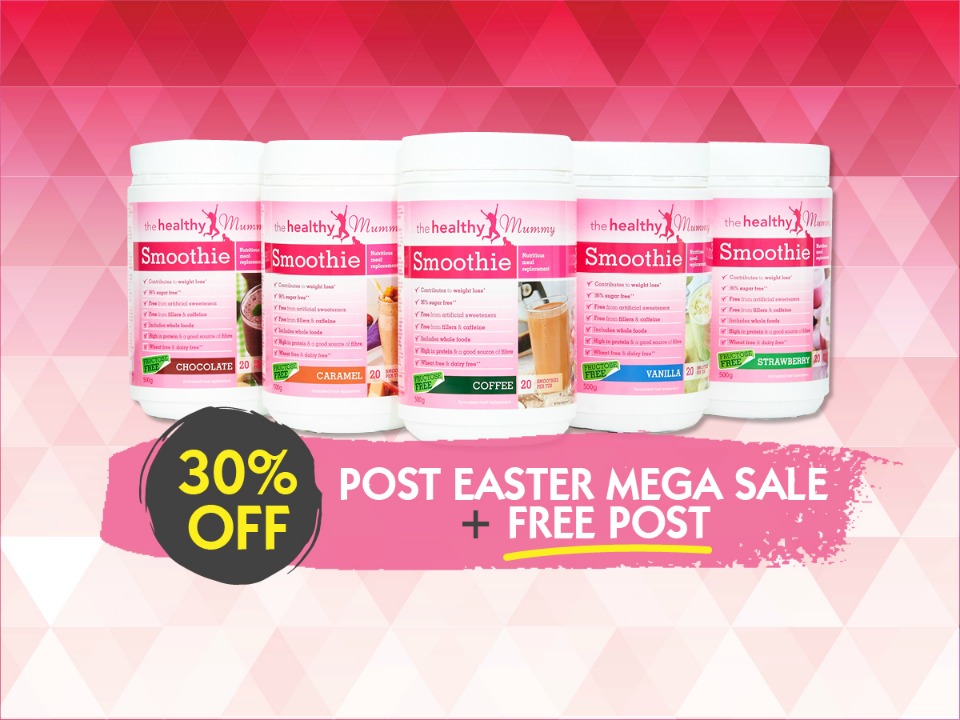 Our Healthy Mummy Smoothies do not contain any artificial ingredients and are recommended nutritionists, midwives and by 9 out of 10 mums. 
Made from highest quality natural ingredients, they're the perfect meal replacement or supplement for busy mums.
See The Healthy Mummy Smoothie shop here.
What are the benefits of The Healthy Mummy Smoothie?
It can help with your weight loss when used as part of a healthy eating and exercise plan.
Contains whole foods not refined, processed and synthetic ingredients.
Is Breastfeeding friendly but is used by all mums.
Provides an excellent source of nutrition for energy.
It is low GI, high in protein & high in fibre which helps you feel fuller for longer as well as the fibre content aiding digestion.
It is high in protein & has the lowest sugar content than any other similar product –click here to see a brand comparison table.
It is fast and easy to prepare and tastes delicious.
Can be used as a meal replacement or as a snack.
See what some of mums say in their reviews of our Healthy Mummy Smoothies.

Want more information?
Results from mums on the 28 Day Challenge
Mums lose an average of 4-6kg (8-13 pounds) on our plans and below are some of the amazing results from mums JUST LIKE YOU who are already using our plans – make the change and join them today too!
Hailz has lost 43kg on our Challenges
"If anyone had of told me a year ago that I would loose 39.5kgs in 13 months, and be able to comfortably fit in a size 10 dress for the first time in my life, when I had always been a size 24! I would have laughed and not believed it. But its POSSIBLE!! The Healthy Mummy has given my life back, following the 28 Day Weight Loss Challenges and the Healthy Mummy Smoothies, I am happier, healthier, fitter & more confident than i have ever been!! All you have to do is believe in yourself, work hard and have faith in the program and thats made easy with all the support! Reach for the stars beautiful ladies, you too can do amazing things!! ♡"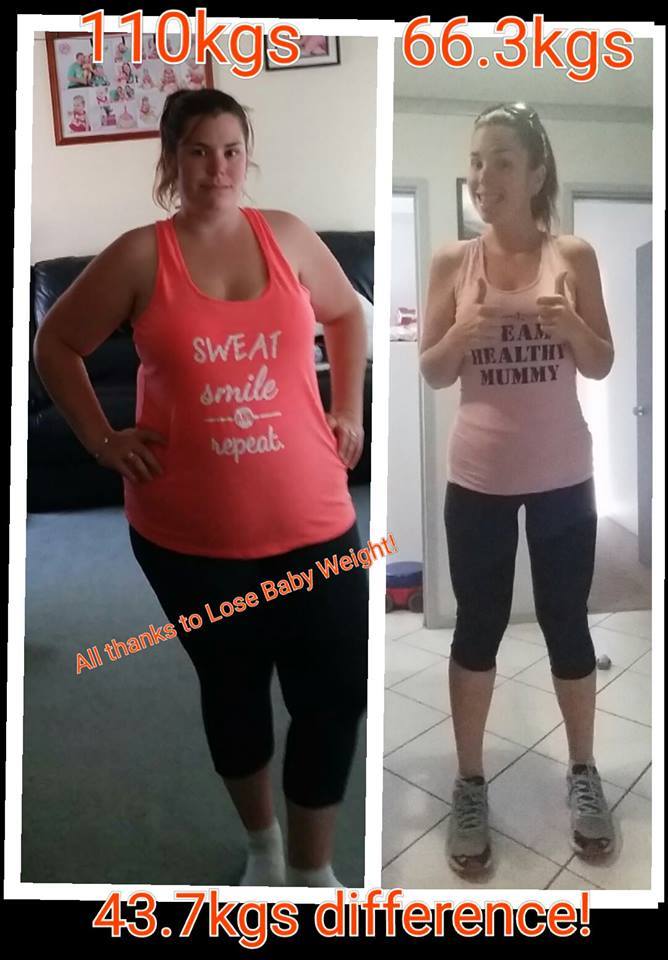 Tawhai has lost 52kg
When I found The Healthy Mummy in August 2014 I was desperate to lose weight for my wedding but was so overwhelmed with the amount I needed to lose. After years of losing and gaining weight I needed something I could easily follow, adapt for my family and be able to maintain. As soon as I looked at the 28 Day Weight Loss Challenges I signed up and ordered some Healthy Mummy Smoothie tubs, it has been one of the best decisions for myself and my family. I lost 52kgs in 15months and gained more energy, confidence and fitness. I've had some extremely hard days and weeks we all do, but what's important is to never give up.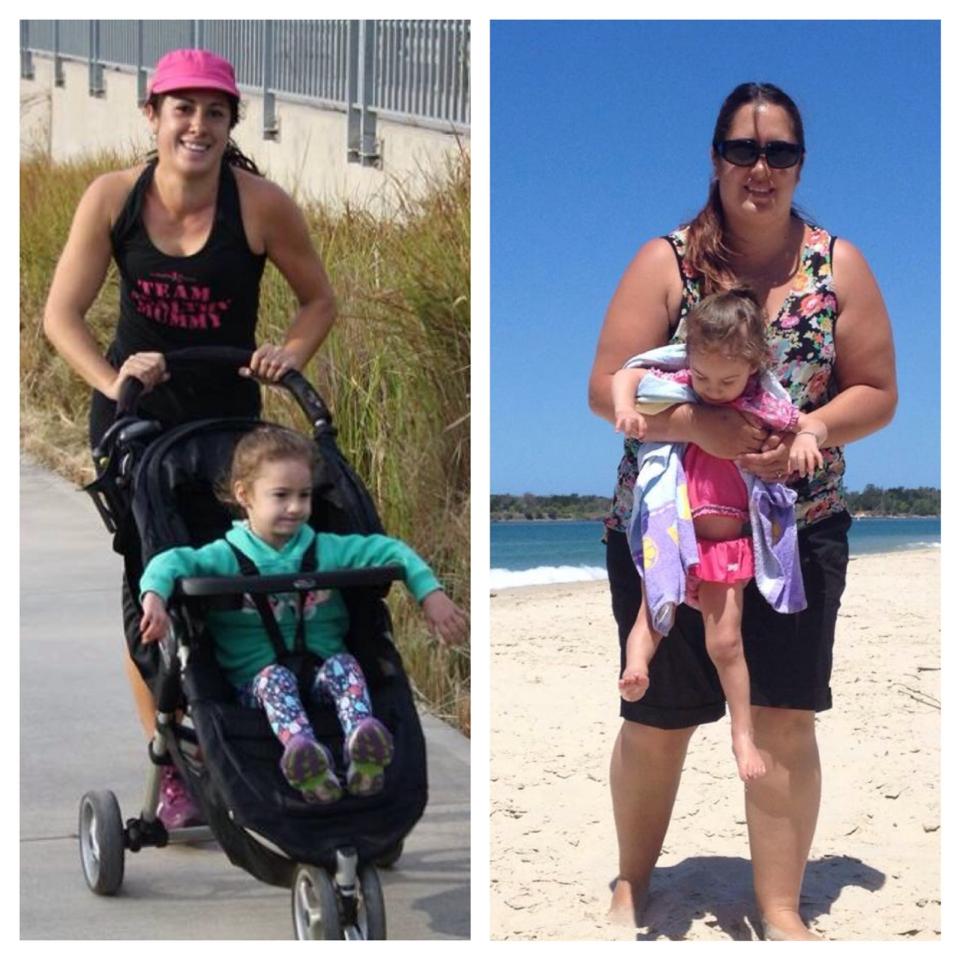 Stacey has lost 30kg on our Challenges
"I started in Dec 2014, I have lost nearly 30kg. I have an addiction to The Healthy Mummy I won't lie, I used every product they sell. The challenge helped me become organised and make myself a meal plan, the DVD helped me gain strength and become fit. The books I love cause the kids help chose some meals and snacks we can make together. The Healthy Mummy Smoothies made my life less stress and easier to cope with the morning rush. Xx"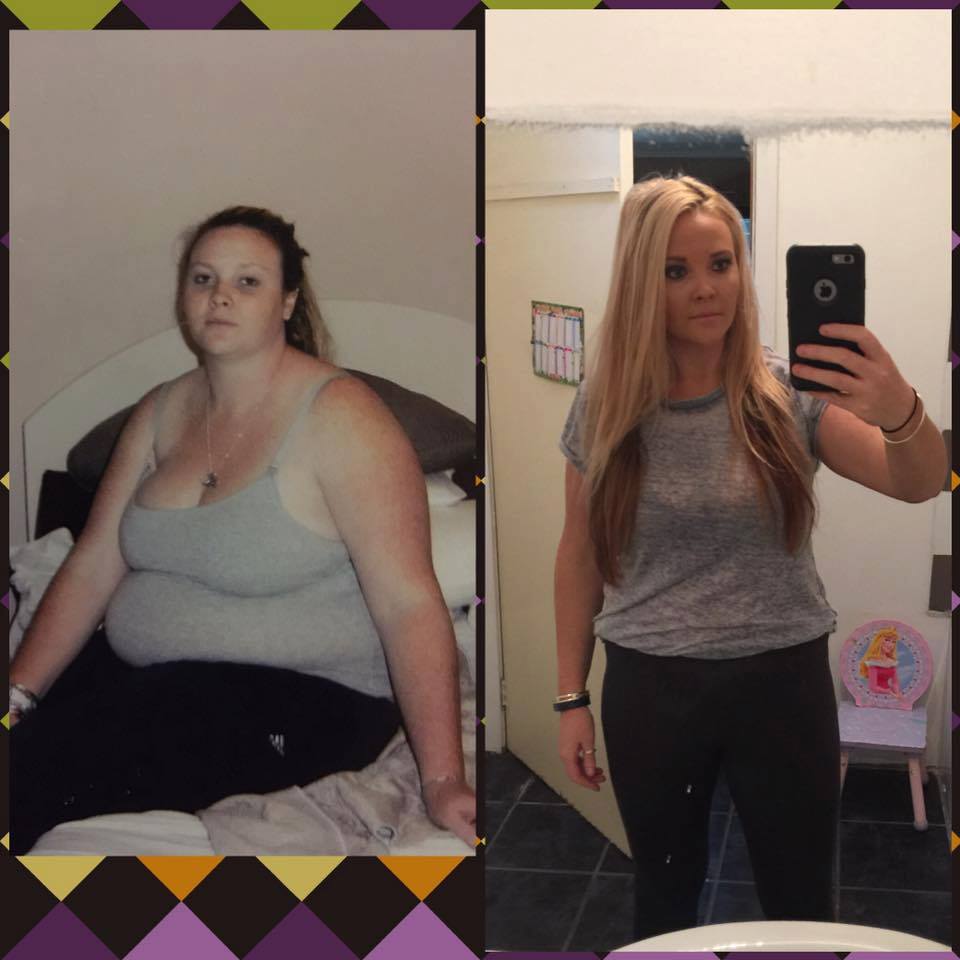 Elle has lost 30kg
"The Healthy Mummy 28 day Weight Loss Challenge was exactly what I needed, new recipes to keep me satisfied and never getting bored of eating the same thing. My self confidence is at the highest it's ever been and I feel great!"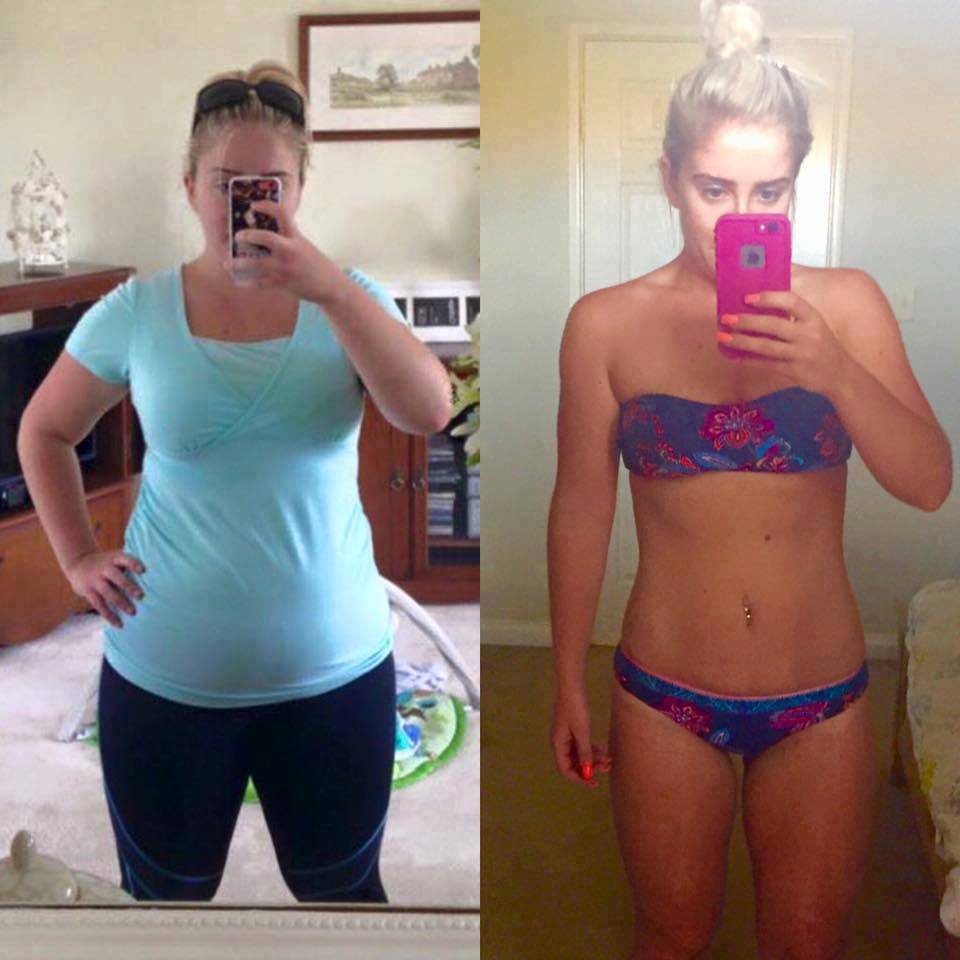 Jordi Aldrick has lost 10kg
I was not going to post this photo 1st taken today 2nd 6 months ago after my second daughters birth because it's just plain horrible.
But I'm not that bloated unhappy tired mum on the right anymore I used to hate photo's of myself unless it was my face now I love photos so I can compare my weight loss i can better myself I changed my whole outlook on food since joining The Healthy Mummy I still eat yummy food I just learnt to eat it the right way.