FREE Camping With Kids recipe eBook
A family camping trip can be a bonding experience and something every family should try at least once .
Camping is an opportunity to slow down. It's completely fine to achieve absolutely nothing and simply relax, if that's what you feel like doing.
Plus, it's actually a nice time to take in the scenery and prepare a yummy, healthy meal without all the rush and stress! If you've created a meal plan, prepped and shopped accordingly, you'll have everything you need at hand. So simple!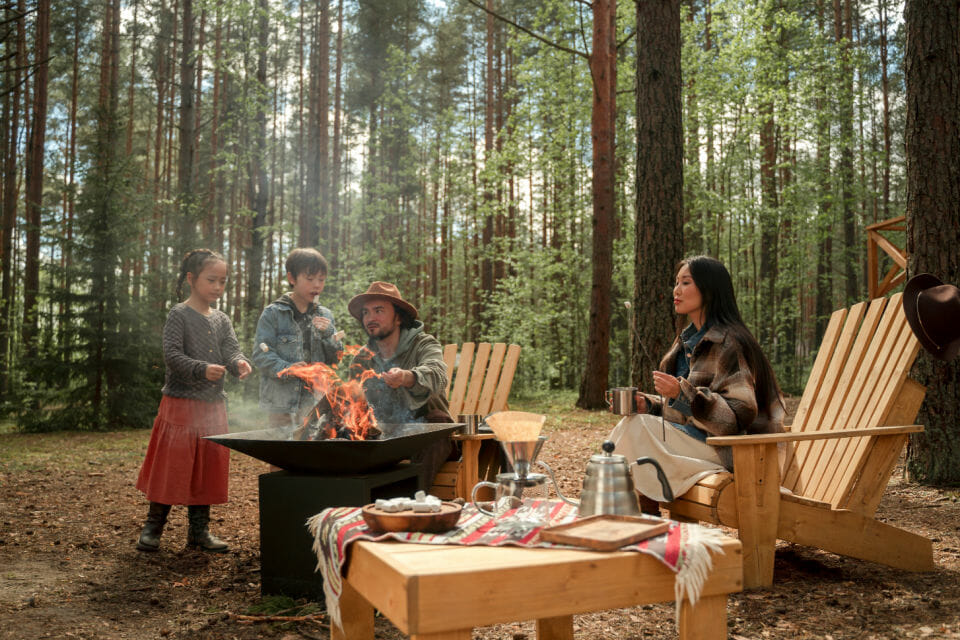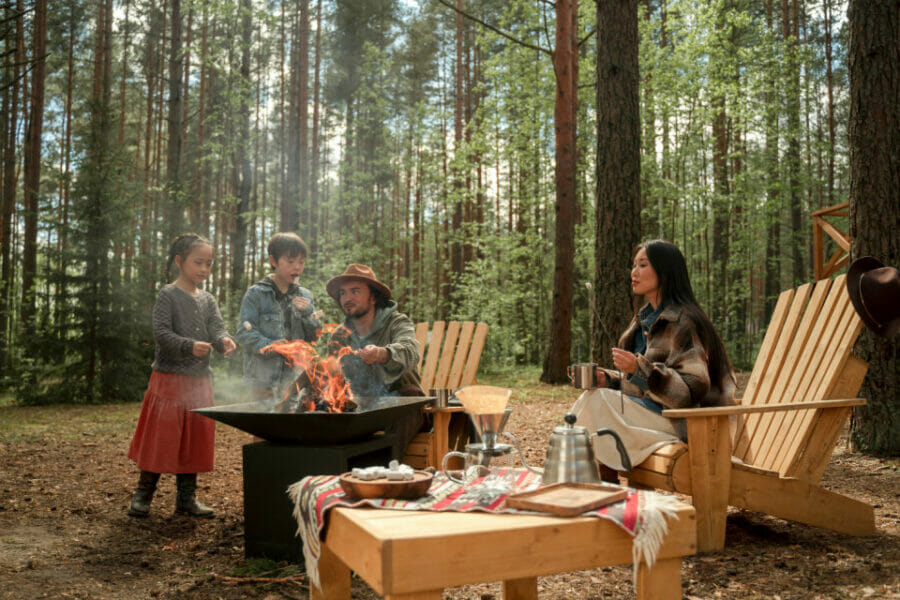 FREE Camping With Kids recipe eBook
And to make it even less challenging, we've prepared a camping guide along with simple recipes just for you, to streamline decision making and food preparation.
It will take the guesswork out of what to prepare in advance for your meals, which ingredients to bring and how to continue your health journey even in the great outdoors .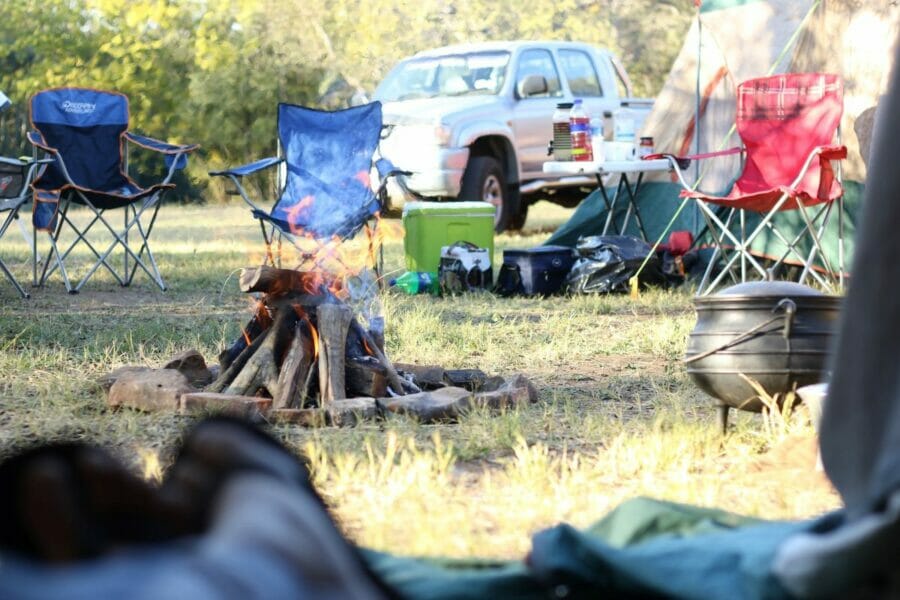 Easy camping and healthy meals
You may be planning to spend time in front of a bonfire. Whether it be just a get together with friends or while you're away on a camping excursion.
However, campfire food isn't known for being healthy! We advise you to steer your kids clear from marshmallows, as they are loaded with sugar and most snags and burgers aren't the healthiest choice for your little ones.
Thankfully, we have a HEAP of healthy meals for camping on our 28 Day Weight Loss Challenge as well as in our free eBook!
Some don't contain a lot of ingredients, which helps keep the cost down and you'll have space for other things on your trip, and other recipes can even be made in one pot!
You CAN have an easy, healthy and enjoyable camping trip with your whole family – even if you have fussy eaters!
How to make your camping trip a healthy one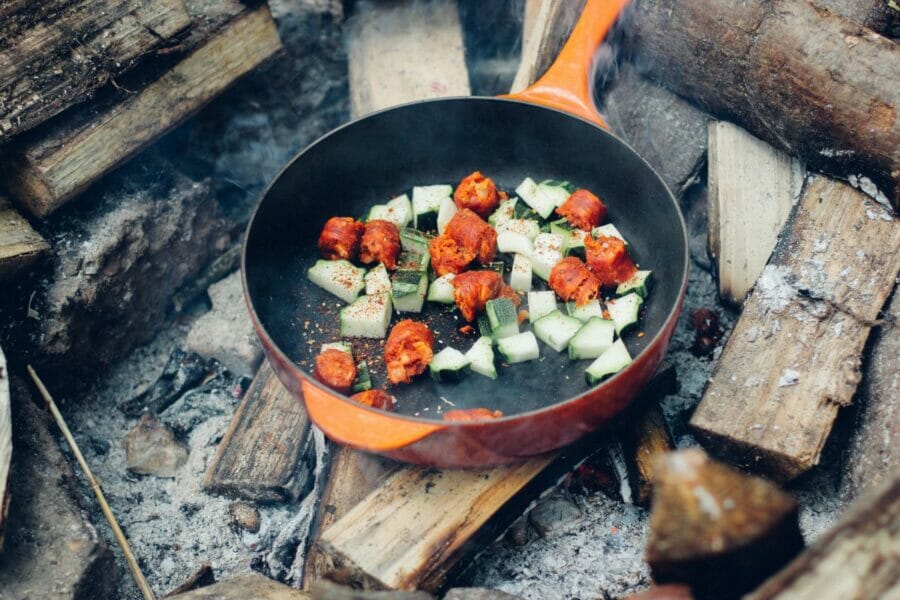 Plan your meals in advance
Take fresh ingredients and find out where the local food stores are
Take a supply of herbs, spices, stock and pantry essentials
Make one pot meals for the win!
Make small modifications when serving to keep your little campers happy
Stay active – any form of exercise is good exercise
Take or pre-make easy snacks for camping
We've asked our 100,000's of real camping mums what they think you need for a perfect camp kitchen to ensure you have the right tools for some non-bbq meals.
Tools for cooking when camping:
Camp stove – gas, of course – with grill plate and rack if possible
Table for stove
Matches / lighter
Firewood / firestarters
Axe
Both a large and small Frying pan
Both a large and small Saucepan
Cast iron camp oven – to pop in the fire for any slow cooking you might want to do
Foil to keep things warm or pop on top
Potholders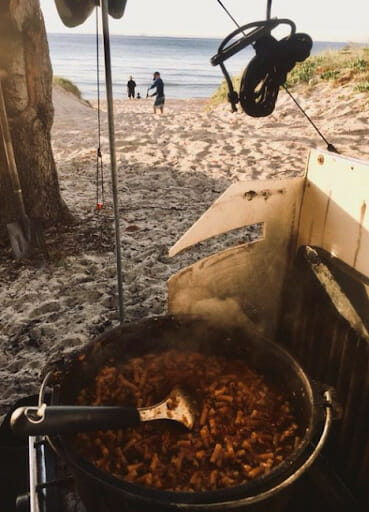 Tools for cooking and preparation when camping:
Table or flat surface for chopping and preparing
Cooking utensils – egg flip, tongs, knives, serving spoons, measuring spoons/cups, extendable forks for roasting over the fire
Colander – great for washing veggies but also for straining
Two cutting boards – one for the meat and one for everything else
Bowls for mixing, salad and leftovers
Eating utensils for camping:
Melamine plates / bowls – at least one for each person
Mugs / cups
Cutlery
Refillable water bottles
Large water jug or water storage container with a tap
What you need for cleaning when camping
Washing up tubs – they can travel inside each other and are great for washing and then rinsing clean
Dish rack
Dishcloth and scourer
Dishwashing liquid
Napkins and paper towel
Tea Towels and hand towels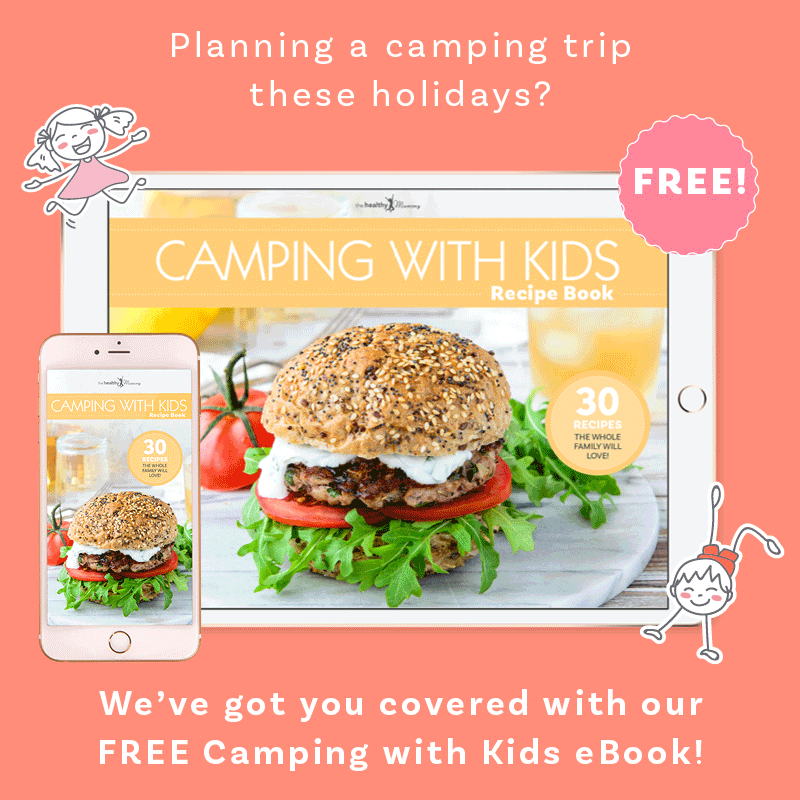 Our simple guide to camping with kids of all ages includes:
Handy checklists
Campsite tips
Tips for eating healthily when out and about
Kitchen checklist
Healthy camp-friendly recipes. These will make it easy for you and your family, being both delicious and so simple to prepare.
Download your FREE Camping with Kids Recipe eBook by entering your details below.