The 156 calorie Chocolate Bar Mums just can't get enough of!
There's a new recipe on the 28 Day Weight Loss Challenge and mums in the community are LOVING it! It's the 156 calorie Raspberry Ripe!
Picture this, you've had a hard day running around after the kids, you've all had dinner, the kitchen is clean, the kids are tucked in and you finally get to flop on the couch and watch your favourite Netflix show you've been binging. Everything is perfect until…it strikes! That dreaded chocolate craving!!
Sound familiar? We've all been there! But before you reach for your favourite calorie, fat and sugar-laden chocolate bar, The Healthy Mummy has just put a NEW RECIPE  into it's 28 Day Weight Loss Challenge and Mums are going absolutely nuts for it!
It's the Raspberry Ripe and it's the perfect after dinner (or late afternoon) sweet chocolate treat that will more than satisfy your cravings without ruining your weight loss plans! Even better, it is a great recipe to meal prep and store in the freezer for when those cravings strike!
At just 156 calories, mums in our amazing community were keen to share their pics and comments on their new favourite treat! So we're sharing too. Scroll down for the recipe!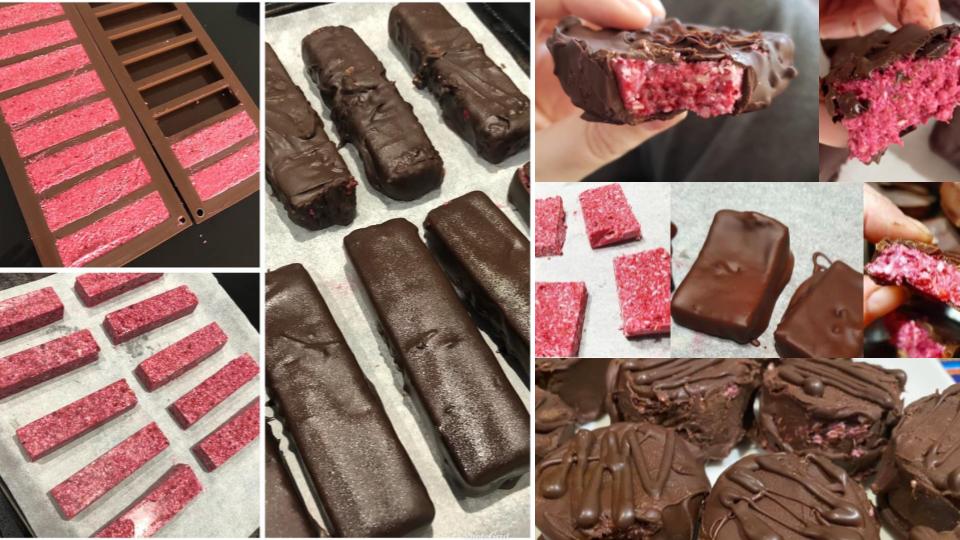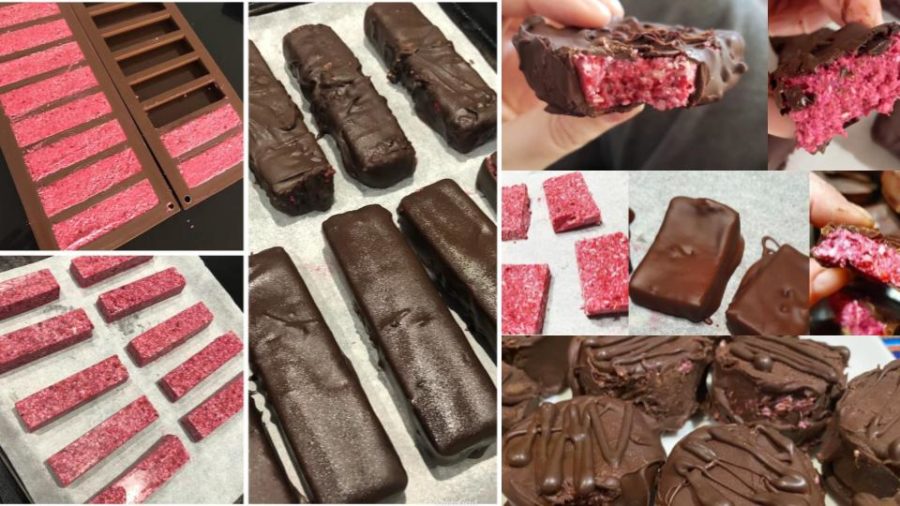 Hear Why Mums are LOVING the Raspberry Ripe!
Angela Thomas says "These are to die for, if you haven't made them yet then you should get on it straight away!"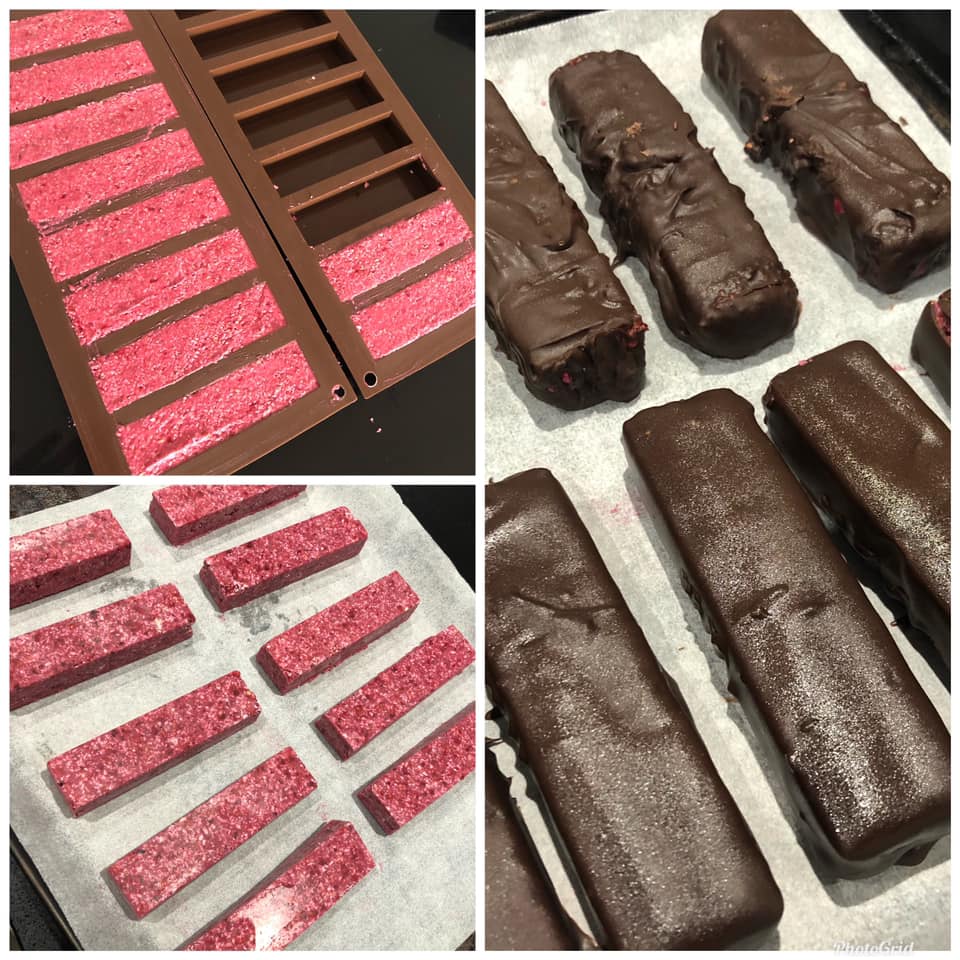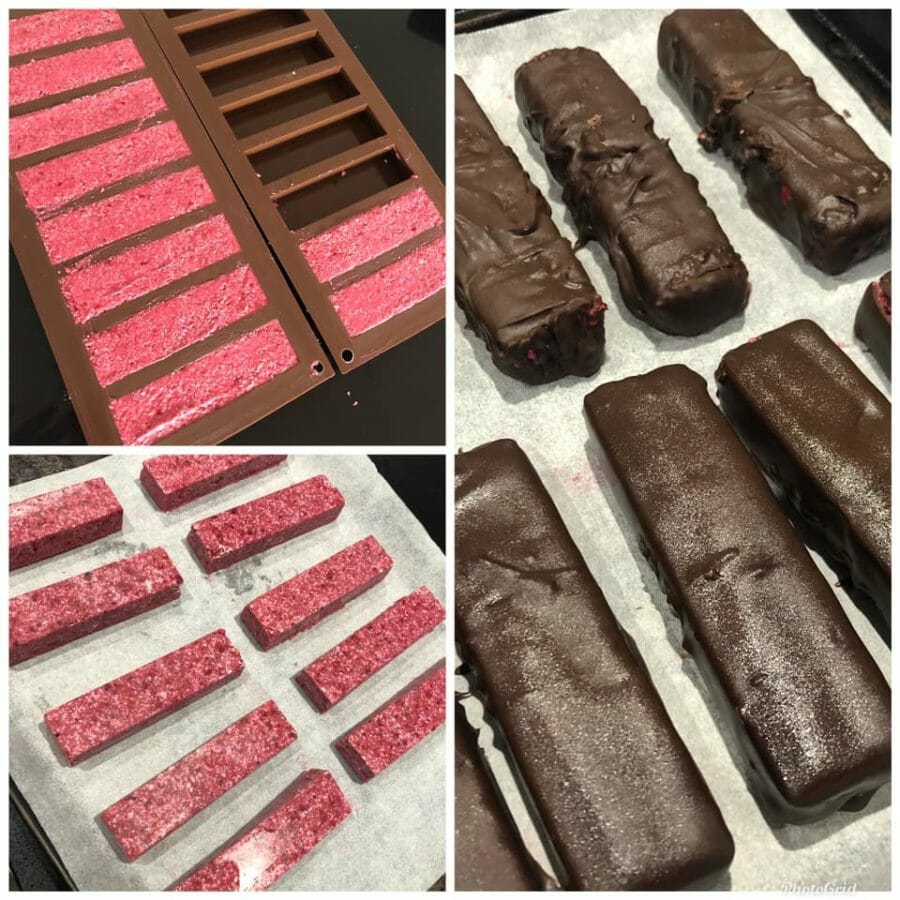 Nikkie Hopkins says, "The second one for the day and it's not even lunchtime. Uh oh Raspberry Ripe, why must you be so delicious!"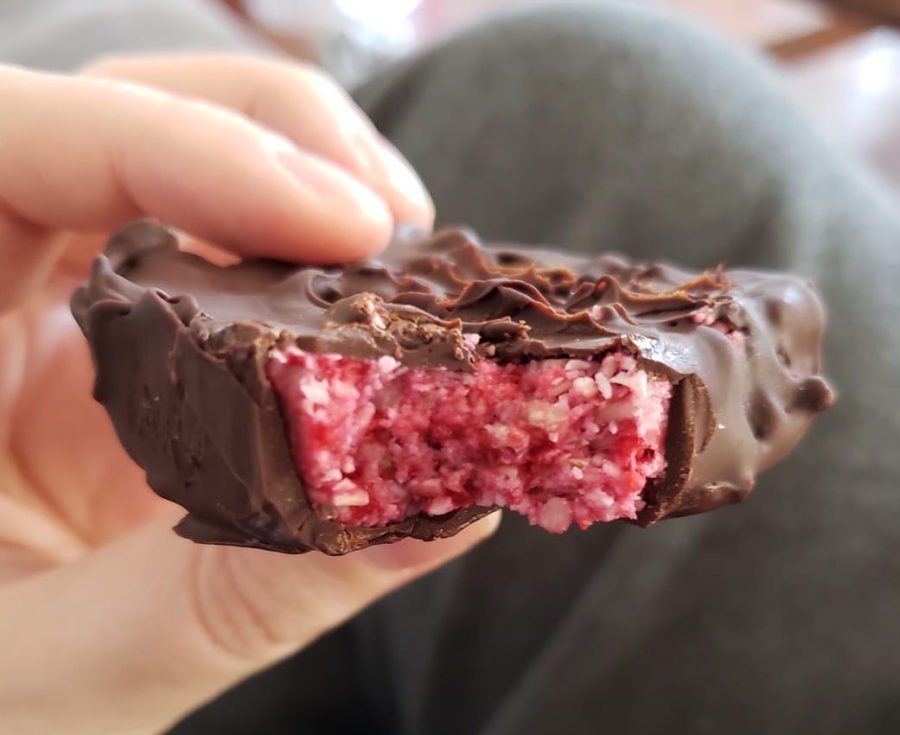 Amanda Zoccoli says "Oh yum!! This Raspberry Ripe is definitely a winner!!"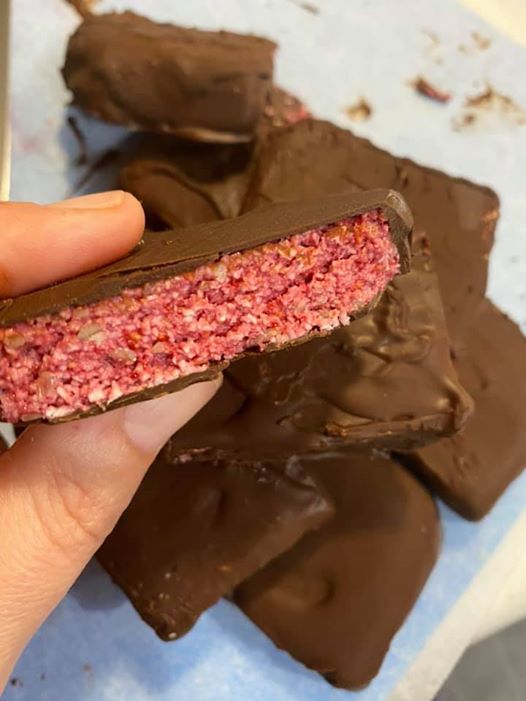 Gemma Corey even has some great advice for making them!
She says "I couldn't wait for meal prep Sunday – I was too excited about this NEW 28 Day Weight Loss Challenge recipe!!! Presenting the Raspberry Ripe in all it's glory!!! I even had my piece before putting it back in the freezer to firm up!!! It is really delicious – but I am a sucker for zingy raspberries & dark chocolate!!!
My top tips for preppng this one are:
Weigh your ingredients – there is a big difference between how I pack a cup and how others do it. Weighing ensures you have the correct amounts in the right proportions!
Set the filling in the freezer – it means the chocolate will set almost immediately and not stick to your tray.
Heat your knife before slicing the raspberry filling.
Set up a production line so that the coating process does not get too messy!
Enjoy!!! Who cares if it's not perfect! It will still taste delicious!!!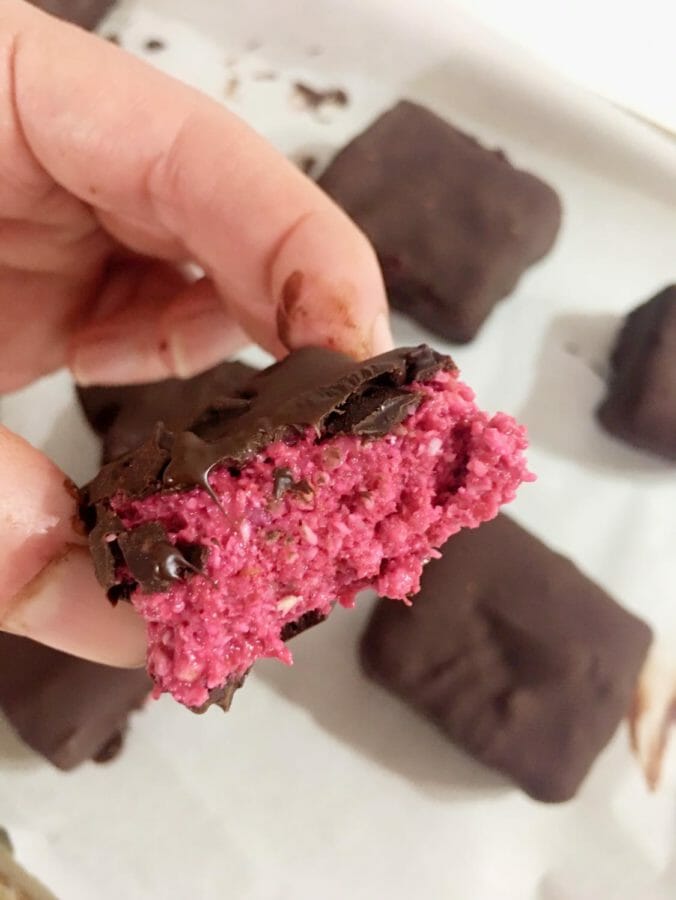 Silvana Gutierrez P says "My Healthy Mummy Raspberry Ripe. After I saw so many posts about it I couldn't resist! Done with silicon moulds, soooo good!!"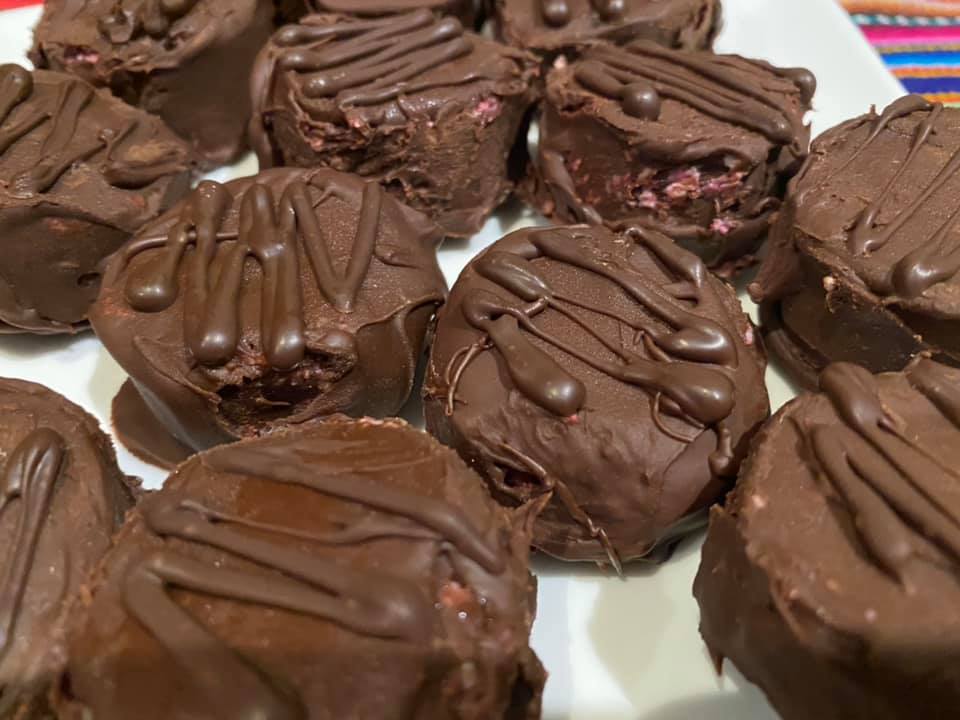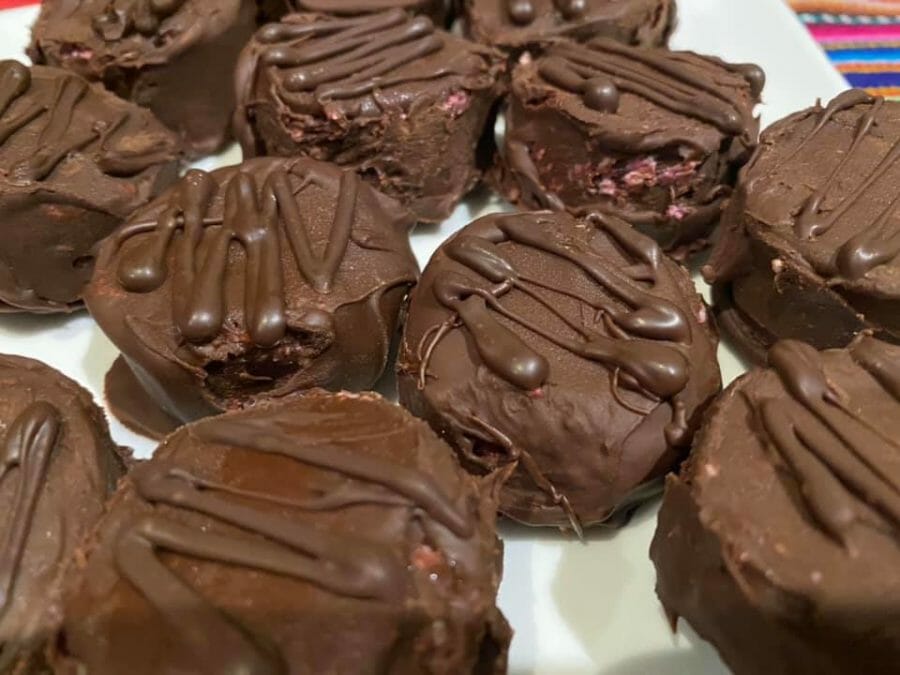 Eleanor Hannah says, "Yessss all of the yessssssssss. Helllllloooo Raspberry Ripe! This is a new recipe in the August 28 Day Weight Loss Challenge and OMG it's absolutely delicious! I meal prep these in a double batch as my whole family loves them! So much better than a shop bought bar! 


Are you ready to get on board the Raspberry Ripe Train!!! Try them today!
Get the Recipe for Raspberry Ripe here!
You can get access to thousands of more recipes just like this on the 28 Day Weight Loss Challenge!
Each month our 28 Day Weight Loss Challenge gives you a meal plan, exercise routine and tips and advice to help you be the best version of yourself.
Do you find yourself victim to emotional eating? Take the stress out of putting so much emphasis on food and diet and try our 28 Day Weight Loss Challenge which has been described by 100,000's of mums as a lifestyle change!
With a weekly meal plan consisting of 3 main meals and 3 snacks – The Healthy Mummy's 28 Day Weight Loss Challenge can help you stick to a healthy food plan and hit your weight goals.
You can find out more or join the 28 Day Challenge HERE.