Cure Chocolate Cravings With This Raspberry Ripe
If you find yourself hankering after a certain chocolate bar after dinner, here's a great option. Forget store bought, this homemade treat tastes like the real deal without the added sugar and calories!
This healthy dessert is packed with good quality ingredients and comes in at just 156 calories per serve.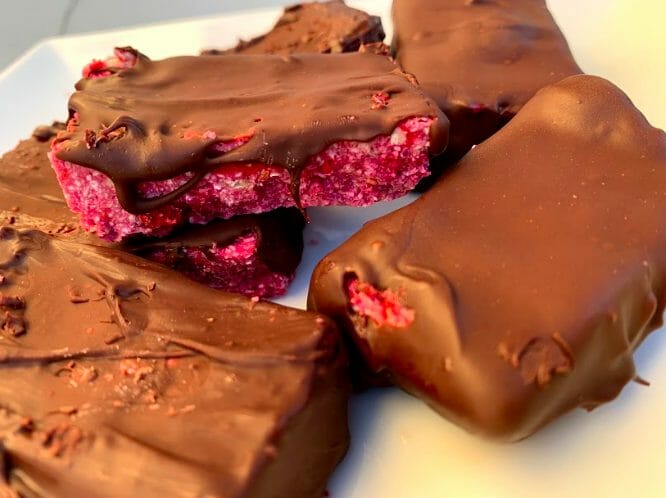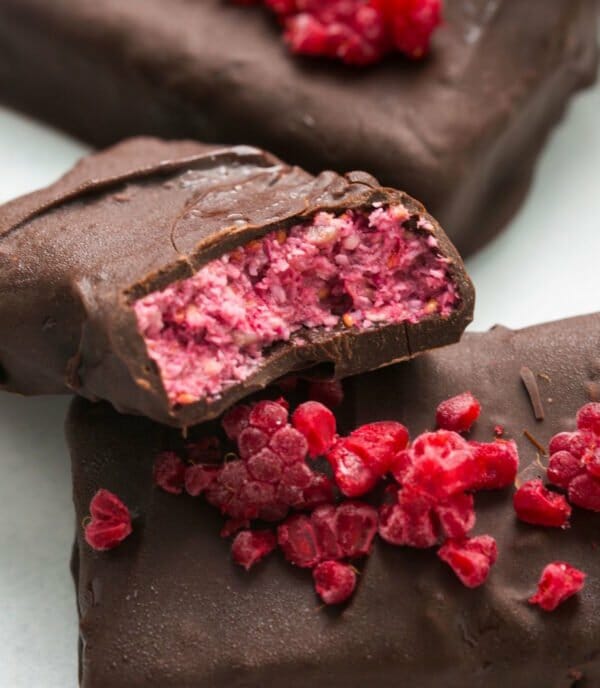 1/2

cup

rolled oats

1/4

cup

sunflower seeds

1

cup

fresh or frozen raspberries

1/2

cup

desiccated coconut

1

tbsp

maple syrup

1/2

tsp

vanilla extract

100

grams

dark chocolate

70% cacao or higher
1/2

cup

rolled oats

1/4

cup

sunflower seeds

1

cup

fresh or frozen raspberries

1/2

cup

desiccated coconut

1

tbsp

maple syrup

1/2

tsp

vanilla extract

100

grams

dark chocolate

70% cacao or higher
Line a loaf with baking paper.

Place oats and sunflower seeds in a food processor and process for 3 seconds until they resemble coarse crumbs.

Add raspberries, coconut, maple syrup and vanilla and process again until well combined.

Press the mix firmly into the prepared pan and place in the freezer for 3-4 hours or until firm and set.

Line a baking tray with baking paper.

Remove the raspberry mix from the freezer, slice into 10 pieces and return to the freezer, while you melt the chocolate.

Melt the chocolate in a double boiler on the stovetop or in the microwave until runny.

Using two forks, lower the raspberry pieces into the melted chocolate and coat well.

Quickly tap off excess chocolate and place on the prepared tray, then return to the freezer to firm up the chocolate.

One raspberry ripe is one serve. Store leftovers in the freezer for up to 3 months.
TOP TIPS
If the raspberry mix doesn't blend well, you can add a little water or an extra dash of maple syrup

Strawberries or cherries would work well in this recipe also!
Cut the calories further by only coating one side with chocolate or drizzle it over instead.
See how to make it here
As part of the 28 Day Weight Loss Challenge, we include chocolate and desserts as part of our meal plans. There's no need to miss out on your favourite foods while you lose weight. By making your own healthy treats, you can enjoy the things you love while still seeing results.
Join our 28 Day Weight Loss Challenge for customisable meal plans and over 6,000 recipes.
Tired of wondering what to cook?
Now you can easily meal plan with our personalised plans & over 6,000 family & budget friendly recipes catering to a wide range of dietary requirements.
The Healthy Mummy is a holistic program to nourish your body with nutritious food and help you stay active in your busy, everyday life. Yours and your families well being should be a priority so let us take the hassle out of it.
Unlock the key to sustainable life changes that will leave you feeling your absolute best.
Mums share their amazing Healthy Mummy transformations!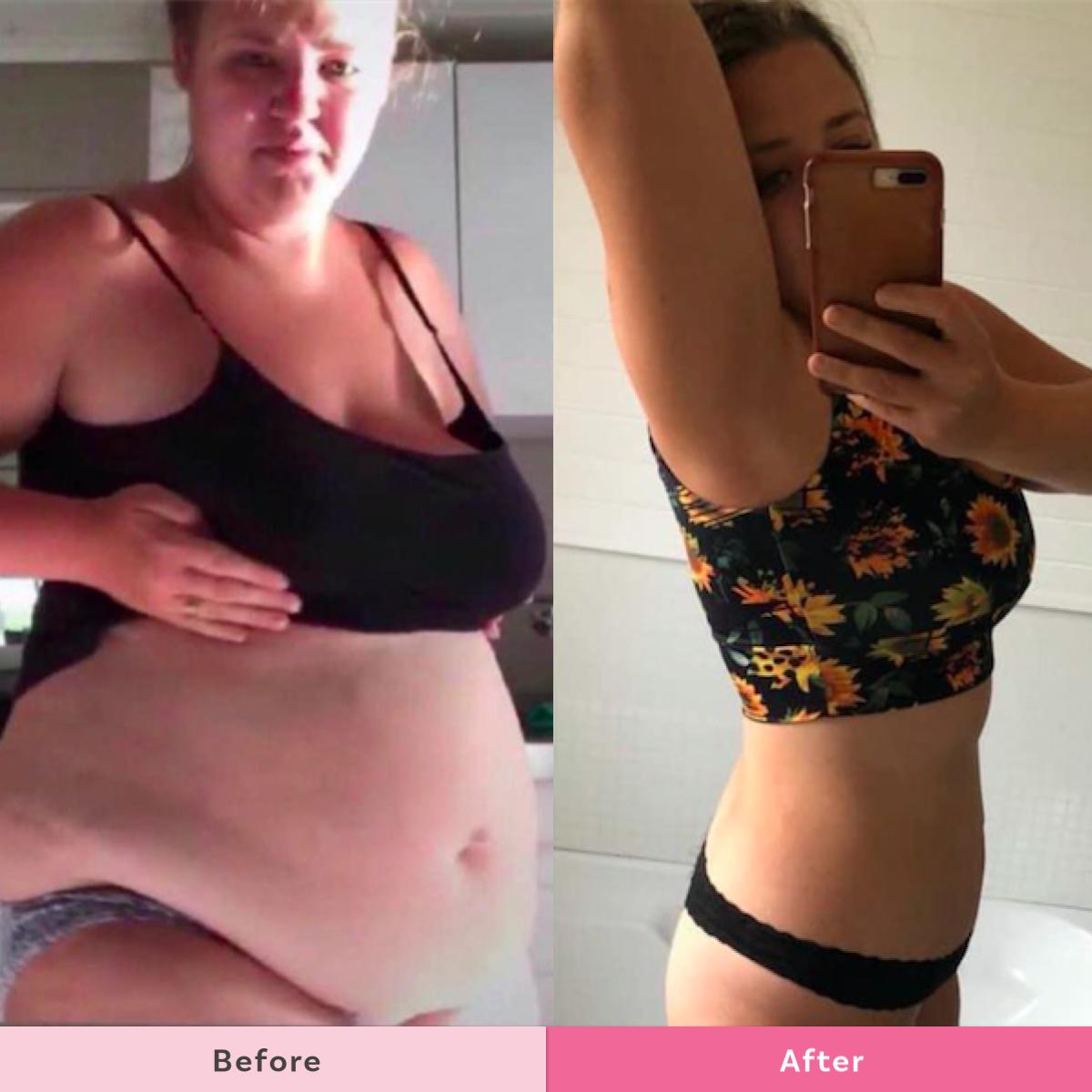 Cicily Goodwin- 35Kgs Lost
Mum of two Cicily started her journey with The Healthy Mummy in July 2016. In the first few months, she lost 20kgs by using The Healthy Mummy Smoothies twice a day and making the 28 Day Weight Loss Challenge meals. She lost another 35kgs over the next year.
Cicily says "I started the year at 110kgs and got to 75kg!! The lifetime goal I've dreamed of my whole life! "
Cicily admits that her when she started her journey it was all about weight loss but after living a healthy lifestyle it became a lot more about happiness.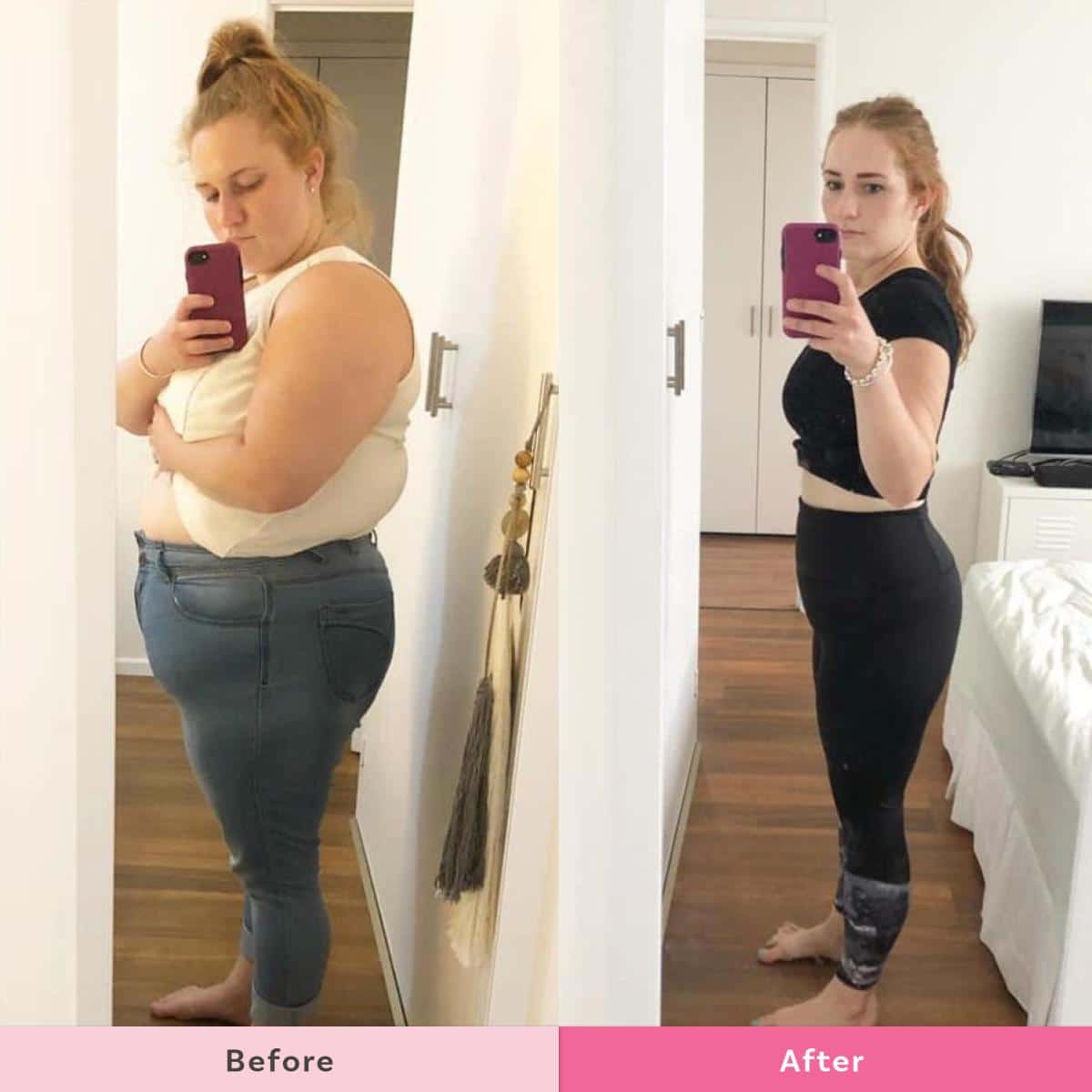 Zoe Terry – 41.7Kgs Lost
Zoe shares, "July 2019 – March 2020 – 41.1kgs gone and definitely not missed! I never thought I could do it. I never thought I would enjoy it. But Healthy Mummy has made it easy and fun!
I have found that 2 smoothies, 3 snacks and a healthy main meal paired with daily exercise is what's worked for me!"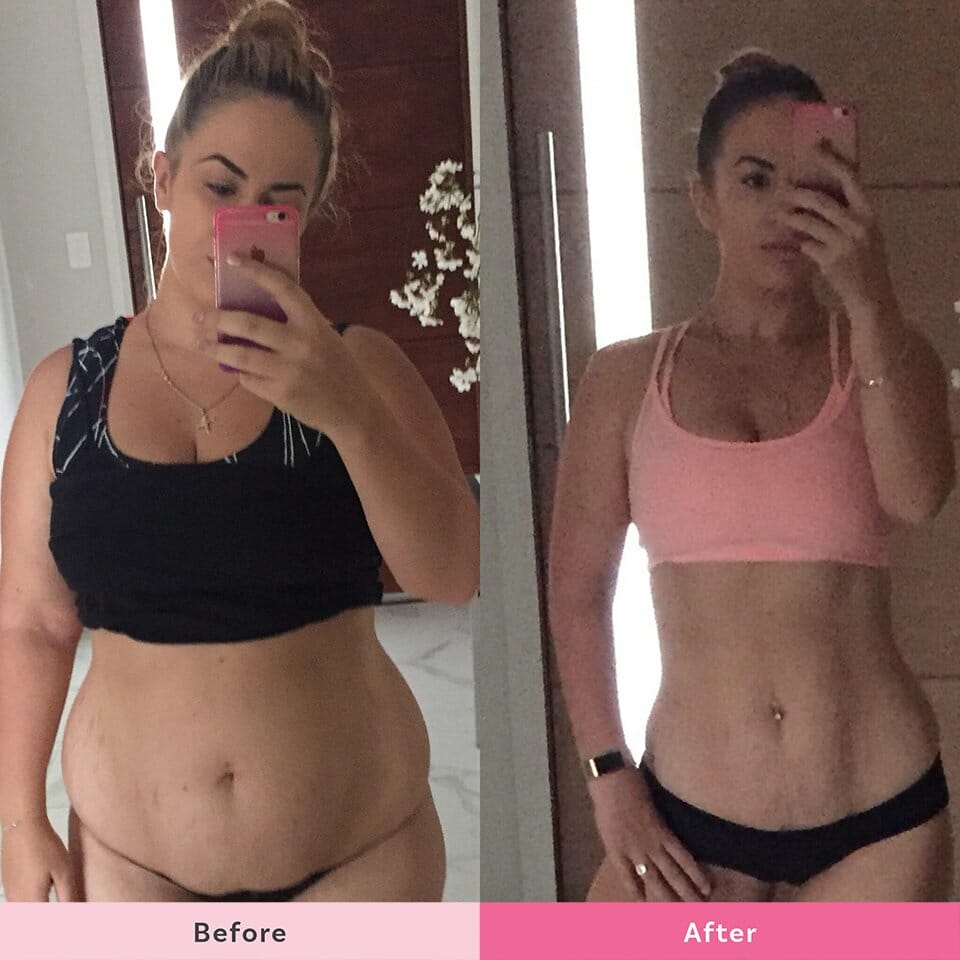 Melissa Timmer – 37kgs Lost
The Healthy Mummy which has helped her take back control and within 18 months, she had lost a whopping 37 kg and has been maintaining her weight for three years.
Even though Melissa's weight fluctuates up and down a little she says "I couldn't care less because this journey is about being happy and if you feel happy in your skin, no matter how much you weigh or what size you are, that's all that matters. "We are all different and beautiful so don't be stuck on what scales say all the time."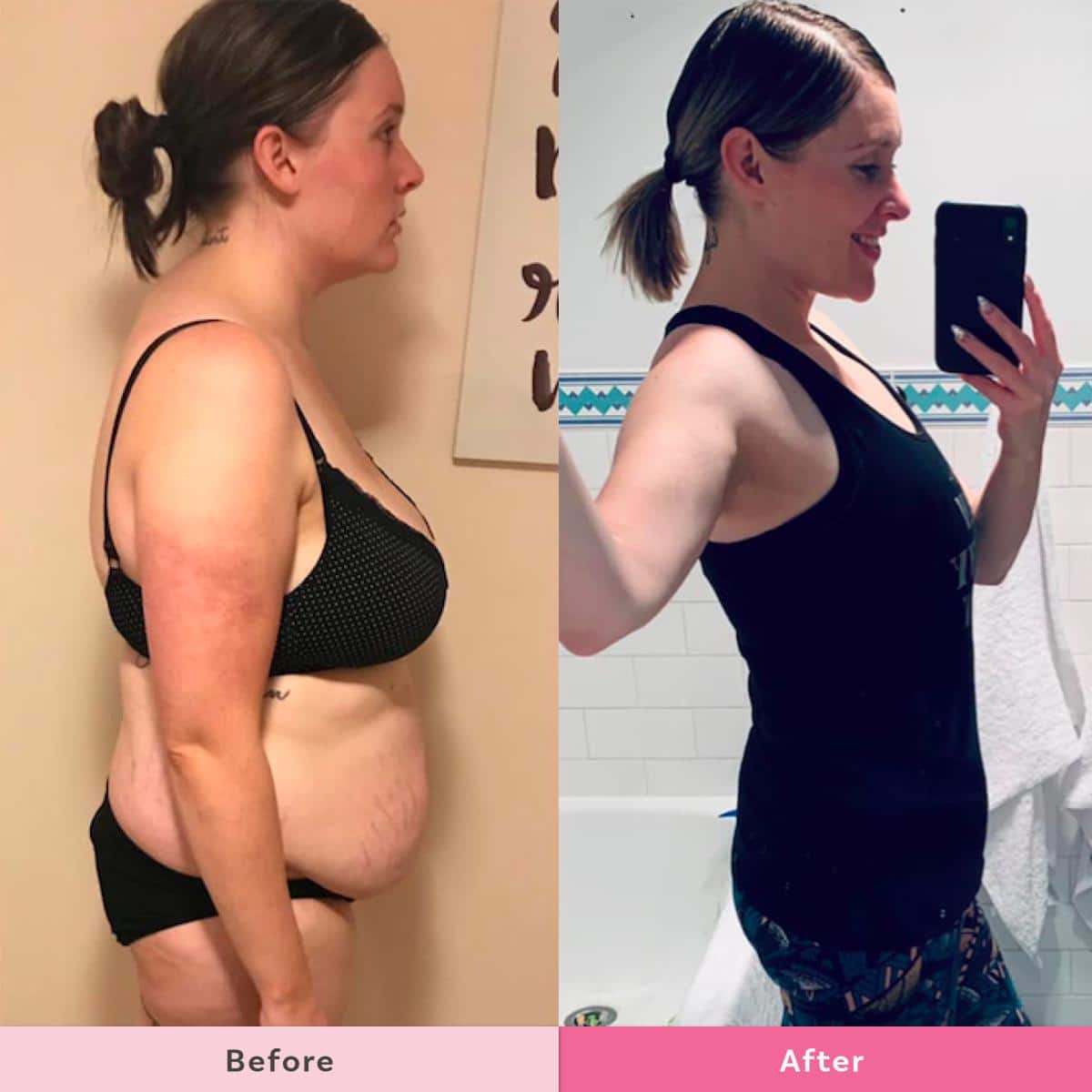 Tarryn Eames – 30Kg Lost
Tarryn says:-
From 97KGS to 67KGS
From a size 18/20 to a size 10/12
From lethargic to energetic
From miserable to genuinely happy
From hating my body to appreciating it.
"At the beginning of my journey, all I wanted was to lose weight. I never aimed to gain anything. However, all I've gained means more to me than the kilos that are now gone and the cms that have disappeared too. Somewhere along the way, I gained the energy to be able to play with my children and the confidence needed to do that in a public setting.
I gained many beautiful and like-minded friends. I gained confidence. I gained strength both physically and mentally. I gained self-love. I gained knowledge about nutrition and exercise. But most importantly I gained happiness."