It's known as the most magical time of the year, but Christmas is also the most expensive time of the year – especially for mums!
Not only is it usually left to us to buy everyone in family gifts but we're also the ones who are left to take care of shopping and preparing food over the festive season.
We at Healthy Mummy HQ have dedicated our December 28 Day Weight Loss Challenge to helping mums create delicious, festive and of course healthy meals on a budget – which is why we surveyed nearly 1,000 mums to find out HOW much they are spending and how this time of month affects their mood and health.
Below are the results!

55 per cent revealed they have NO money for themselves after Christmas!
The majority of the mums we surveyed (55 per cent) revealed they have nothing to spend on themselves after buying presents and shopping.
Three per cent say they have $10 to spend on themselves, five per cent have $20, four per cent have $30, 17 per cent have $50 and only 13 per cent say they have over $100 to spend on themselves after Christmas.
It seems the general consensus is that mums don't have much money leftover for themselves after spending on everyone else.
How much are mums spending on their children at Christmas?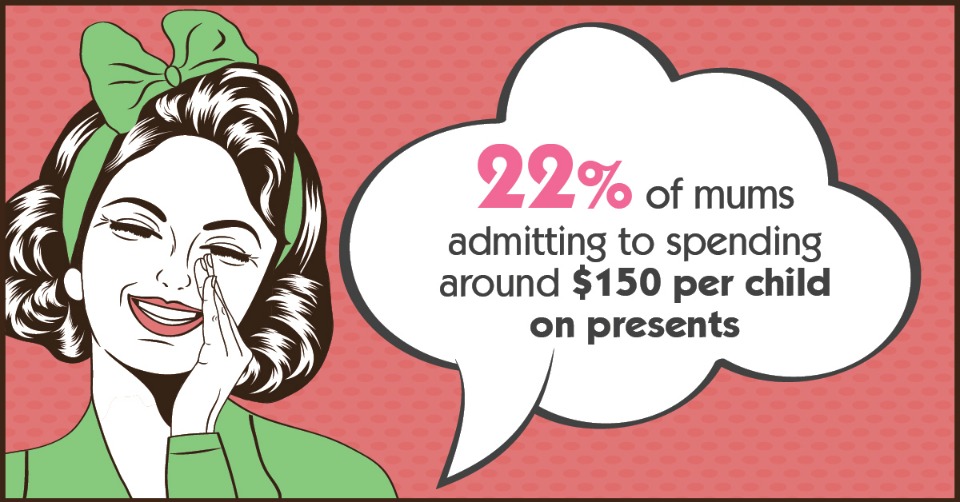 22 per cent of mums admit to spending around $150 per child on presents.
Seven per cent say they spend under $50, 10 per cent spend under $200 and 10 per cent revealed they spent over $400 on gifts.
36 per cent of mums say they feel guilty about what they buy their kids and wish they could buy them more, while 54 per cent of mums say they're happy with what they give their children.
Meanwhile, 30 per cent of mums say they sometimes compare their gifts to what other mums give their children, while 68 per cent reveal they don't compare as they can only get their kids what they can afford.
32 per cent say their kids ask for expensive gifts but they tell them Santa can't get it for them, 39 per cent of mums say their kids want inexpensive gifts and 28 per cent say it upsets them that they can't get their children what they want.
How much does food shopping cost mums?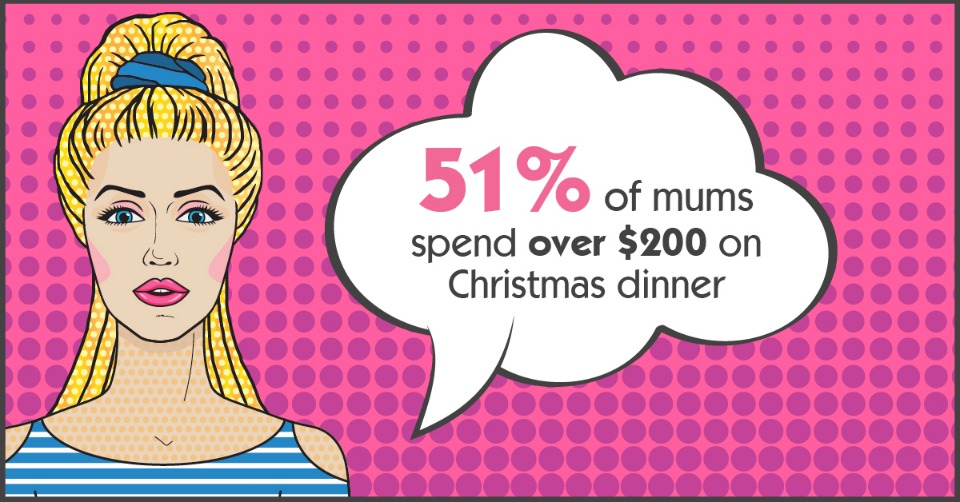 The majority of mums (51 per cent) revealed they spend over $200 on shopping for the family at Christmas, only 2 per cent of mums spend $50 on their groceries and 29 per cent splash out around $150.
When asked if they would consider charging older family members for food, 47 per cent say they'd never dream of doing that as they take it in turns with relatives to host Christmas. 42 per cent say they ask all guests to bring a dish and 1.5 per cent say they would love to charge relatives for dinner.
How can mums afford Christmas?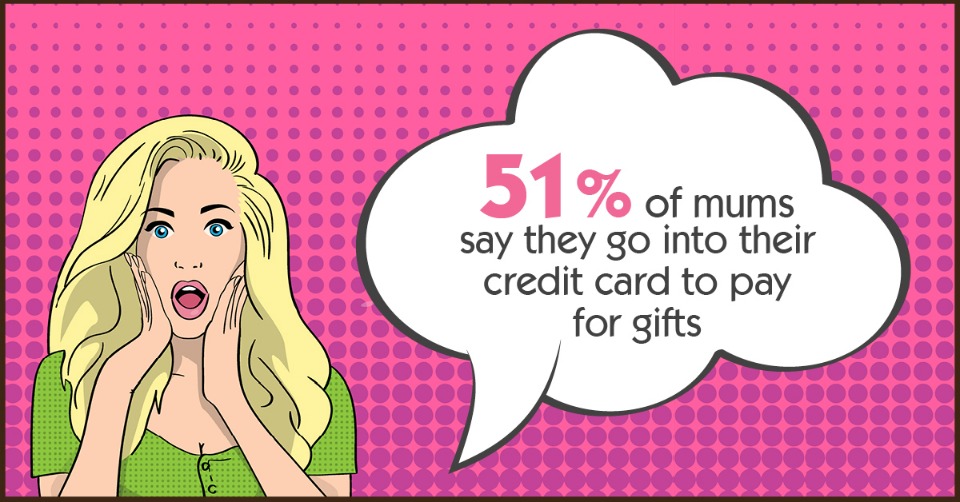 51 per cent of mums say they say they do or sometimes go into their credit card to pay for gifts and food at Christmas, while 47 per cent admit to sticking within their budget.
Of the mums surveyed, 31 per cent admit to budgeting all year to afford Christmas, 30 per cent cut back in October and November while 5 per cent whack everything on their credit card and worry about it in the new year.
38 per cent of mums say they feel stressed out about the thought of Christmas, the rest try not to think about it or let it bother them.
But while this time of year is expensive, 37 per cent of  mums say they would like to cancel Christmas, and 62 per cent say even though it's stressful, it's worth it.
55 per cent of mums don't exercise over Christmas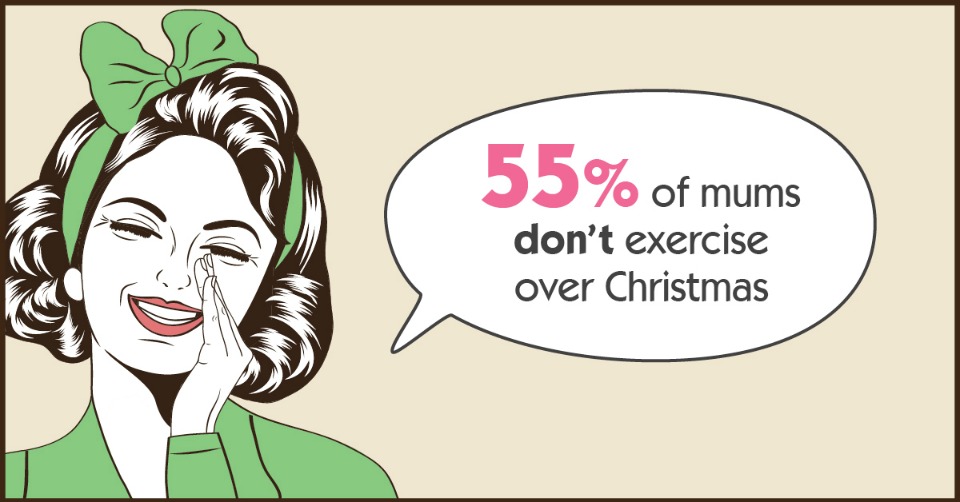 Christmas also appears to throw exercise and healthy eating regimes out of the window for our mamas, as 55 per cent admit to not doing any exercise at all, 36 per cent workout every day but Christmas day and only 8 per cent work out every day including December 25th.
46 per cent of mums say they let themselves eat whatever they like at Christmas and worry about their weight in the new year. Foods such as BBQ food, cake, take away and burgers are the most popular food items mum admit to eating.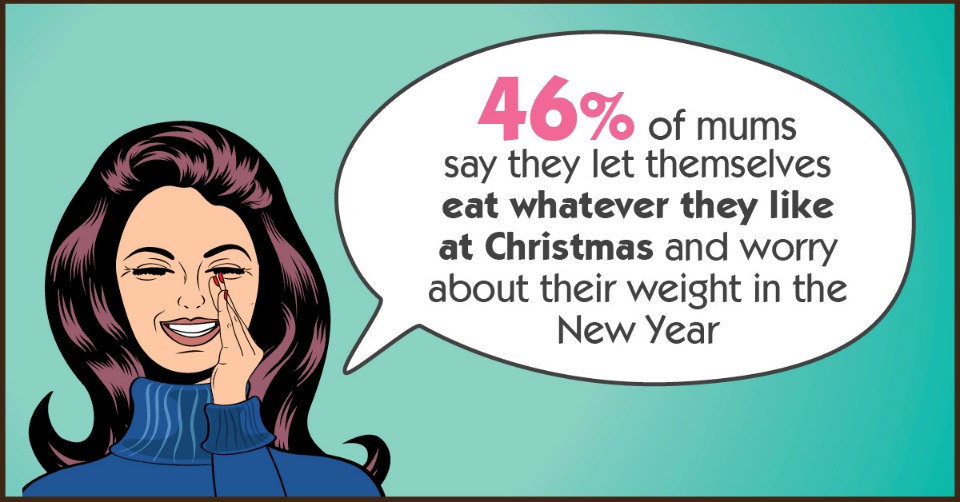 And around 12 per cent reveal they put on one kilo in December, while 29 per cent say they put on 2-3 kilos and one per cent put on 6 kilos or more.
77 per cent of mums worry or sometimes worry about the amount of weight they put on at Christmas, and 23 per cent don't let it bother them.
Well, there you have it. The interesting stats from our recent Big Budget Christmas Survey. Thanks for participating ladies!
More information
About 28 Day Weight Loss Challenge
The 28 Day Weight Loss Challenge is an online program providing over 4,000 recipes, customisable menus, personalised shopping lists, daily exercises and videos plus constant support.
At any one time over 10,000 mums will be doing the Challenge with you so there is a great feeling of 'doing it together'
Each month we have a NEW 28 Day Weight Loss Challenge theme to keep thing fresh and exciting. This is means each day on the Challenge you have different recipes to try and new workouts to follow meaning you'll never get bored!
Our January Challenge is the DETOX AND SHRED Challenge!