Enjoy these chocolate treats without the guilt!
At The Healthy Mummy, we believe that balance is key to maintaining a healthy lifestyle. So why not enjoy some chocolate treats.
At The Healthy Mummy, we believe that balance is key to maintaining a healthy lifestyle.  This includes enjoying a wide variety of foods to ensure you are getting all the nutrients you need for an energised and healthy life. Enjoying a sweet treat every now and then is also important in maintaining a healthy, balanced attitude towards food.
We've pulled together four of our favourite sweet treat recipes with healthy twists so that you can have your cake and still stay on track towards reaching your health and weight loss goals.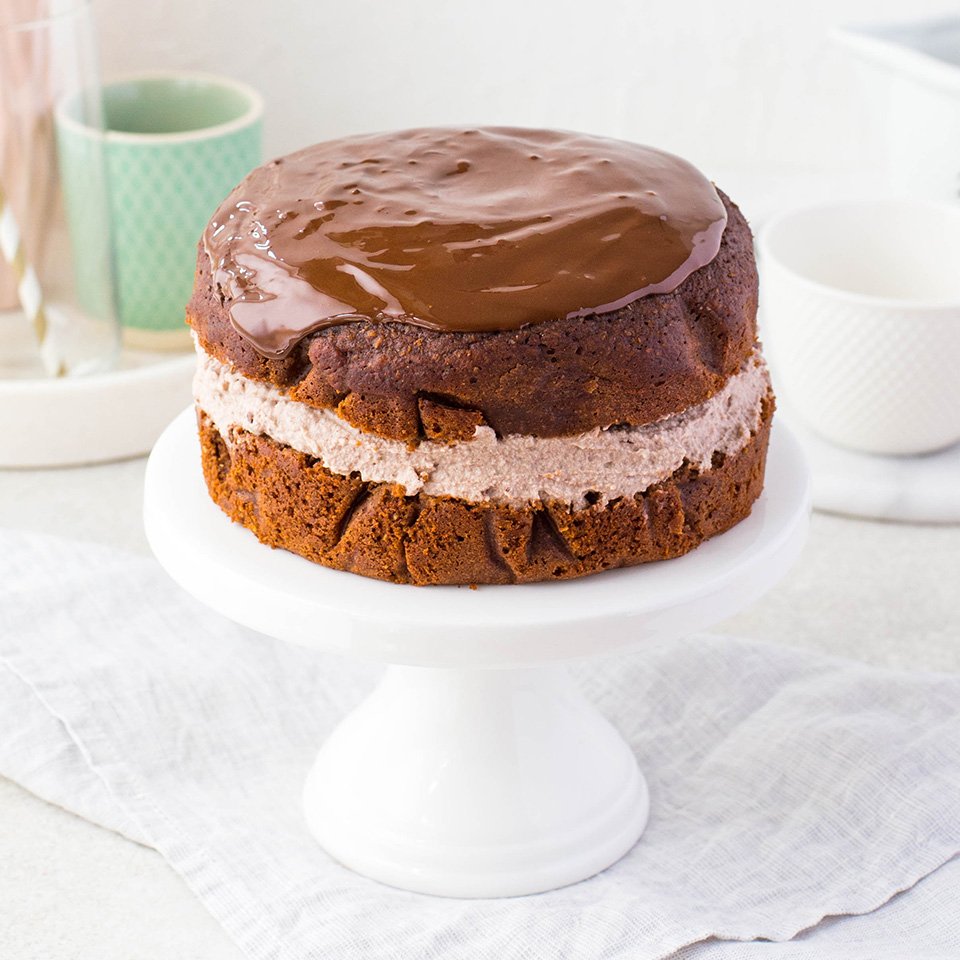 4 healthy chocolate recipes for when you want a sweet treat
1. Homemade chocolate 'ice cream'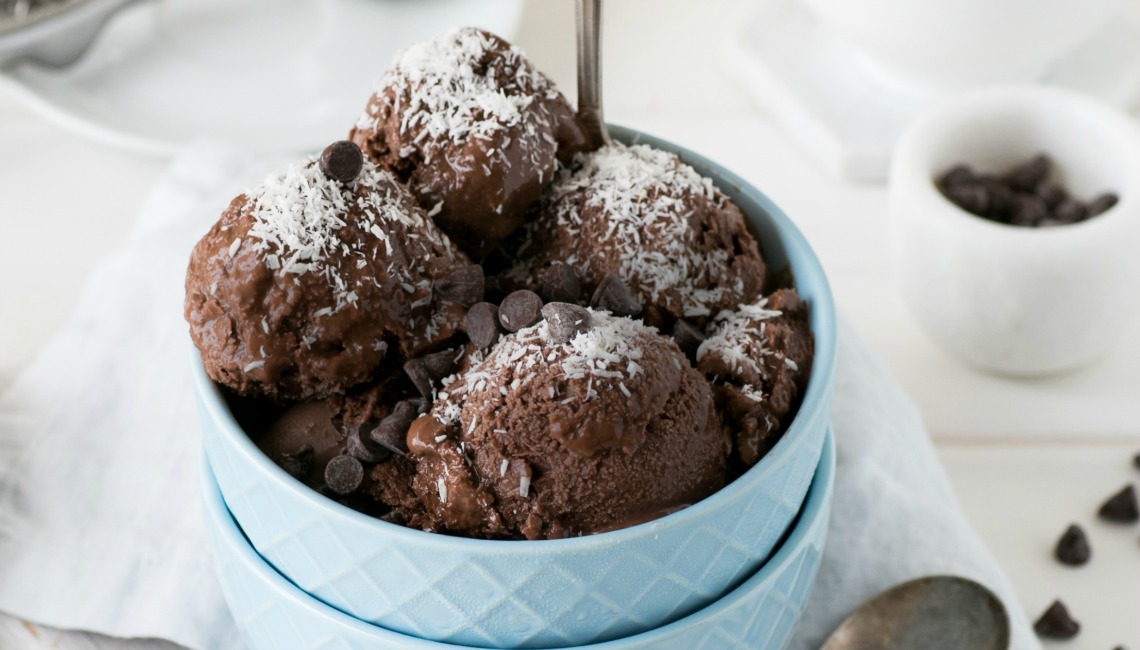 Ingredients
1/2 cup reduced-fat milk of choice
1 tbsp Natvia
1 tbsp cacao/cocoa powder
1/2 banana
1 tbsp reduced-fat cream
1/4 tsp vanilla extract salt
2 tsp dark chocolate chips
1/2 tsp desiccated coconut
Method
Combine Natvia, cacao/cocoa powder and 1/4 of the milk in a saucepan over a medium heat, stirring constantly until Natvia and cacao/cocoa are dissolved. Remove from heat.
Combine the banana with remaining milk, cream, vanilla and a pinch of salt in a blender and blend until creamy.
Slowly pour in the warm cacao/cocoa mixture and blend until smooth.
Place "ice cream" mixture into a freezer-proof container and freeze for 4 – 6 hours or until firm.
Allow to soften on the bench top for 20 minutes before serving with a sprinkle of chocolate chips and some desiccated coconut
2. Chocolate self-saucing puddings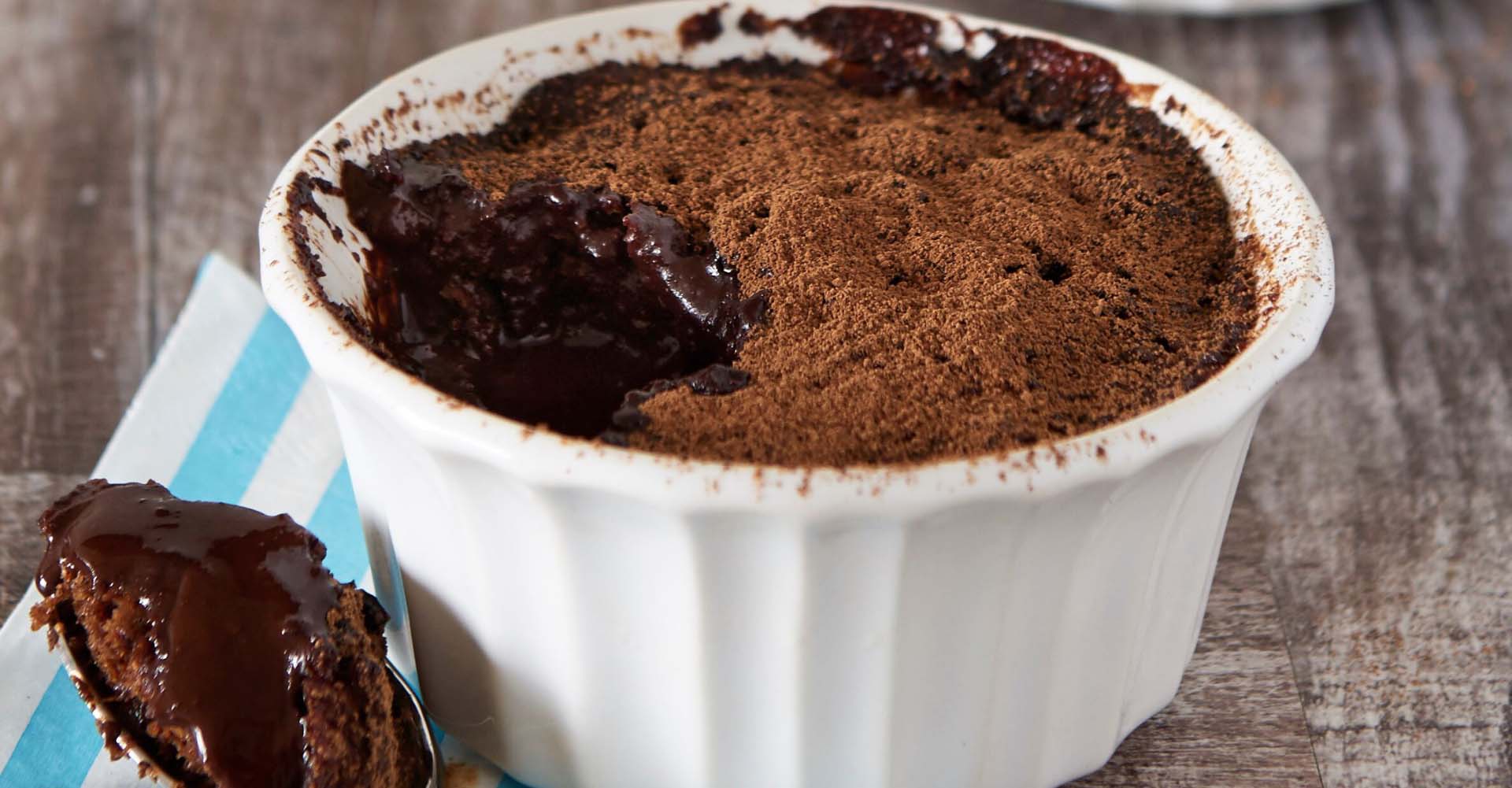 Ingredients
Cooking oil spray
1 cup plain wholemeal flour
3 tbsp cacao/cocoa powder
2 tsp baking powder
3/4 cup coconut sugar
1/4 cup prunes, pitted & chopped
1 free-range egg
1/2 cup reduced-fat milk of choice
1 tbsp extra virgin olive oil
1 tsp vanilla extract
1 & 1/2 cups boiling water
Method
Preheat oven to 180C.
Lightly spray 8 individual ramekins (or use one larger baking dish if you prefer) with cooking oil spray.
In a bowl, mix the flour with 2 tablespoons of cocoa/cacao powder, baking powder, ¼ cup of coconut sugar and the prunes.
Add the egg, milk, oil and vanilla and stir to combine. Divide batter evenly between each prepared ramekin (or pour into the dish if using one large dish).
Mix the remaining coconut sugar and cocoa/cacao powder and sprinkle evenly over the pudding batter in each ramekin (or over batter in the large dish).
Using the back of a spoon to pour onto first, carefully pour the boiling water evenly over each pudding, approximately 2 tablespoons of water per pudding. If using one large baking dish, pour water carefully over the top.
Place puddings in the oven for 20 minutes or until cooked through. If you using one large dish you may need to increase the cooking time for an extra 5 minutes. If using a large dish to prepare this recipe, divide cooked pudding into 8 pieces, one piece is one serve. One individual pudding is one serve.
3. Peppermint crisp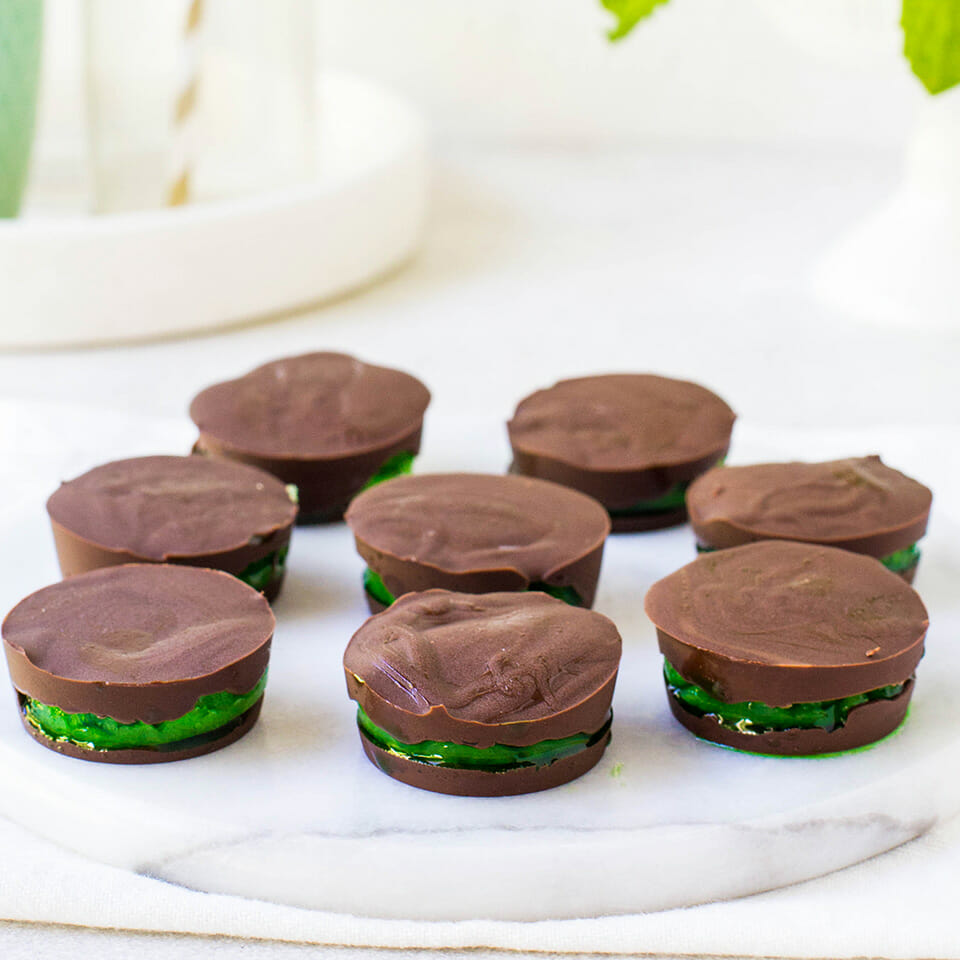 Ingredients
1/3 cup Natvia
1& 1/2 tbsp water
3 tsp peppermint extract
4 drops green food dye (optional)
120g dark chocolate
3 tsp olive oil
Method
Place a small saucepan over a medium heat and
add Natvia and water. Stir briskly with a spatula
until Natvia has dissolved.
Add peppermint extract and green colouring
(if using). Quickly divide mix between 9 silicon
muffin moulds and place into the freezer until
hard. When set, gently pop out and set aside.
Melt chocolate and olive oil together in a small
saucepan over a low heat.
Divide half of the melted chocolate into the bases
of the silicon muffin moulds, place peppermint
disks on top of each chocolate base and pour
remaining chocolate over the top.
Return to the freezer for 10 minutes to set. Store
leftovers in the fridge. One peppermint crisp is
one serve
4. Death by chocolate cake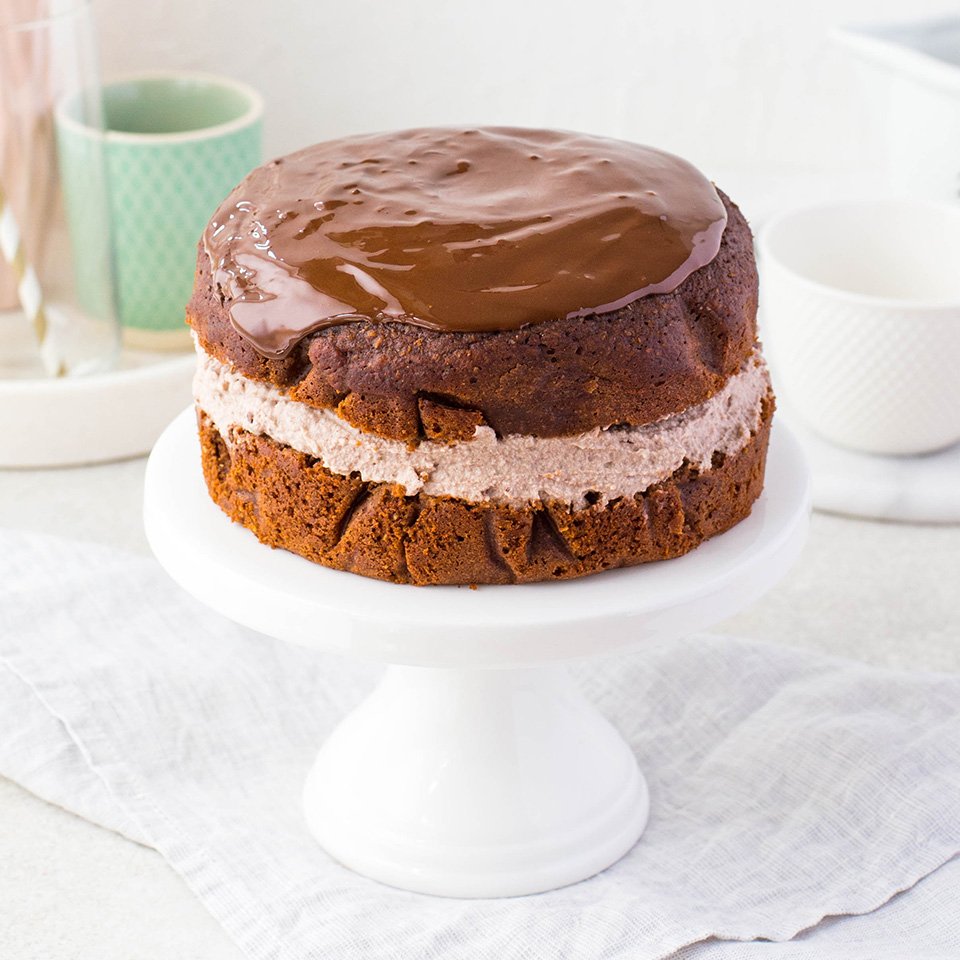 Ingredients
Cake
3 tbsp coconut oil
50g dark chocolate
1/2 large, ripe banana, mashed
1 tsp vanilla extract
2 tsp instant coffee powder
1/3 cup maple syrup
1/3 cup boiling water
2 tbsp cacao/cocoa powder
2 free-range eggs
1/3 cup almond meal
2/3 cup wholemeal self-raising flour
1/4 tsp baking powder
1/4 tsp salt Filling
400g can coconut cream, chilled overnight (at least 8 hours)
1 tsp maple syrup
1 tbsp cacao/cocoa powder
1/4 tsp vanilla extract
Topping
30g dark chocolate
2 tsp water
Method – To make the cake:
Preheat oven to 160C. Grease and line an 18mm deep, round baking dish.
Place oil and chocolate in a medium saucepan over a low heat and stir until melted.
Remove from heat and mix in banana, vanilla, coffee powder, maple syrup, boiling water and cacao/cocoa powder. Stir until smooth and set aside to cool for 15 minutes.
When cool, mix in eggs until thoroughly combined.
In a large mixing bowl use a whisk to combine almond meal, flour, baking powder and salt.
Gradually add chocolate mixture to almond meal mixture and stir gently with a spatula until smooth.
Pour into prepared baking dish and bake for 40-45 minutes until top is firm and springy.
Let cool in dish for 10 minutes before removing cake to cool on a wire rack.
Method – To make the filling:
Add thickened portion of the coconut cream to a mixing bowl with maple syrup, cacao/cocoa powder and vanilla. Use electric beaters to mix on high until smooth and creamy.
Once cake is completely cool, gently slice in half horizontally and spread cream over the top of one half, place the remaining cake half on top.
Method – To make the topping:
Add chocolate and water to a small saucepan over a
medium heat and stir quickly until smooth.
Spread over the top of the cake and cut into 8 slices.
Serve immediately or refrigerate for up to 3 days. One slice is one serve.
Looking for more chocolatey goodness?
The Chocolate Treats & Cakes eBook has delicious, healthy twists to your chocolatey favourites as well as some other treats that won't blow out your calories.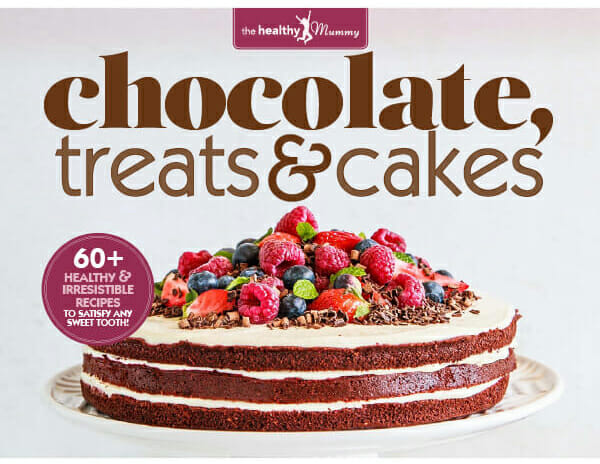 Get your copy of the Chocolate Treats & Cakes eBook HERE!