How these 5 Incredible mums transformed their bodies and lives and are Feeling Fabulous!
Putting health and fitness on the priority list for these mums has meant they're smashing their goals and have gained back their confidence and zest for life!
For some of these incredible women, it's been a long journey to get these results, but with the help of The Healthy Mummy and its amazing community, they're all loving their new healthy lifestyles!
See how these 5 Women are transforming their lives

Tiana Peterson
Tiana says,  "Four years ago, on holiday with my mum and still not yet at my biggest (99kg). It was hot and sticky and I refused to wear shorts because I was too scared to let people see the thunder thighs, I let myself suffer because of shame. I would judge others with the same criteria as I set myself because it's how I was raised.
Fast forward to now (81 kg) – healthy, strong and happy. Shorts are a staple in my wardrobe, as are dresses that sit mid-thigh and playsuits, all things I wouldn't let myself wear before. For me, the most freeing part has been undoing all the negative talk. It's none of my business what others think of me just as it's none of my business what other people are comfortable in.
Every day I strive to be the type of woman who lifts other women up and it's because of the amazing community The Healthy Mummy has made. It's so much more than just another diet, it's a lifestyle and a massive mental shift. That's why it works."
Amy Louise Woolford
Amy says "This is just a snippet of my journey. The Healthy Mummy has been in my life since 2018, but was never really consistent at all with it until November 2019. My biggest motivation was thinking I don't wanna look "gross" in my wedding dress. (Wedding is August 2020).
But now I look back and think wow I was so sluggish and had no motivation for anything, now I walk or run most days of the week, I drink 2-3L a day. Smoothies are my go-to quick meal for breakfast on work mornings, and everyone in the family loves a good healthy mummy meal at dinner time.
I've lost 17kgs since November 2019. And just a small 3kgs to go to my goal weight."
Bernie Fanning
Bernie says,  "It's almost my one year anniversary with The Healthy Mummy . I officially started my journey on the 1st of July 2019. Yes, I've lost a lot of weight, cms and dropped dress sizes. But what is equally important if not more important is your mental health journey. I was so heavily depressed, I hated the way I looked, I hated the way I let myself go, I hated clothes shopping, I hated having my photo taken , I hated the way I didn't even recognise myself in the mirror anymore.
I decided enough is enough. I became an official member of The Healthy Mummy. I started having the Healthy Mummy Smoothies almost every day for lunch and learning new recipes from the Healthy Mummy app.
I absolutely love the meditations in the Healthy Mummy app and doing my self-care with the Healthy Mummy SKIN collection. I have found wonderful and supportive women here who I'm so blessed to call my friends. Yes, there are days I slip up and wanna give up. There are days you have to look how far you have come and try to never give up and learn to believe it's a lifestyle change, not a diet. Make yourself some mini achievable goals and a motivation board and get started today."
Stacey Webb
Stacey says "I took my power back. I prioritize my self care, my self love and was patient with myself.
As a follower of The Healthy Mummy for 4 years, a mother to 4 children aged 8,6 and 1 year old twins (they're nearly 2), I learnt (and continue to learn) the lessons on nutrition, exercise and mindfulness.
Not every day is easy and not every day goes according to plan but I will always be evolving and growing, unlocking new levels about myself along the way."
Tanya Priest
Tanya says "Three years difference between pictures.
Three years ago I couldn't even bend over to do up my own shoes. I binge ate constantly and hid it because I was so ashamed. I remember being in jeans on a 40 degree day because I was so embarrassed about my body. I remember walking into a store that went up to a size 22 and I still couldn't fit in the clothes. I remember thinking I don't want to sit on the sidelines of my own life anymore.
Now at almost 40, I feel the happiest in my own skin I've ever felt my whole adult life I'm not sitting on the sidelines anymore."
Are you ready to get in the best shape of your life?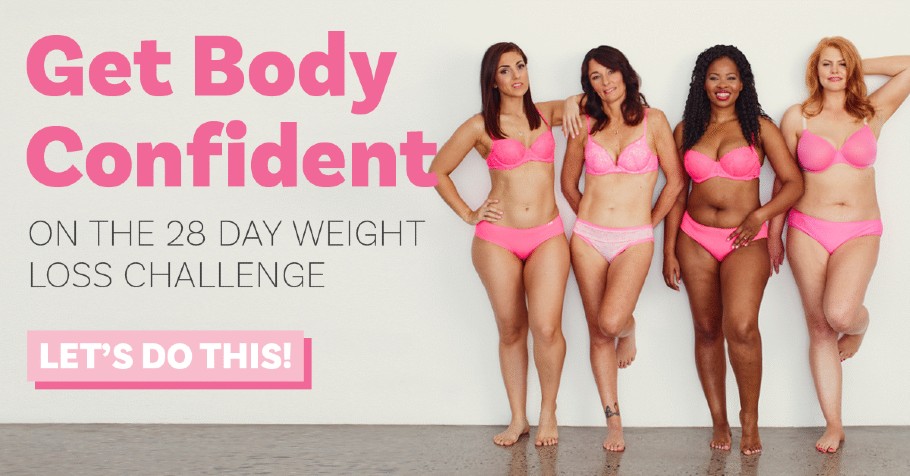 If you are wanting to lose weight and improve your energy – not to mention – help improve your overall health and wellbeing – our 28 Day Weight Loss Challenge is an awesome program to check out. 
Our 28 Day Weight Loss Challenge includes:
28 days of at home exercise routines (no gym needed) – with video instruction
Customisable and breastfeeding friendly meal plans
Time-efficient exercises for busy mums – under 30 mins
Challenge combines Pilates exercises with interval and circuit training (HIIT)
Suitable for basic to advanced fitness levels
Home to thousands of EASY-TO-MAKE recipes!
To learn more about our 28 DAY WEIGHT LOSS CHALLENGE CLICK HERE.