For a quick, easy, vitamin-packed breakfast or snack, try this Kiwi Buzz smoothie using the Healthy Mummy Smoothie mix today.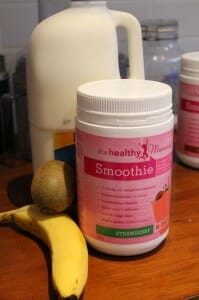 The kiwi fruit is high in vitamin C and the potassium-packed banana will keep you energised all day.
A perfect addition to a weight loss diet or a healthy snack for a mum on the run.
How to make the Kiwi Buzz Smoothie
What you need is:
2 tbs of strawberry Healthy Mummy Smoothie mix
1 kiwi fruit (no skin)
1 banana
200 ml of milk
Blitz it up and taste the zing of health.
Join The Healthy Mummy TODAY
If you are ready to lose weight then The Healthy Mummy plans offer a healthy and safe exercise and diet routine that is safe if you are breastfeeding