Recipes
If you are looking for a healthy eating slice that won't ruin your weight loss efforts then at The Healthy Mummy, we have you covered! This no added sugar and also dairy free Lemon & Coconut Slice will be loved by the whole family and you can still have it as a treat on the 28 Day Weight Loss Challenge too
It is great for lunch boxes too!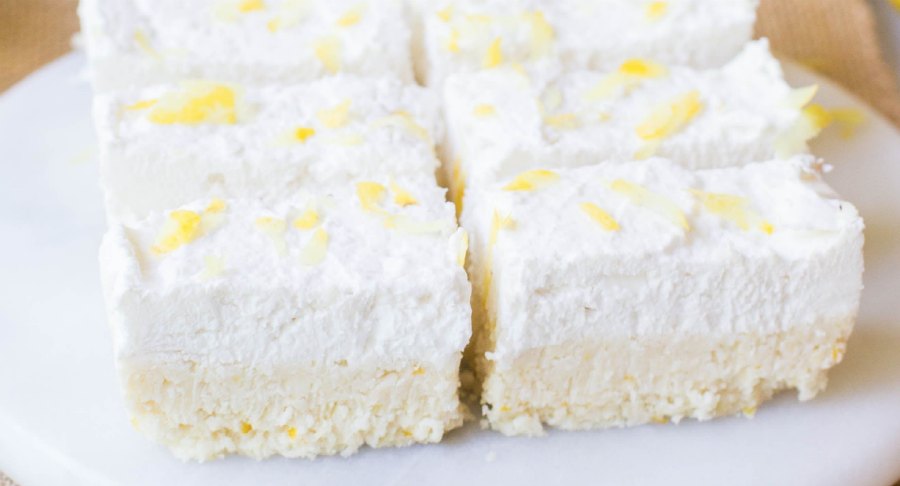 Ingredients
Base
2 cups desiccated coconut
 1 cup almond meal
 3 tbsp coconut oil, melted
 1 tbsp honey
 2 lemons, juiced and rind zested
 Topping
300g coconut yoghurt
1⁄4 cup desiccated coconut
2 tbsp coconut oil
1 tsp honey
Method
Line a long non-stick loaf pan with baking paper.
Mix all the ingredients for the slice base layer in a food processor until well combined – use a little water if needed to bring the mix together.
Press into the prepared tin and place into the freezer until firm.
Mix all the topping ingredients in a food processor until well combined and pour over the base layer.
Return the tin to the freezer until topping has set.
Slice into 15 pieces. 1 serve is 1 piece.
Leftovers can be stored in an airtight container in the freezer for up to 2 months. Remove a piece approximately 30 minutes before ready to serve to defrost slightly.
Nutrition Per Serve: Energy: 202cals/894kjs Protein: 2.4g Fibre: 2.2g Total Fat: 20.9g Carbohydrates: 3.9g Saturated Fat: 15.2g Total Sugar: 3.2g Free Sugar: 1.9g
And if you loved this recipe – check out the 28 Day Weight Loss Challenge here with over 2,500 yummy and healthy recipes