No more boring lunch boxes, here are 6 recipes that will see you WINNING at lunch boxes this year
Just because you have to pack lunch every day doesn't mean you need to give your kids the same boring things. Here are six healthy recipes that will make sure you're kids have winning lunch boxes!
Another school year is just around the corner, which can only mean one thing…kids lunch boxes.
That's right, they need to be packed EVERY SINGLE DAY of the school week, and if you're a parent you'll know that they can be a tricky task to manage.
That's why we put together our amazing Healthy Kids Lunch Boxes ebook, which is packed with 100 recipes that are sure to get the thumbs up from the little people in your life.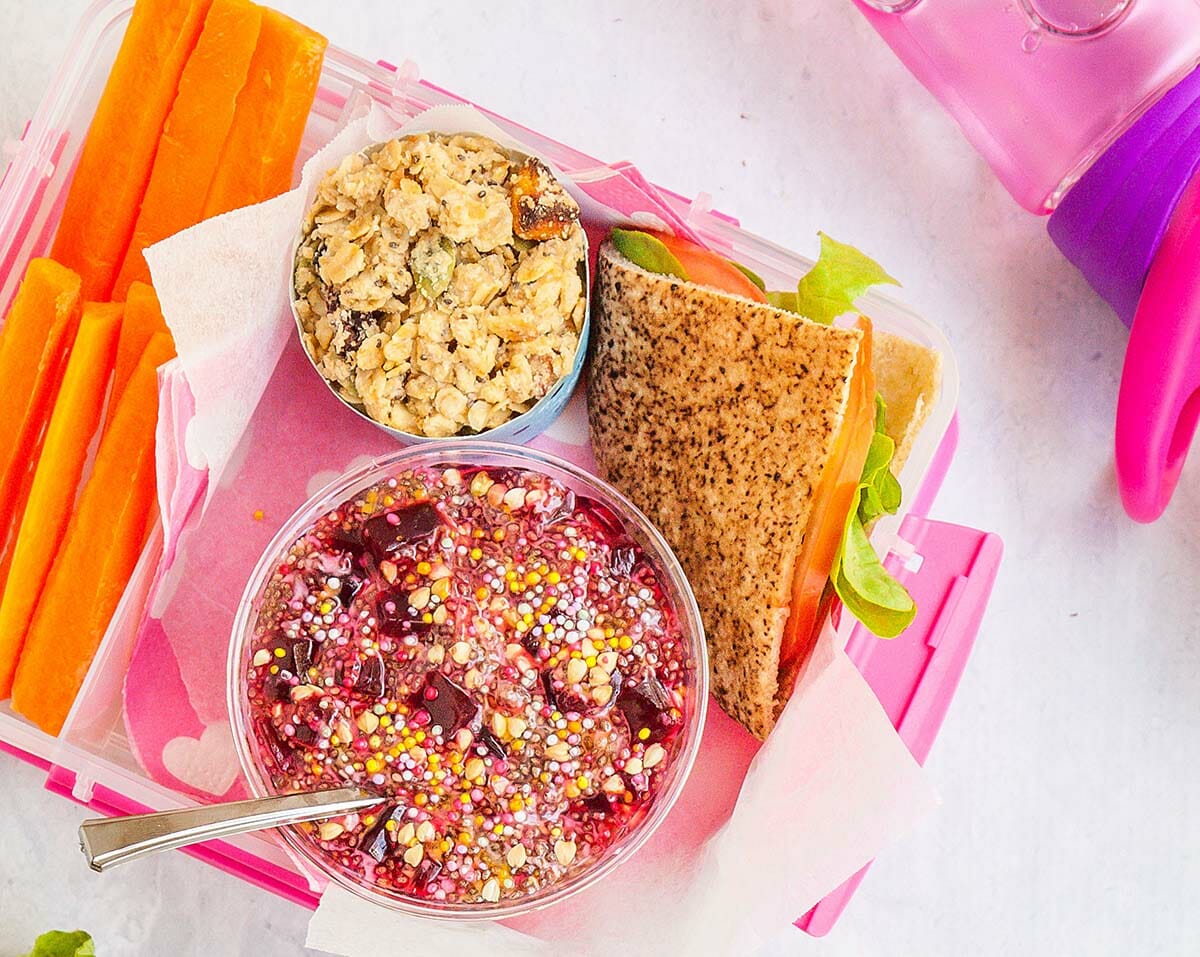 6 recipes that will rock your kid's lunch box
To celebrate the start of the school year (it's REALLY soon people) we wanted to give away not one, not two, but SIX of our favourite lunch box friendly recipes from our popular book.
If you're inspired by these six free recipes, why not order your copy of the Healthy Kids Lunch Boxes for your family? It includes smoothies AND after school snacks too, so you'll be sorted for the whole week.
Which one of these will you try first?
Raspberry Banana Crumble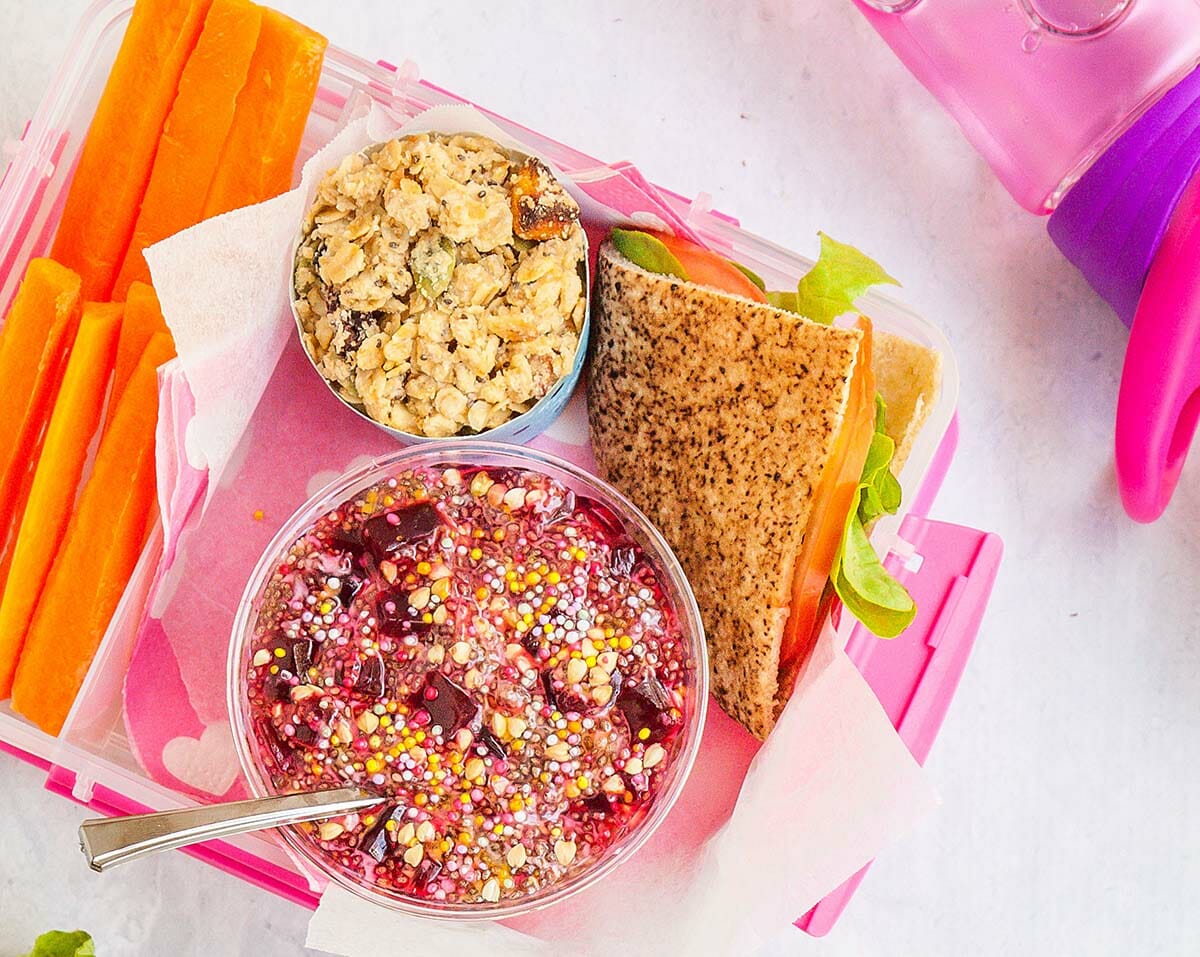 First make the base recipes, which you can then keep on hand to use in anything from pancakes to muffins: the crumble and the raspberry sauce.
Homemade Crumble
Ingredients
2 cups rolled oats
1/4 cup seeds (e.g. pepitas, chia, sunflower)
1 tbsp maple syrup or honey
1/4 cup dried fruit, chopped (e.g. apricots, sultanas, raisins, dried apple)
1 tbsp coconut oil, melted
Method
Preheat oven to 180C.
Combine all ingredients, except the coconut oil and dried fruit.
Pour over melted oil and stir well to combine.
Spread the mixture evenly over a lined baking tray and bake for 5-10 minutes until golden and crunchy. Check and stir every few minutes to get an even crunch.
Mix through dried fruit.
Allow to cool, then store in an airtight container in the pantry.
Raspberry Swirl Sauce
Ingredients
1 cup raspberries (fresh or frozen)
2 tbsp chia seeds
1/4 cup water
1 tbsp honey
Method
Place all ingredients in a small saucepan and stir to combine.
Bring to the boil, then reduce heat and simmer, stirring, for a few minutes.
Remove from heat and set aside to cool. Store in an airtight container in the fridge or freezer. Use in muffin, pikelet and smoothie recipes.
Raspberry Banana Crumble
These are perfect for breakfast or for packing in a lunchbox for morning tea.
Ingredients
1/2 banana
2 tbsp Raspberry Swirl Sauce (see above)
2 tbsp Homemade Crumble (see above)
1 tsp butter
1 tbsp plain flour
Method
Preheat oven to 180C. Dice the banana and place in a paper patty case. Add the raspberry swirl sauce and mix.
Place crumble mix, butter and flour in a small bowl and use your fingertips to massage together until mixture forms crumbs (this is a good job for kids), Try not to massage the butter for too long, as it will lose its texture – but it will still taste good!
Spoon crumble mixture over the fruit. Place the patty case in a muffin tin and bake for 10 minutes or until the topping is browned.
Serve warm with a dollop of yoghurt, if desired.
Zesty Chocolate Bliss Balls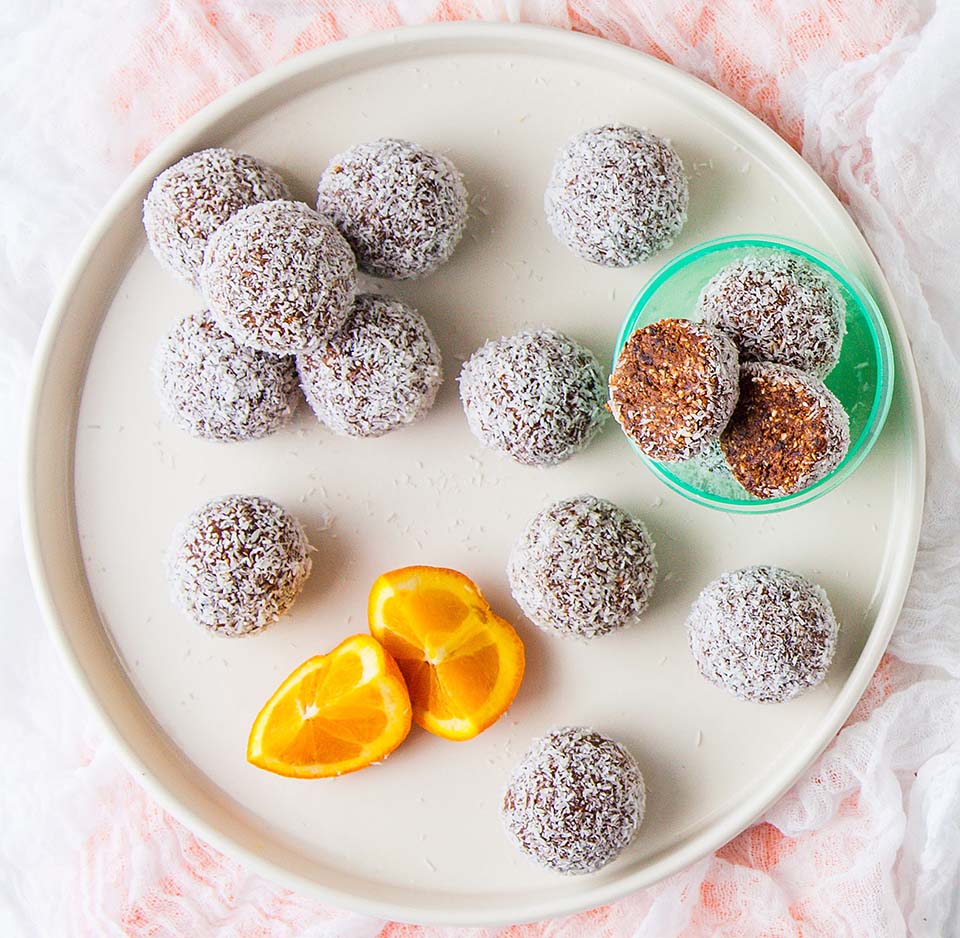 Dates and prunes are used here to sweeten the bliss balls and give the sticky, chocolatey texture kids love.
Ingredients
1 cup pitted dates
1 cup pitted prunes
2 cups rolled oats
1 tbsp cocoa/cacao powder
1/2 orange, zested
1/4 cup fresh orange juice
1/2 cup desiccated coconut
Method
Soak the dates in hot water for at least 30 minutes, then drain.
Place prunes, oats, cocoa/cacao powder, orange juice and zest in a food processor and process until well combined.
Roll tablespoons of the mixture into balls and roll in the coconut.
Store in an airtight container in the fridge or freezer.
Healthy Sweet Mix a Box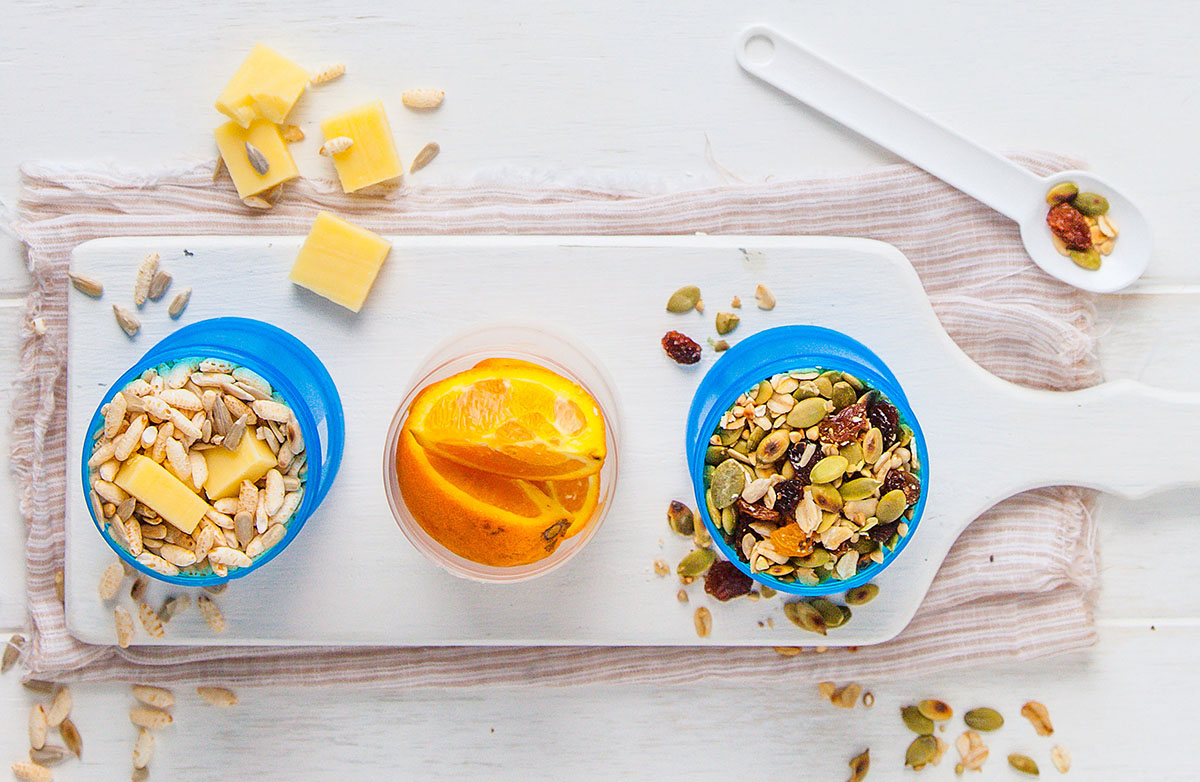 These are like a kid-friendly version of trail mix that you can make in bulk and then use as needed. All nut free to ensure they're suitable for school and daycare.
Ingredients
1/4 cup toasted pumpkin seeds (pepitas)
1 tbsp sultanas
1 tbsp toasted buckinis
1 tbsp Homemade Crumble (see recipe above)
Method
Combine all ingredients.
Place in a container or zip-lock bag and pop in the lunch box.
Roast Potatoes and Guacamole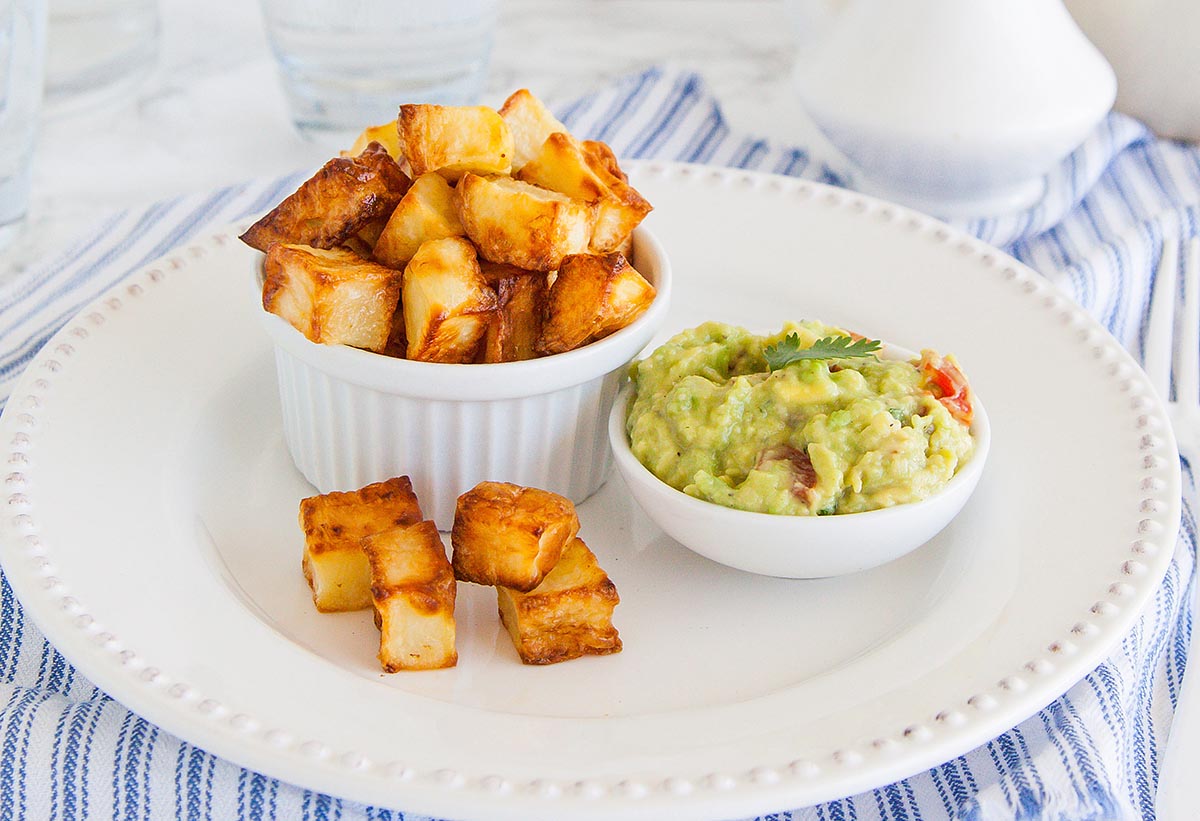 These are much better for the kids than store-bought chips, as they'll have less salt and extra fillers. Keep the skin on for extra fibre and a crisper potato and they are great with some delicious homemade guacamole.
Roast potato bites
Ingredients
1 medium potato
1 tsp olive oil
Pinch of salt
Method
Preheat oven to 200C. Wash and scrub the potato and dice into 2cm cubes.
Steam potato for around 3 minutes or until just slightly tender, so you can stick a fork in them but they don't fall apart.
Toss the potatoes in a pan or colander to rough up the edges.
Place on a baking tray, drizzle over oil and season with a little salt. Roast for 10 minutes.
Toss the potatoes around a bit and return to the oven for another 10 minutes or until golden and crunchy.
Guacamole
Ingredients
1/2 an avocado, diced
Pinch of chopped coriander
A squeeze of lemon or lime juice
1 cherry tomato, diced
Salt
Method
Mash avocado with a fork and combine with coriander, lemon or lime juice and diced tomato
Season with a tiny pinch of salt
Mexican Wrap Three Ways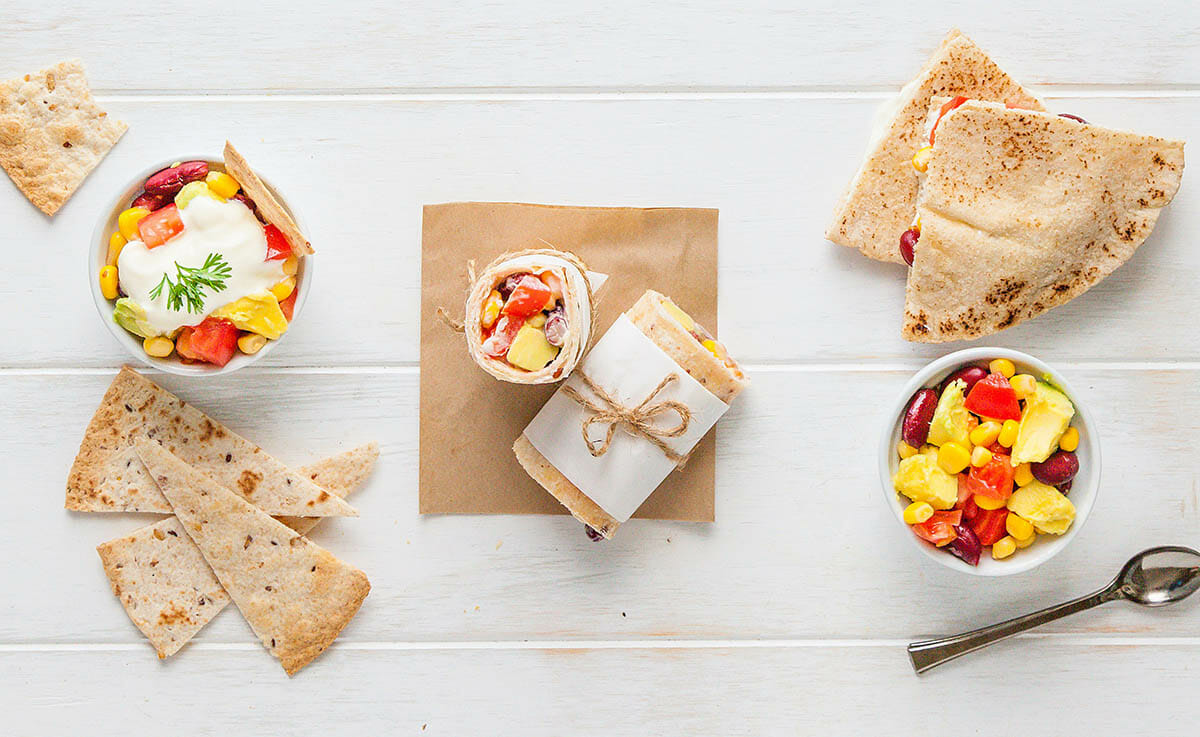 These colourful wraps will give the kids a serve of veggies as well as some plant-based protein to keep them full. We've got three different ways to serve it up too.
Ingredients
1 tbsp sour cream
1/4 cup red kidney beans, drained and rinsed
1/4 cup corn kernels (tinned or fresh)
1/4 tomato, diced and drained on a paper towel
1/4 avocado, diced
1 wrap or pita bread
Method 1
Lay out your wrap or pita and spread with sour cream. Mix remaining ingredients in a bowl to create an easy salsa and place down the centre of the wrap, then roll up.
Method 2
Lay out your wrap or pita and spread with sour cream. Mix remaining ingredients in a bowl to create an easy salsa and place in a small container to pack into the lunchbox. So your child can assemble their own wrap at school.
Method 3
Toast your choice of wrap or pita in a hot oven until crisp, then break into small 'chips'. Place in the lunch box with the salsa in a container and another small container of sour cream for dipping.
Leftover Bolognese Cups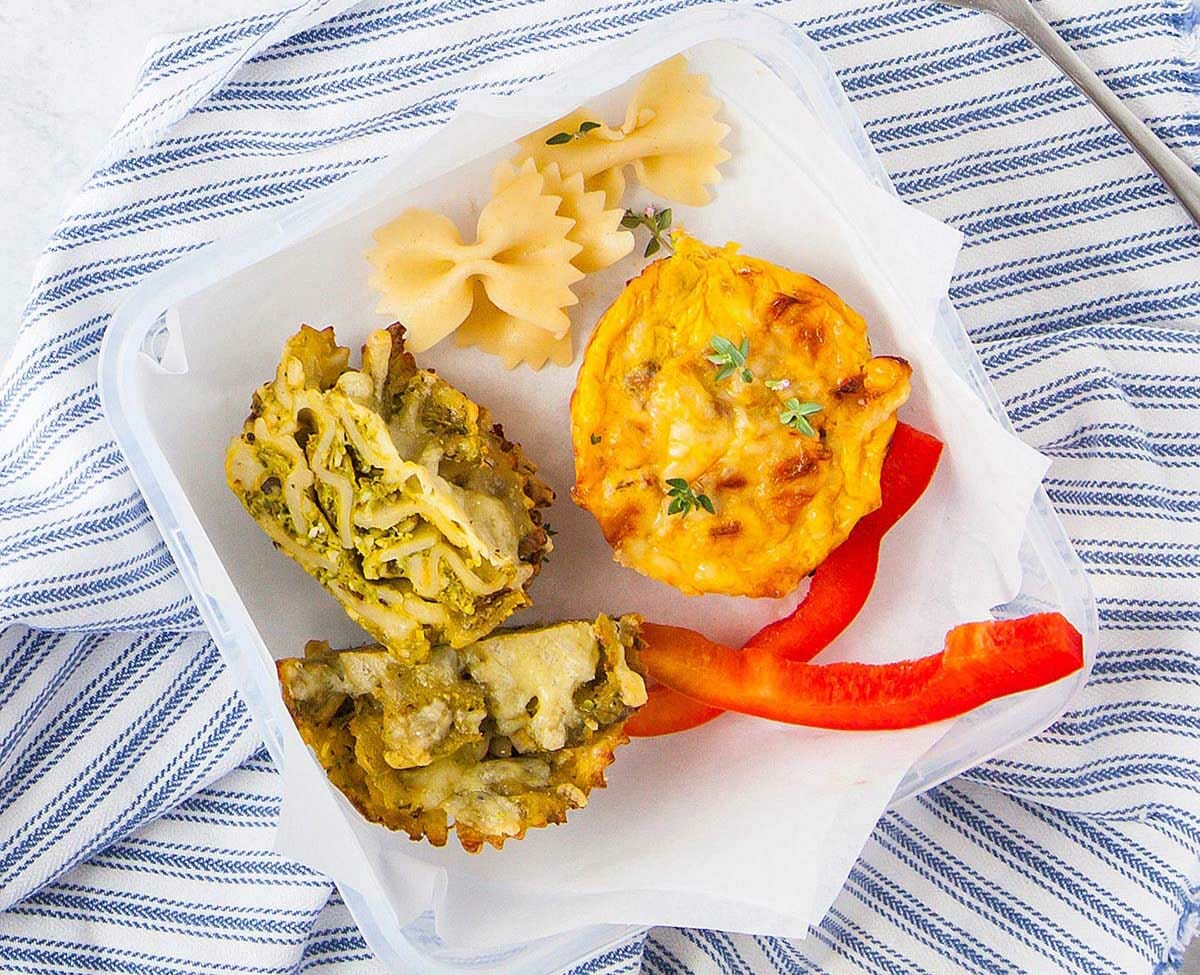 These are a great way to turn common leftovers into another meal or snack. Adapt it to whatever you have leftover in the fridge.
Ingredients
4 tbsp leftover Bolognese (check out the book for our Bouncing Bolognese recipe, it's a winner)
1 egg
1 tbsp grated parmesan
Method
Preheat oven to 200C. Line 2 holes of a muffin tin with paper patty cases (or use a silicon muffin tray).
Combine the bolognese and egg. Divide the mixture between the two holes and sprinkle with grated parmesan. Bake for 20 minutes or until set.
Remove cups from the tray, allow to cool, then pack in a lunch box.
Get more recipes like this to help make your kid's lunch boxes amazing!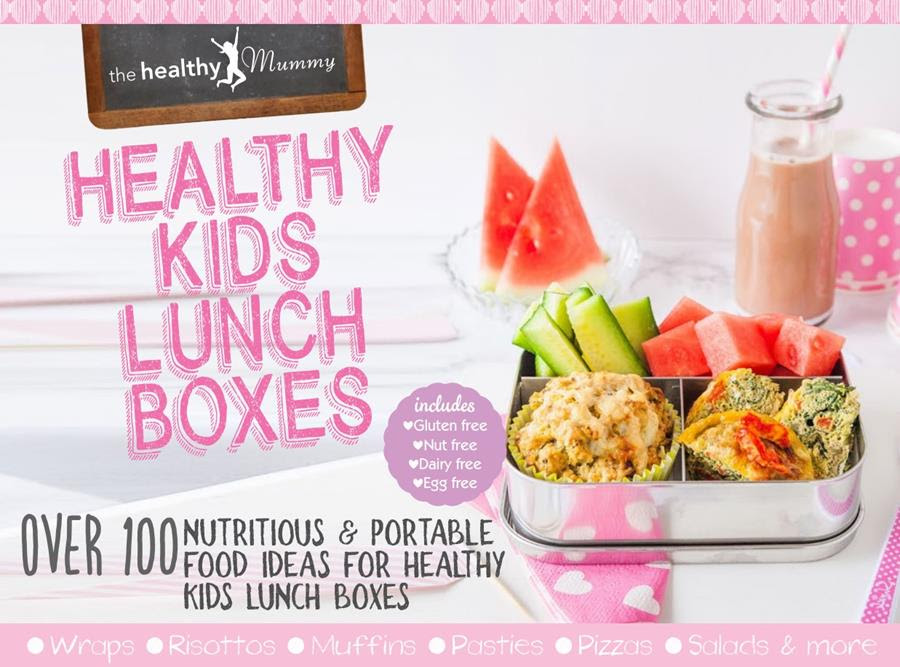 Grab the Healthy Kids Lunch Boxes eCookbook which has over 130 recipes and ideas for your little ones and is a MUST have if you make lunch boxes – or if you want to get your kids eating healthier foods.
Order this amazing ebook HERE.