6 Christmas dessert makeovers to save you 859 calories but taste AMAZING
Having a sweet treat at Christmas time doesn't mean you have to kick your healthy meal plan to the curb. Here I share my 6 favourite desserts and how to give them a Healthy Mummy makeover.
Are you eating healthy and still having trouble reaching your weight loss goals? Rhian Allen is a busy mum of two boys. She is also the founder of The Healthy Mummy.
Here, she shows how you can make a few small tweaks to what you're eating this Christmas and help you make some big changes.
At The Healthy Mummy we 100% focus on education around health and weight loss and I really wanted to show how by following our healthy recipes and meal plans can significantly reduce your calorie intake – WITHOUT compromising on taste.
Healthy, nutritionally planned and portioned meals from the 28 Day Weight Loss Challenge ensure you're on track with your energy requirements, vitamins and minerals to reach your goals.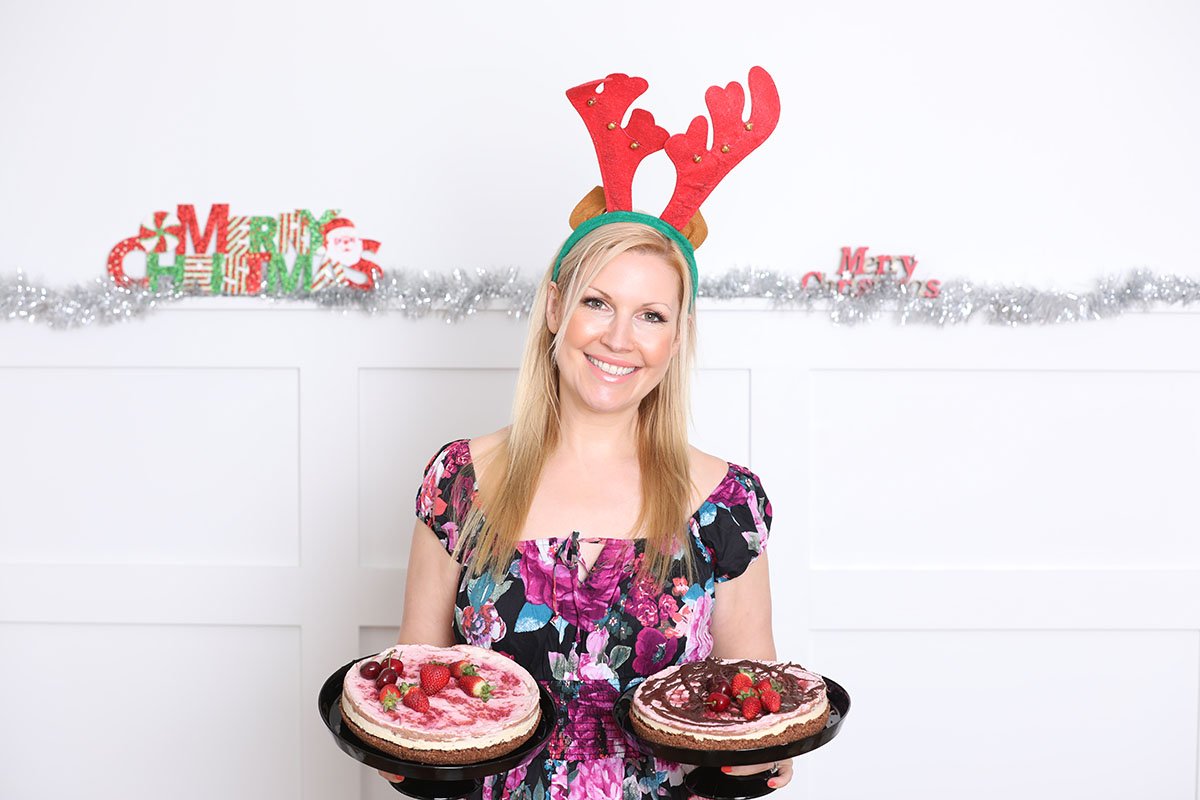 6 Christmas dessert comparisons
All of these recipes are from The Healthy Mummy's 28 Day Weight Loss Challenge meals versus the same dessert made with different ingredients and quantities. So you can see how SMALL changes can make a HUGE difference in COST too!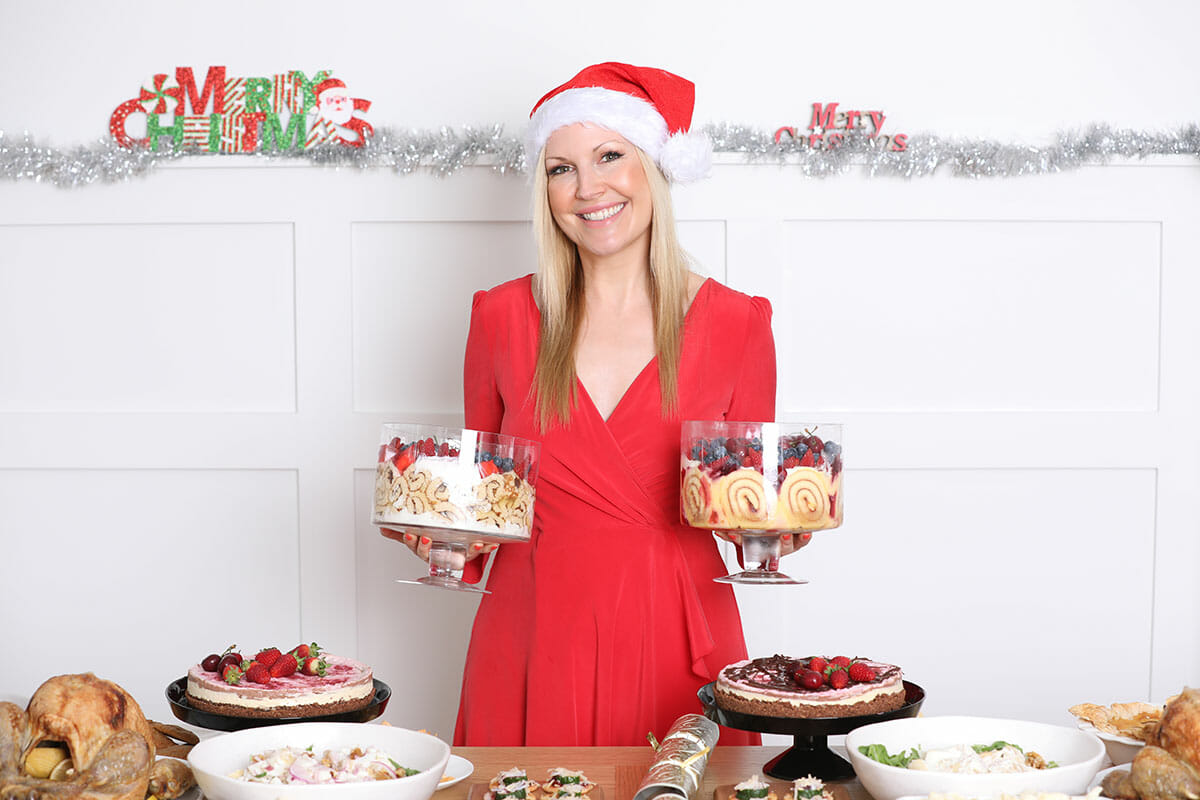 1.The Healthy Mummy recipe: Baked Pear Custard Tart (253 cals, $0.63 per serve)
Saves 151 calories
How did the calories increase on the 404 calorie $0.71 serve?
Add 1 sheet puff pastry- cook as a base first.

Change cream to full fat thickened cream

Add 1 tbsp melted butter into the cream mix. Now enjoy another delicious custard recipe!
2.The Healthy Mummy recipe: Brandy Snap Baskets with Fruit (168 cals, $0.91 per serve)
Saves 116 calories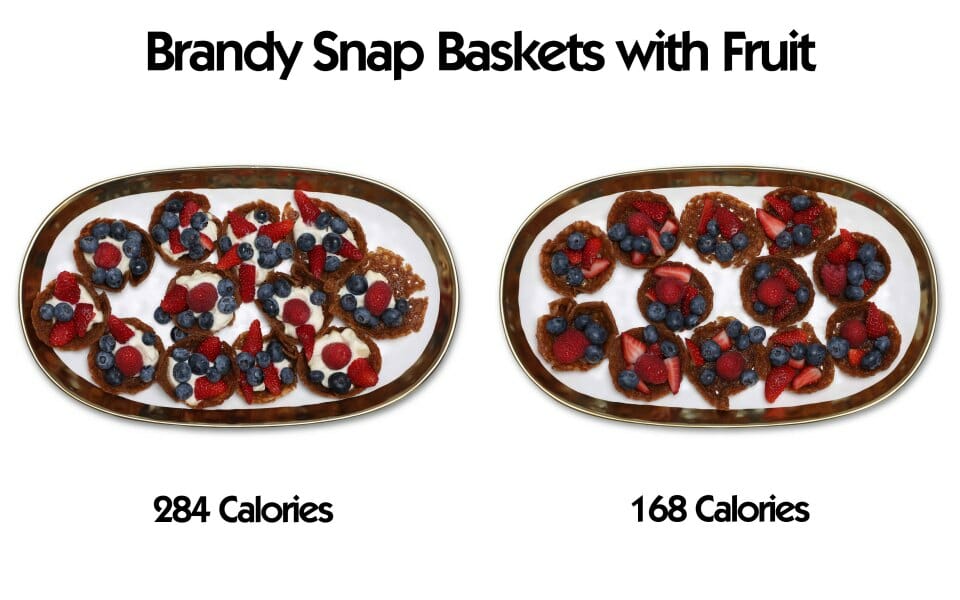 How did the calories increase on the 284 calorie $1.22 serve?
Add 1/3 cup ricotta cheese

Add 1/2 cup pure cream

Add 1 tbsp icing sugar

Add 1 tbsp orange juice

Add 1/4 cup white choc chips

Add 1 tsp brandy

Extra method: Melt choc, mix in with ricotta and orange juice and brandy. Whip cream, add sugar, fold in ricotta mix. Scoop into brandy snap baskets before topping with fruit salad.
Make this Brandy Snap Baskets with Fruit recipe
Ingredients:
2 & 1/2 tbsp butter (40 grams)
1/3 cup coconut sugar (66.7 grams)
2 tbsp maple syrup (40 mls)
1 tsp brandy (5 mls)
1/3 cup plain wholemeal flour (40 grams)
1/4 tsp ground ginger (0.3 grams)
3 cups fresh fruit salad (600 grams)
Method:
Preheat oven to 160C fan-forced and line two flat baking trays with baking paper.
In a small saucepan, combine butter, sugar and maple syrup and simmer over medium heat until the sugar has dissolved.
Remove saucepan from the heat and sift in the flour and ground ginger, stir through brandy. Stir until well combined. Cover and
keep warm.
Place 3 tsp of mixture onto a baking tray to form a circle. Repeat with remaining mixture, leaving plenty of room for the snaps
to spread. You should be able to make approximately 12 circles of the mixture on the trays.
Bake for 7–8 minutes or until golden brown and bubbles have formed on the surface.
Carefully place the circle snaps into a muffin tray to shape them into a basket while still warm. Hold in place to cool slightly,
then remove when set, and place on a tray to cool completely.
Serve 2 brandy snap baskets filled with fresh fruit salad per person.
Leftover baskets can be stored in an airtight container in the pantry for up to 3 days.
3. The Healthy Mummy recipe: Date and Coconut Banoffee Pies (151 cals, $0.43 per serve)
Saves 90 calories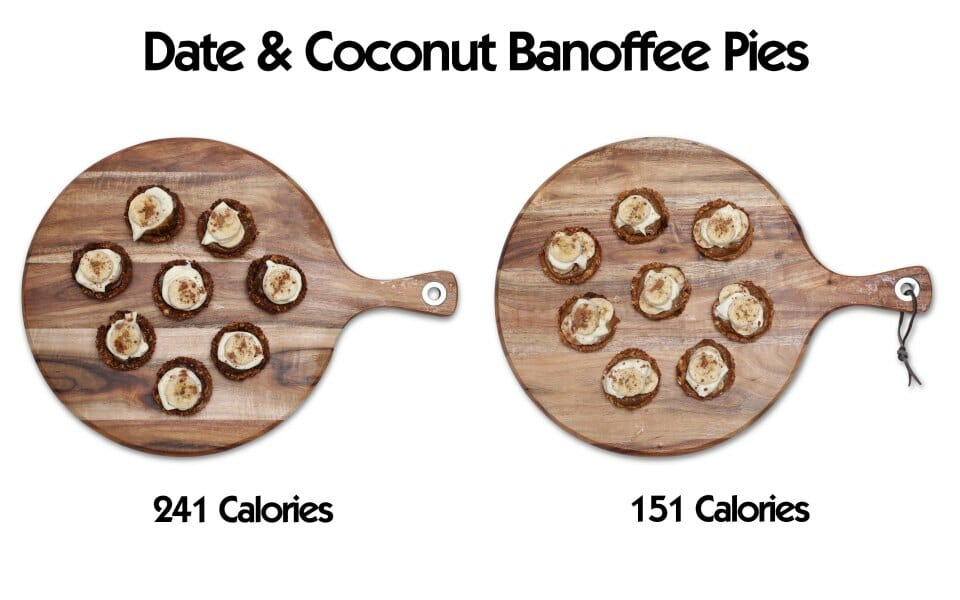 How did the calories increase on the 241 calorie $0.88 serve?
Increase banana to 2 (180g)

Increase dates to 1 cup (170g)

Change coconut cream to full fat and increase to 120g

Change ricotta to full fat

Increase almond butter to 2 tbsp (30g)

Increase almond meal to 2 tbsp (75g)

Add 3 tbsp maple syrup to the recipe – drain date soaking water and puree with maple syrup
and if you want The amazing END OF YEAR sale GO HERE
4. The Healthy Mummy recipe: Four Ingredient Fruit Cake (273 cals, $0.50 per serve)
Saves 142 calories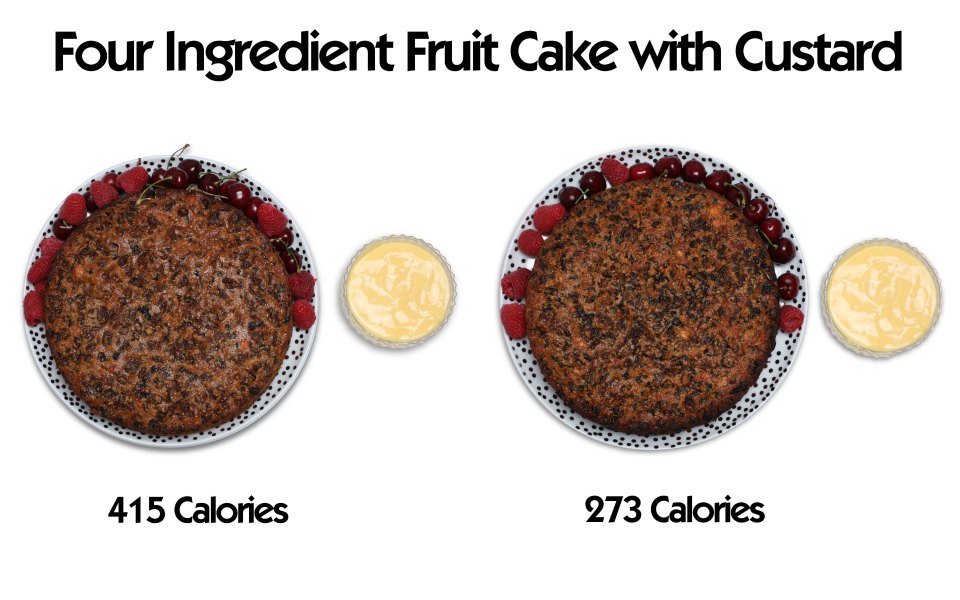 How did the calories increase on the 415 calorie $0.81 serve?
Serve with 720g custard (60g per serve)

Change the serves to 12 to increase the portions

Change cranberry juice to added sugar
5. The Healthy Mummy recipe: No Bake Raspberry Chocolate and Peanut Butter Cheesecake (150 cals, $0.75 per serve)
Saves 154 calories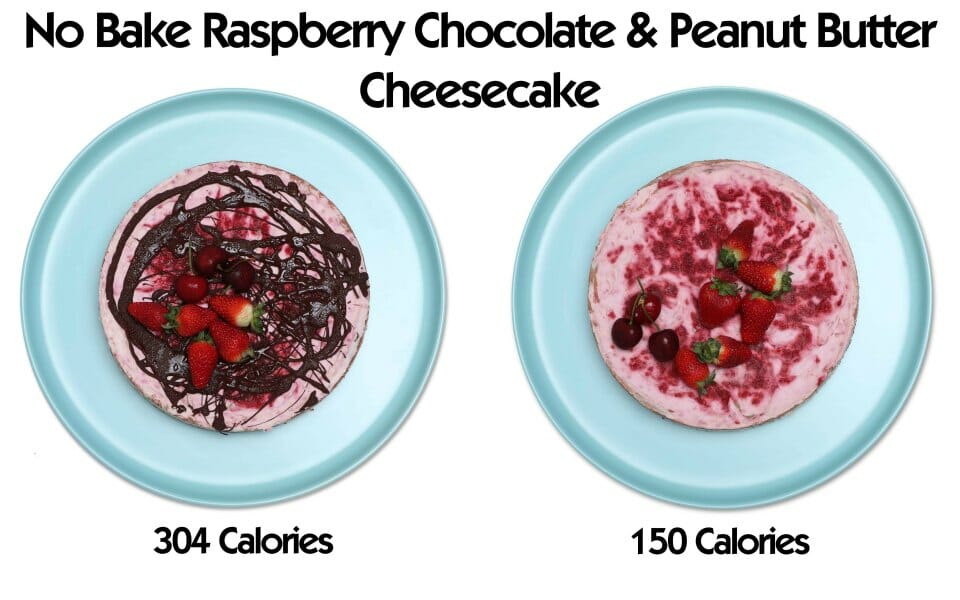 How did the calories increase on the 304 calorie $1.10 serve?
Change portion to 16 serves instead of 20

Swap ricotta to full fat

Swap cream cheese to full fat

Swap natvia for white sugar

To the base add 4 scotch finger biscuits (72g) and 2 tbsp butter

Garnish with 160g of canned whipped cream (16 x 10g dollops)

And 100g dark choc that is shaved into strips or melted and drizzled on top
Make this No Bake Raspberry Chocolate and Peanut Butter Cheesecake recipe
Ingredients:
Base:
7 wheat cereal biscuits e.g. Weetbix, roughly crushed (105g)

1/3 cup cacao/cocoa powder (35g)

1/3 cup desiccated coconut (35g)

¼ cup coconut oil, melted (60ml)

2 tbsp maple syrup (40ml)
Filling:
¼ cup boiling water (62.5ml)

3 tsp powdered gelatine (12g)

250g light cream cheese

375g light ricotta

1/3 cup Natvia (60g)

1 cup frozen raspberries, defrosted and crushed to make a sauce (240g)

¼ cup peanut butter (64g)

¼ cup cacao/cocoa powder (25g)
Method:
Grease and line the base and sides of a round 20cm springform cake tin. Set aside.

In the bowl of a food processor add the crushed Weetbix, cacao/cocoa and desiccated coconut, and pulse until a fine crumb is formed. Next, add the melted coconut oil and maple syrup and pulse again to form the base of the cheesecake.

Spread two-thirds of the mix into the base of the tin and press out to evenly cover. With the remaining base carefully press around the sides of the tin to create an edge.

Place in the fridge to firm up while you make the filling.

Add the boiling water to a cup and sprinkle in the powdered gelatine. Let this sit for 5-10 minutes or until dissolved.

In the bowl of an electric mixer add the cream cheese, ricotta and Natvia and beat until smooth and the Natvia dissolves. Pour in the gelatine liquid and beat on low until combined.

Divide the cream cheese mixture evenly between three bowls and add the raspberry sauce to one (making sure to leave 1 tablespoon aside), the peanut butter to another and the cacao/cocoa powder to the last one. Mix each one separately until the ingredients are combined.

Pour the peanut butter layer over the chocolate base and spread to cover evenly. Evenly spread the chocolate layer over the peanut butter layer followed by the raspberry layer. Add dollops of the leftover raspberry sauce to the top of the cheesecake and marble through the top layer.

Place the cheesecake in the fridge and chill for 6 hours or until firm.

When serving garnish with fresh raspberries and grated chocolate.
6. The Healthy Mummy recipe: Healthy Fruit Trifle (173 cals, $1.20 per serve)
Saves 206 calories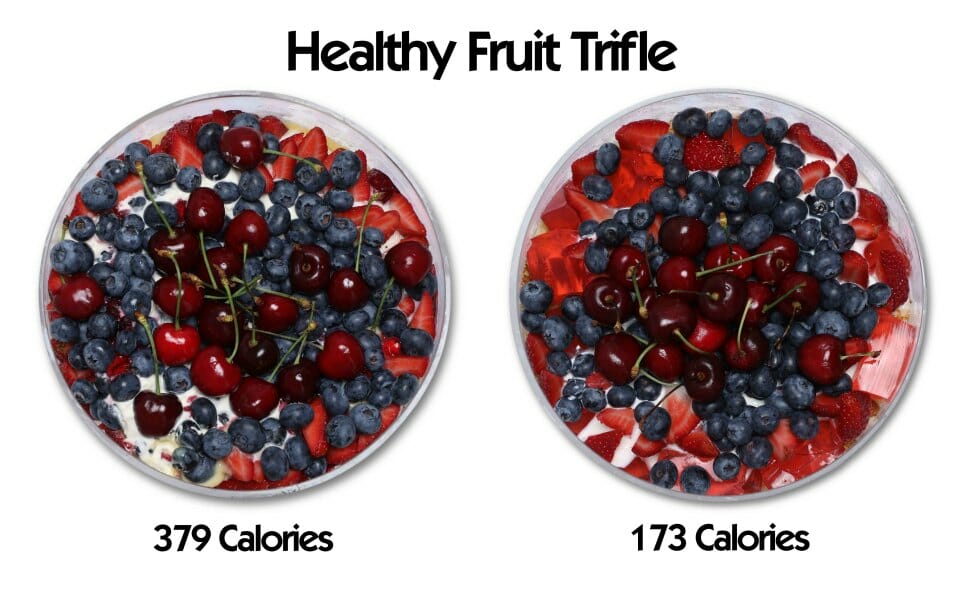 How did the calories increase on the 379 calorie $2.13 serve?
All new ingredients:

1 x 85g packet jelly original port wine flavour made up as directed.

600ml vanilla custard, 400g jam sponge roll, sliced into 1.5cm pieces, then soaked in 100ml peach schnapps.

300g pure cream, whipped with 2 tbsp icing sugar and 5ml vanilla extract.

Same fruit and nuts as before. Layer the ingredients in a bowl.
Tired of wondering what to cook?
Now you can easily meal plan with our personalised plans & over 6,000 family & budget friendly recipes catering to a wide range of dietary requirements.
The Healthy Mummy is a holistic program to nourish your body with nutritious food and help you stay active in your busy, everyday life. Yours and your families well being should be a priority so let us take the hassle out of it.
Unlock the key to sustainable life changes that will leave you feeling your absolute best.