These 6 Incredible Mums have transformed their Bodies AND Self Confidence and feel FANTASTIC!
6 incredible mums from the Healthy Mummy community together have lost almost 100 kilos! They share their stories of self discovery and how they are all feeling the benefits of taking control.
As anyone who has been on a weight loss journey will tell you, it's all too easy to become focussed on all the kilos to LOSE. Somewhere on the journey, it becomes apparent that there is so much more to GAIN. As the kilos are lost, confidence, self love, self appreciation and often true happiness are gained.
These 6 incredible ladies from our Healthy Mummy community together have lost almost 100 kilos! While they are on different stages of their weight loss journeys, they share their stories of self discovery and how they are all feeling the benefits of taking control.
See the Results below of these 6 Inspirational Mums!
Tarryn EamesTarryn says:-
From 97KGS to 67KGS
From a size 18/20 to a size 10/12
From lethargic to energetic
From miserable to genuinely happy
From hating my body to appreciating it.
"At the beginning of my journey,  all I wanted was to lose weight. I never aimed to gain anything. However, all I've gained means more to me than the kilos that are now gone and the cms that have disappeared too. Somewhere along the way, I gained the energy to be able to play with my children and the confidence needed to do that in a public setting.
I gained many beautiful and like-minded friends. I gained confidence. I gained strength both physically and mentally. I gained self-love. I gained knowledge about nutrition and exercise. But most importantly I gained happiness."
Kerryn Davies
Kerryn says "This is my first time posting progress shots. Thirteen weeks ago I decided that something needed to change, so I took the plunge and joined The Healthy Mummy program. After following the Healthy Mummy Facebook Group for 5 years, and seeing amazing women changing their lives, it was finally my turn. I'm 10kg down in the past thirteen weeks and now the future is looking healthy and bright."
Sally Stepniewsk

Sally says, "Same door. Same clothes. Two different ways."
"From watching life on the sidelines to getting active and involved with the kids. 40kgs never to be seen again."
I'm a mum, a wife, a sister, daughter, a teacher, a friend – just like YOU!
I never believed I could.
I never believed I had the time.
I never believed it was possible.
I never believed in me.
Never say never xoxo
"I'm smiling in both as I am genuinely happy in both. The difference is now I'm smiling because I can and I will!!! No matter what life throws at me, I am determined to never give up."
Georgina Clancy
Georgina says, "After 10 weeks I am almost 10 kilos down and it shows. However, the biggest change for me cannot be measured on the scales or measuring tape. The biggest change has been the massive shift in my mental health and mindset."
I have found:
• life easier
• this lifestyle sustainable
• food enjoyable again
"I am so much happier, more confident and I look forward to training even when it's wet, windy and four degrees some mornings.
This is not a quick fix and I have a long way to go (approx 50kilos) but for the first time I feel happy knowing I have the right mindset and tools to get me there for life."
"So thank you. The Healthy Mummy food is a big part for me and honestly, I love all the recipes I am enjoying fueling my body the right way with delicious food!" 
Mish Mason
 Mish says, "8 Weeks with The Healthy Mummy I have lost 6 inches off my belly area. I have lost 3kgs so I definitely do not have a good relationship with my scales, pretty sure they belong in the bin!"
Jade Shaw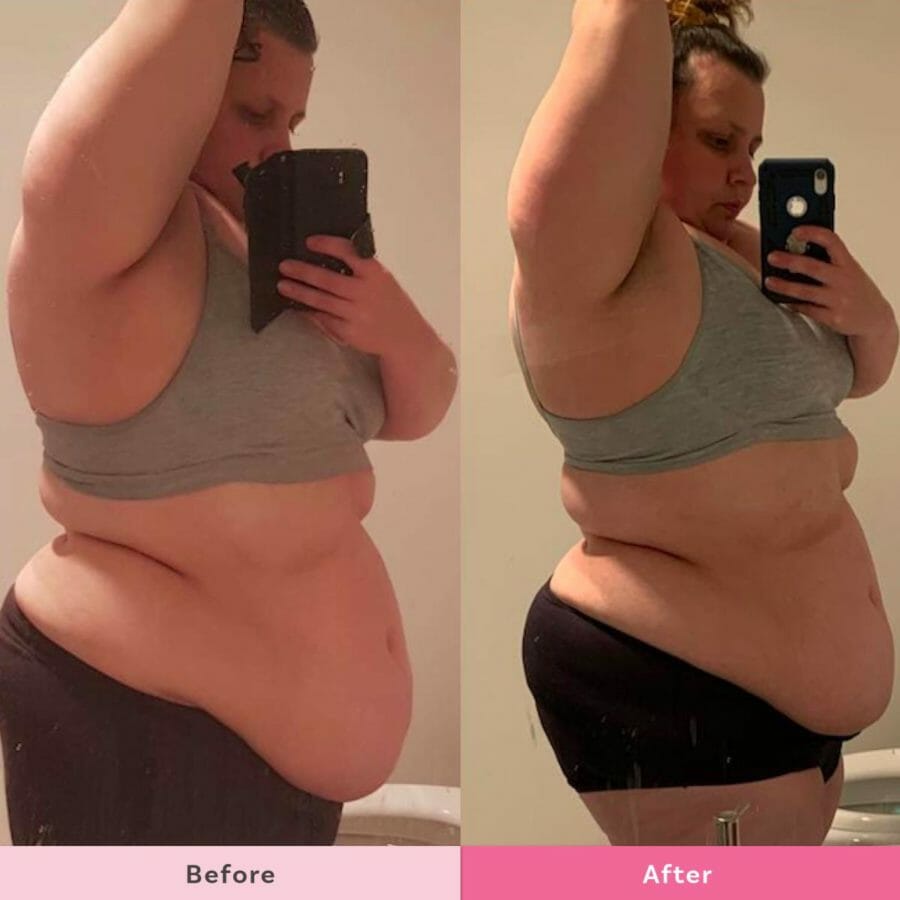 Jade says, "Three weeks and four kilos down!!"
"My energy levels are through the roof and I'm just feeling so much better within myself. I love that The Healthy Mummy is literally a lifestyle change and I don't ever feel like I'm missing out and neither do my kids."
"It's taken me a lot of courage to post these pics. I still have a long way to go but proud of how far I have already come in just three weeks."
Congratulations Ladies and thank you for sharing your journeys with us!
Are you ready to be a Healthy Mummy? Join the 28 Day Weight Loss Challenge today.

If you are wanting to lose weight and improve your energy – not to mention – help improve your overall health and wellbeing – our 28 Day Weight Loss Challenge is an awesome program to check out.
Our 28 Day Weight Loss Challenge includes:
28 days of at home exercise routines (no gym needed) – with video instruction
Customisable and breastfeeding friendly meal plans (including 7 Day Cleanse)
Challenge combines Pilates exercises with interval and circuit training (HIIT)
Suitable for basic to advanced fitness levels
Home to thousands of EASY-TO-MAKE recipes!
To learn more about our 28 DAY WEIGHT LOSS CHALLENGE CLICK HEREor purchase our Smoothies.