5 BUDGET-FRIENDLY Recipes under $2.50 a serve
Get a sneak peek at these 5 delicious recipes from the whopping 58 budget-friendly recipes in the new Healthy Mummy Magazine, Budget Issue.
OMG! The New Budget Issue of The Healthy Mummy Magazine will be available online and in stores NOW!
COMING SOON to Australian newsagents and supermarkets, it's packed full of inspirational stories about women who have transformed their lives, as well as AMAZING new BUDGET-FRIENDLY recipes, exercises and practical health features to help you find your #bodyconfidence while on a budget.
IT'S FULL OF AMAZING BUDGET-FRIENDLY RECIPES!
Along with all these amazing features – such as Money-Saving Tips from Effie Zahos – The Healthy Mummy Magazine is jam-packed with 58 easy-to-do, HEALTHY and BUDGET-FRIENDLY recipes the whole family will love!
Perhaps best of all is the FREE 30-day Supercharged Meal Plan, with all recipes under $2.50 per serving in the mag… UM, YES PLEASE!
Get a Sneak Peek of some of the Budget-Friendly Recipes in the Healthy Mummy Magazine!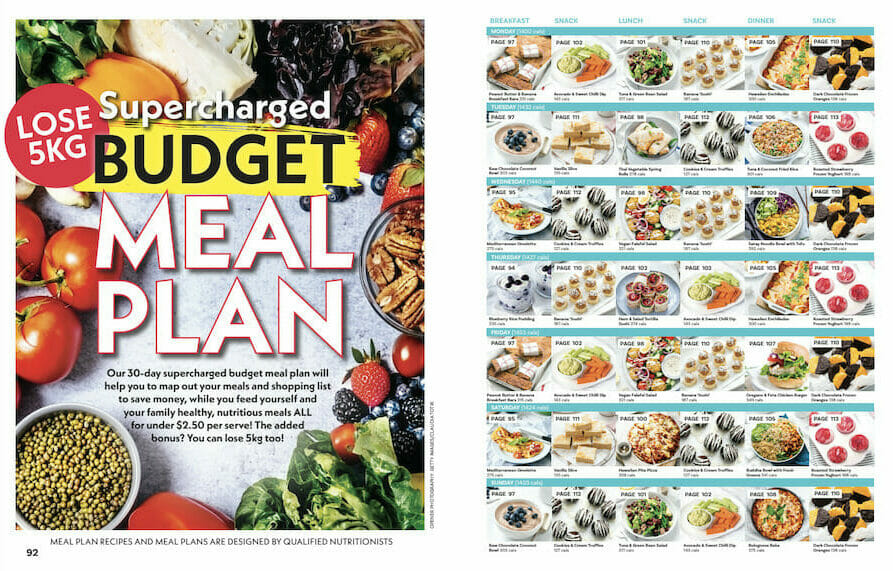 SNEAK PEEK: 3 Meals from the 30-Day-Meal-Plan REVEALED
$2.40/Serve Buddha Bowl with Fresh Greens
Delicious & nutritious vegan Buddha Bowl on a budget.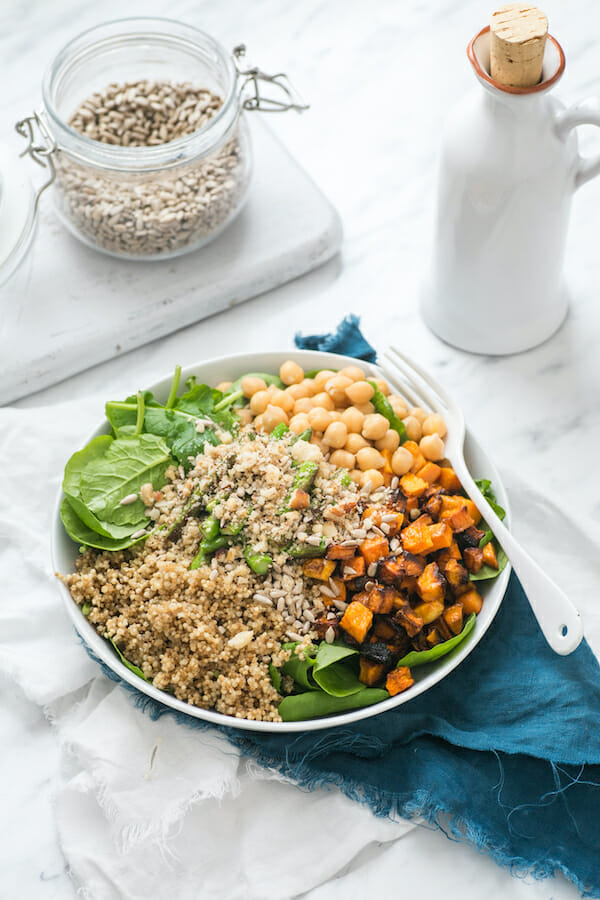 SERVES 4
PREP 10 MINS
COOK 20 MINS
Ingredients
2 cups pumpkin, peeled & diced
Cooking oil spray 1 cup
Quinoa, uncooked
240g tinned chickpeas
1 bunch fresh asparagus, trimmed
4 cups baby spinach
1 tbsp dukkah (a Middle Eastern seed and spice mix)
1 ⁄3 cup sunflower seeds
1 ⁄3 cup linseeds
Instructions
Preheat the oven to 180°C and line a tray with baking paper.
Spread the pumpkin over the tray and lightly spray with cooking oil spray.
Place in the oven to roast for 15-20 minutes or until tender and golden.
While the pumpkin is cooking, prepare the quinoa according to the packet directions and drain the chickpeas.
Five minutes before the pumpkin is ready, add the asparagus to the tray to roast.
In four serving bowls, place the baby spinach in one-quarter of the bowl, chickpeas in another, quinoa in another and pumpkin in the final quarter.
Place asparagus on top of all the ingredients and sprinkle everything with the dukkah, sunflower seeds and linseeds to serve.
$1.90/Serve Thai Vegetable Spring Rolls
Light & healthy spring rolls that can last up to 2 days in the fridge.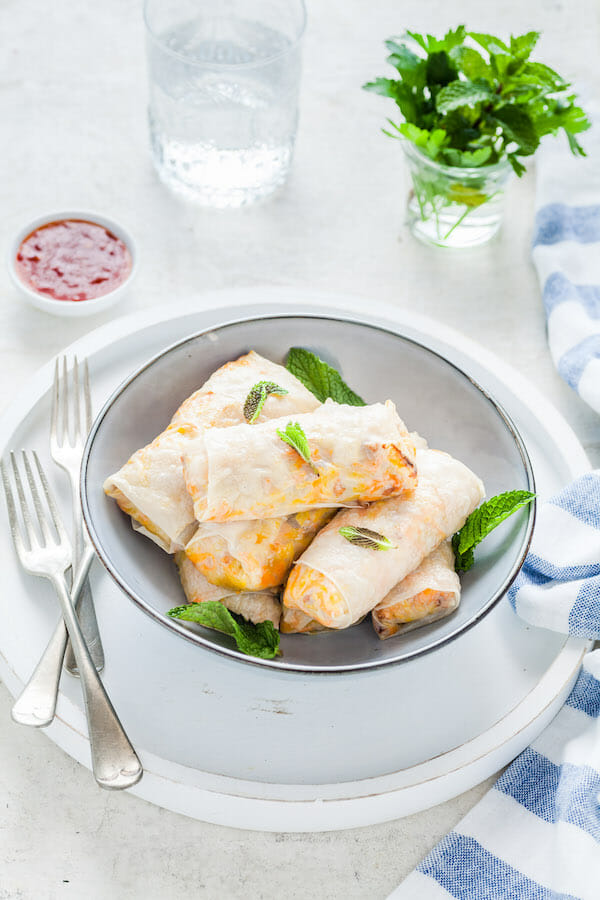 SERVES 4
PREP 15 MINS
COOK 20 MINS
Ingredients
1 tbsp extra virgin olive oil
2 tbsp green curry paste
2 medium carrots, grated
8 cups white cabbage, shredded
1⁄3 cup crushed peanuts
24 rice paper sheets
Instructions
Preheat the oven to 180°C and line a baking tray with baking paper.
Heat the olive oil in a frying pan over medium-high heat.
Add the green curry paste and cook for 30 seconds or until fragrant.
Add the carrot and cabbage, and cook for 2-3 minutes or until vegetables are tender. Stir through the peanuts and set aside to cool.
Prepare rice paper sheets as per packet directions and divide the vegetable mix evenly between each one (prepare one roll at a time).
Fold rice paper sheets as per packet directions to enclose the filling.
Place rolls on the prepared baking tray and bake in the oven for 15-20 minutes, turning halfway through or until rice paper is crispy and golden. One serve is 6 spring rolls.
73c/Serve Peanut Butter & Banana Breakfast Bars
Energising breakfast bars which can be stored in the fridge for grab-and-go meals.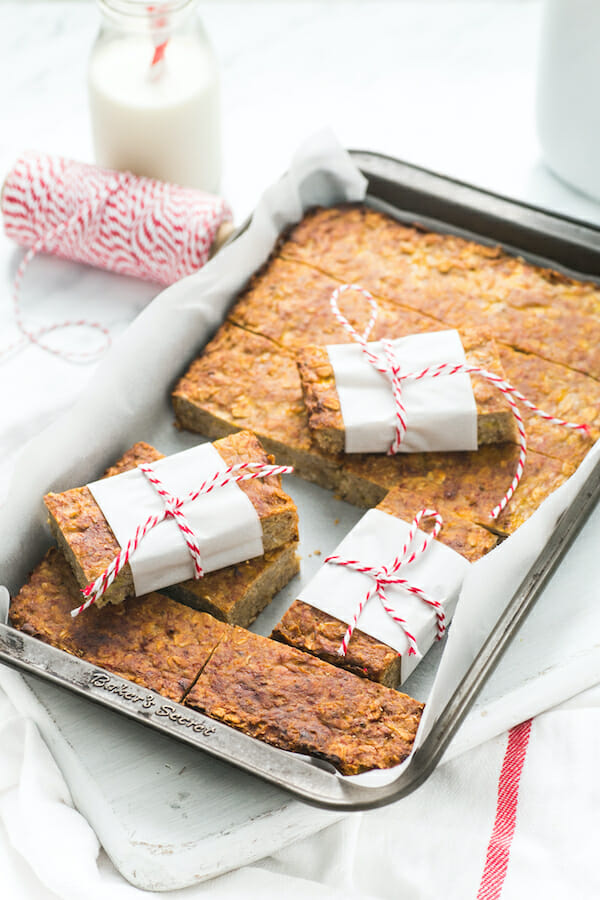 SERVES 5
PREP 5 MINS
COOK 25 MINS
SET 60 MINS
Ingredients
2 cups rolled oats
4 small bananas, mashed
½ cup peanut butter
Instructions
Preheat the oven to 180°C and line a baking tray with baking paper.
Combine all of the ingredients in a bowl.
Spread the batter into the prepared tray and bake for 25 minutes or until golden brown.
Remove from the oven and allow to cool completely in the tray and then refrigerate for 1 hour.
Slice into 5 bars. One bar is one serve
SNEAK PEEK: 1 Meal from the Easy Budget-Friendly Summer Entertainers REVEALED
$1.8o/Serve Bacon-Wrapped Avo Wedges
Snacks with a bit of spice. Adjust the level of sriracha as desired!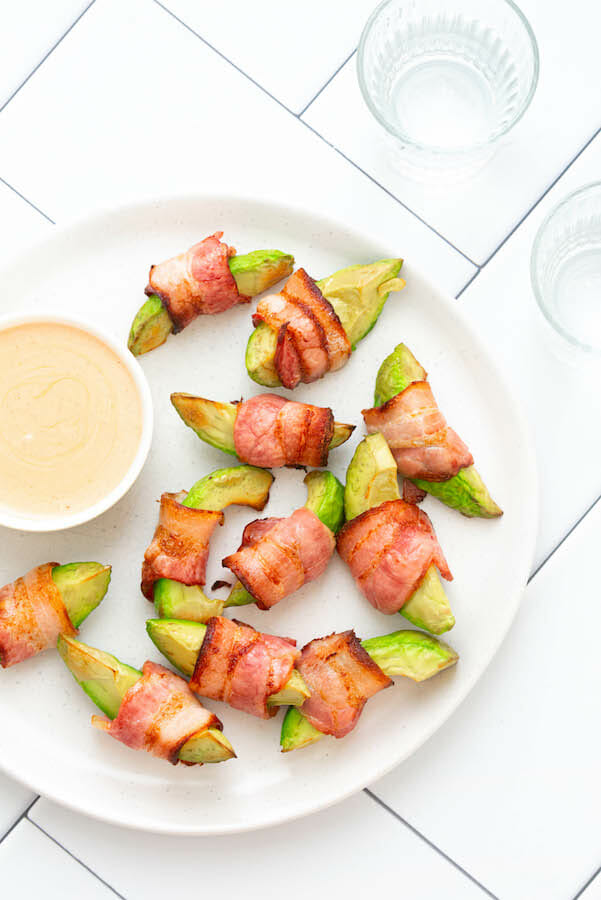 SERVES 6
PREP 15 MINS
COOK 25 MINS
Ingredients
2 avocados, ripe
6 lean bacon rashers, trimmed, cut in half lengthwise
½ cup reduced fat mayonnaise
1 tbsp sriracha chilli sauce
1 tbsp lime juice
1 tsp lemon zest
Instructions
Preheat the oven to 200°C and line a tray with baking paper.
Cut each avocado in half, remove the pit and peel. Slice each half into thirds lengthwise.
Wrap ½ a rasher of bacon around each avocado wedge.
Place the bacon-wrapped avocado pieces on the prepared baking tray and cook in the oven for around 25 minutes or until the bacon starts to crisp.
In a small bowl, stir together the mayonnaise, sriracha sauce, lime juice and zest.
Serve avocado wedges with zesty sauce on the side. One serve is two wedges
SNEAK PEEK: 1 Icy Treat ready for summer REVEALED
90c/Serve Choc-Mint Ice-Cream Bites
Frozen sweet treats; a healthier dessert alternative.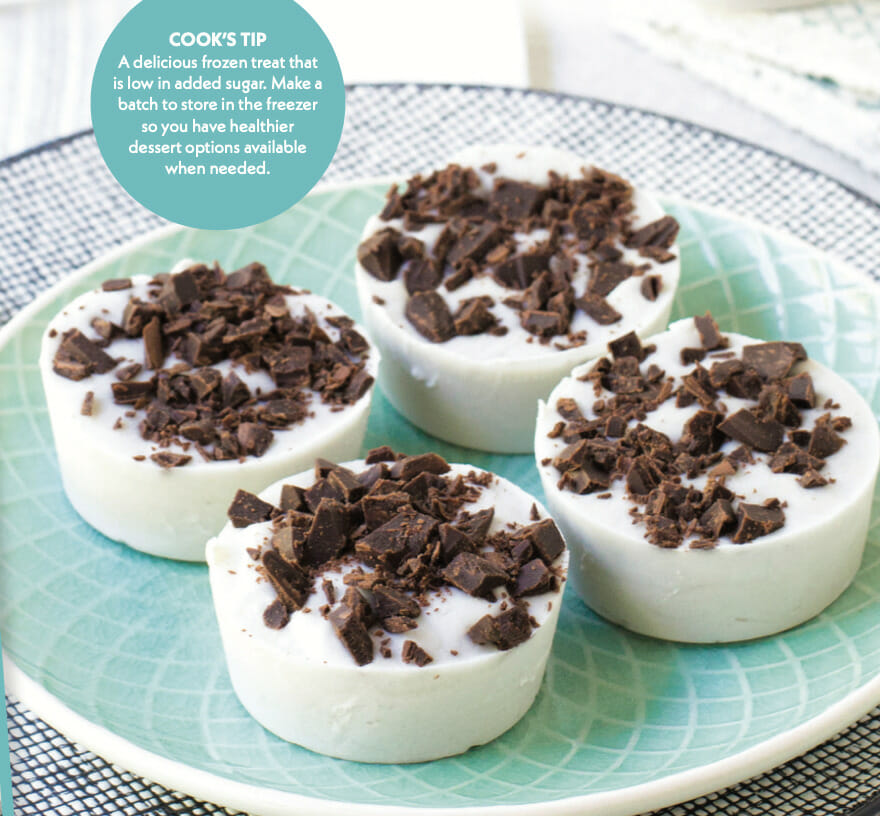 SERVES 12
PREP 5 MINS
SET 120 MINS
Ingredients
2 ⁄3 cup coconut cream
2 tsp maple syrup
1½ tsp peppermint extract
¼ tsp vanilla extract
¼ cup dark chocolate (70% cocoa), chopped
Instructions
In a small bowl, mix together all the ingredients, except the dark chocolate.
Divide the mixture evenly between 12 silicone muffin moulds or patty cases.
Sprinkle chopped chocolate evenly over the top of each one.
Freeze for 1-2 hours until firm.
Enjoy frozen or leave at room temperature for 10 minutes to soften slightly before eating.