Get Festive With 8 Of Our Favourite Healthy Christmas Recipes
Has the festive season started in your house? We've got a stack of healthy Christmas recipes to get the party started without undoing all of your hard work.
Has the festive season started in your house? If the tree is up, the kids are counting down the sleeps or your calendar is starting to get full with end-of-school and work events, then it's definitely begun!
With Christmas parties, barbecues and dinners going full speed ahead it can be difficult to stick to your healthy eating plan.
We've put together a selection of our favourite healthy Christmas recipes from the 28 Day Weight Loss Challenge that you can prepare when you're asked to "bring a plate" or just to get everyone in a festive mood.
There's no need to worry about missing out on delicious food this Christmas as these healthy, tasty recipes will help you reach your weight loss goals.
8 of our favourite healthy Christmas recipes
1. Frozen Watermelon Trees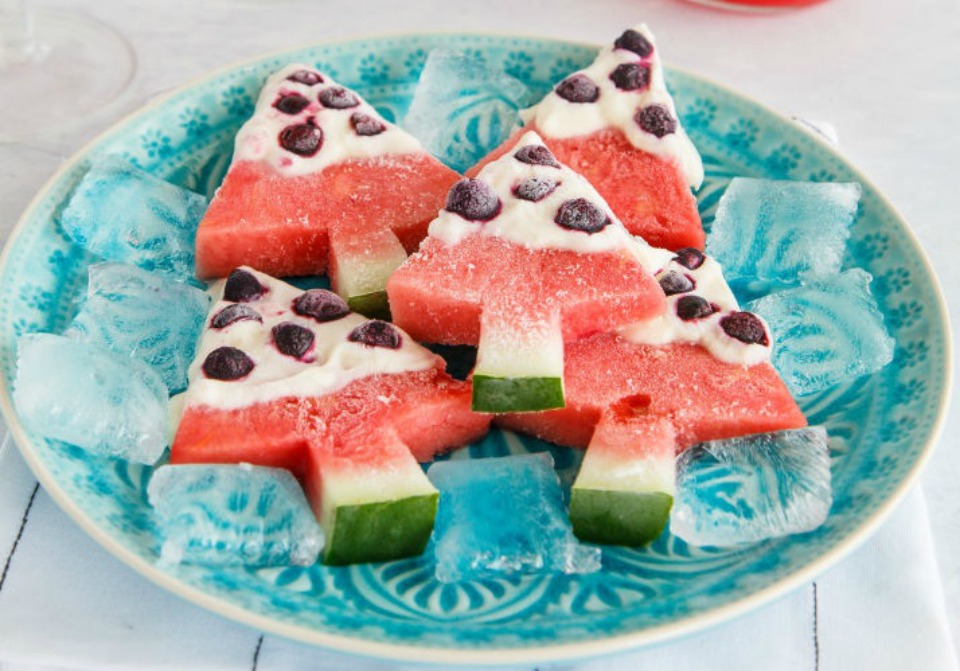 This delicious sweet recipe is not only good for you but also makes for a perfect table decoration.
Ingredients (makes 1 serve)
300 grams of watermelon
1 tablespoon reduced-fat Greek natural yoghurt
1 tablespoon blueberries, fresh or frozen
Method
Slice the watermelon into triangles. Keep the skin on the watermelon and create a 1-2 cm wide 'trunk' for your tree in the centre of the watermelon skin by removing the skin from either side of the 'trunk' in the centre.
Dip the top half of each triangle into yoghurt (to look like snow). Place on a tray lined with baking paper.
Cut the blueberries in half. Press blueberry halves into the yoghurt (cut side down) to look like decorations.
Place in the freezer until the yoghurt has set and then serve.
109 cal/458kj per serve
2. Strawberry Santas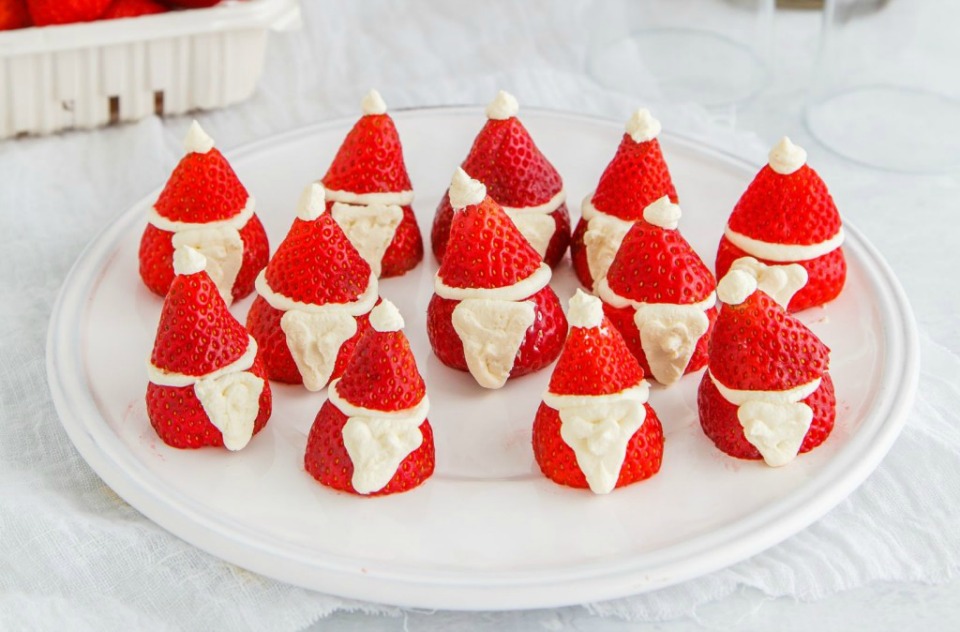 A great recipe to make when asked to bring a plate to an end of school or kindy break up party.
Ingredients (makes 2 serves)
1 punnet strawberries
1/2 cup light cream cheese
1 tablespoon lemon zest
Method
Wash and pat dry the strawberries. Cut the top off the strawberries removing the green leaves, so that the strawberries can stand up flat on a plate.
Cut the bottom 1/3 of the strawberries off and reserve for Santa's hat.
Combine the cream cheese and zest. Fill a piping bag with the cream cheese and carefully pipe a triangle shape onto the wide part of the strawberry to form Santa's beard. If you don't have a piping bag use a zip lock bag and fill with cream cheese mix then snip off a small corner to use instead.
Add a small dollop of the cream cheese at the small top of the strawberries and place the small pieces you cut off on top to represent Santa's hat.
Place in the fridge and chill for 10 minutes before serving.
This recipe makes 2 serves so divide equally to serve.
152 cals/630kj per serve
3. Gingerbread Stars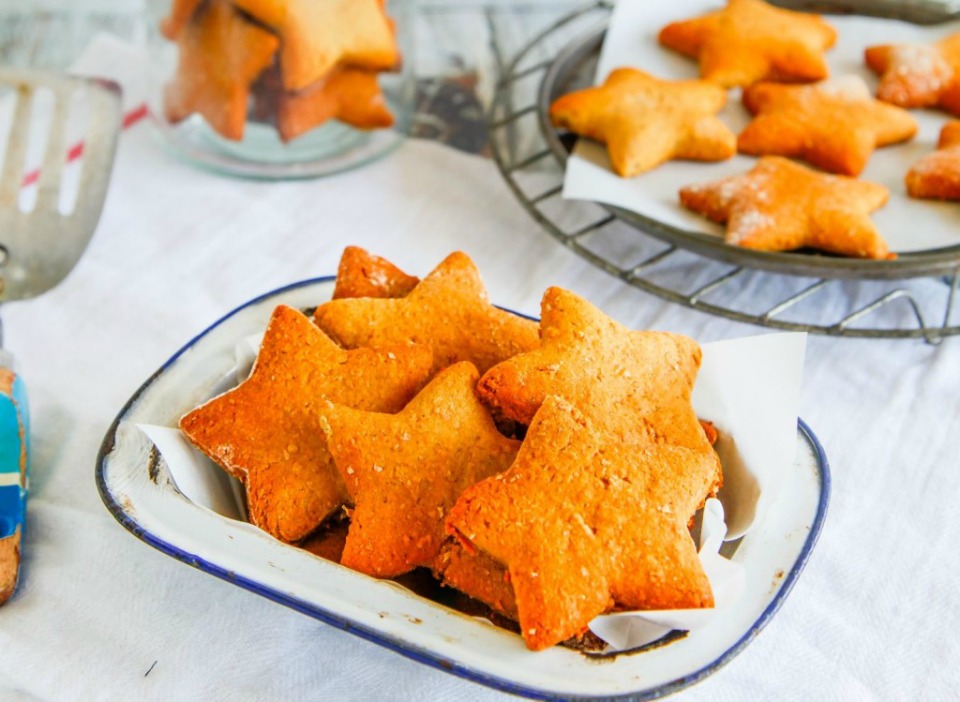 These are ideal for making in bulk and packaging up in cellophane bags to give to family and friends as healthy homemade Christmas gifts. Get the kids to help you with the preparations to show them that Christmas gifts don't always have to be bought at a shop.
Ingredients (makes 5 serves)
1/2 cup plain wholemeal flour
1/2 cup rice flour
1 level teaspoon of bi-carbonate soda
1/2 teaspoon ground ginger
1/4 teaspoon mixed spice
1 teaspoon orange zest
2 tablespoons fresh orange juice
1/3 cup honey
2 tablespoons of reduced-fat milk of choice
30 grams of butter
Method
Preheat oven to 160C and line a baking tray with baking paper.
Combine plain flour, rice flour and bi-carbonate soda in a bowl. Add spices and orange zest.
Place a saucepan over a low heat and add orange juice, honey, milk and butter. Stir until butter has dissolved. Set aside to cool.
Combine liquid mixture with dry mixture and combine well (dough will be quite firm). Once it comes together, turn dough out onto a clean surface dusted with some flour. Divide the dough in half and shape into 2 balls. Wrap each ball in cling wrap and place in the fridge for 15 minutes.
Remove from the fridge and roll out until 1cm thick. Using a small star-shaped cookie cutter, cut biscuits from dough and transfer to prepared baking tray (about 5cm apart). Combine leftover dough, roll out and cut out more biscuits until all dough is used. You should have enough dough for approximately 10 biscuits.
Bake for 6-7 minutes until golden. Biscuits will still be soft, but will harden as they cool. Cool on tray for 5 minutes then transfer to a wire rack. Store in an airtight container.
2 biscuits makes 1 serve.
194cal/970kj per serve
4. Cucumber S'Mores with Turkey, Parmesan & Cranberry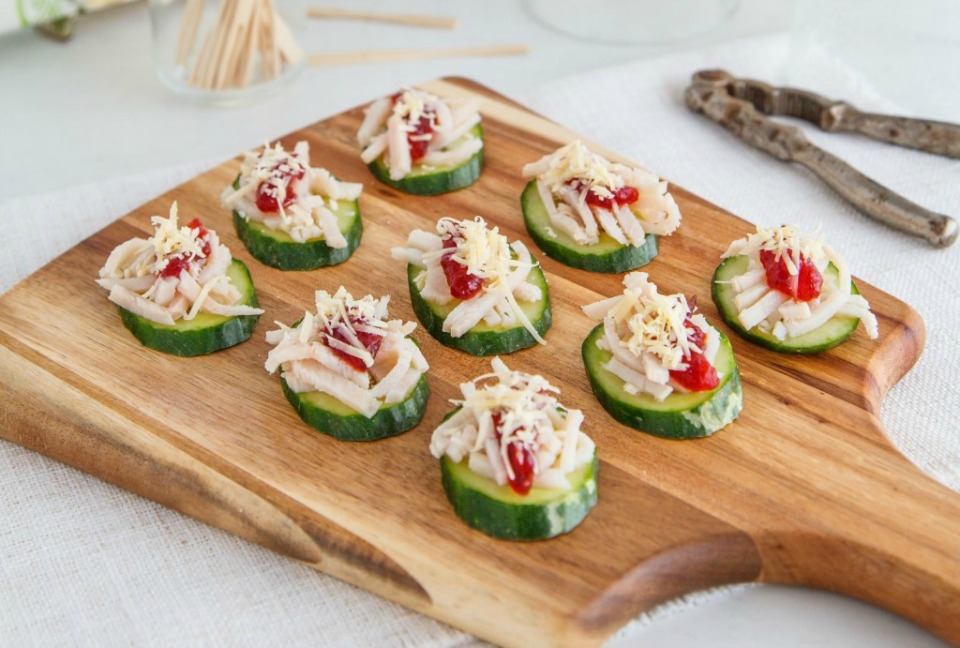 Such an easy-to-put-together healthy, savoury canapé recipe that will impress your guests.
Ingredients (makes 1 serve)
1/2 Lebanese cucumber
2 slices lean smoked turkey
1 tablespoon cranberry sauce, store-bought
1 tablespoon grated Parmesan
Method
Cut cucumber into 1cm rounds and arrange on a serving plate.
Slice turkey into small pieces and top each cucumber round with a small portion.
Top turkey with a small amount of cranberry sauce and grated Parmesan to serve.
202cal/847kj per serve
5. Blueberry Breeze Cocktail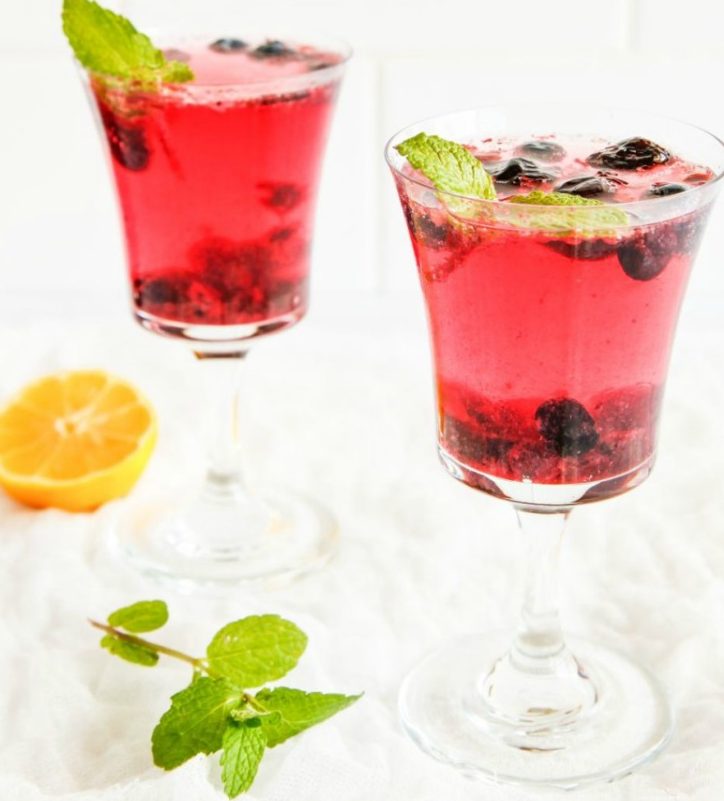 Christmas parties are often a time when you might celebrate with an alcoholic drink or two but be mindful of the extra calories alcohol can add to your daily totals.
This cocktail recipe is a healthier option and great to make to share with friends.
Ingredients (makes 1 serve)
2 tablespoons blueberries, fresh or frozen
2 teaspoons lemon juice
1/2 cup soda water
150 mls of sparkling wine
Method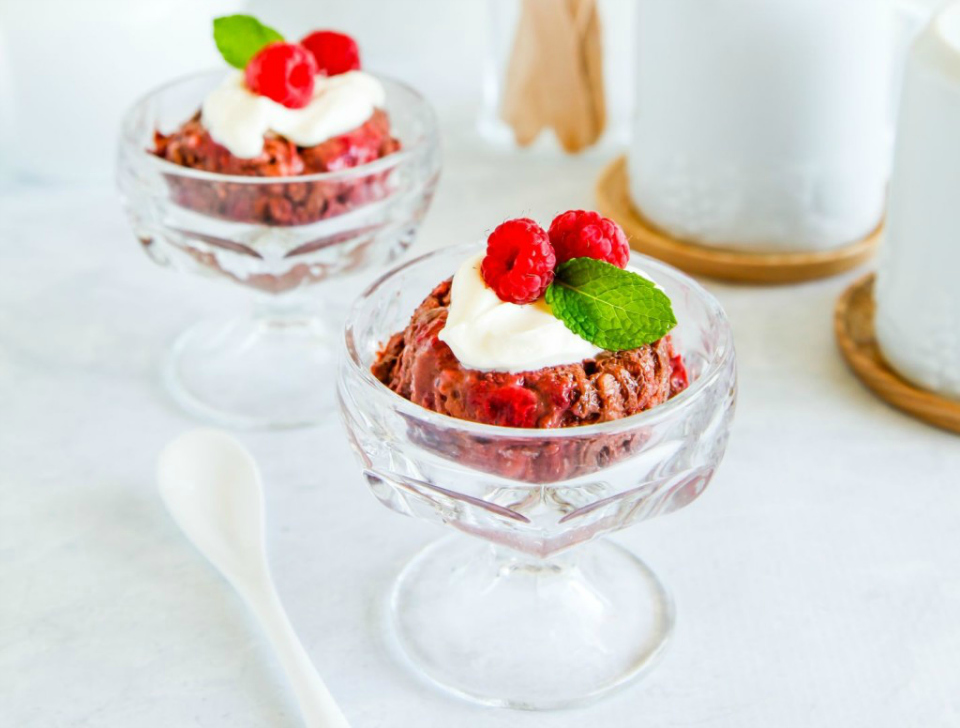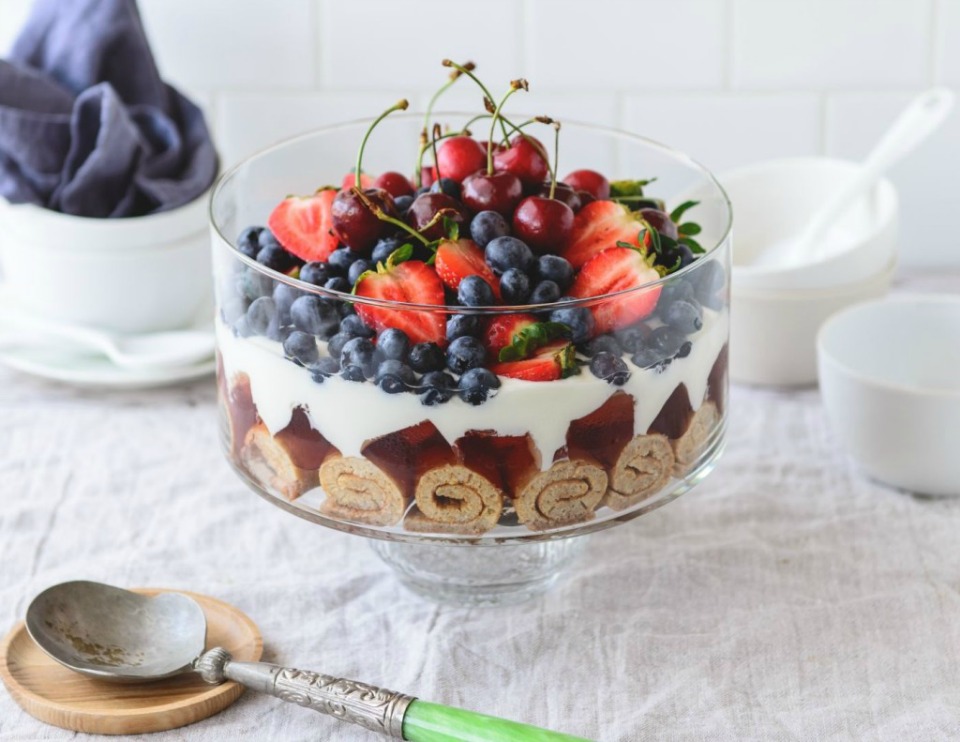 Muddle the blueberries by squashing with the back of a fork.
Combine with soda water and lemon juice in a serving glass.
Top with sparkling wine to serve.
86cal/360kj per serve
6. Christmas Tree Apple & Pear Platter
A great recipe to make as the centrepiece for a healthy Christmas lunch table.
Ingredients (makes 4 serves)
1 apple
1 pear
2 tablespoons peanut butter
1 slice watermelon
1 tablespoon dried cranberries
2 teaspoons shredded coconut
Method
Core the apple and pear and cut each into 8 slices. Slightly heat the peanut butter in the microwave so it is runny.
Use a star cookie cutter to cut a star shape from the slice of watermelon. Cut a rectangle shape from the watermelon slice to use as a trunk. Set aside.
Arrange apple and pear slices on a serving plate, into the shape of a Christmas tree, with the skin on the fruit forming the bottom side of each of the leaves.
Drizzle heated peanut butter across the tree to look like tinsel and arrange dried cranberries to look like decorations. Sprinkle over coconut to serve with the watermelon star at the top and trunk at the bottom of the tree.
123cal/492kj per serve
7. Chocolate Crackle Breakfast Pudding
Whether you're hosting a special Christmas breakfast or just want to treat the family with a festive start to the day, this healthy recipe will be sure to impress.
Ingredients (makes 1 serve)
1/2 mashed banana
1 teaspoon cacao/cocoa powder
1 teaspoon honey
1 teaspoon vanilla extract
1/4 cup fresh or frozen raspberries
1/3 cup puffed rice
1 tablespoon reduced-fat Greek natural yoghurt
Method
Combine mashed banana, cacao/cocoa powder, honey and vanilla until smooth. Add raspberries (keep one raspberry per serve aside for garnishing) and puffed rice and combine everything together.
To create a nice 'pudding' shape, line a small bowl or container with cling wrap (one per serve). Press mixture into the mould and chill in the fridge for several hours or until firm.
Remove the pudding from the mould by pulling the cling wrap out of the container. Place pudding onto a serving plate and remove the cling wrap.
To serve top with yoghurt and raspberry as garnish.
203cal/851kj per serve
8. Healthy Fruit Trifle
For a real show-stopper on the table at Christmas, prepare this healthy fruit trifle to treat everyone.
Ingredients (makes 8 serves)
1 tablespoon powdered gelatine
1 & 1/4 cups water
1 cup apple & blackcurrant juice, no added sugar
1 cup wholemeal self-raising flour
2 separated free-range eggs
1 cup reduced-fat milk of choice
1 teaspoon vanilla extract
2 cups reduced-fat Greek natural yoghurt
1 punnet strawberries
1 cup blueberries, fresh or frozen
1 cup fresh cherries
2 tablespoons crushed peanuts
Method
Start by making the jelly. In a large jug sprinkle gelatin over 1/4 cup of the cold water and leave for a minute or two to soften. Boil remaining cup of water and add to gelatin mix, stir until gelatin is dissolved and liquid is clear. Stir in 3/4 cup of the apple and blackcurrant juice, reserving remainder of juice for later. Pour jelly mixture into a shallow dish and refrigerate for several hours, or overnight, until firm.
When jelly has set make the pancake rolls. Place the flour in a mixing bowl and stir in milk, egg yolks and vanilla until smooth.
In a separate small mixing bowl beat egg whites with an electric mixer until soft peaks form. Fold small portions of the egg white through the pancake batter until well combined.
Heat a non-stick frying pan over a medium heat. Scoop batter into pan using a 1/3 cup measure. Cook pancake until just golden on both sides, place on a piece of paper towel, roll tightly and set aside to cool. Repeat with remaining batter and sheets of paper towel to make approx 6 pancake rolls.
To assemble trifle gently unroll pancakes to remove paper towels, pancakes will keep their rolled-up shape. Slice each roll into 4 or 5 rounds. Arrange around the base of a large bowl and drizzle with remaining 1/4 cup of apple and blackcurrant juice.
Cut jelly into cubes and spoon over the pancake rolls. Sprinkle with nuts.
Top jelly with yoghurt. Quarter strawberries and arrange with blueberries and cherries on top of yoghurt. Refrigerate for at least 30 minutes or until ready to serve.
185cal/773kj per serve
Want more? We've got more festive recipes in our Christmas recipe e-book. Get your copy here!
Tired of wondering what to cook?
Now you can easily meal plan with our personalised plans & over 6,000 family & budget friendly recipes catering to a wide range of dietary requirements.
The Healthy Mummy is a holistic program to nourish your body with nutritious food and help you stay active in your busy, everyday life. Yours and your families well being should be a priority so let us take the hassle out of it.
Unlock the key to sustainable life changes that will leave you feeling your absolute best.