Kale: Another Superfood For Your Smoothie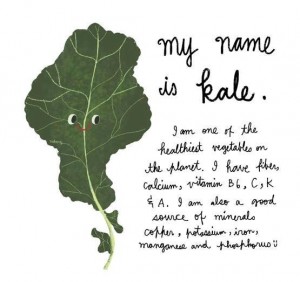 On the bandwagon of immunity and 'superfoods' I wanted to introduce you to a new friend of mine, Kale. Kale is an amazing addition to you healthy eating plan, weight loss diet and especially to your Healthy Mummy Smoothies.
I know I know, you think it will be disgusting….well not only I do it! Did you see another Healthy Mummy posted her addition of spinach the other day! Yay go Laura.
So what is Kale and why is it such a great vegetable?
Kale is a great source of vitamin A and vitamin C which are important in your immune response. In one cooked cup of Kale you obtain 200% of your vitamin C requirements and well over your vitamin A requirements for the day.
Kale contains the most iron and calcium than any other vegetable and because of its high vitamin C content, both these minerals are absorbed easily into the body. If you serve Kale with a fruit with high vitamin C content, the absorption will also be greater. So for a smoothie, think citrus or even berries.
Folate is also high in Kale which is great for pregnant mothers.
There are many compounds within Kale like flavonoids and carotenoids which are cancer fighting. Just another reason to consume this 'superfood'.
Try this superfood smoothie that I prepared.
Ingredients
1 cup of chopped Kale
1 cup of raspberries
2 tbs of Strawberry Healthy Mummy Mix
200ml of milk (today I used rice)
This smoothie has 15 grams of fibre (3 grams from the Kale, 6 grams from the raspberries and 6 grams from the Healthy Mummy Smoothie mix!!). Fibre is so important in a pregnant and breastfeeding mother's diet. Have a read here.
Or if you want it as a side dish, like I cooked the other day below, lightly pan fry some chopped Kale with 1 tablespoon of oil, 2 cloves of garlic and a pinch of salt. Mmmmm delicious. We ate it with some rice and black beans too.
For some other smoothie inspiration have a look here or for some dinner-time healthy recipes have a look here.