Michelle's relationship with food has transformed since joining The Healthy Mummy and losing 7 kilos in 3 months
Since joining the 28 Day Weight Loss Challenge three months ago Mum Michelle is SMASHING her weight loss goals losing 7 kilos and is loving the journey.
Mum Michelle admits that she didn't really notice the weight creeping on until she was finding to hard to keep up with her toddler. With constant back pain and feeling tired all the time, Michelle knew she had to take some control of her health.
Three months ago she joined the Healthy Mummy 28 Day Weight Loss Challenge to get more guidance and support for her weight loss goals and she is SMASHING IT!! She's already 7 kilos down and is loving the journey.
"I still have a couple more dress sizes to go but I honestly know all I have to do is log into my Healthy Mummy App every day and follow it and it will be that easy!"
All about Michelle
Michelle Waters is 34 from Sydney and has two children aged seven and four.
For Michelle, there were a number of issues affecting her quality of life that made her realise it was time for a change. Fed up with feeling like she was always the biggest person in the room, getting stares from people when she ate, and not being able to run after her son, she knew it was time.
Michelle shares, "In my late 20's, I lived with constant back pain, I slept all the time and it was hard to do small physical tasks like walking my son to the park and playing with him. This couldn't be what life was supposed to be like at 29 surely.
Then it dawned on me, this is the example I'm setting to my kids of the kind of life they should live and it wasn't a good one.
I wanted more for them and I wanted more for myself."
Michelle's Weight Loss
Michelle has lost 7 kg in 3 months using The Healthy Mummy App and Healthy Mummy Smoothies and products.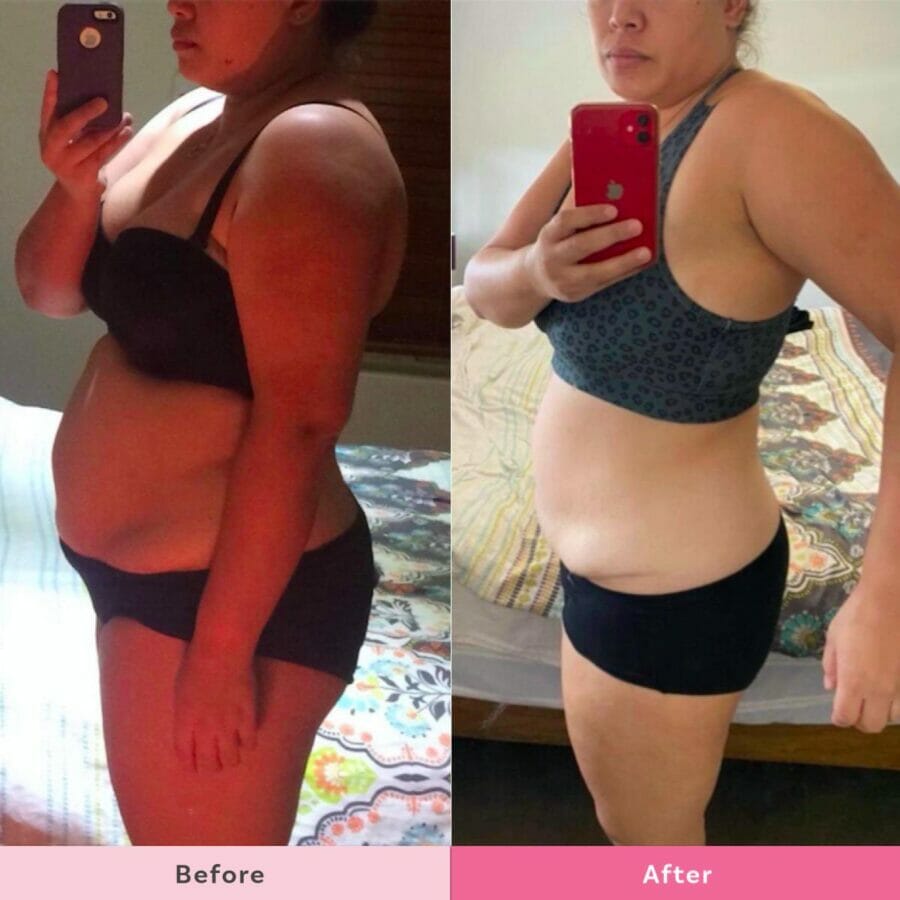 After initially losing 20 kilos over a year, Michelle felt she needed more guidance so joined the 28 Day Weight Loss Challenge, and started to use Healthy mummy Healthy Smoothies and products.
"I still have a couple more dress sizes to go but I honestly know all I have to do is log into my app every day and follow it and it will be that easy!"
Enjoying the Health Benefits
Michelle's is already enjoying the benefits of her weight loss, both physical and mental.
"My knees don't crackle when I walk down the staircase anymore, my cycle has come back thanks to the probiotics in the Premium Smoothies and adding spinach to them twice a day, I can pick up my kids without hurting my back and my skin is just glowing using the beautiful SKIN products."
Physical Changes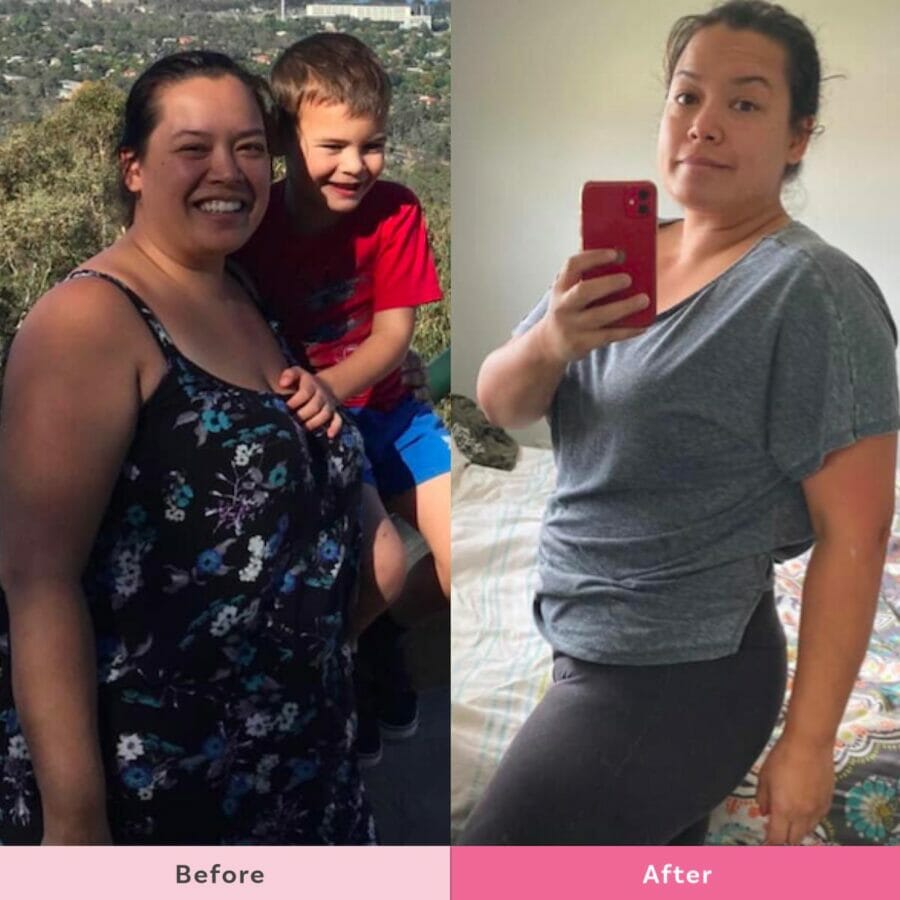 "Finally, I'm seeing my body shape in a feminine way, developing curves in the right places, tightening in my backside and strengthening my core from using Dance cardio with Jade, Full body with weights with Wendy and Pilates with Jo."
Mental Attitude
"This is by far the biggest change. My relationship with food has improved more than I can express in words. I no longer label food bad or good. I eat everything I like and I find making the snack recipes in the app with healthier ingredients I don't crave junk food, I have a better ability to control my sweets and I can assess my emotions better since learning more about them in the mindset section of the Healthy Mummy App."
Michelle's Meal Prep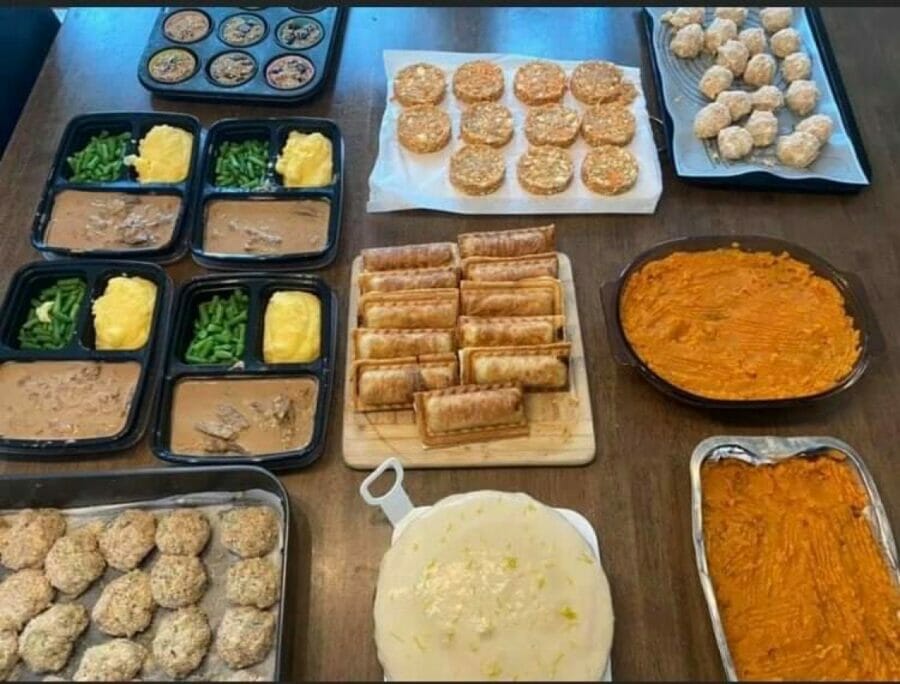 Michelle has embraced meal prepping as part of her routine and believes it is a key part of getting results by being prepared with healthy meals and snacks.
"Learning to meal prep, keeping track of my food intake and finding exercises that were in my ability was key to losing the first 20kgs. That's the beauty of The Healthy Mummy app. It has it all! "
Healthy Mummy Weight Loss Products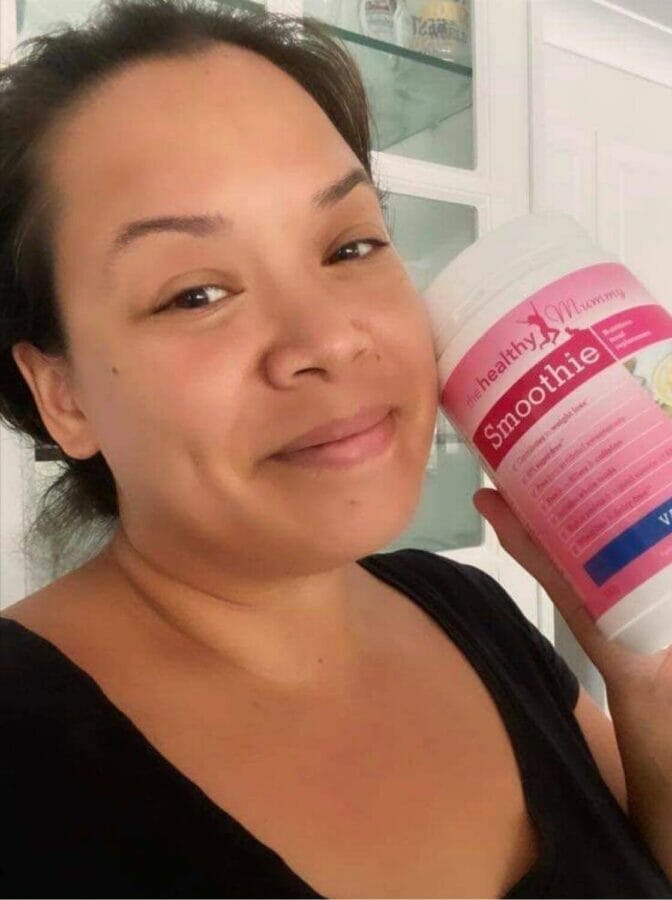 Along with using the Healthy Mummy Premium Smoothies, Michelle has also incorporated Control X and Super Greens for energy. Michelle is also Loving the SKIN range and is enjoying the results.
"I love the double choc premium smoothie with milk and 2 handfuls of spinach. Some days I have to admit I will think about my breakfast shake in the evening and get excited lol."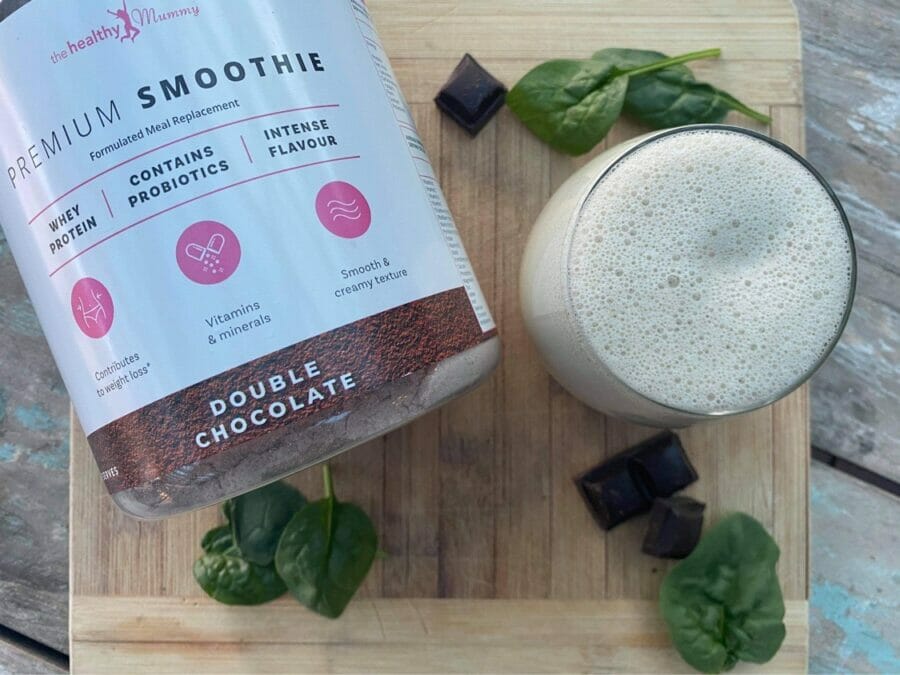 Control X – "my daily go – to"
"I love the Control xX, it is my daily go-to. I use it daily around 2ish to keep me from snacking until dinner and I will also have one prior to dinner if I've been invited to eat out. I also use the energising Super Greens instead of a midday coffee for a pick me up and use the Revive Oil and Night Cream religiously my skin is loving it!"

Michelles Day on a Plate
Breakfast:  "I usually have a smoothie with milk and spinach"
Morning tea: "I like cereal as a pre workout and eggs and crackers as a post workout."
Lunch: "I will meal prep lunches for the week using a recipe from the app (this week I had beef with mushroom sauce and green veggies, it was amazing!)"
Dinner time: "I follow the current meal plan of the 28 day Weight Loss Challenge they are very family-friendly so hubby and the kid's eat the same too."
Desserts: "I adore the recipes in the app, the two I've loved this past fortnight are the chocolate butter cookies and the caramel popcorn."
Michelle's Favorite recipes and workouts
"Honestly, it would be easier and a shorter list to say which recipes I haven't liked. If I had to pick a favorite it would have to be the prosciutto and Bocconcini pizza (pictured) and the grilled halloumi wrap.
Favourite workouts are Dance cardio with Jade and full body weights with Wendy!"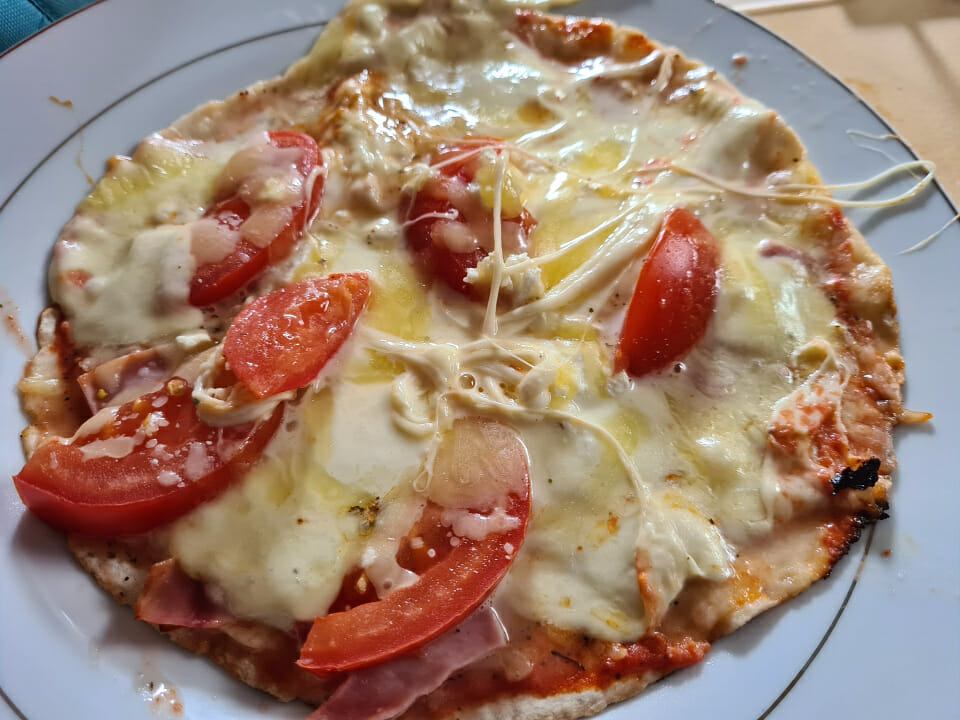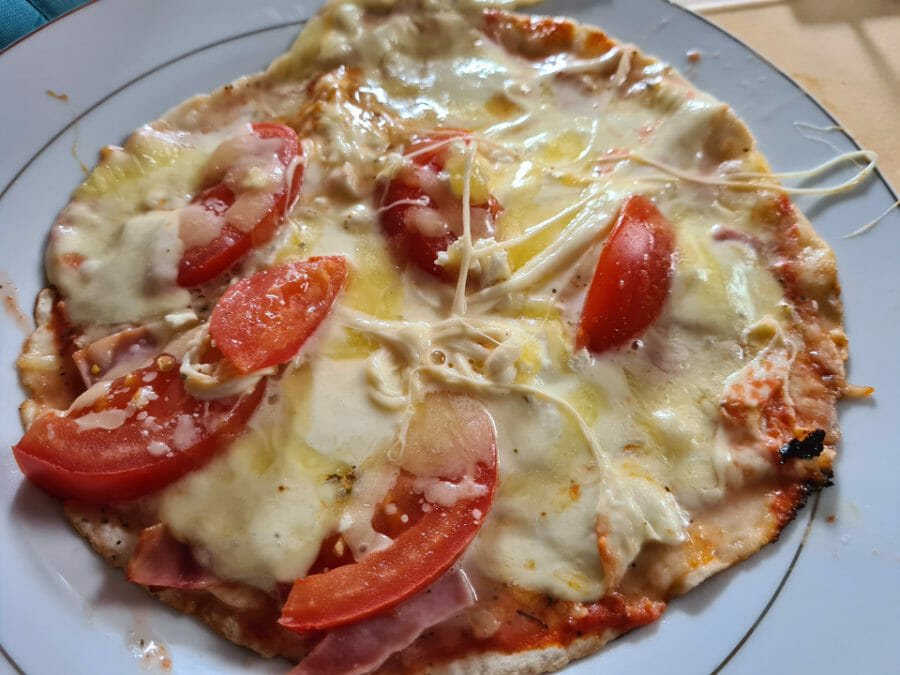 Michelle's Three tips for success
Meal prep (however way works for you) is essential
Find recipes that work for you and your family and make extra for those "I'm too tired days"
Start moving your body it can be as easy as completing the warm-up videos. Eventually, you will improve.
Michelle also has some great advice for others trying to lose weight.
"Honour your body by listening to its cues, it does let you know what it needs. Try taking a moment to listen.
Also, trust in the process. There will be many times filled with self-doubt by truly trusting in the process you allow yourself to believe that you can do it as long as you stick to it."
Great advice Michelle and congratulations on your results so far!
Join Michelle on the 28 Day Weight Loss Challenge!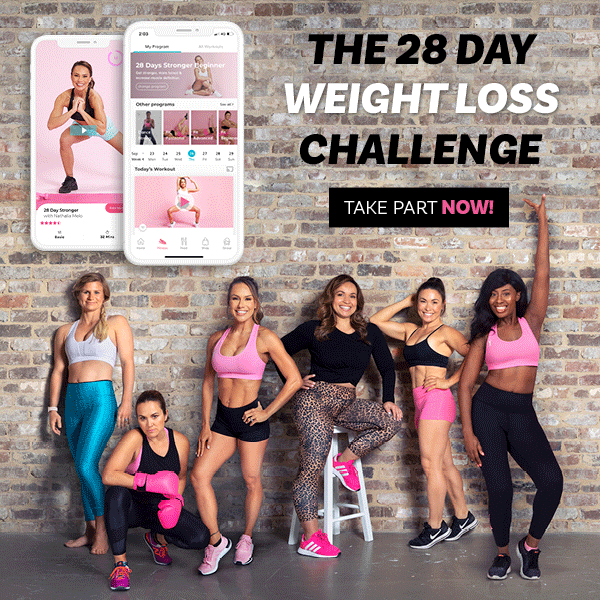 Want to shift your weight but feel like you have NO TIME in your day to exercise and eat healthily?
That's where the Healthy Mummy's 28 Day Weight Loss Challenge can help.
What do you get? You get access to:
28 days of at home exercise routines (no gym needed) – with video instruction
Customisable and breastfeeding friendly meal plans
Time-efficient exercises for busy mums – under 30 mins
Challenge combines Pilates exercises with interval and circuit training (HIIT)
Suitable for basic to advanced fitness levels.
Home to thousands of EASY-TO-MAKE recipes.
Find out more about joining the 28 Day Weight Loss Challenge.