Mum loses 24kg and 100 cm from her body – it's benefitted her whole family!
Seven months ago while she was eight months pregnant with her fourth child, Phoebe was introduced to The Healthy Mummy. She started The Healthy Mummy smoothies the day she got home from the hospital, as they are breastfeeding friendly.
Phoebe says, "I used them just for ease while trying to get into a new routine with 4 young kids."

The mama weighed 103kg at the end of her pregnancy and after spending the previous 5-6 years hovering around 100-105kg, and that's when she decided to join the 28 Day Weight Loss Challenge to learn more about healthy eating and how to nourish her body.
Phoebe has now lost 24kg and has lost over 100cm from her body! AMAZING!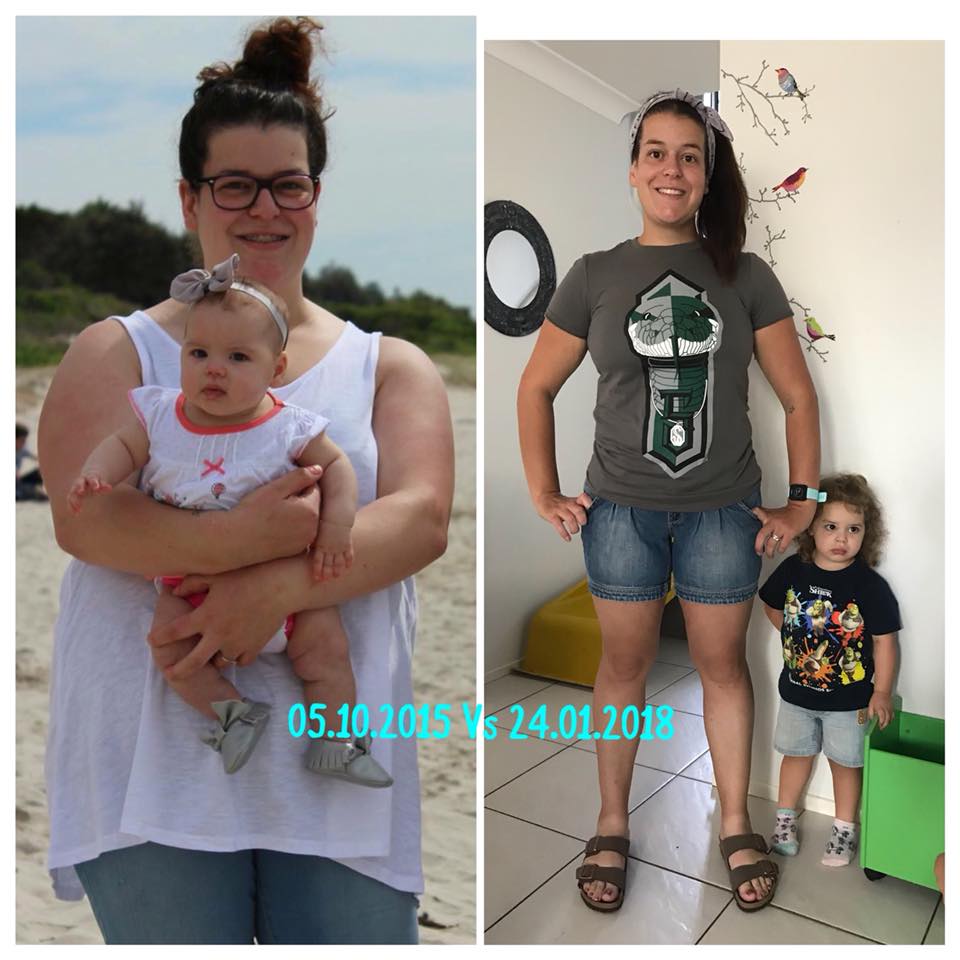 Setting healthy goals
Phoebe smashed her first 2 goals after starting the Challenge after learning how to nourish her body properly and having a better understanding of what she needed to do herself to live a better lifestyle.

"When I started the Healthy Mummy my goal was 80kgs, now that I have reached that goal I decided that I would keep going until 70kg, then try and maintain that," she says.
Currently sitting at 79-80kg, Phoebe aims to reach her 70kg goal by Christmas 2018! You can do it, Phoebe.
"The 28 Day Weight Loss Challenge kept me accountable. It helped me stay on track with mine and my children's eating. It helped me plan simple healthy meals I could cook whilst looking after my 4 children," Phoebe said.
She said it also provided the exercises for her to do at home on the days she couldn't get out to go walking. Calling all busy mums, try these exercises you can do in front of the tv!
Nourishing with healthy food
Since starting her Healthy Mummy journey, Phoebe has managed to feed her family of 6 for $200 a week which also includes nappies and any extras!
She says, "We started shopping online and found that, that stops us buying junk and we stick to our shopping list better. We also shop at our local fruit shop which cuts down the cost a lot."

"I just want to be healthy. I want to be able to keep up with my kids and be a good role model for them. I also want to have and continue to have a healthy relationship with food," Phoebe said. 

Trying to incorporate a new recipe every week into her families diet, Phoebe also repeats a lot of recipes when she knows her kids and husband will eat them. 
"I try and get meal prep done on Sundays and this usually is a couple of hours in the afternoon," she says. 

An all-time favourite meal of Phoebe's to create is the Easy Chicken Nachos and Bacon, Tomato and Spinach Risotto (try this similar risotto recipe).
Family changes
Phoebe's husband also also benefitted from her lifestyle change and has lost 10kg himself!
"We are both being more active with our children and finding that are enjoying being active so much more," says Phoebe.
Phoebe reveals she now does more things with her family, by regularly going to the beach, park trips and also bushwalking. 
Phoebe also gets her own time and tries to walk everyday, at least 5km. Not only does it get her body moving, she says it also clears her head. "If I can't do that I try and do at least half an hour of Challenge exercises," she says.
Phoebe has become her own inspiration and is so proud of everything she's accomplished though The Healthy Mummy which she says has given her her life back!
"I now look forward to the future and what it holds. I haven't been able to say that for a long time," she adds.

Keeping it simple is key to Phoebe's success. She says to not make it too complicated for yourself otherwise it's too hard to stick to!
Keep your journey simple and join the 28 Day Weight Loss Challenge where everything you need in order to succeed is set out for you! Think meal plans, exercises and support.