Mum of three loses a whopping 36 kilos in 12 months and overcomes depression
Not only has Mel lost 36 kilos in just over a year, she's also overcome a number of health issues including depression and anxiety.
Wow Mel – you are incredible! Not only has the mum of three lost 36 kilos with the Healthy Mummy in just over a year, she's also overcome a number of health issues including high blood pressure, depression and anxiety.
By overhauling her lifestyle, with the help of the Healthy Mummy App, Mel is smashing her health and weight loss goals.
"Without the change in the way I do my shopping, to the way I cook my meals, to the way I changed my eating habits I wouldn't have lost what I have. I still have a long way to go but with the help of Healthy Mummy I have changed for the better."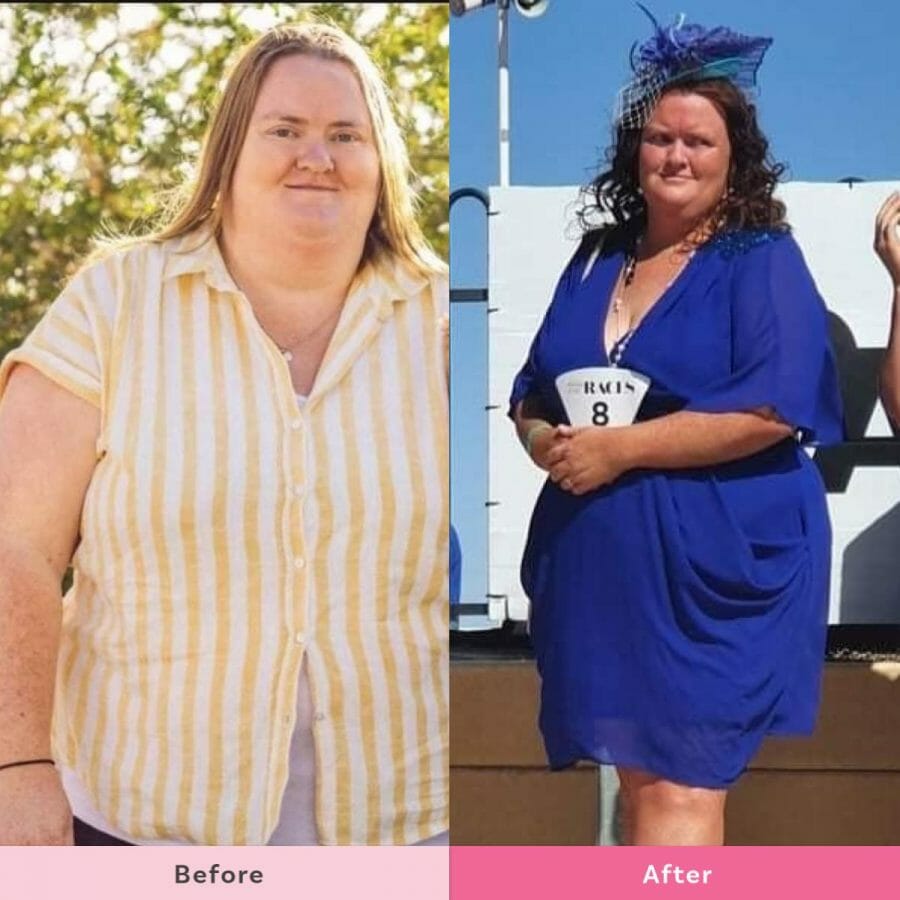 Mel's Weight Loss Journey
Mel Aitchison is 38 and lives in Roxby Downs in South Australia. She has three children aged 16, 12, 10.
Mel reveals that when her first son was born, 16 years ago, she was a very active mum with lots of energy. When her second child came four years later, things started to change.
"He was born with a heart condition, needing surgery at 5 days old. This resulted in a 3½ week stay in 2 hospitals one in Melbourne and the other in Adelaide. It was stressful, and when I was stressed I would stress eat."
Whilst Mel says she started to put weight on, by the time her daughter was born she had learned not to stress eat so had managed to lose the weight and keep it off. However, following some tragic family news, the weight started to creep back on.
"My Mum was diagnosed with lung cancer and in July 2012 my Mum passed away. This was the worst day of my life. In 2014 I was starting to struggle a lot. We moved to Roxby to be with the kids Dad who was driving in and out for work, 2 weeks on 1 week off. My mental health took its toll."
"I was diagnosed with severe depression and anxiety. I was hospitalised quite a few times in the past 5 years after the diagnosis. I was on medication for different reasons, my blood pressure was high I was gaining more and more weight."
Determined to get on top of her physical and mental health and be the mum she used to be, Mel knew she needed to make a change and lose weight. Motivated by wanting to do more with her kids, she tried weight loss shakes which didn't work for her as her blood sugar levels dropped dramatically. She even contemplated weight loss surgery but decided instead to join the 28 Day Weight Loss Challenge  and hasn't looked back.
Mel's Weight Loss Success
By changing the way she ate, and learning about nutrition, incredibly Mel has managed to lose 36 kilos in just over a year!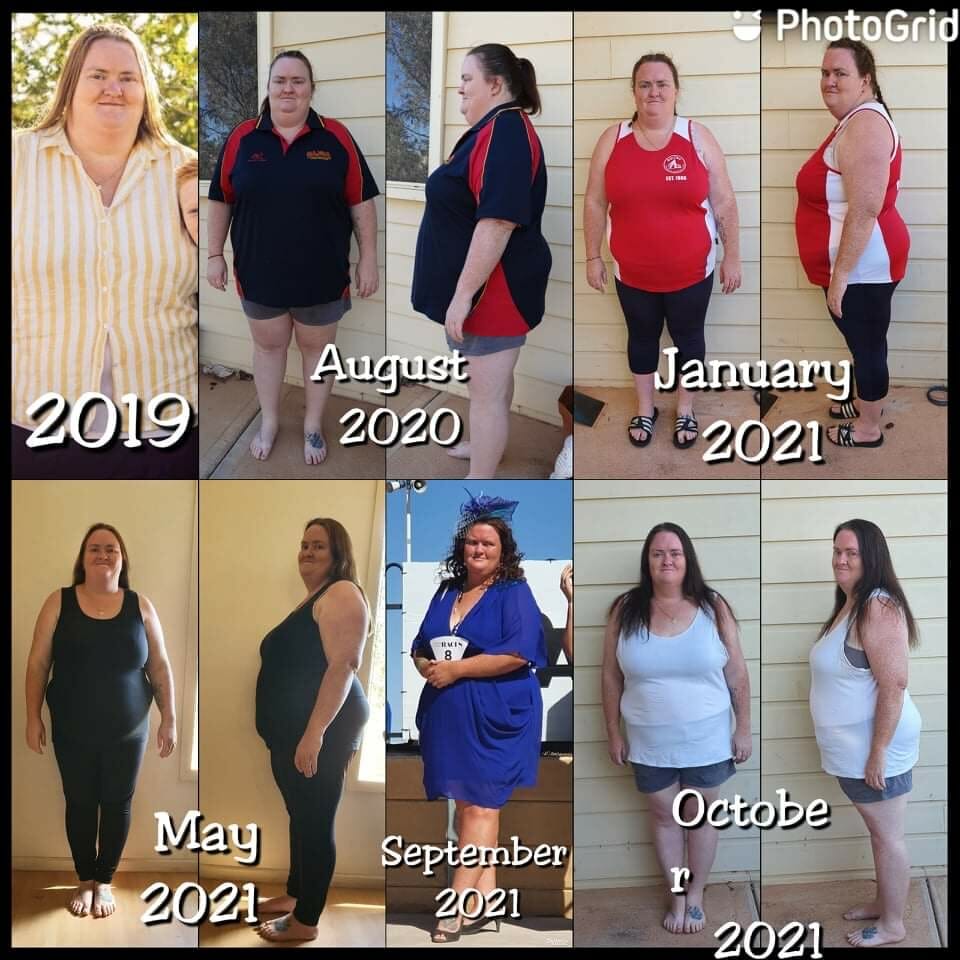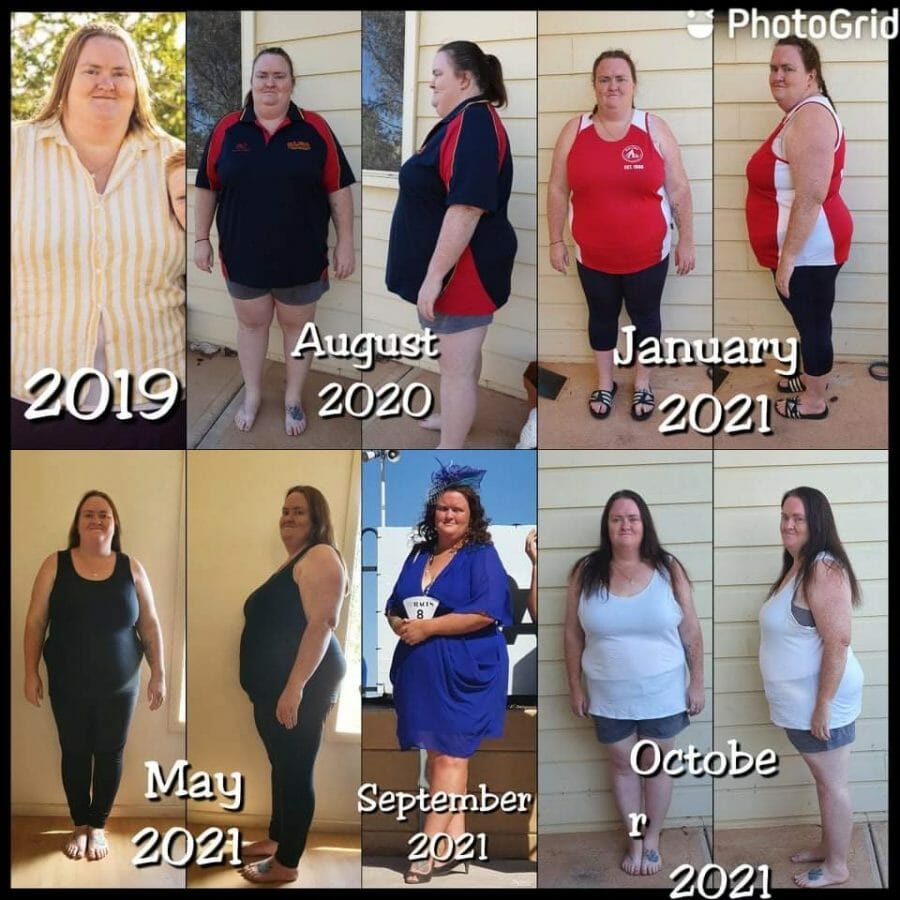 "When I signed up to Healthy Mummy in August 2020 I was 150 -155kg, in August 2021 we had the Annual Horse races here in Roxby Downs and I had a dress I really wanted to wear. So my goal upon joining was to get into that dress (which is the one in my picture) so the date crept up closer and then got postponed till September which gave me a bit more time to lose a little bit more. So to date I am now 119kgs with a loss of 30+ kgs"
Physically, Mel feels so much healthier and a lot lighter but admits she still has more weight to lose.
"Mentally I have days where I want to give up and say I'm done. But I know I have other goals and that's to get back into my wedding dress to show my daughter what I looked like when I got married as she was 9 months old when I got married."

Mel's Day on a Plate
Breakfast – Some mornings it's just a coffee, some mornings it's a bowl of water melon or even just a couple of pieces of wholegrain toast. I also look into the breakfast option on the Healthy Mummy page and the muffin pizzas for breakfast are amazing. So quick to make and yet so delicious.
Lunch – If I'm not too busy with my in home hobby/business I will have a salad bowl with grilled chicken or cold meats, a piece of fruit and a small healthy snack. Some lunches could be a salad wrap. I do also look at the lunches and I have got some favourites but I like to have quick meals so I get more hours in the day.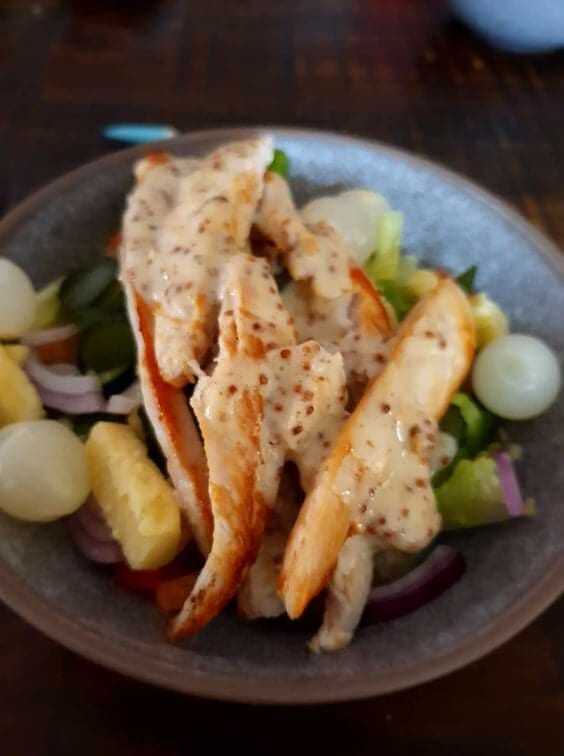 Dinner – depending on the kids, they are getting better with the different choices on Healthy Mummy. Not always will I revert to that but some days I prefer something different. It also depends on what foods we can get here in Roxby as our food choices are minimal as we are remote. But my dinner plate is a smaller serve than I used to be. I prefer to eat more veggies than meats.
Mel's Favourites
"My favourite snack from the Healthy Mummy would be raspberry muffins. I do sometimes for a treat for the kids as well, I add dark choc chips to the mix. My favourite meal would be sausage and veggie pasta bake (pictured), two ingredient pizza base, One pot Spaghetti Bolognese."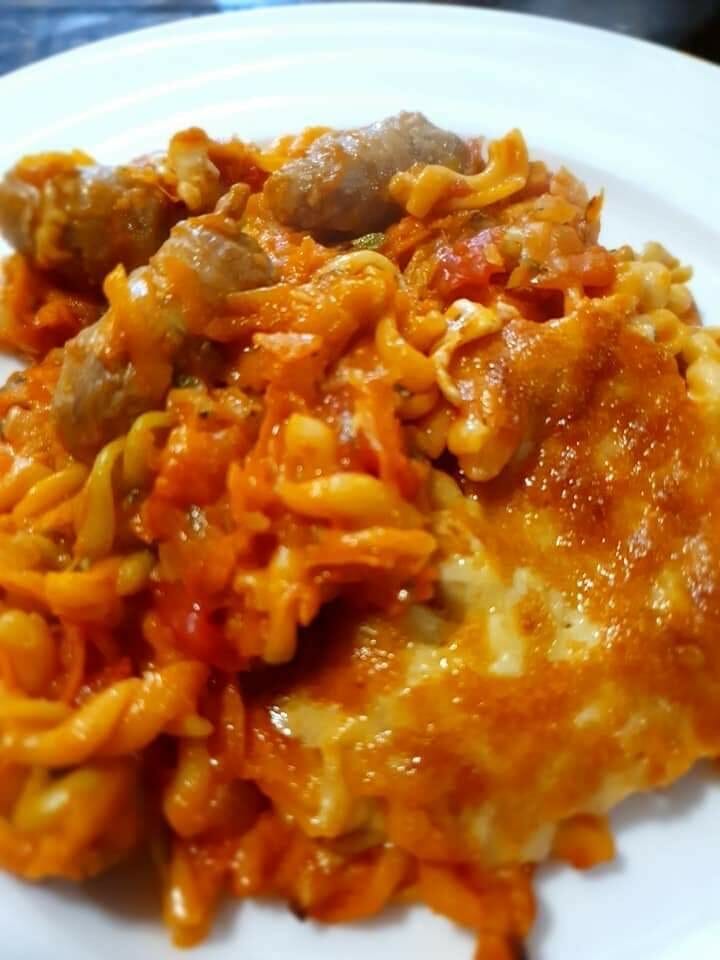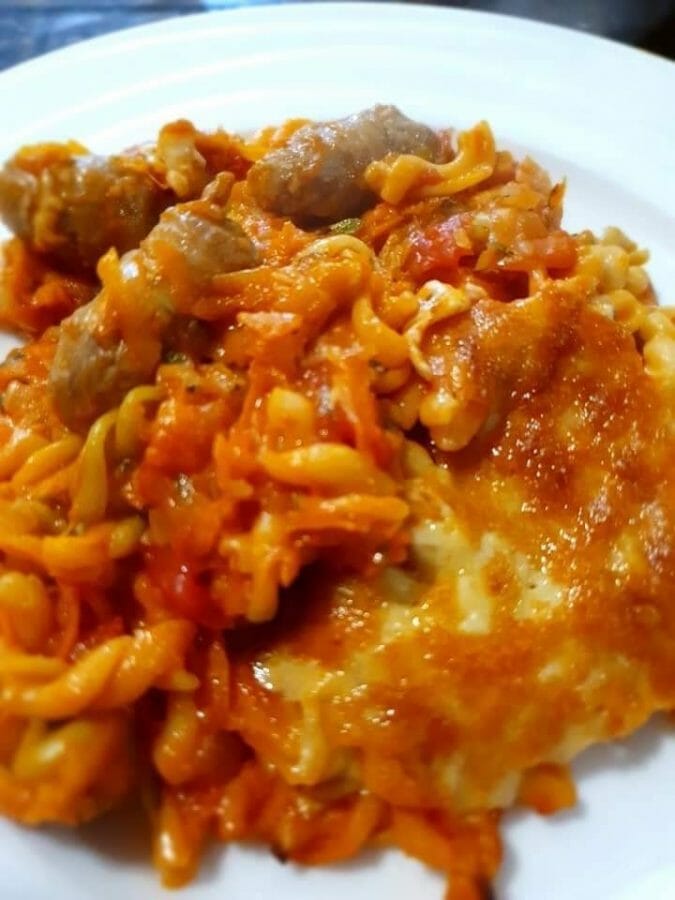 Mel is keen to try out the Mums and kids workouts in the Healthy Mummy App so her children are involved too, as well as getting more active with her kids and their sport.
Mel's Three tips for success
I have found my number 1 tip would be more self conscious about what I was drinking. I never drank water it was always cordial or iced coffees, but now I drink ice water in a water bottle so it stays cold all day. When it was empty I'd fill it again. I didn't like water to start with so I would use the water flavour bags, or slices of lemon. Now I just drink plain ice water.
"Set a goal work towards it, don't give up. Have a goal somewhere you can see if everyday. Mine was my dress I saw it every day which made me work harder to get into it. Another goal was to be able to wear nice bras (strange I know) but when you are alot bigger yoy don't have choices well not many. I went to bras and things and wasn't happy that I needed two extension straps attached to my bra. That had to stop so I worked hard. Setting goals is a must."
"Don't give up. You are amazing, your inspirational. What ever you lose and how long it takes you are still amazing. I wanted to give up, I thought do I bother. I had family photos I was horrified I saw myself like that and hated who I had become. The scales weren't my friend they told me numbers I didn't want to see. I didn't step on the scales every week because I would have been disappointed but now if I feel I've lost more ill stand on them and I get excited. So DON'T GIVE UP."
Mel also has some great advice for anyone trying to lose weight and that is to never underestimate your capability.
She says,  "Set the goals, work hard, but take small steps. Don't do it all at once, cut out one thing at a time. I cut out sugar to start with, that way I could overcome the sugar withdrawal headaches. They were not my friends. Once I overcome those I moved to the next thing to cut out. That was caffeine. Again I struggled. I was getting migraines every week for about a month, but with cutting sugar and caffeine I drank the water which helped a lot. So change small things and take your time."
Join Mel on the28 Day Weight Loss Challenge TODAY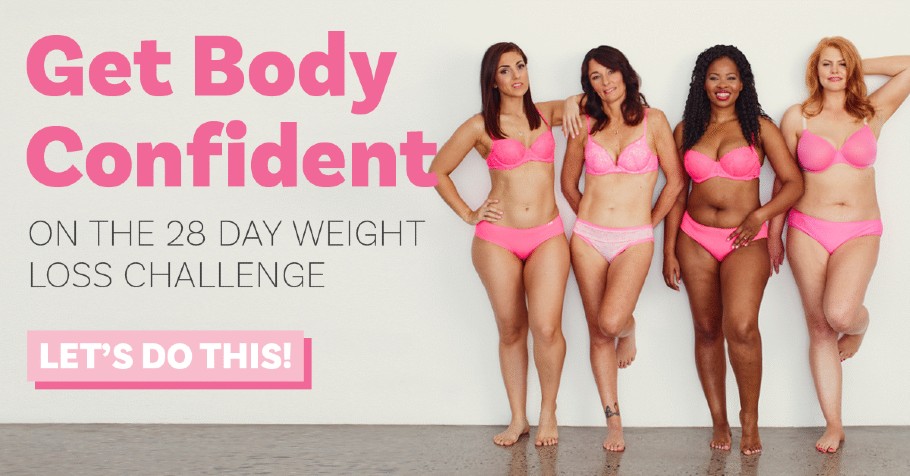 Want to shift your baby weight but feel like you have NO TIME in your day to exercise and eat healthily? That's where the Healthy Mummy's 28 Day Weight Loss Challenge can help.
Our Challenge entails: 
28 days of at home exercise routines (no gym needed) – with video instruction
Customisable and breastfeeding friendly meal plans
Time-efficient exercises for busy mums – under 30 mins
Challenge combines Pilates exercises with interval and circuit training (HIIT)
Suitable for basic to advanced fitness levels.
Home to thousands of EASY-TO-MAKE recipes.
To find out more on the 28 Day Weight Loss Challenge click here.