The Newborn Diaries: Mum shares what it's like living with a newborn and toddler
Midwife, lactation consultant (IBCLC), child and family health nurse, baby wearing consultant and mum of two, Bel Moore, shares what it's like living with a newborn and a toddler in the first 2-3 weeks. 
Bel has shared with us her top tips on choosing a baby carrier, sleeping and where to find support in those first 2-3 weeks of bringing your newborn home.
Plus, she's also revealed how she's managed to keep her toddler entertained during this period.
The Newborn Diaries: Mum shares what it's like living with a newborn and toddler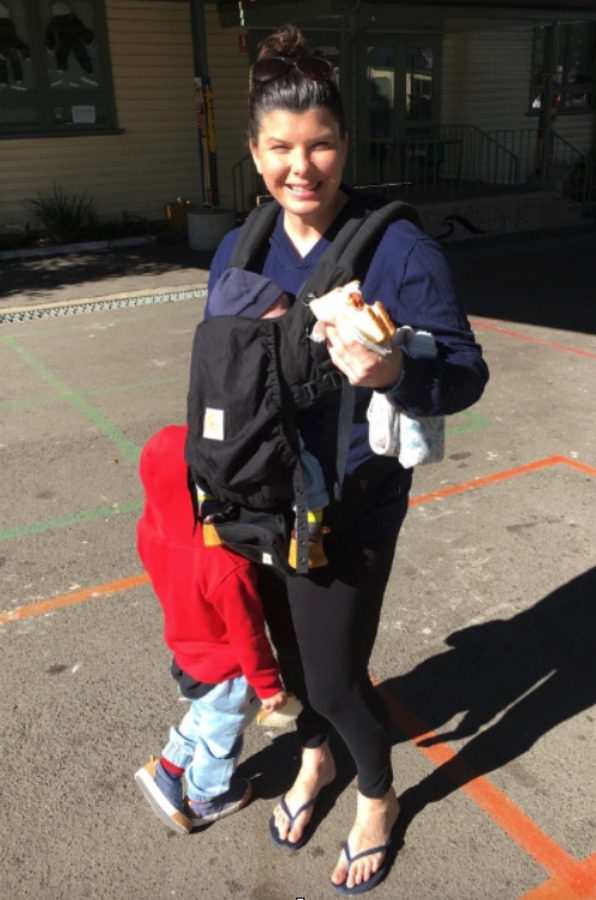 Carrying bubs
Nothing like compulsory voting at a local election to kickstart you into getting 'out and about' with a newborn! I wore little eight day old Will in the Ergobaby and even managed to eat a sausage sizzle without dripping sauce on him!
I've found baby wearing makes leaving the house with a toddler and newborn a whole lot easier. I have both hands free, he doesn't cry as much, I can breastfeed on the run and I don't have to negotiate elevators, escalators, steps, crowds or narrow aisles with a pram or worse…the double pram!
There are so many different carriers out there, try them all on and look for one that keeps baby in an ergonomic position to sure healthy hip development.
Sleeping
With a toddler who still wakes 2-3 times a night and enjoys starfishing in our bed from 2am onwards, I was adamant that this baby would be a great sleeper and I'd do things differently!
The Red Nose Foundation states that having your baby sleep in the same room but not sharing a sleep surface is the safest option and reduces the risk of SIDS. I chose to have a co-sleeper next to our bed, as it makes breastfeeding and tending to Will overnight really easy.
Our room is super small and there is no storage, so I got my clever partner to do a #kmarthack and pop on bike baskets with hooks to store all the goodies (spare nappies, wipes, creams, nappy bags, breast pads, burp clothes etc.) so I don't even have to get out of bed at all during the night.
Newborns usually sleep about 16 -17 hours in 24 hours but its also normal for them to feed 8-12 times too, as their stomachs are only the size of an egg and empties very efficiently, so overnight sleep may be very broken. Help your baby to determine between night and day by putting them in a light room for sleeps during the day and ensuring its dark and quiet overnight, so they can develop their circadian rhythm. 
Some how my prayers where answered and Will sleeps for five hour stretches overnight in between feeds. His personality is so chilled and different from my first, so I feel with sleeping, you can follow all the rules/tips in the world, but a lot of it is luck of the draw!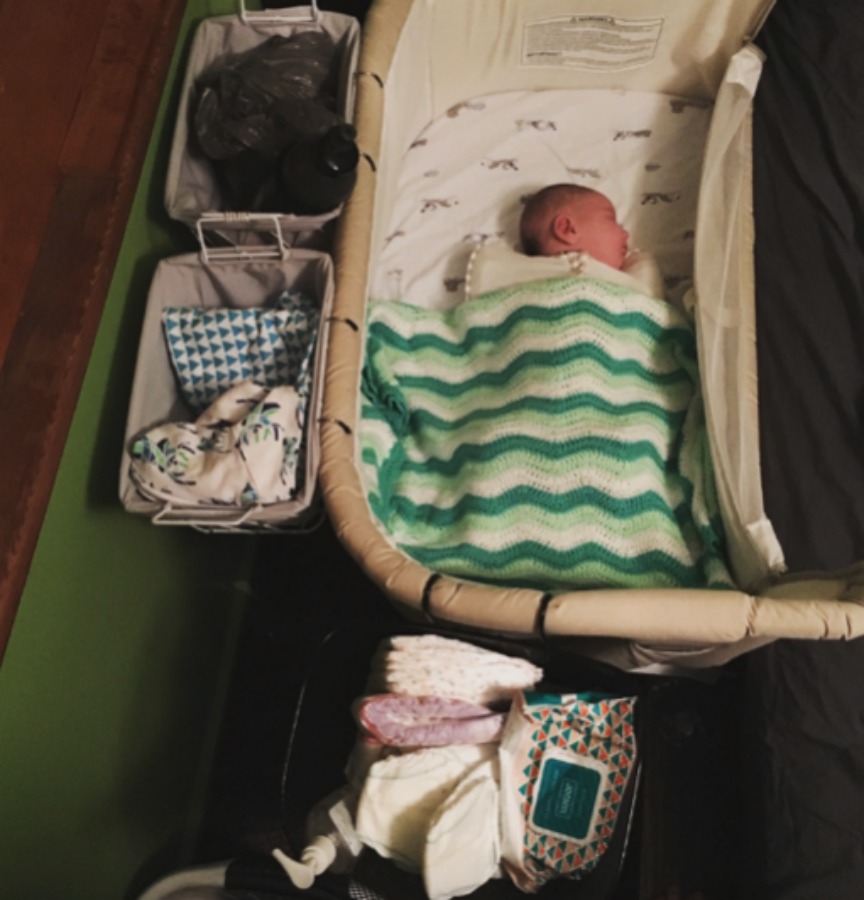 Introducing siblings
Speaking of my first, Oli, is a beautiful but crazy, 3 and a half-year-old who spent 9 months being very excited about becoming a big brother.
On meeting in the hospital, he was more concerned about the Lego Will had brought him and I was hopeful that we'd have no sibling rivalry issues… but I think I've said "please be gentle" about 500 times a day since their first cuddle! 
He has so much love for Will but doesn't quite understand that he doesn't want to be squeezed or roared at. To try and minimise any sibling rivalry, I try my best to spend some quality one on one time with my big boy each day and give him extra hugs and kisses.
We take the opportunity when daddy comes home to make dinner together each night and its something we both really enjoy, even if there's a few crunchy egg shells in there!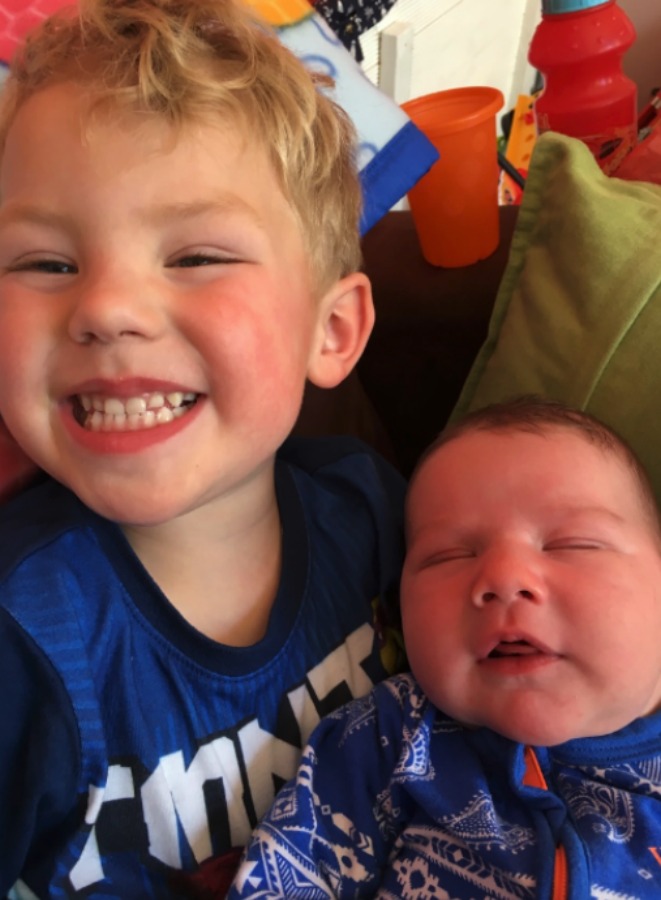 Finding support
Within in the first two weeks, in NSW, a child and family health nurse will come out and do a home visit. They will usually take baby's measurements, check on any issues with feeding, sleeping and settling and give you information about their service and mothers groups.  Will was well above his birth weight, feeding well and I felt great!
I absolutely loved my first mother's group and still keep in contact with them, so was keen to join another to make new friends. I highly recommend joining one, the support is fantastic and having someone who is up at the same time, battling the same battles is so comforting.
I was tossing up whether to get newborn photos taken but I am so glad we decided to get them done, I absolutely love them and can't wait to get some printed for the walls. Photographers recommend having newborn photos done in the first 2 weeks, as babies are still so sleepy and easy to position.
If you're going to get pics, find a photographer who you are comfortable with and that you trust, we were lucky enough to use our birth photographer, so the shoot was casual and easy going.
Join our New Mum Facebook Support Group

At the Healthy Mummy we understand what it is like to be a mum, as we are mums, too.  That's why we offer a supportive community from pregnancy, birth, early motherhood and beyond.
With eight community groups, there are THOUSANDS of like-minded mums who can offer daily support to the Healthy Mummy members.  All groups are moderated regularly by our professional staff, to ensure a safe and non-judgemental environment.
To find out more on our communities, click here.