Mum's before and after pics show why you shouldn't always RELY on the scales!
In 2014, this mum lost 22kg in eight months – just in time for her wedding! Since then Ashleigh has maintained her weight loss until she fell pregnant again and is now on her second 28 Day Weight Loss Challenge journey.
"The Healthy Mummy was the answer I'd been searching for, simple and easy and designed for mums," she says.
But while Ashleigh is proud of all she has accomplished, she's not letting the scales rule her sense of achievement.
Between the two photos below, there is ONLY 2kg difference (hard to believe right?) but what's changed is that Ashleigh's third pregnancy last year was a healthy pregnancy filled and she says she had heaps more energy than she had in her last two.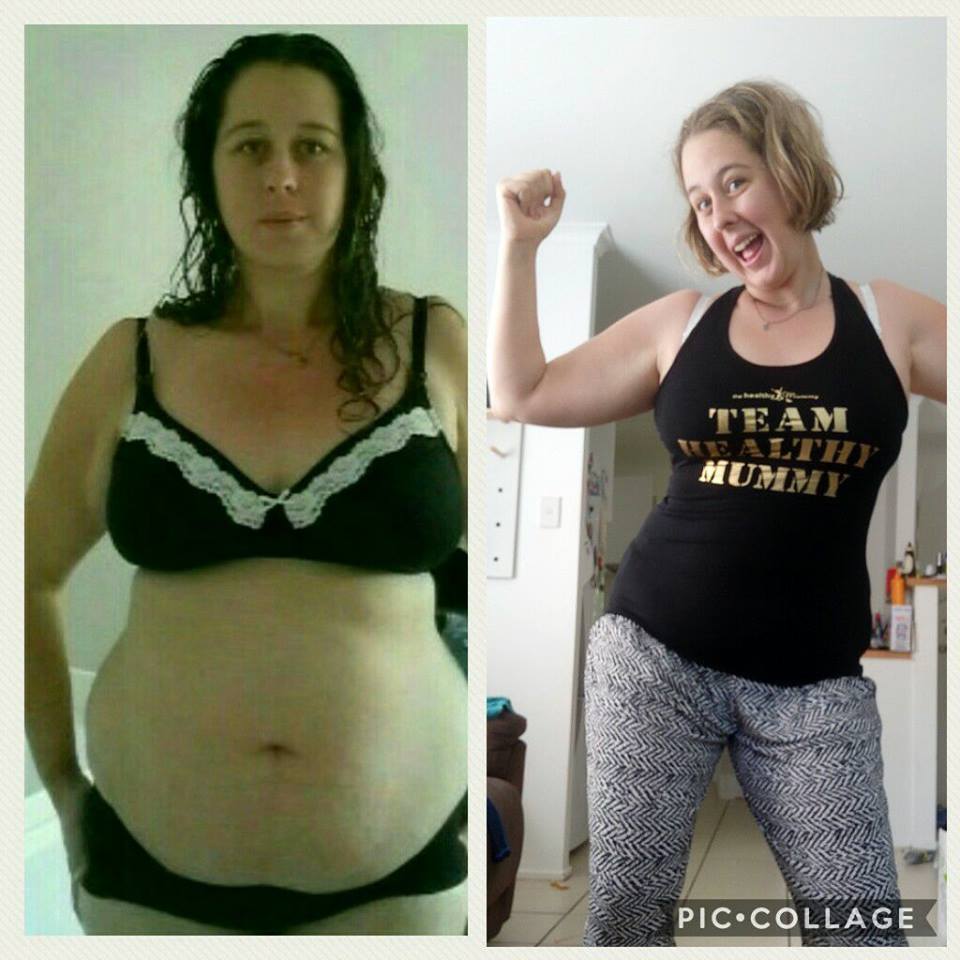 Coming back after baby
Since her baby was born just over four months ago, Ashleigh has jumped straight back into drinking her Healthy Mummy smoothies (banana and caramel are her favourite) and the Challenge meal plans.
"Even though I still managed to gain all the weight back, I had more energy throughout the pregnancy and knew I was doing the best for me and the baby," she says. 
Ashleigh says she can see the centimetres falling off each week, showing her that sometimes looking at before and after photos and not just relying on the scales can motivate you.
"I hope to get back down to my goal and lose the 20kg again, because I've done it before, I know I can do it again," she says.
Ashleigh credits her weight loss to eating healthily! Some of Ashleigh's favourite meals on the Challenge recipe hub are Beef San Choy Bow, Mexican Chicken Pie and the Roast Capsicum & Sweet Chilli Chicken Cous Cous. With over 4,500 recipes, you won't ever be stuck for ideas!
Ashleigh's husband even requests certain meals each week.
"I've also saved so much money by meal planning with the Challenge App. It's so easy to use and I usually try and double up on recipes to create leftovers for the next day, or substitute the Smoothies when I know it's going to be a busy day," she says.
Try your hand at meal prep by using this mum, who made 50 meals and snacks, as inspiration.
Ashleigh's biggest tip to anyone on their Healthy Mummy journey, is that one bad meal doesn't make a bad week.
"Don't ever give up, because every good choice is one step closer to your goal. Your health is too important to just give away – so dust yourself off and keep going, you will thank yourself later," she adds.
Make your health the most important thing in your life and start the 28 Day Weight Loss Challenge.