Just 12 months ago mum-of-two Anna Smith came to the conclusion that if she didn't make a HUGE change in her life she might not be around to see her kids grow up.
Born with a congenital heart condition and weighing 110kg she endured many risky surgeries.
Now 17kg lighter since joining The Healthy Mummy 28 Day Weight Loss Challenges, she is looking and feeling FANTASTIC and is excited about her future. Read her story below.

Anna Smith opens up about her personal health issues and how she went about taking control of her life and weight.
Heart issues and being overweight left me desperate to make a BIG change.
Anna says "Not too many people on here would know that I was born with congenital heart disease and I have had many operations.
During my last operation 9 years ago (with a 9 month old baby and a 3 yr old waiting for me at home), they cut the last remaining nerve to my heart!
I was extremely close to not coming home to my baby and toddler. I'm now dependent on a pacemaker".
Joining The Healthy Mummy 28 Day Weight Loss Challenges
Having followed The Healthy Mummy Facebook group for some time and having talked to her cousin about whether it would work and was adaptable for people with health issues, she decided to sign up.
Anna says "I remember the night I joined like it was yesterday. It was about midnight, I was sitting on my lounge in the dark crying and feeling like crap.  I felt disgusting and was disgusted with how I had let myself get like this.
My health is so important to me but I still let myself get to 110kgs. What was I doing and thinking?
I knew I would need more surgery to have my pacemaker replaced when the battery ran out but I still let this happen.
I'd hit rock bottom, and knew something had to change. My cousin gave me that last little push I needed when she replied to me.
Through tears I pressed that join button at almost midnight and I haven't looked back.
I've been a member for close to 12 months now and I have loved it and I kick myself for not joining sooner when I first discovered The Healthy Mummy on Facebook.".

Weight loss results – 17.7kg
In just under a year Anna has gone from 110kg (106.7kg) when she started The Healthy Mummy to 89kgs. That's a Healthy Mummy loss of 17.7kg
And from size 20-22 down to a 16/14.
Happier, confident and enjoying my journey
She says "It is taking me a little longer to lose weight but am I happier, more confident and enjoying my journey.
Recently after having a check up they discovered some other heart issues going on so instead of the simply replacing the pacemaker when the battery runs out, which is very soon,
I'm on an emergency wait list to have it completely removed and a defibrillator put in.
I'm so thankful I joined when I did as the thought of going under the knife at 110kgs scared me to death.  
I thank my lucky stars I joined The Healthy Mummy 28 Day Weight Loss Challenges when I did and I can't wait to continue my journey and watch all these other awesome ladies on their journey.
I tell anyone I can about how amazing The Healthy Mummy is and how it's changed my life for the better".
The Healthy Mummy team would like to congratulate Anna on her FANTASTIC weight loss success to date and love that she has regained her confidence. We thank her for sharing her personal story wish us and wish her well for a happy, healthy, life ahead and a complication-free surgery.
Join the 28 Day Weight Loss Challenge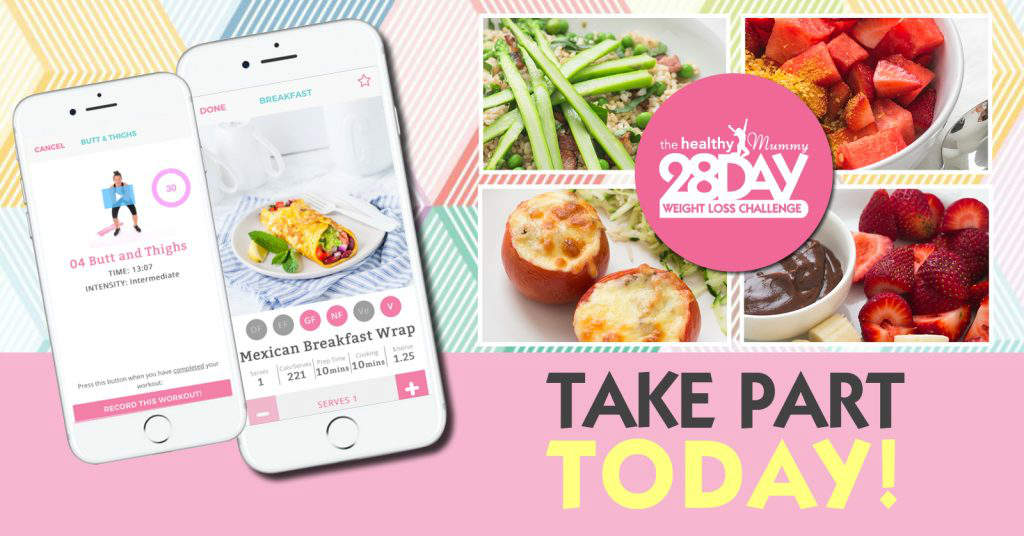 The Healthy Mummy has been helping busy mums shift the baby weight and boost energy for eight years, and we are CONFIDENT that we can help you too.
Did you know the 28 Day Weight Loss Challenge is designed to help mums lose 4-5 kilograms a month WITHOUT avoiding whole food groups, going hungry and rigorous gym workouts?
The 28 Day Weight Loss Challenge is home to 4,000 recipes, 4 weekly meal plans, 350 exercises, workout videos plus 24/7 support.
The 28 Day Weight Loss Challenge is not only a sustainable way to lose weight but is family-friendly, breastfeeding-friendly and can be customised to suit all dietary requirements (for example, gluten-free, vegan, vegetarian etc).